Last weekend we had some great basketball, did you catch any of it? Thanks to two Tivos and a Slingbox, I caught way more than I should; fortunately "watching" basketball on my desktop and coding are two things I can do at the same time. Must be a right/left -brain thing. Anyway my bracket is history: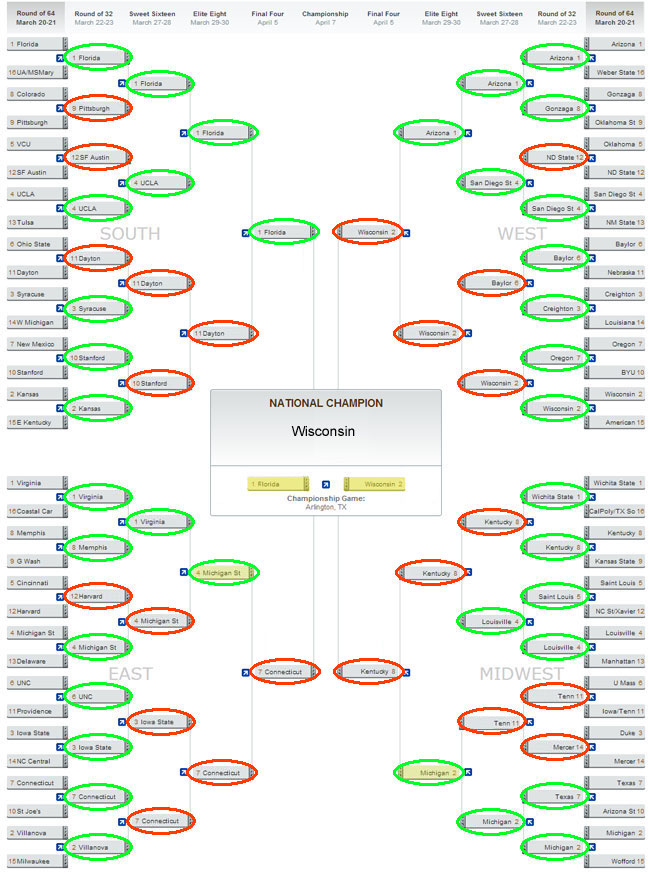 I did okay picking the Elite eight; Florida and Arizona were easy, Michigan State did beat Virginia, and Michigan survived Texas. But Dayton defeated Stanford (rather impressively, for a #11 seed), Wisconsin whacked Baylor (that was a crummy choice on my part), Connecticut handled Iowa State (good game!), and Kentucky beat their inter-state rival Louisville (whew). So, 50%, though two of those were from revised picks (Michigan and Michigan State).
But it gets harder, and I didn't do so well picking the final four; yeah, Florida made it (over Dayton, as expected, and looking pretty good as Dayton played their best to give them a game), but Arizona fell to Wisconsin (thereby eliminating my pick to go all the way), Connecticut handled Michigan State (so a #7 made it to the final four), and Kentucky squeaked by Michigan (so a #8 made it too).
I have to say the officiating was awful; not only because of that bad call in overtime which let Wisconsin win, but all through the various series. Refs should not decide games, especially at the end. And somebody has to rewrite the charge/block rule so mere humans can make the call without looking at monitors and guessing. It ruins the game where every play at the end is someone driving the lane, someone guarding them closely, then a whistle and a zebra decides what happened. That is *not* basketball, or it shouldn't be.
And so onward into the Final Four, what do I think? Well, I'm picking Florida to end Connecticut's hopes (not a controversial pick, but I'm sticking with the only team I have left from my original bracket), and Wisconsin to beat Kentucky (after your team loses, you have to root for the team that knocked them out). And in the final... I'm picking... Wisconsin. Just because I can't root for Florida to win it all.
Happy viewing!