A few weeks ago I attended the College of American Pathologists' annual convention, and was privileged to see Ray Kurzweil as the keynote speaker for the main session. Ray is a fascinating and accomplished guy; perfect to address the leading Pathologists in the world on the subject of innovation. He actually has history with this field, too; his Kurzweil Speech Systems (now Nuance) developed the text-to-speech algorithms used by many pathologists for dictating diagnoses.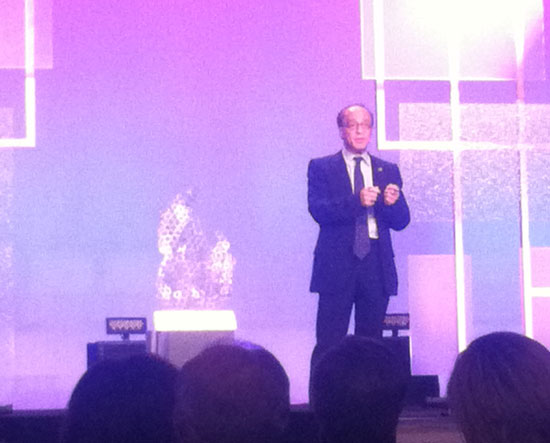 Ray is nothing if not an optimist; to him, technology grows in price/performance at an exponential rate, regardless of the underlying dynamics of societies and economies, and this ultimately results in dramatic improvements in the overall standard of living, as well as health. He pointed out that life expectancy is following this trend, and if we can only live long enough we'll live to see a day when people live much longer.
He talked about the way we're using advances in genomics and "reprogramming the software of the body", with dramatic results. The implications for medical care are only just know being felt, but will be significant. Imagine a world in which everyone's DNA sequence is known. Imagine a world in which changing any gene can be done easily. This world is closer than we think. The vast improvements in information processing are also causing big changes; for example, Watson, IBM's computer which defeated world champions at Jeopardy, is now being used to digest and analyze medical diagnoses, with the intent of using it to give doctors advice.
The most interesting implications to me were for business strategy; in his view, technology improves exponentially, but companies can only foresee and plan linearly. Therefore there will be inevitable disconnects between what we think will happen and what will actually happen. The most successful companies aren't the ones who can see ahead the furthest, but rather those who can react to unpredictable events the most effectively. This biases business success toward smaller nimbler companies, and those large companies which are sufficiently distributed to behave like multiple smaller ones.
It was a great talk and will provide me much food for thought. Already I am asking myself "what things could happen in the next five years much sooner than I expect", and what will be the implications...