Well, sorry for the gap, but yes we were gone for two weeks, visiting Paris and Amsterdam, and yes we had an amazing wonderful incredible time, and yes I will tell you about it, now, but no I did not make time for blogging while traveling. Scanning my RSS feeds I see I have much to catch up, please stay tuned.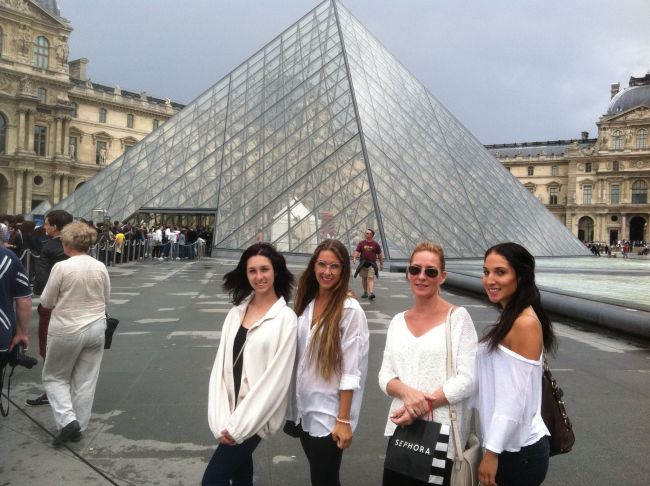 Megan, Alexis, Shirley, and Jordan, at the famous pyramidal entrance to the Louvre
But first things first, the trip... So we flew to Paris, me and Shirley and our daughters Jordan (24), Alexis (18), and Megan (14), and we stayed on the Rue Pont Neuf, which if you look at the map is like dead center in Paris, walking distance to everything. I've come to believe this is crucial to visiting somewhere; you want to get out and walk and experience the place, not just see everything through windows. (Of course in Paris you can take the Metro everywhere, easily, but most of it is underground so you don't see much until you get there.) We did all the touristy things, visited museums (Musee d'Orsay!) and gardens and saw old buildings and churches, and also walked around a lot, and ate a lot (cheese!) and drank a lot (wine!), and had some unexpected nice experiences and [fortunately] few not-so-nice experiences. We did manage to have luggage lost on the way out, but it was found and delivered, and if that's the worst thing that happens you can't complain. And we did have an expected amazing experience, dinner at Guy Savoy (***), about which I'll say more below.
We managed to schedule this trip to coincide with the Tour de France - as you know, I am a mega-cycling fan, so this turned it into a sort of pilgrimage - and Shirley and I took a TGV train to Grenoble to see the Tour's time trials, before returning to watch the final stage on the Champs d'Elysee in Paris. Yeah, that was pretty darn cool.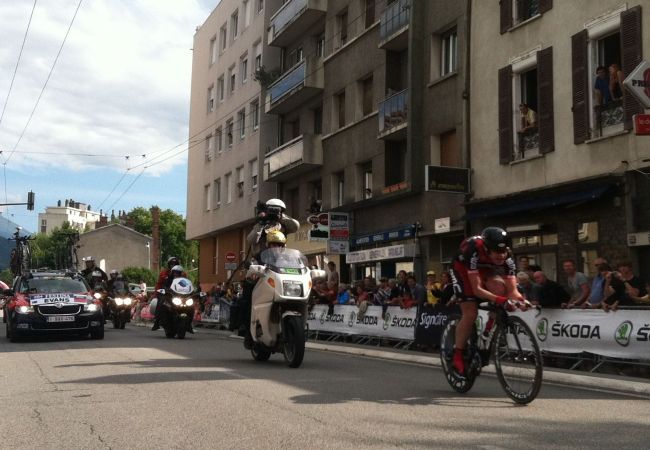 Tour de France champion Cadel Evans at the time trial in Grenoble; we were there
After finishing our week of touristing Paris, we took the hispeed train to Amsterdam. We stayed in the Hotel Amrath which is a converted old office building ("the Shipping House") with amazing art deco architecture and windows and elevators and all. Way cool. And again, perfectly located right downtown on the harbor, walking distance to everything including the central station. We spent a fun week doing more touristy things, walked all over the city, visited more museums (Van Gogh!) and gardens, and took in Amsterdam's weird and wonderful combination of canals, old buildings and churches, new music and sex, and people of every stripe. Quite an experience.
We also made a day trip to my hometown of Vlaardingen (yes of course we bought nine dozen Ijzerkoekjes), and had an Indonesian Rijsttafel with my cousin Marco and his family, and saw some incredible break dancing in the street, and had a wonderful dinner on a canal boat, and ... yeah, it was cool. The trip back was uneventful except that the train from Amsterdam to Schiphol airport took off while I was unloading our luggage, so I made an unplanned visit to Rotterdam and nearly missed the flight back. Every bad thing that happens is a good story later :)
You can believe, I took a kazillion pictures, here's a smattering in case they are of interest, interspersed with some remarks about the trip: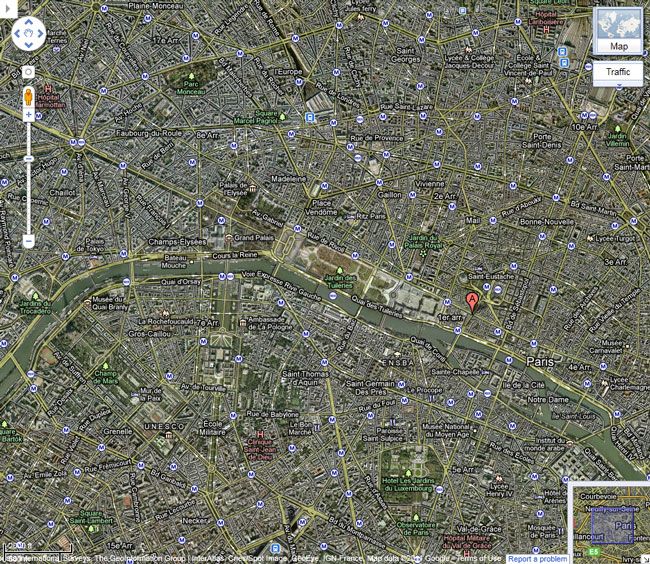 the little red A is our hotel on the Rue du Pont Neuf, walking distance to everything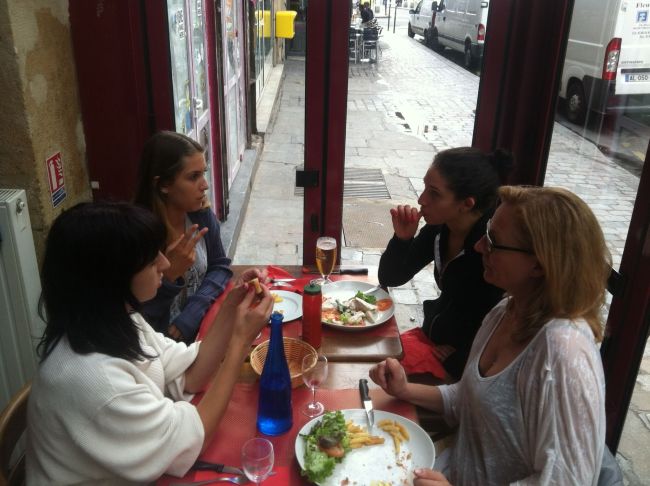 plotting our next move in a cafe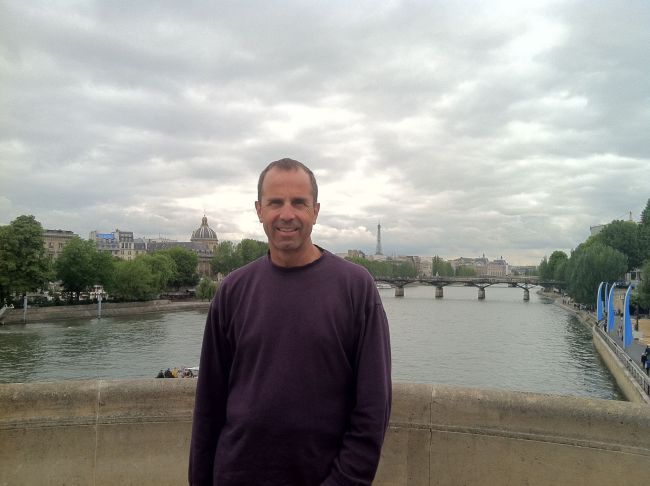 the scenic Seine at the center of Paris
(that tall pointy thing in the background is vaguely familiar)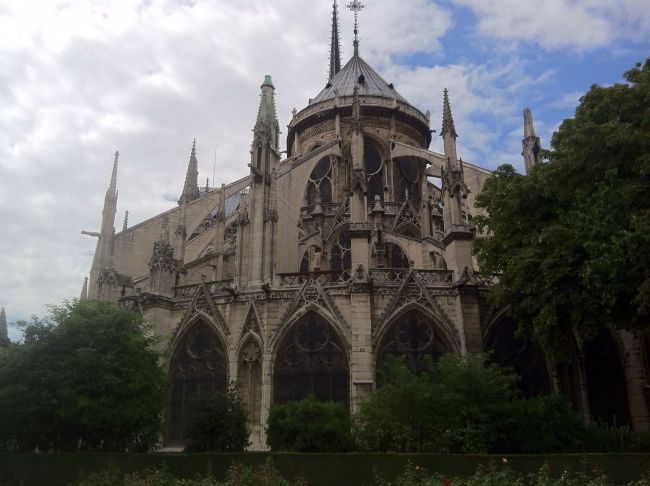 my favorite view of the Notre Dame is from the back; beauty follows form follows function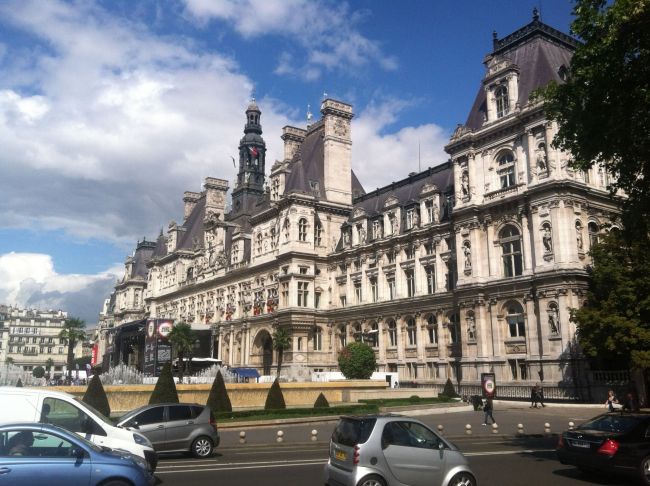 classic Parisian: the beautiful Hotel de Ville with a rock concert stage setup in the square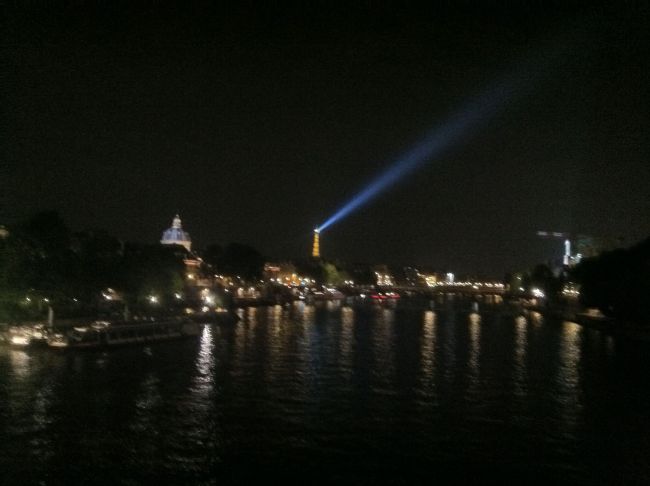 city of lights, including a searchlight beam from the Tour Eiffel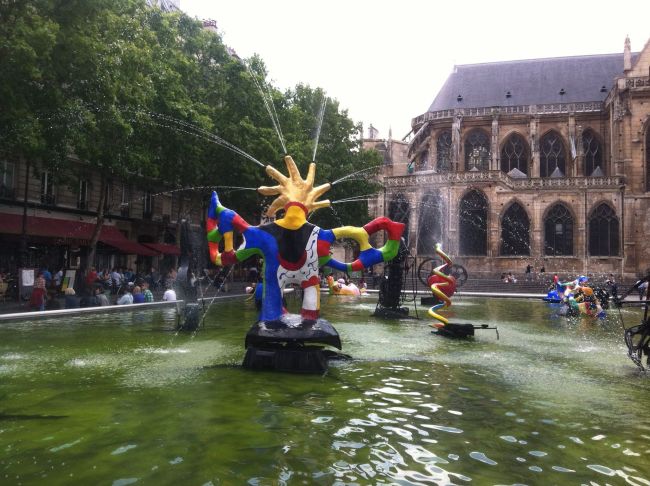 the classic fountains at the Centre Georges Pompidou
(note the ancient church in the background)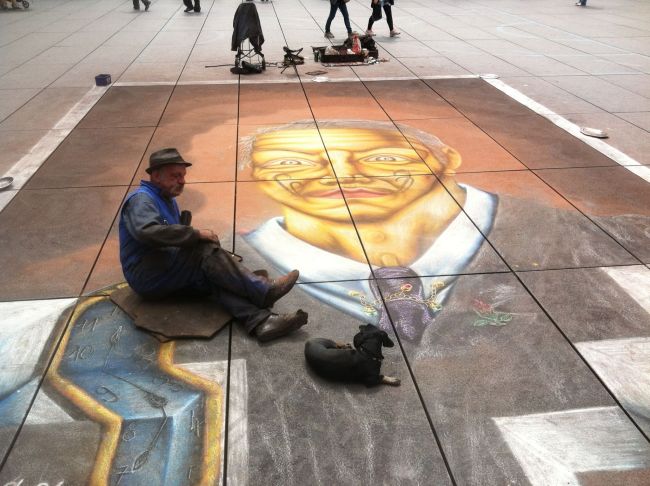 amazing street art; the artist and the dog are real :)
The Louvre is just as amazing as you've heard; it is huge, and the building is almost as impressive and interesting as the art it displays. We tried to visit the galleries in chronological order of the art, which was pretty interesting.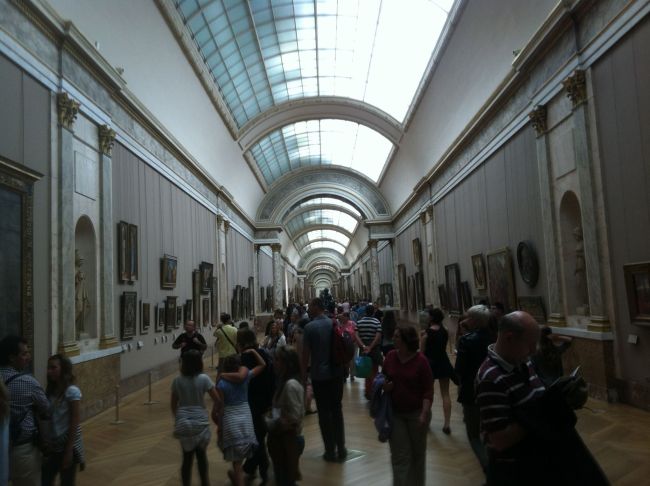 in the Louvre: miles of long corridors filled with amazing art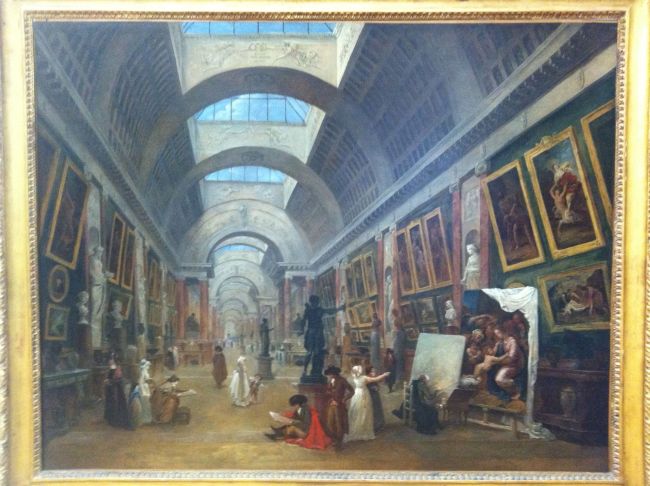 art about art; this piece depicts the Louvre itself
can you find this piece in the painting?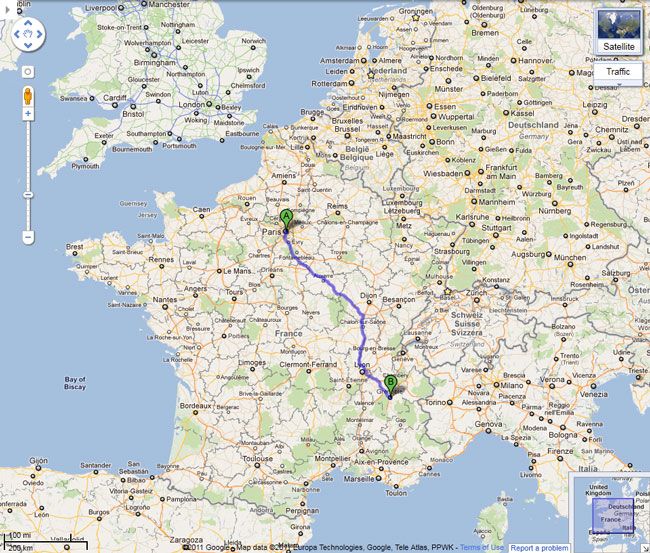 Paris to Grenoble, gateway to the alps
The TGV trains are pretty cool; no problem, you just walk on board and poof off you go at 300kph to the other side of the country. Makes airplane travel seem primitive. Why don't we have fast trains in the U.S.?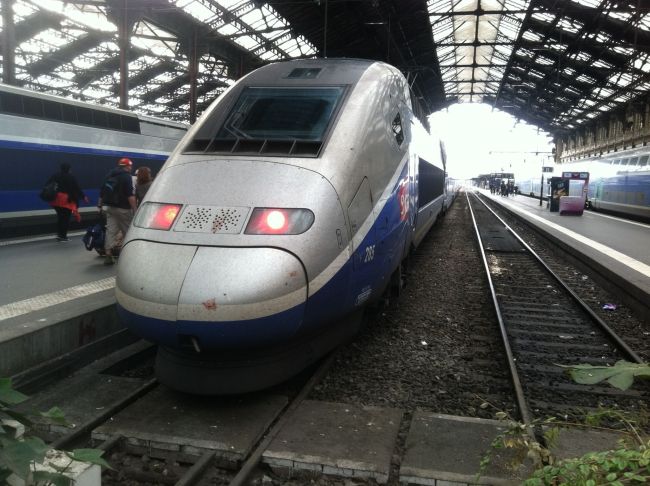 TGV train - 300kph in silent luxury
The great thing about cycle racing is that anyone can just walk up and watch, and be a few feet from the action. (Try that at the Super Bowl or World Series :) The atmosphere in Grenoble was great, one big sports party.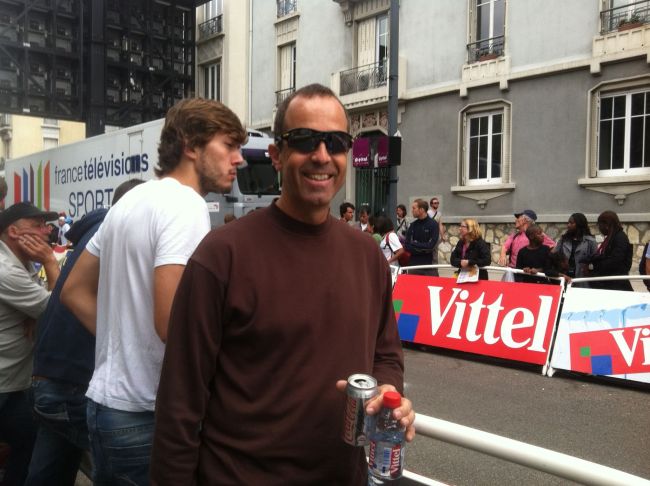 standing on the finishing straight of the Tour de France time trial stage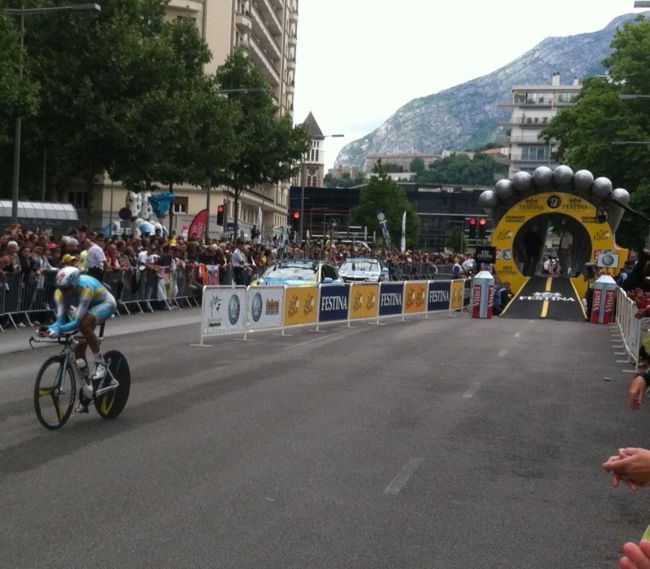 incredible! we walk up, and stand right next to the start house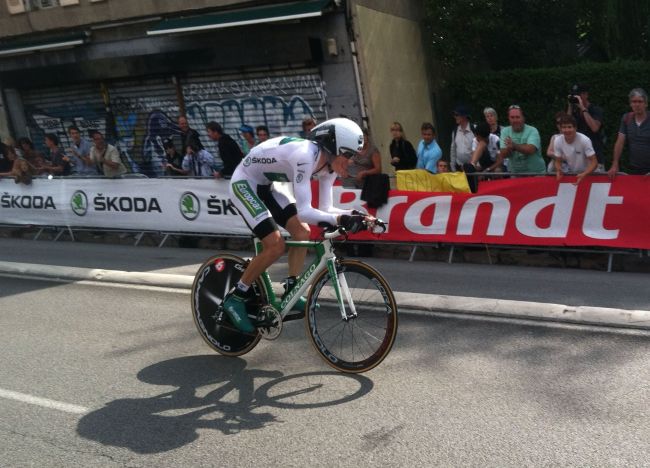 Pierre Rolland, best young rider and winner the previous day at l'Alpe d'Huez.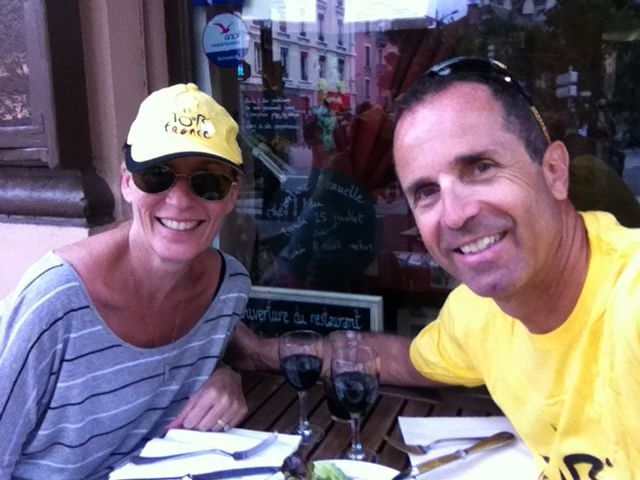 celebrating our Tour swag in a cafe afterward
The Paris metro is just as cool as everyone says, it's easy to figure out, and it's easy (and cheap) to go anywhere in the city.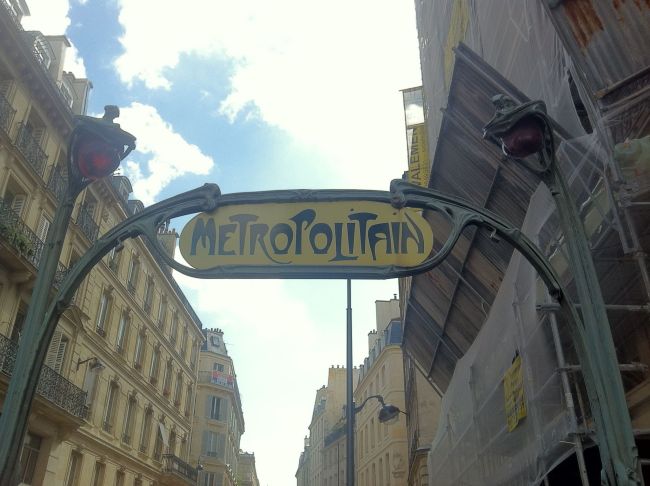 riding on the metro...
art deco city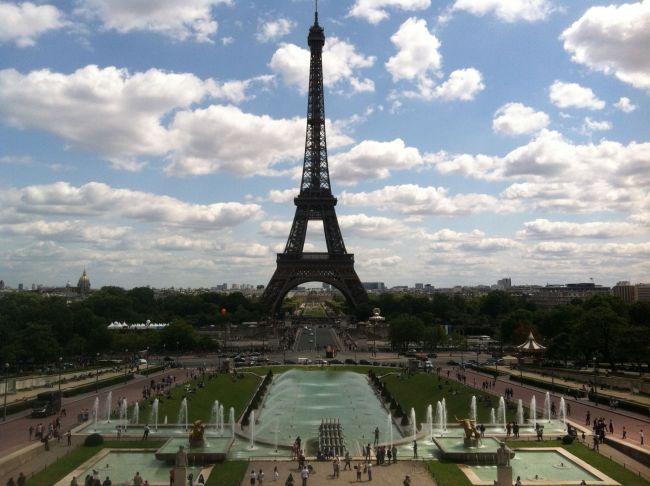 yes it really looks like that
view from the Trocadero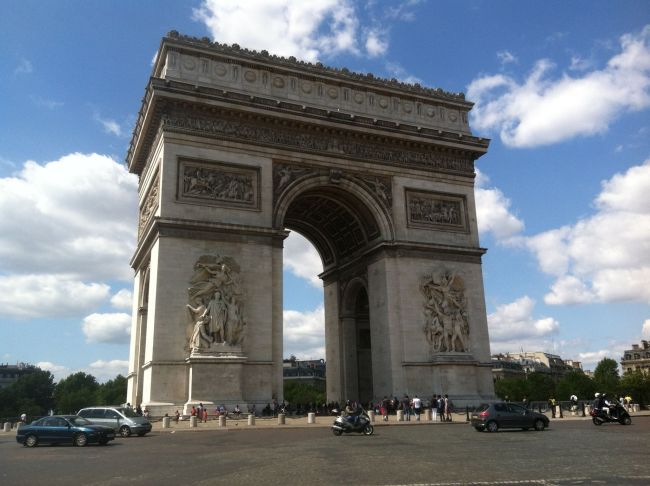 the Arc d'Triomphe punctuates the Champs d'Elysee
By tradition the Tour de France finishes on the Champs d'Elysee, the main shopping street in Paris. It draws a *huge* crowd, and unlike the sports fans in Grenoble these are people who just want to be part of the event. The peloton makes eight laps up and down the long boulevard, giving everyone a chance to see pro riders at 40kph.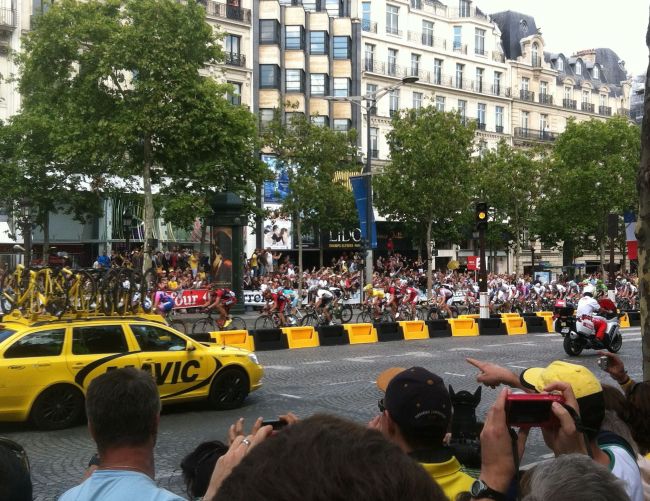 final stage of the Tour de France, on the Champs d'Elysee
Cadel Evans looking good in yellow as
one kazillion people look on
There are cafes *everywhere*; you can't go twenty feet without finding a cool place to eat and drink. Lots of cheese (!) and lots of red wine (!!)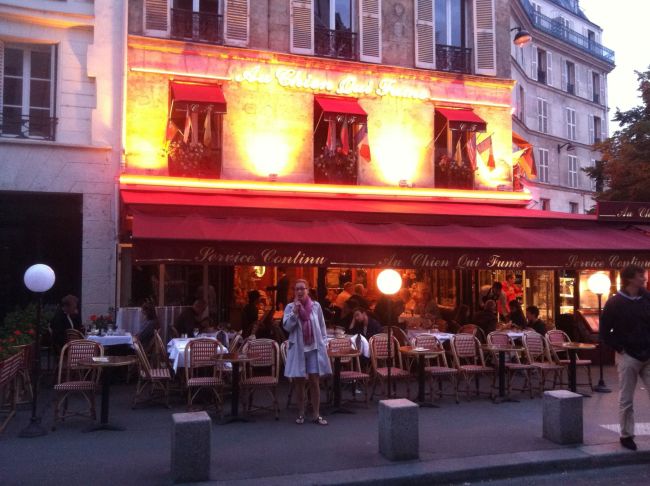 dinner at the Smoking Dog (La Chien Qui Fume)
We took a number of unstructured walking tours; the streets in Paris are at weird angles, so you never know what you'll find around any corner. I love the way the height of buildings is restricted, it gives the city center a neighborhood feel.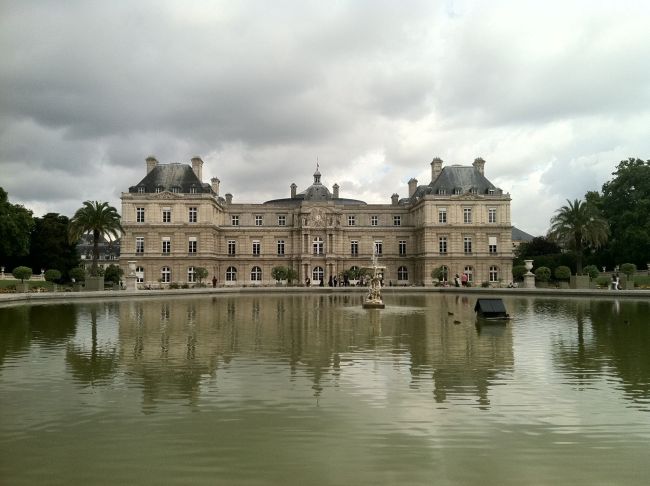 touring the Rive Gauche ("left bank", although its south); the awesome Palais du Luxembourg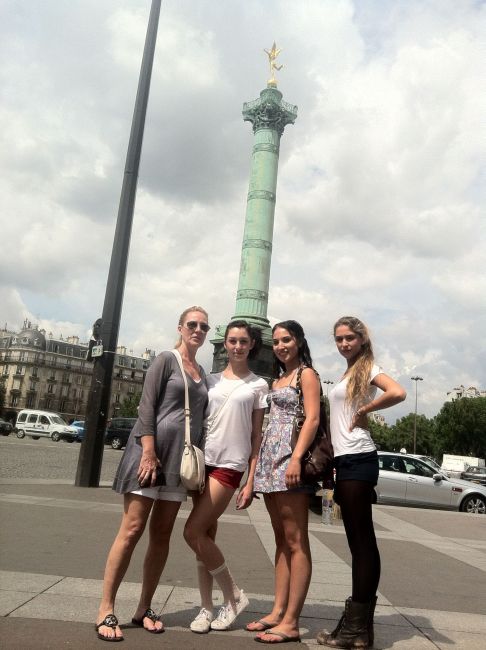 shopping! we visit the Bastille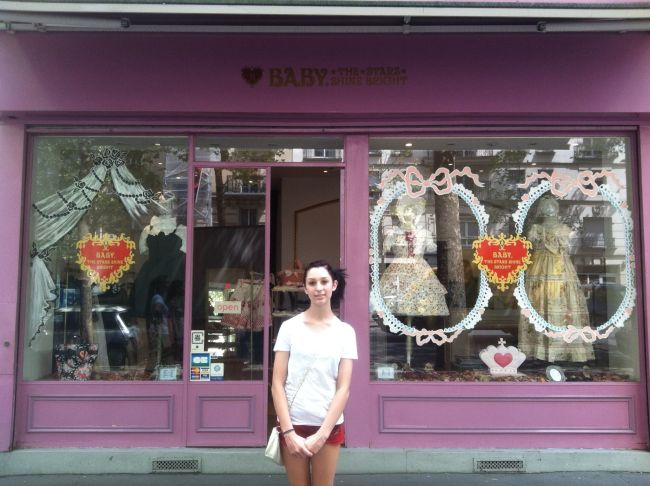 Megan had her heart set on buying a dress at this particular boutique, "Baby the Stars Shine Bright"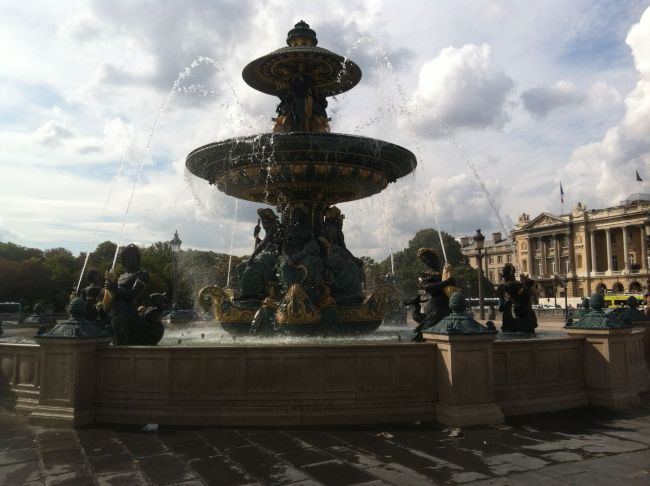 fountains in the Place de la Concorde
(aka "where Andy throws her cellphone at the end of Devil wears Prada" :)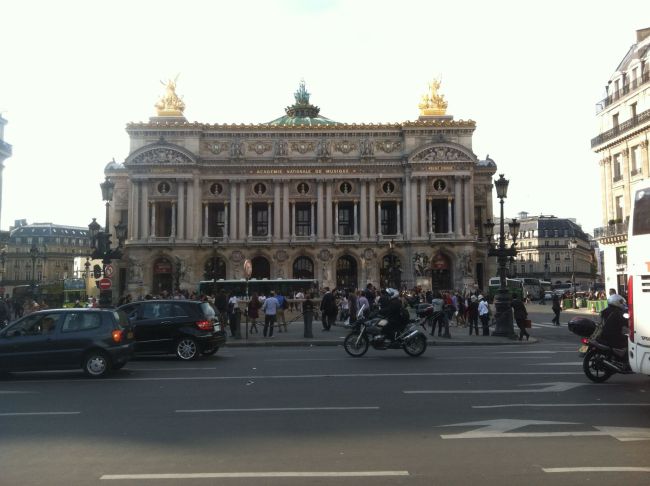 l'Opera
I must tell you it took, like, fifteen minutes to get this shot; buses kept intervening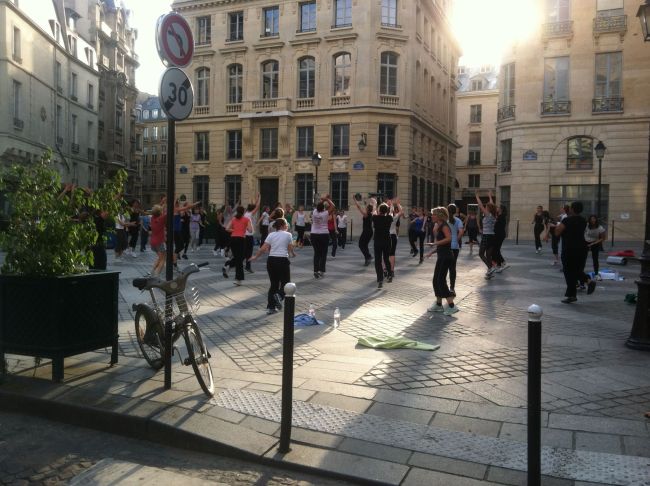 unexpected encounter: exercise class in a plaza in front of a church, how cool is that?
The Louvre is amazing, but my favorite museum is the Musee d'Orsay, a converted train station which has some of the most amazing art, displayed in the most amazing way.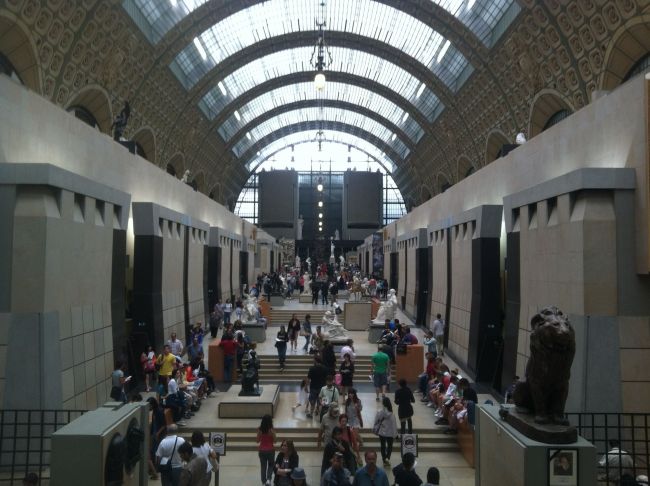 the Musee d'Orsay
(forbidden photo :)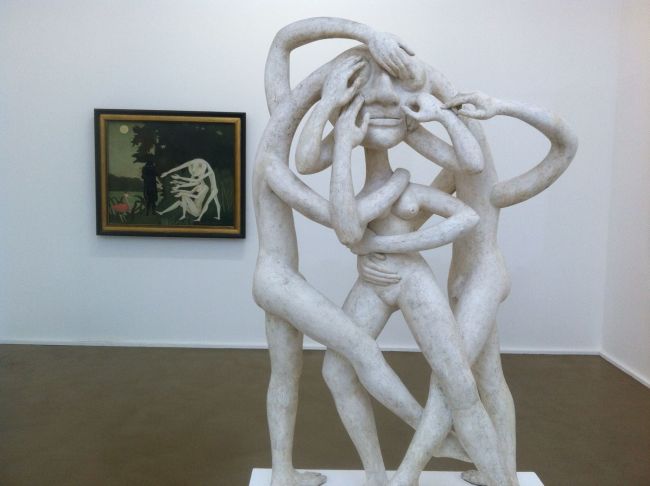 check this out - an incredible sculpture, and a painting featuring the same figure...
Paris is home to fourteen Michelin three-star restaurants, more than any other city, and picking one for a celebratory dinner was not easy, but we choose Guy Savoy. Wow. The entire experience was amazing, and the food was incredible. We choose the prix fixe menu, about fifteen courses, each tiny and wonderful in flavor and presentation. My favorite was probably a lobster tartar cooked over a bed of dry ice; it looked and tasted like magic. And who knew you could match a different bread with each course? Wow.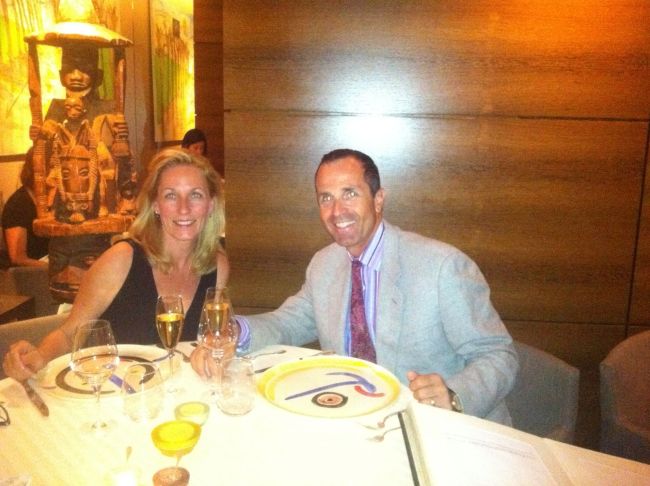 at Guy Savoy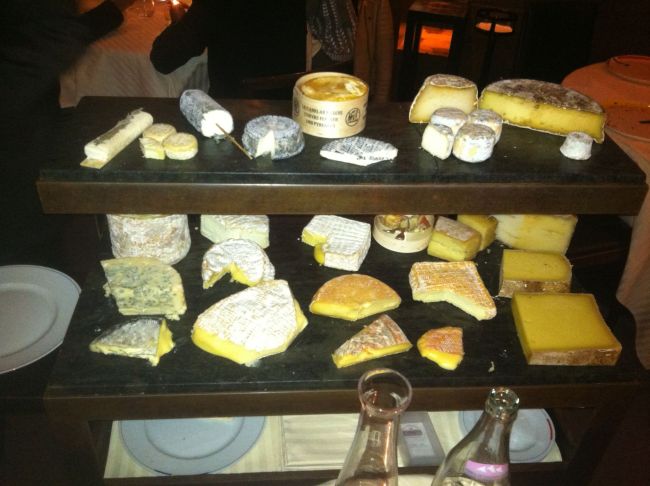 the second of three desert courses: cheese!
yes, that is Epoisse in the round container, and yes, I had some :)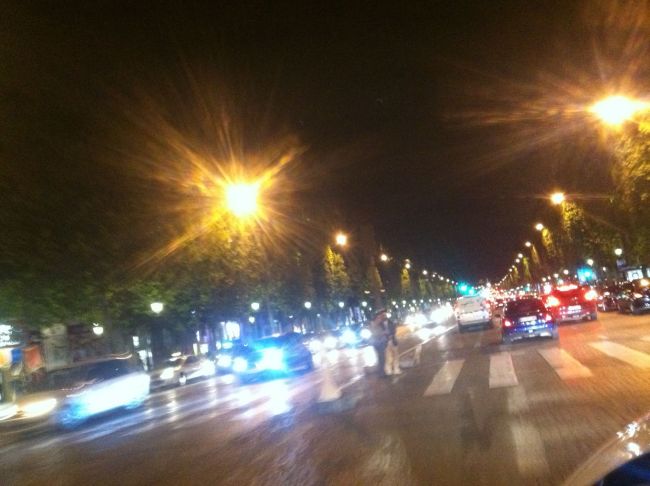 Champs d'Elysee at night ... goodbye, Paris!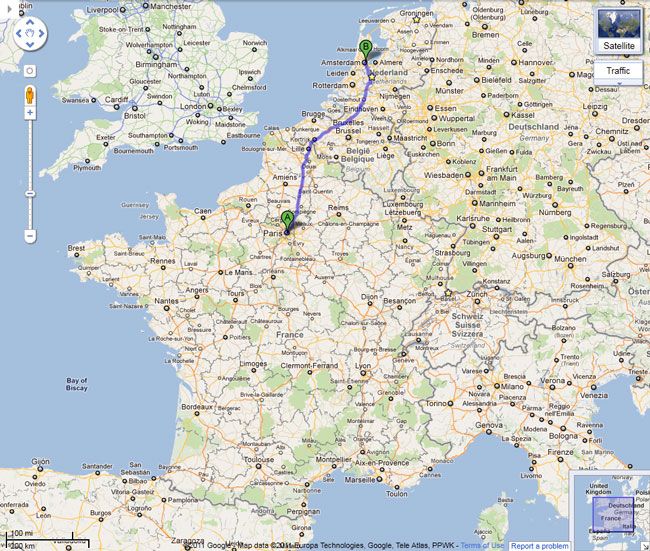 onward to Amsterdam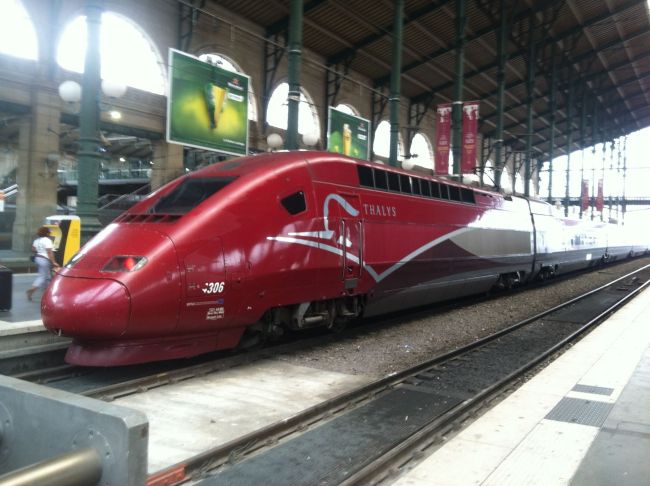 more hispeed train travel, Thalys from Paris to Amsterdam via Brussels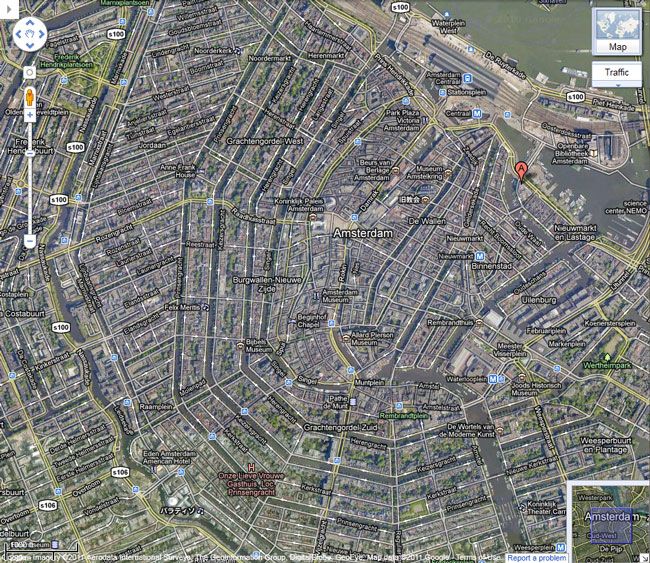 we stayed at the red A, right on the harbor, right downtown
everything seems close in Amsterdam
One of the first things you notice in Amsterdam is the bicycles, everyone rides them everywhere, and they are these big utility looking things that are designed for heavy use in bad weather. It isn't uncommon to see businesmen in suits or girls in skirts and heels riding them, and they're leaned on and chained to every surface. The city is setup for them too, with bike paths and racks everywhere.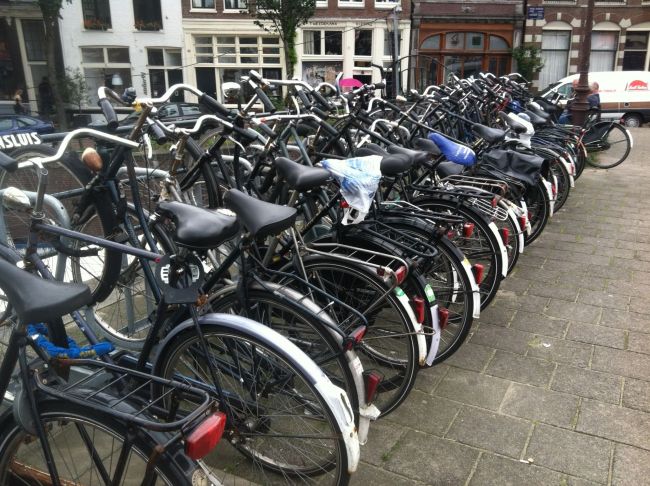 the city of bicycles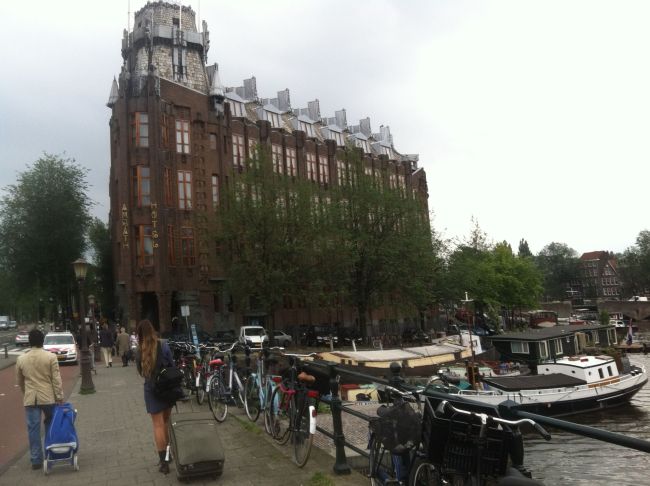 Hotel Amrath, fka The Shipping House, amazing art deco architecture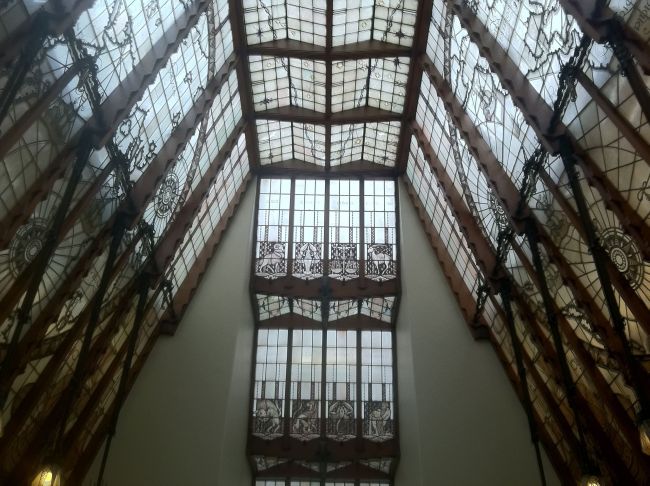 the nautical-themed skylights are incredible
stained glass is everywhere
Like Paris we took a bunch of walking tours in Amsterdam, and the streets were just as haphazard; but here you have to deal with canals and bridges everywhere, and bike traffic instead of cars.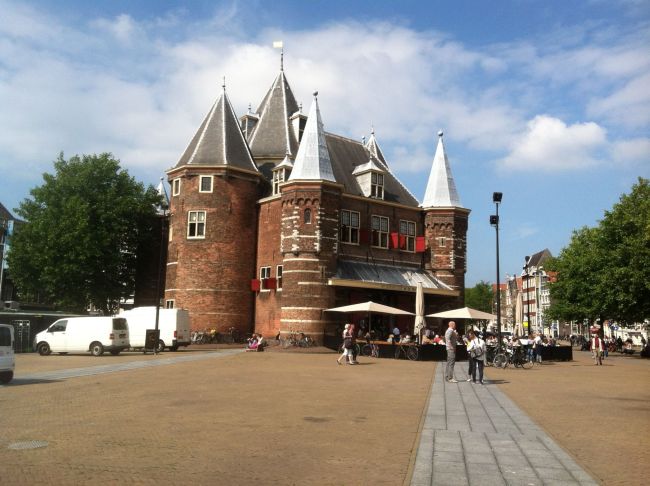 "In the Waag", a landmark in Niewmarkt with a great little cafe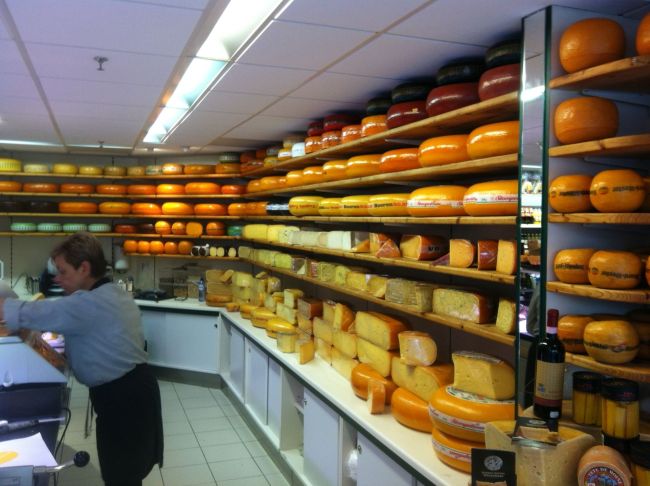 cheese!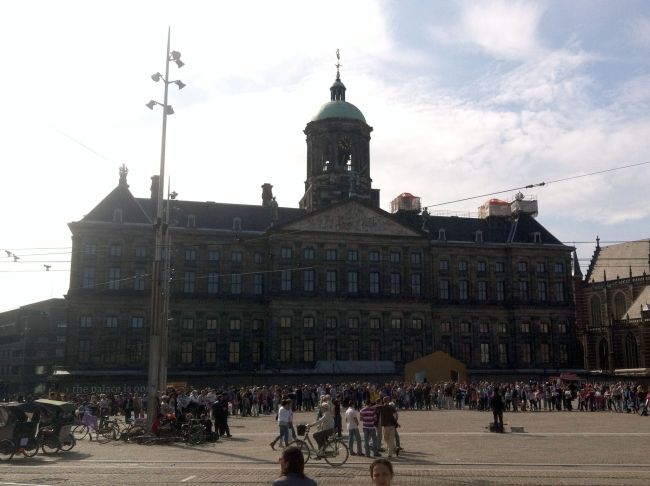 the Royal Palace, built directly on the original Amstel Dam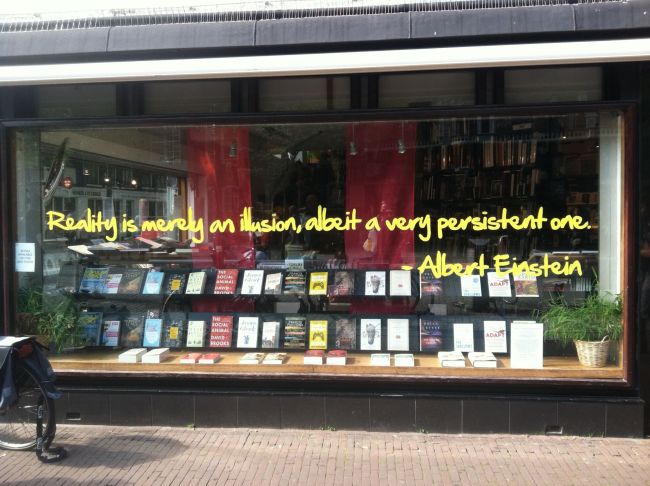 indeed
(seen in the window of a bookshop)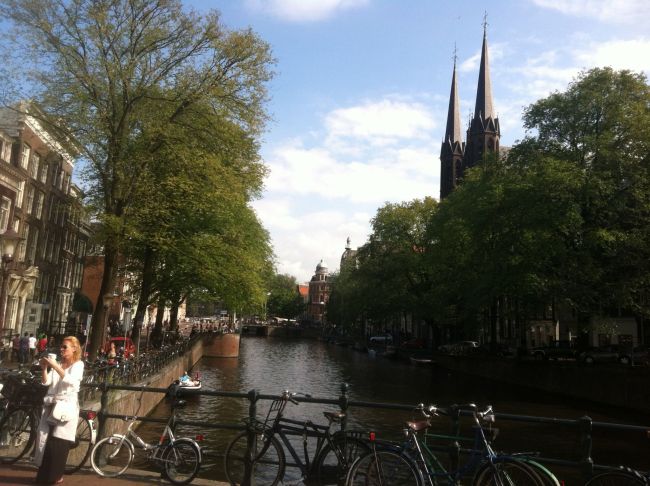 canals everywhere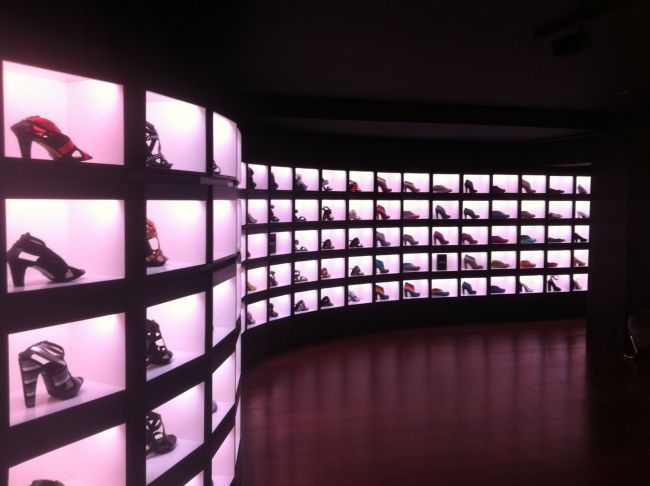 high fashion: Rem Koolhaas' amazing shoe store United Nude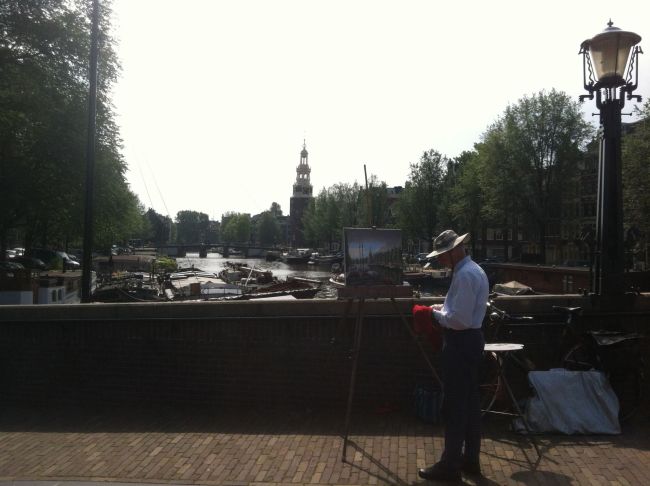 a picture of painting a picture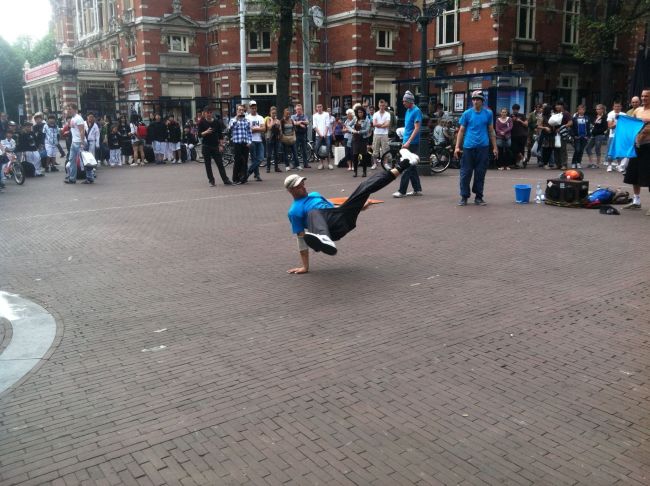 break dancing on the Leidseplein: awesome street act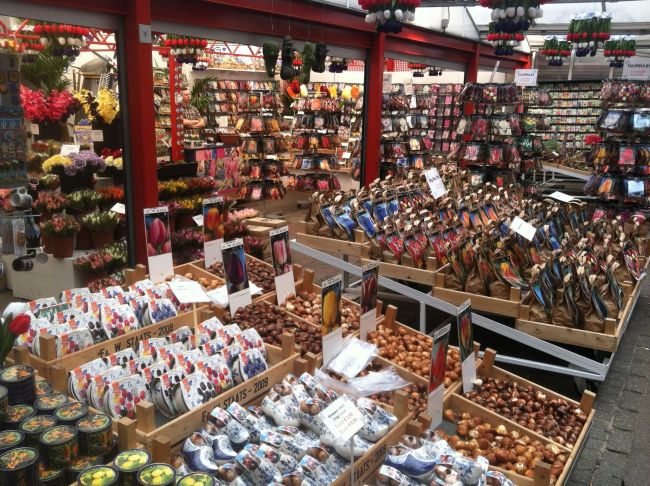 the flower market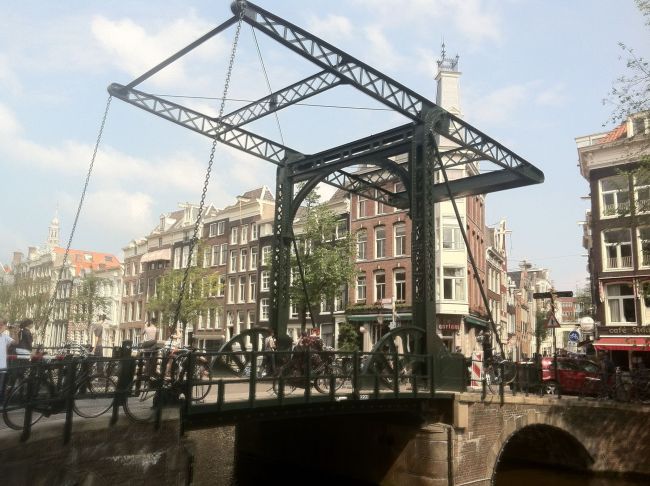 city of canals, locks, and bridges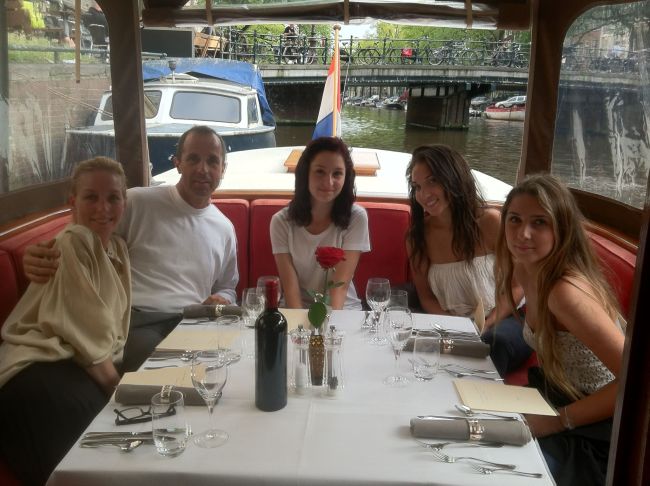 wonderful dinner on a canal boat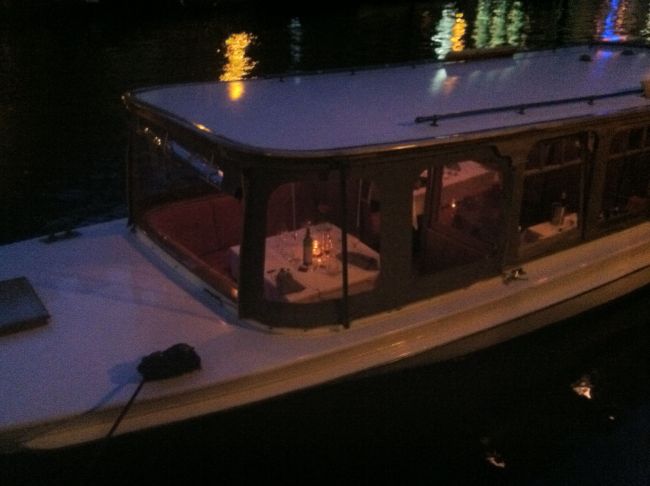 the dining room of the world
We took a day trip via train down to my home town of Vlaardingen, near Rotterdam. The ostensible purpose was to show the kids my little city, but really it was to get Ijzerkoekjes, the world's greatest cookies which can only be bought here. (Yes, we bought nine dozen.)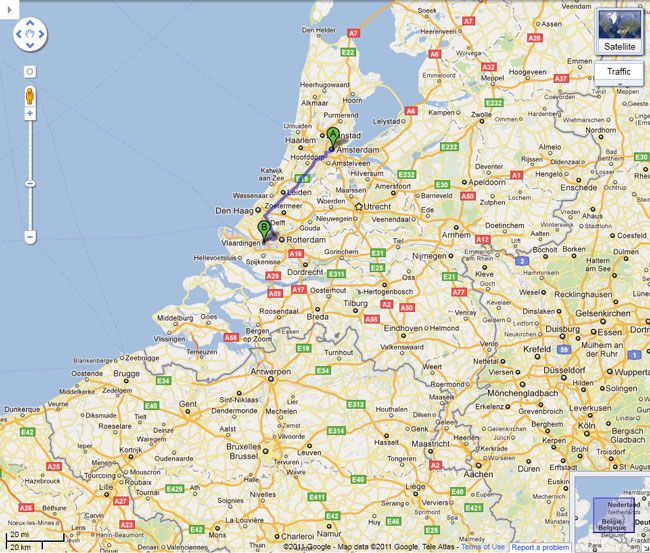 Vlaardingen is an ancient seaport on the Maas river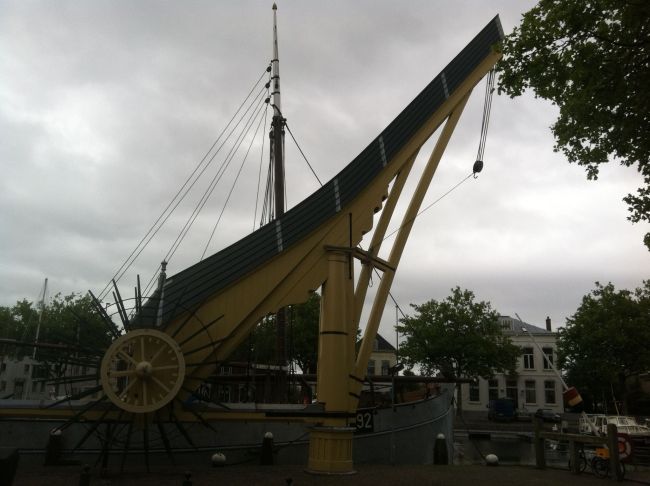 relic of a bygone era at the inner harbor
We made it back just in time to join my cousin Marco and his family for a wonderful Indonesian Rijsttafel. In the Netherlands Indonesian food is the most common ethnic takeout, kind of like Chinese in the U.S.; Rijsttafel is a feast of many little dishes, spicy and savory and wonderful.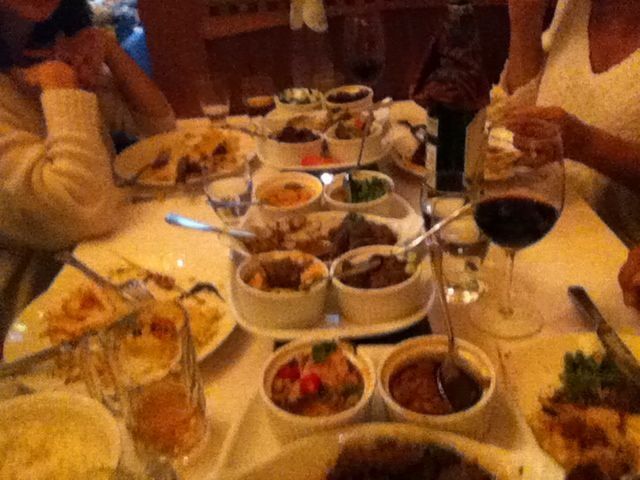 Rijsttafel! - yum
The Rijksmuseum is the National Museum of the Netherlands, housing amazing pieces by the Dutch Masters like Rembrandt, and nearby is a newer Van Gogh museum. We made an excursion to both...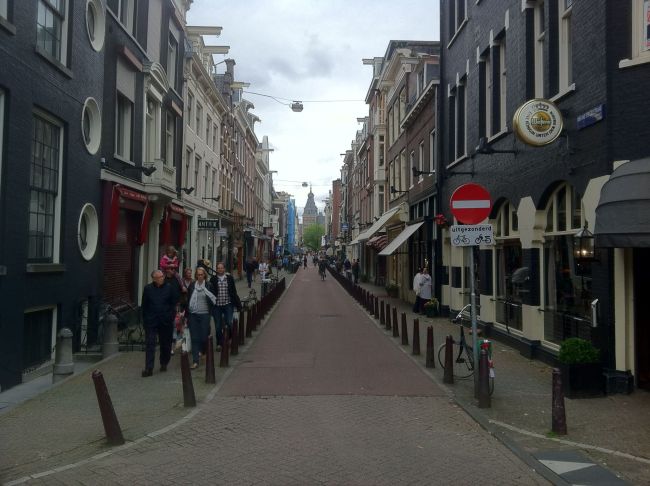 walking down the Niewe Speigelstraat ("new mirror street"), the art and antique district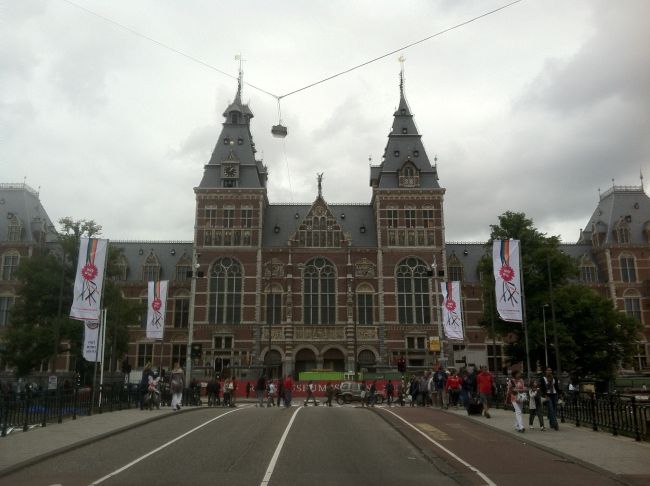 the Rijksmuseum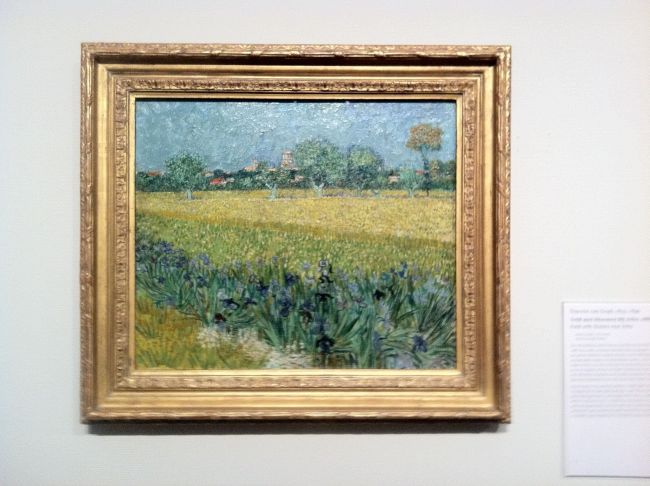 at the Van Gogh museum ... wonderful
first you see it up close, and wonder at the painterly style, and then you back up and it all makes sense
how did he do that?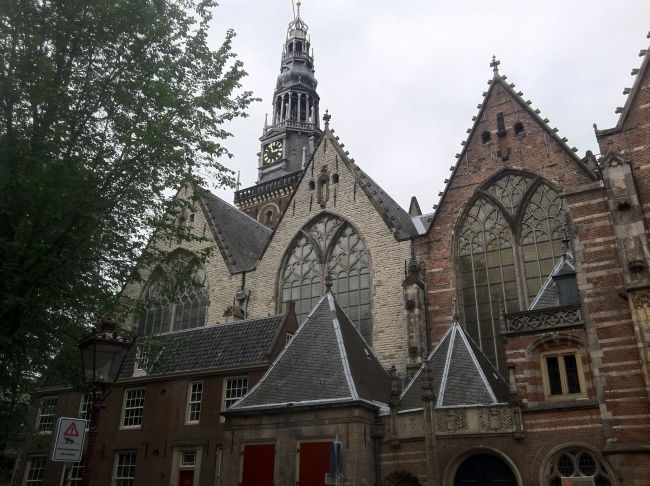 the Oude Kerk ("old church") in the Red Light district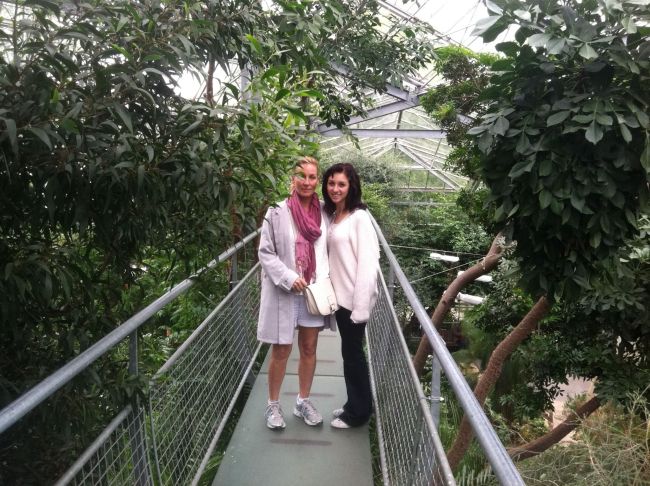 visiting the Hortis Botanicus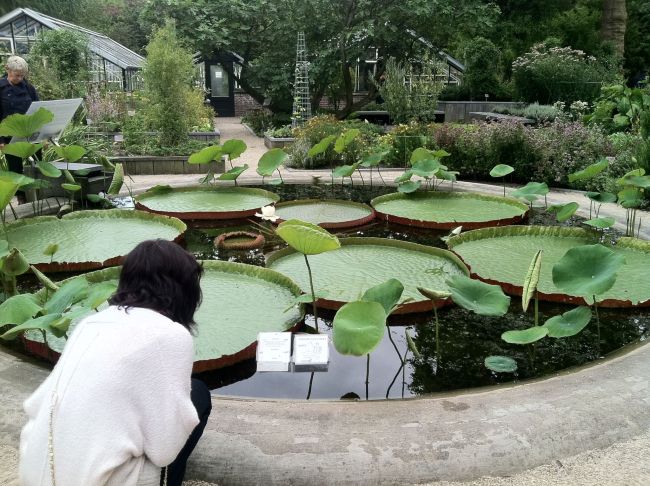 four-foot lily pads
(who knew they could be so big?)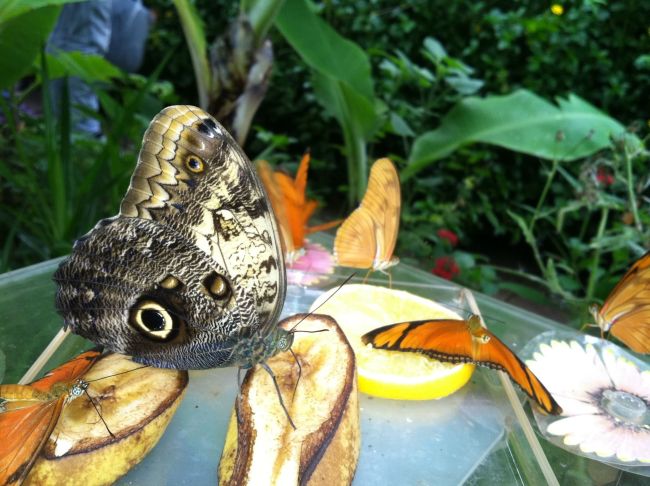 up close in the butterfly house
Everywhere we went Alex and Meg were served alcohol, no questions asked. The legal drinking age is 16 in Paris and Amsterdam, but clearly they aren't too strict about it, and no babies die. (Drinking and driving by anyone is however socially frowned on as well as a serious crime.)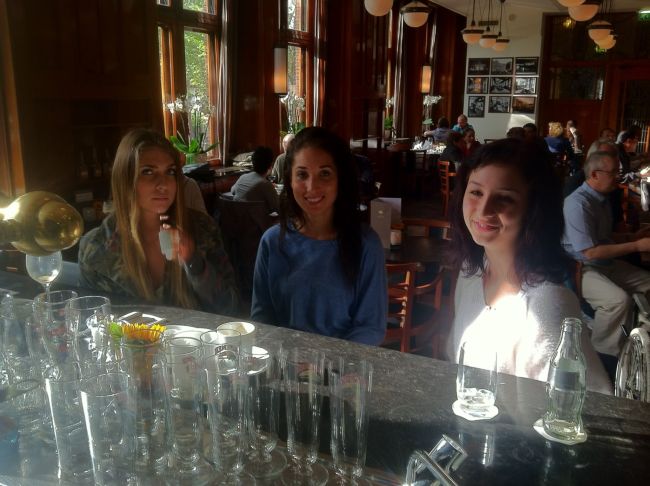 Alex, Jordan, and Meg at their posts in the hotel bar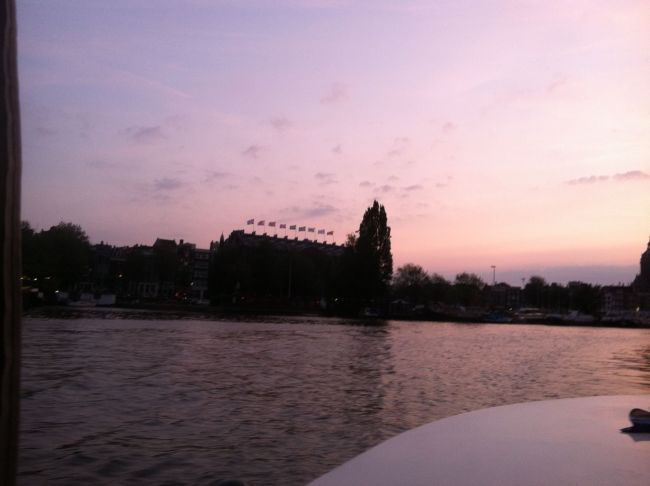 goodbye to Amsterdam; we'll miss you, and we'll be back
All in all, a wonderful trip. And now, back to reality ... which in my case means, back to six more weeks of vacation. I do however plan to spend it doing a bit more than sitting around reading (although I want to do a lot of that too...) - please stay tuned!