Archive: July 23, 2011
| | |
| --- | --- |
| TDF stage 17 / mountains - Boassen Hagen wins this time, GC mostly unchanged despite Contador attacks | |
(written retrospectively on the train to Grenoble, to watch stage 20; stay tuned for more about that :)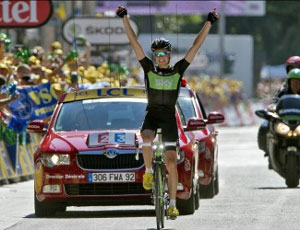 So stage 16 was unexpectedly great, with everything, while stage 17 was unexpectedly pedestrian, despite having pretty much the same setup as stage 16. That's how it goes sometimes. There was a break, there was an attack from the break, and Edvard Boassen Hagen beat Sylvain Chavanel to the finish to win, a day after finishing second. (Yeah we could say he has good form :) Behind among the leaders Alberto Contador attacked on the Cat 1 Sestrieres, but was marked by Andy Schleck and the continually surprising Thomas Voeckler. This whittled the group down but did nothing to the GC overall. On the long descent back down there were some adventures (Jonathan Hivert nearly crashed several times in the break, and Thomas Voeckler nearly did too, losing 30s from his GC lead) and for a bit it looked like ace descenders Contador and Samuel Sanchez might be able to pull some time. But in the end the Schlecks and Evans pulled even, and we reload for stage 18...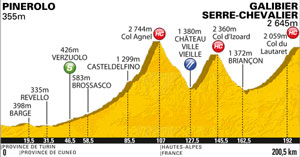 ... which is going to be amazing... who could wait for this? Three HC climbs in a row, with a mountaintop finish on the Col du Galibier, the highest ever in the Tour. Should be GC fireworks for sure...
| | |
| --- | --- |
| TDF stage 18 / high mountains - fireworks as Andy Schleck attacks, wins stage, nearly takes yellow | |
(written retrospectively on the train to Grenoble, to watch stage 20)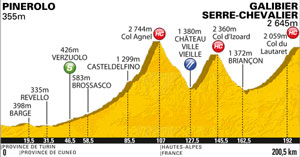 Wow! Today's stage 18 was amazing; just look at that profile, three HC climbs including a mountaintop finish at the top of the Col du Galibier. You could expect fireworks, and you would be right. Of course there would be a break, and of course the break would disintegrate on the climbs, with a few goats breaking clear, and the leaders staying together until the final climb, and then pow the attacks would come, right?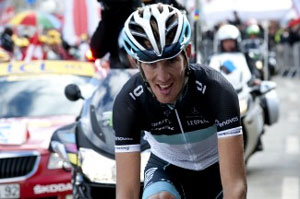 Wrong! Instead there was a huge break of 24 riders, with the rest of the peloton staying together and midway through the second climb on the Col d'Izoard Andy Schleck attacked! and boom he was gone. Nobody knew what to do with him... none of the leaders responded, figuring his attack was too far out to succeed. The break blew up and riders kept going backward all day, and meanwhile Andy just kept going, ultimately fading a bit on the final climb but still hanging on to win. Cadel Evans drove the chase up the final climb, limiting his losses, and dragging Voeckler along to keep him barely in yellow. Others who hung in included Ivan Basso, Damiano Cunigo, and Franck Schleck, but Contador was dropped (!) and is now out of GC contention, as was Samuel Sanchez (!) What an amazing stage of an amazing tour.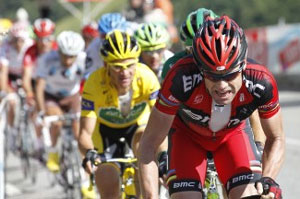 At this point we have only l'Alpe d'Huez ahead (wow!) and then the time trial (on my way there just now :) and then the final parade, so we can conclude that the winner will be Andy (0:15), Frank (1:08), or Evans (1:12), and Voeckler has a real chance at the podium. Only Cunigo (3:46) and Basso (3:46) are close enough to compete for third, at this point Contador (4:44), and Sanchez (5:20) can make the top five but not the podium. Stay tuned!
| | |
| --- | --- |
| TDF stage 19 / high mountains - Contador attacks, nearly wins, as Andy Schleck takes yellow | |
(on the train to Grenoble to watch the ITT today! - I am *so* excited...)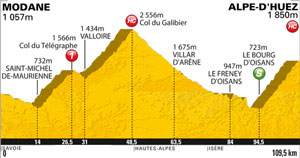 And so yesterday we reached l'Alpe d'Huez, the ultimate climbing stage of the 2011 Tour even though stage 18 was arguably harder and longer and hence the "queen stage". Partially it's because of the mystique of l'Alpe - the 21 hairpins with the stage winners celebrated at each one - and partially it's because this is the last stage before the ITT later today - and partly it's because the stage is so short; despite the Col du Galibier en route everyone reaches the bottom at the same time, everyone attacks, and may the best man win. So it was the last time l'Alpe was in the Tour, in 2008, when Carlos Sastre won it and won the Tour.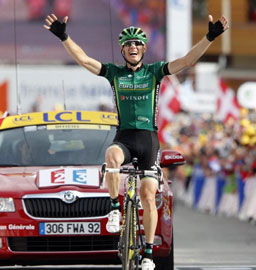 So what happened? Well we had the usual early break, but then Alberto Contador attacked! One day after falling out of GC contention after being unable to stay with the leaders on the final climb, he seemed to be the Alberto of old. Only Andy Schleck could stay with him on his dynamic accelerations, with Cadel Evans and Thomas Voeckler struggling to stay on. And then Voeckler finally cracked and fell off. And then Evans had a mechanical, had to switch bikes, and suddenly was under pressure to stay on. Even before we reached l'Alpe the peloton was all over the mountain. Evans BMC team restored order and began a solid chase, so that by the foot of l'Alpe there were about 30 riders again. On the final climb Contador attacked again (!) and seemed headed for victory, with Evans driving a hard chase, both Schlecks on his wheel, shedding Voeckler for the final time and dropping him from yellow. Samuel Sanchez attacked, and then Voeckler's teammate Pierre Roland followed, seeking the white jersey. Near the seemingly unreachable top Contador lost steam, and was ultimately passed by Roland, who won (and took White), and Sanchez, who ended up second (and in Polka Dots). Evans drove the leaders to the top, putting Andy Schleck in yellow for the first time.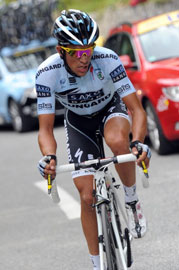 I have to say, today I liked Alberto more than at any time before; he might not have won the stage or the Tour, but he won the respect of the fans.
So going into today's ITT we have Andy in first, Frank 2nd (0:53), and Evans 3rd (0:57). Voeckler has dropped to 4th (2:10). I think Evans will easily take a minute from both Andy and Frank, and will win the tour. I don't think Cunago (3:11) or Contador (3:55) can make the podium. We'll see - stay tuned!
Return to the archive.
Home
Archive
flight
About Me
W=UH
Email
RSS OPML

Greatest Hits
Correlation vs. Causality
The Tyranny of Email
Unnatural Selection
Lying
Aperio's Mission = Automating Pathology
On Blame
Try, or Try Not
Books and Wine
Emergent Properties
God and Beauty
Moving Mount Fuji The Nest Rock 'n Roll
IQ and Populations
Are You a Bright?
Adding Value
Confidence
The Joy of Craftsmanship
The Emperor's New Code
Toy Story
The Return of the King
Religion vs IQ
In the Wet
the big day
solving bongard problems
visiting Titan
unintelligent design
the nuclear option
estimating in meatspace
second gear
On the Persistence of Bad Design...
Texas chili cookoff
almost famous design and stochastic debugging
may I take your order?
universal healthcare
entertainment
triple double
New Yorker covers
Death Rider! (da da dum)
how did I get here (Mt.Whitney)?
the Law of Significance
Holiday Inn
Daniel Jacoby's photographs
the first bird
Gödel Escher Bach: Birthday Cantatatata
Father's Day (in pictures)
your cat for my car
Jobsnotes of note
world population map
no joy in Baker
vote smart
exact nonsense
introducing eyesFinder
resolved
to space
notebooks
where are the desktop apps?