My friend Tim and I watched the incredible stage 7 mountaintop finish of the Amgen Tour of California today, from the top of Mount Baldy, after climbing it ourselves on our bikes. It was a pretty incredible day.
We started by hanging out in Claremont, the start village; checking out the team buses and bikes and the Start area. We saw Chris Horner interviewed, and Dave Zabriske, and hung out with the Rabobank team. Then we watched the start and the first couple of neutralized laps around the town, before they headed out and up the hill. We mounted our bikes and followed them up Mount Baldy: 17 miles straight up to 6,800'. The peloton had 75 miles of meandering around the hills, so we beat them to the top (barely!) and then hung out and watched the finish.
Yeah, we took a *bunch* of pictures; here they are in case you're interested. And here are a few selected from the bunch: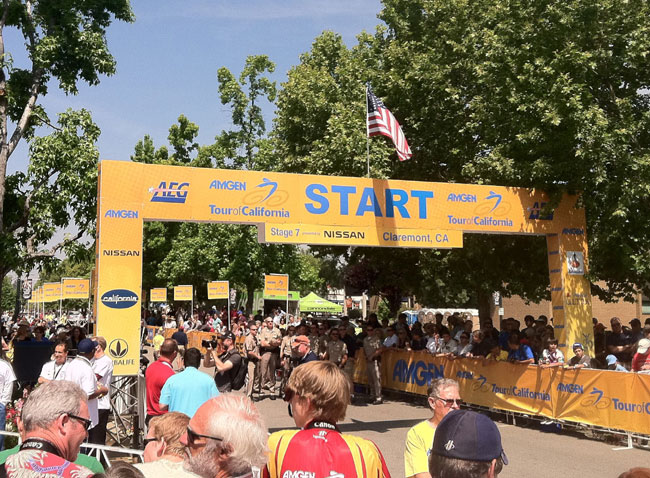 the start area in Claremont; a crowd gathers early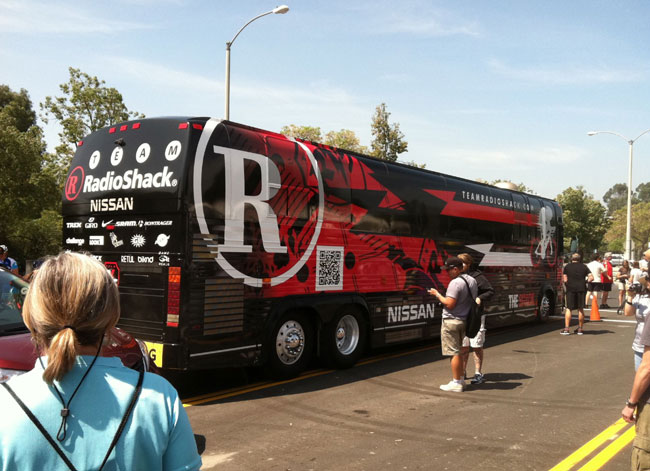 the Shack team bus arrives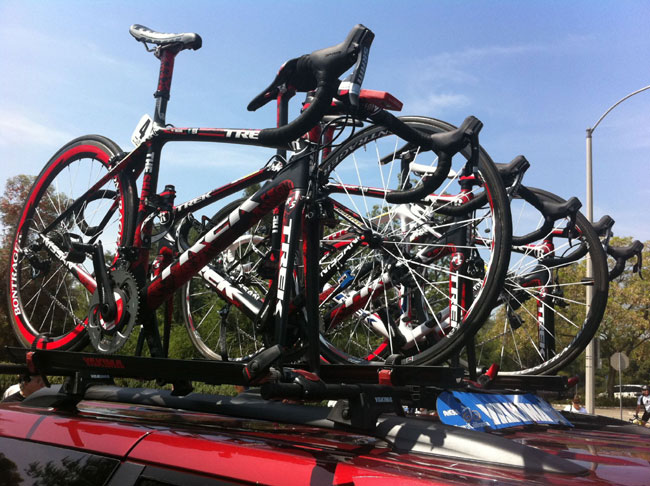 amazing bikes stacked out on display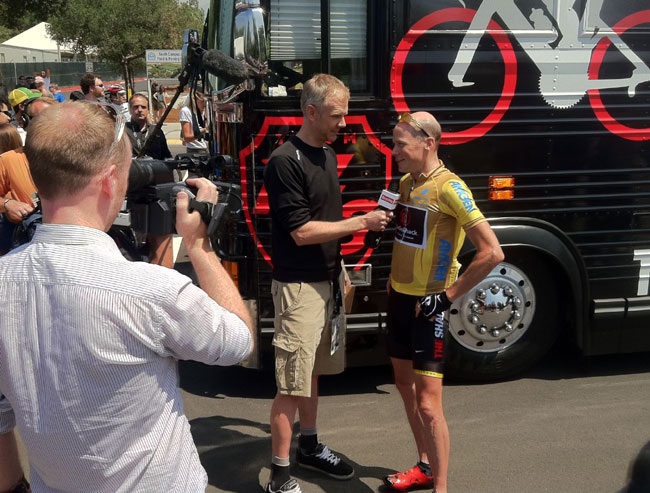 Chris Horner interviewed; he seems confident, not cocky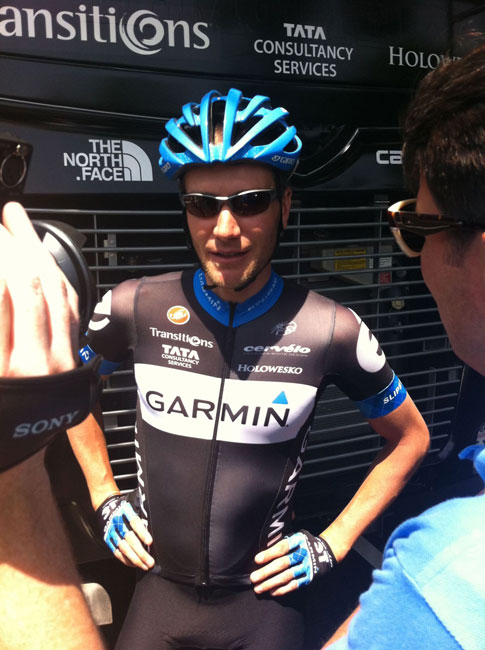 Dave Zabriske interviewed; he was happy with his win yesterday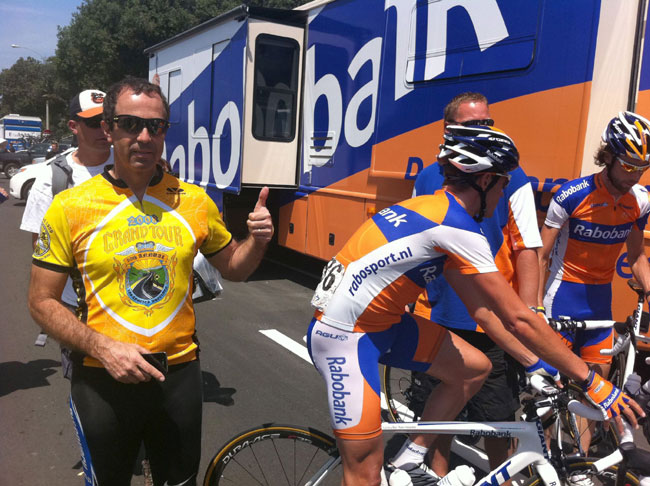 hanging out with Team Rabobank (go Oranje!)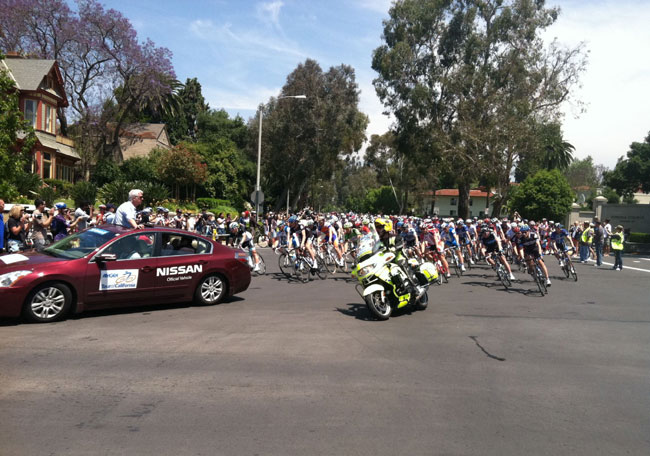 at the start! - the peloton takes a couple of neutralized laps through the town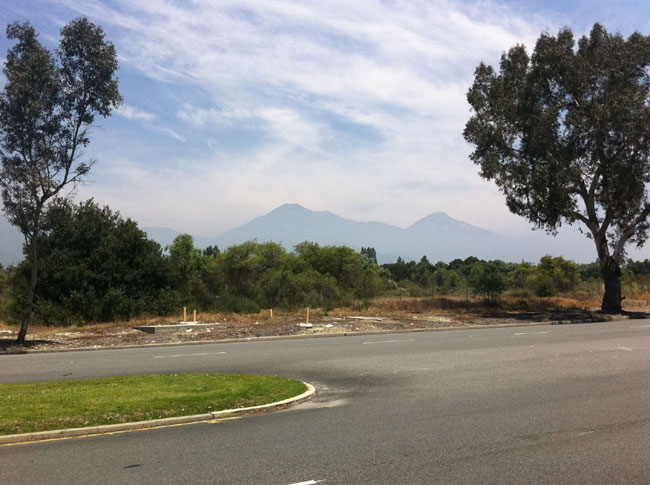 Mount Baldy seems amazingly far away right now - that's where we're going...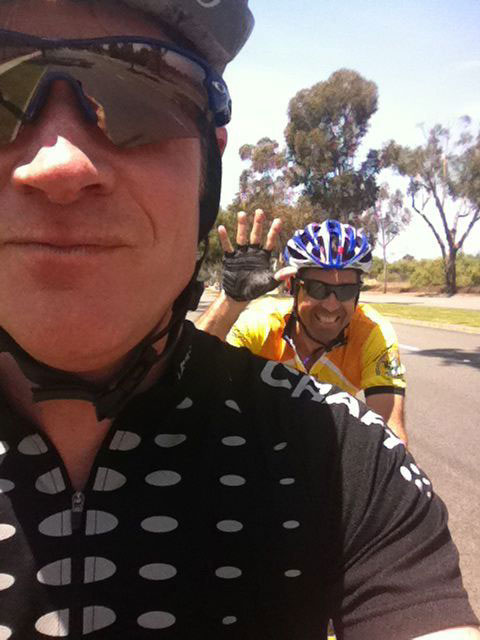 smiling in the flats before the climbs...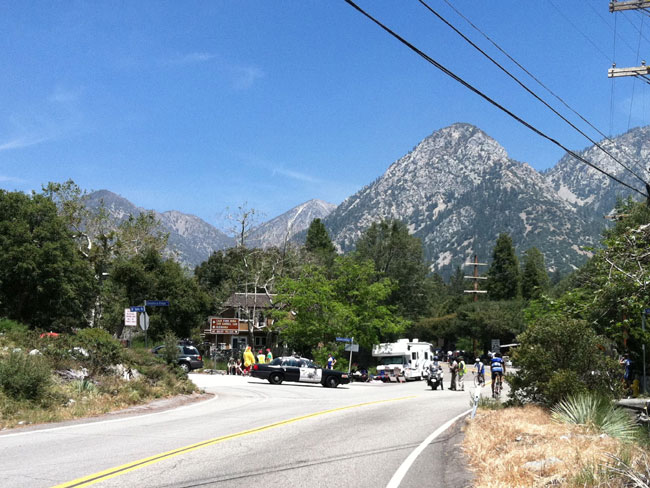 ... Mount Baldy village, whew. 12 miles straight up to get here.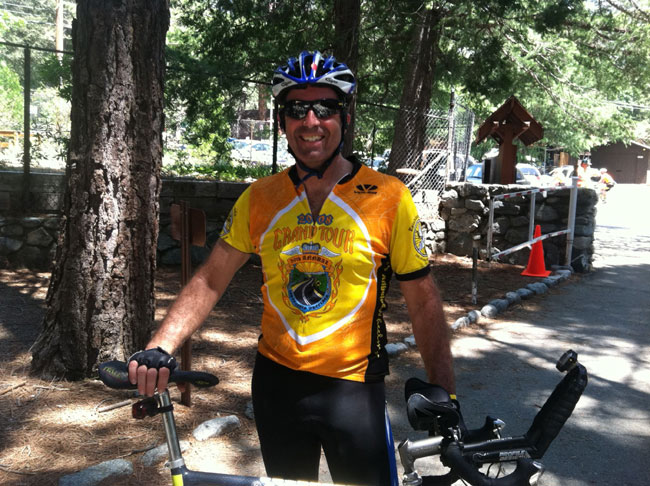 still smiling and preparing for the final assault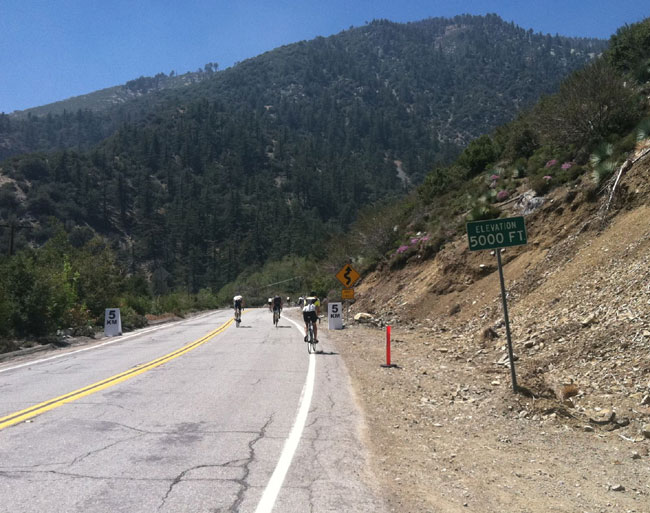 yikes, up we go... this is 10%, no place for the weak of heart or leg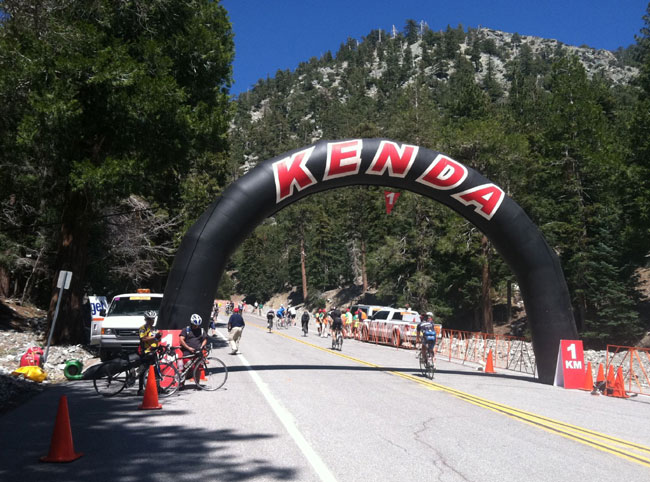 the 1K to go banner - and here it gets *really* steep, like 15%+ - wow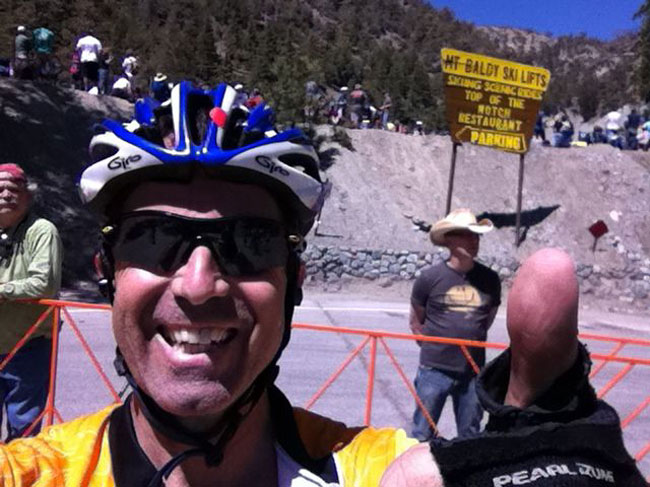 made it!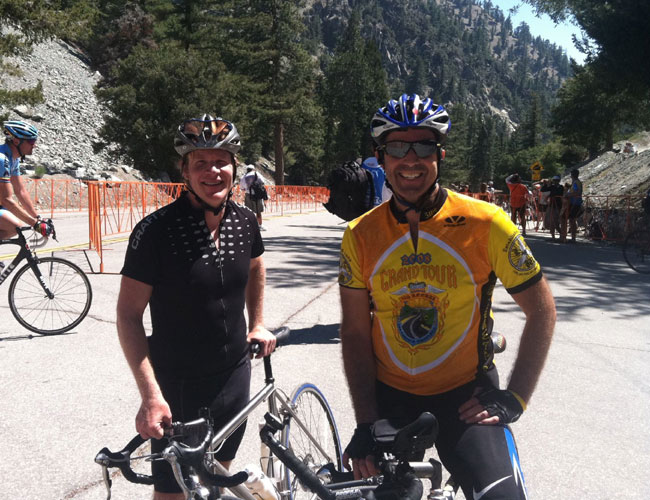 Tim and me
and now time to watch some racing...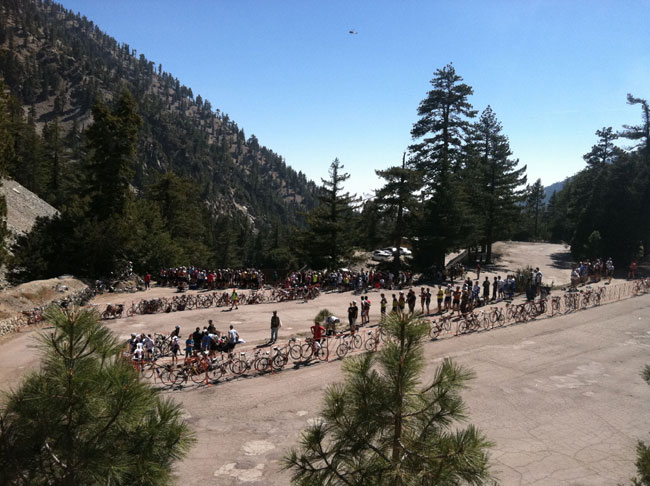 our view of the final section to the finish
the helicopter tells you the boys are close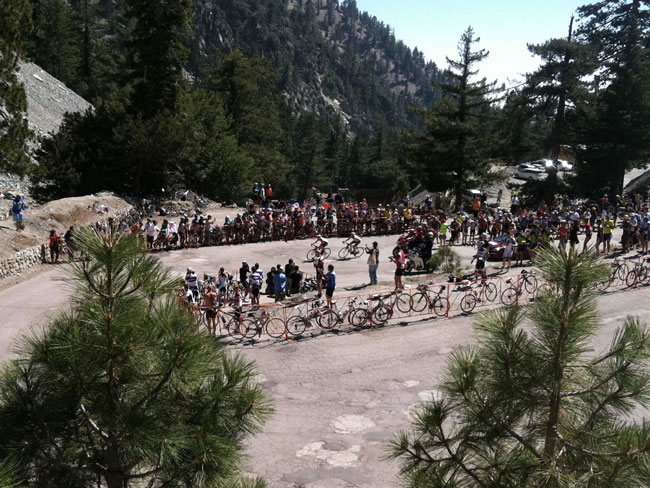 Levi tows Horner to the line as they blast away from the peloton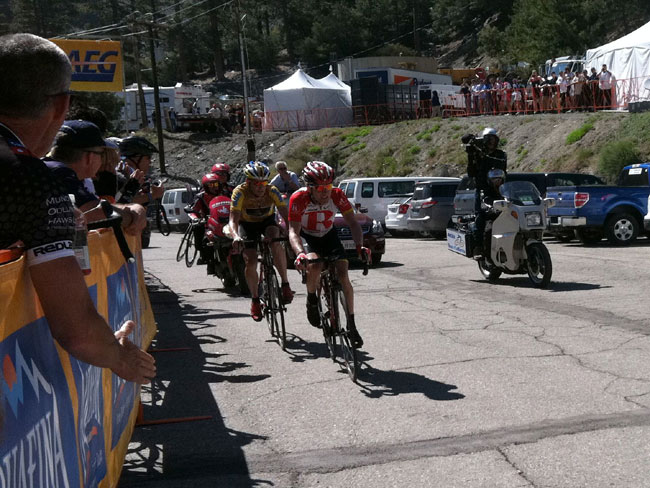 Levi and Chris just about to finish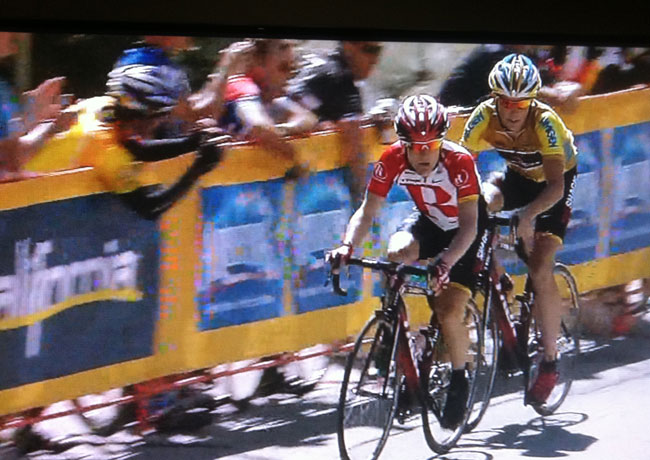 from television: me taking the picture of Levi and Chris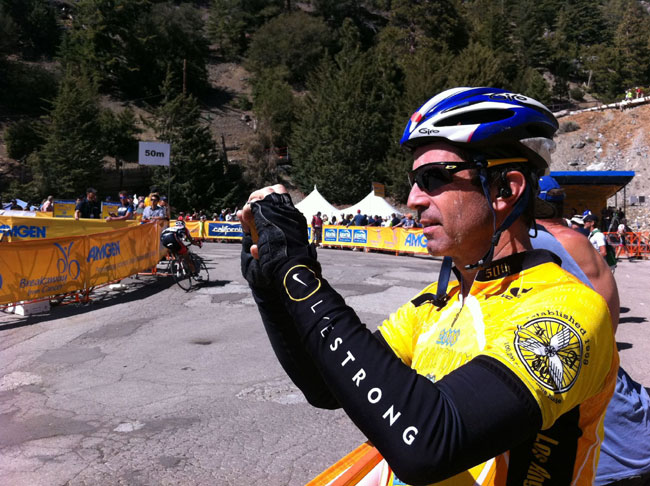 and Tim taking a picture of me taking a picture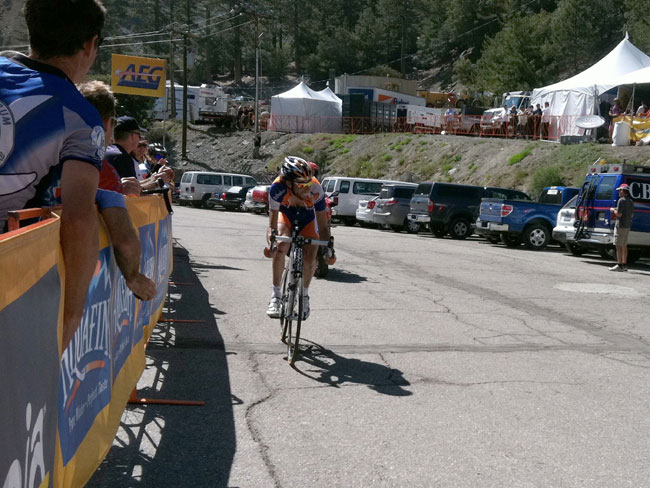 Laurens Ten Dam took third for Rabobank (go Oranje!)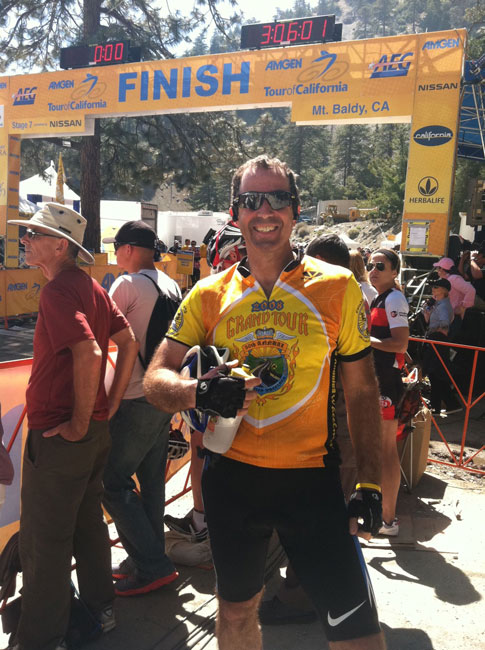 at the Finish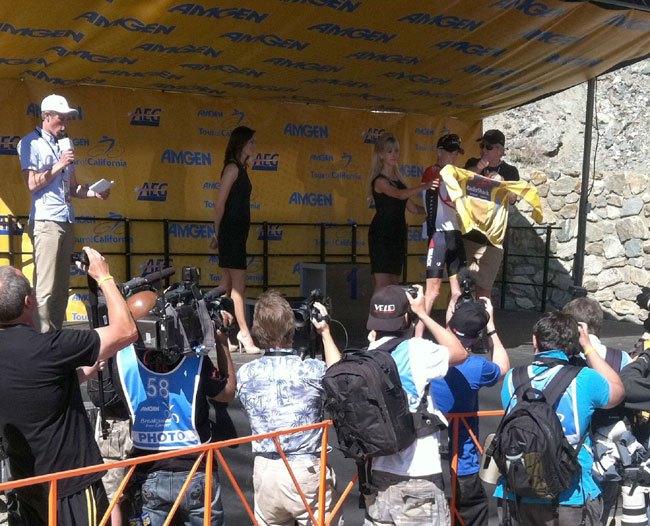 Chris Horner dons the gold jersey of the overall leader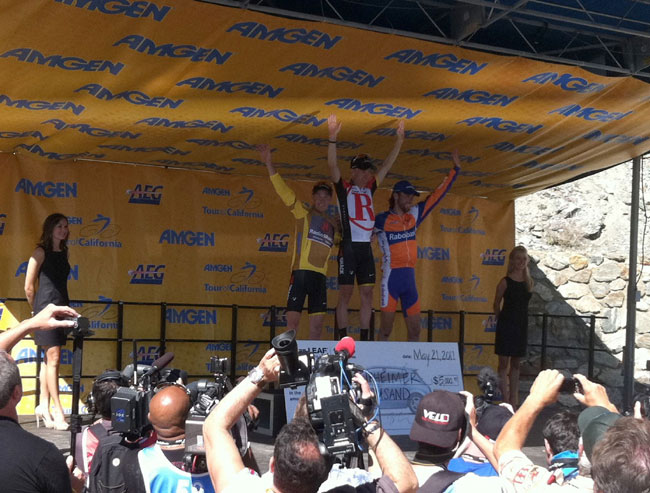 today's podium; Levi wins, Horner second, Ten Dam third - yay!
After some incredible racing on the final climb (4 miles at 10%, with the last mile at 15%) Levi Leipheimer towed teammate Chris Horner across the finish for a well-deserved win (and Horner solidified his overall lead). We watched the podium presentations and then headed down the hill, just in time to pass the groupetto on their way up. (A big bunch of the peloton who can't compete on the climbs gather together and ride up together.) Then we enjoyed a nice 17 mile descent - weaving in and out among slower cars - and headed home, just in time to watch it on television :)