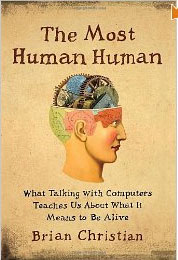 So I'm reading The Most Human Human, a *great* book (honestly it is the closest thing to a sequel to Godel Escher Bach I have yet encountered) and the book makes the most interesting point that interesting comes from surprise. If you already know what's going to happen, that's boring.
And what's the most commonplace question everyone uses to start a conversation? "How are you?" You are showing interest and caring and hitting the ball cleanly over the net. But now what, how do you reply? If you say "good", bssssp, that's it, rally over. How about "good, actually"? In fact, adding ",actually" to any reply makes it more interesting. There's a surprise factor, a hint of something more. You are returning the serve with topspin.
I love the idea that being interesting comes from being surprising. If you know me at all, you know that one of my favorite questions is "what was surprising to you?" If you went to a meeting, if you attended a conference, if you had dinner with someone; that's what I would ask. And I now realize this was a proxy for asking "what was interesting?" What differed from what I was already expecting. Viewed this way, conversation is not only asking for and providing information, it is asking about and explaining what was different from expected.
I love it, actually :)