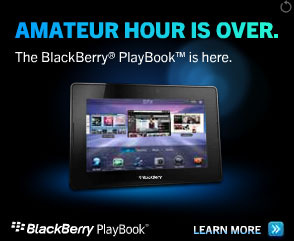 Just got off my plane from Tampa and am syncing email in the United baggage claim area, and there's a huge videotron with an ad for the RIM playbook headlined "Amateur Hour is Over". How bogus is that?
Apple has sold what, 19M iPads? RIM has sold zero PlayBooks. Seems like humility not hubris is called for. The PlayBook might be excellent but these ads don't give any reasons why it is better than the iPad, and clearly anyone contemplating a PlayBook is going to make the comparison.
Based on this data point, I think RIM are toast, it is now just a matter of time before they fade into irrelevance.
Amateurs!