Archive: May 2011
Don't you hate it when a public figure or company says something stupid, and then they issue an apology which isn't really an apology? The problem is that "I'm sorry" has two definitions: it could mean "I screwed up and I apologize", or "something bad happened and I wish it hadn't". So often people try to slime out of the first with the second.
Well not Backcountry.com. I don't even know who they are although I am apparently on their mailing list, and yesterday they published a real apology: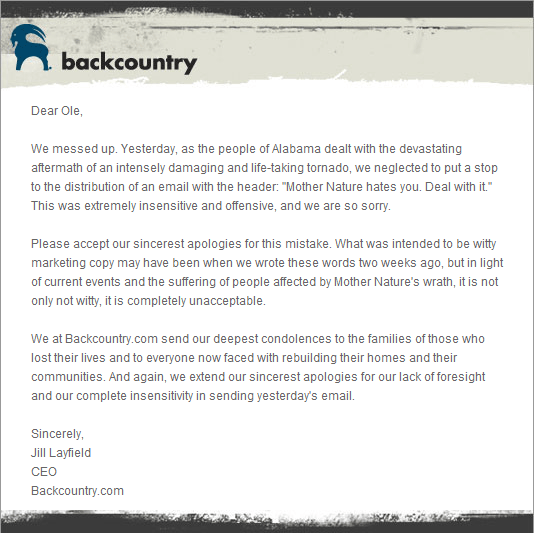 Well done. They screwed up but in the wake of their apology I am actually more inclined to do business with them now than before :)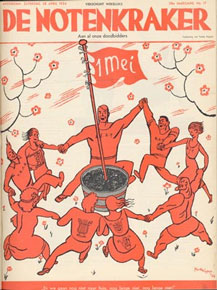 Hey, happy May Day! Did you celebrate or even think about it? It's a celebration of Spring, a celebration of workers and labor, a chance to elevate a giant decorated pole (what does that mean?) and even the international signal for distress (how did that happen?) But for me it was a day of rest after yesterday's century, and a day to get caught up on trip reports before heading out on the road again. Whew. And a day to do a little blogging...
[Update: wow, Bin Laden has been killed by a US military expedition in Pakistan Wow.]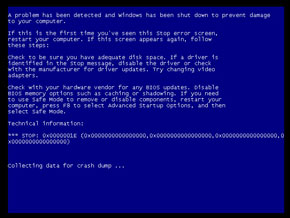 Today while running Win 7 blam I got a blue screen of death. Wow! Yeah I was running two VMs and coding and debugging and running a bunch of stuff, but still. I thought Microsoft had got rid of these with Win 7, I guess not entirely :(
PS that's not a screenshot (of course), it's an iPhone picture.
In the wake of an apparent Royal Wedding disaster, Michael Arrington asks how many Mulligans does Color get? I think zero, they're toast.
Atlas Shrugged update: BMW CEO apologizes for telling the truth about EVs. I cannot believe we (our government) are subsidizing this technology. Either it works in the real market, or it doesn't.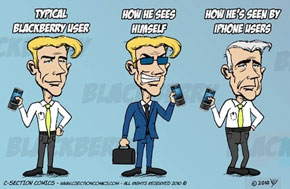 This is hilarious: how Blackberry users see themselves ... and how iPhone users see them. Since my conversion to the iPhone I've been trying to convince a colleague to switch to an iPhone - actually, just to try using an iPhone, and so far I've been unsuccessful. But I get it; I was a happy Palm Pre user for a long time...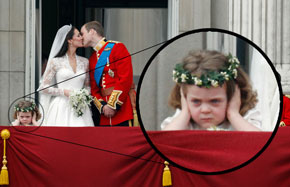 Here's my favorite Royal Wedding picture. That's so cute :)
| | |
| --- | --- |
| Atlas Shrugged considered | |
I am flying to New Orleans just now, but wanted to share my thoughts on Atlas Shrugged, the movie, which we saw yesterday, and Atlas Shrugged, the book, which I finished this morning, just as I was boarding.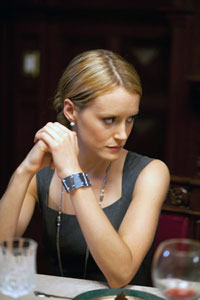 The movie was great; not Avatar / When Harry Met Sally / Almost Famous great, but solid entertaining on several levels. Especially for a low budget affair they did a nice job of bringing a long complex book to the screen, with good characters true to their literary counterparts, and a decent script. They also pruned the story back to the essential elements, there were only a few gratuitous plot devices thrown in to satisfy book fans. (The worst part of the movie: they botched the subplot of Dagny's Reardon Metal bracelet!) I thought the actors were great; in particular Taylor Shilling was exactly as I pictured Dagny Taggart, and Grant Bowler was a perfect Hank Reardon, and overall the politico-philosophical message was woven through and communicated. I might not see it again and again and again - there is no spectacle in the movie, it merely illustrates the book - but I liked it. And I love that critics hated it but audiences loved it; for a film which cost $15M to make, it has repaid its producers many times over. The biggest drawback is that it was Part I; the story was just getting started when the movie ended. Onward to Parts II and III.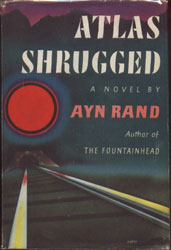 Meanwhile the book was great, as great as a book can be; full of ideas and thought provoking and world changing. If you haven't read it since college you should read it again; the messages will speak to you in a way they didn't then; you are [probably] older, and it is [probably]a different time. It was a long book but never boring, you knew where it was going but never how it would get there. On Facebook I posted this quote: "I trust that no one will tell me that men such as I write about don't exist. That this book has been written - and published - is my proof that they do. - A.R. 1957." Indeed.
Wow. And so today will be the first day of the rest of my life.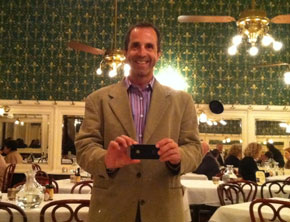 I'm in New Orleans, and yes, don't do the math, it is *late*. I spent a pleasant day at the Dark Report's War College conference, and after had an amazing dinner at New Orleans' institution Galatoire's on Bourbon Street, followed by some excellent live music and beignets eaten at midnight.
In customer situations I just about always wear a sports coat, but it was a warm balmy night and it was Bourbon Street so I figured what the heck, no coat required. Wrong. I get to Galatoire's and they politely offered me a dinner jacket. Brown, clashed perfectly with my pink shirt. Reminds me of a story about President Jimmy Carter; you'll recall he often wore a cardigan instead of a coat, and one time he went to a fancy restaurant in Washington, with secret service and all, and the maître d' politely offered him a jacket. A secret service man pulled the maître d' aside and said "do you know who that is?" He calmly replied "all the more reason he should be properly dressed". So be it :)
A subplot of being in NOLA was the swelling of the Mississippi further North; news reports were coming in of flooding near Memphis. Although the river was placid and calm while I was there, in another couple weeks it could be quite different. fXf!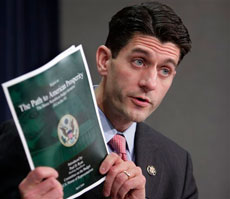 Powerline: How Paul Ryan won the recess. The Republican budget plan isn't just better than the Democrats, it exists, and its proponents are out there in the country talking about it and listening to feedback. Whether you agree or disagree with the plan details, you have to admit, that's how it should work.
Meanwhile President Obama seems more concerned with Donald Trump than the budget deficit.
Timeline: Bin Laden over the years. It was "interesting" flying yesterday, with heightened security but few delays and no incidents.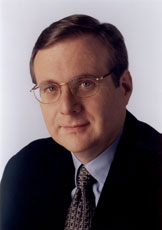 Boing Boing interviews Paul Allen. "You invested in Burt Rutan's SpaceShipOne, which became the first successful civilian space flight and is now being commercialized by Virgin. Where do you see the space-tourism industry going in the next generation? I think it's great. It's going to be very interesting to see the level of demand as the years go by." Among his many projects is the Allen Institute for Brain Science, one of my customers and an amazing organization. Count me as a huge Paul Allen fan.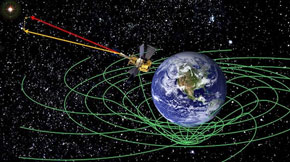 Einstein was right, again. Actually a better headline would be "Einstein is still right". Relativity might be counter-intuitive, but at this point it's a proven fact.
Oh, that's it, time for bed. And I have to get up at 5:00 to work out. Yawn!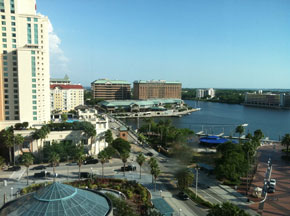 Yep, I'm in Tampa, visiting customers and enjoying the heat (and humidity); actually had a chance to sit out by the hotel pool today and soak up some sun. This has been a great trip but I'm ready to be home (!); tomorrow I have a couple of meetings and then a long flight and then ... Megan's birthday! And Saturday I'm riding the Breathless Agony. Whew. But for now I have a little quiet time - enjoyed a magnificent steak and cabernet earlier - and it's time for a filter pass...
This occurred to me too: The vindication of President Bush. "In one event, on May Day, the entire case against President Bush was demolished by one of his greatest critics... President Obama used the very tools, techniques, and tactics that he attacked previously and very publicly to accomplish it all, vindicating former President Bush and six years of the War on Terror before Obama took office." This is spun a bit and you can apply your own backspin if you want, but there is a lot of truth in here. I don't blame Obama however; he was inexperienced, and until you sit in the big chair and have the big decisions, you never know. Now if his team would just stop digging...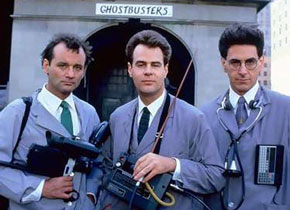 Kottke is revisiting 1984, "the biggest/most important year in modern cinematic comedy." Oh and this: "Rolling Stone was offered the chance to buy MTV, and Sports Illustrated was offered the chance to buy ESPN. Both magazines decided against it." Huh.
Dave Winer: feature requests from an iPad-using Blorker. Good stuff. Among other things, he thinks Apple is going to throw in the towel and allow Flash. Maybe, but I don't think so.
I will say this: I think Apple doesn't allow Flash for business reasons, not technical ones. And if they do allow it, it won't be because any technical problem is solved.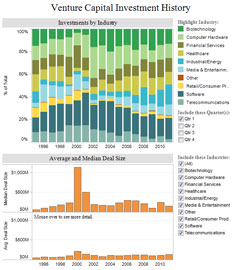 IPO Dashboards notes Shifts in the Venture Capital market. There's a great interactive chart in the post, check it out if you're at all interested...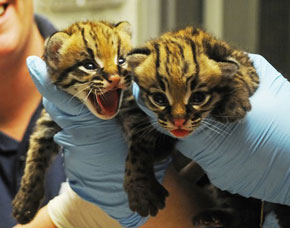 ZooBorns of the week: North Carolina Welcomes Ocelot Twins. And man do they look like trouble :)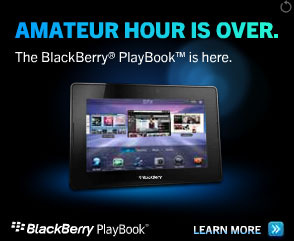 Just got off my plane from Tampa and am syncing email in the United baggage claim area, and there's a huge videotron with an ad for the RIM playbook headlined "Amateur Hour is Over". How bogus is that?
Apple has sold what, 19M iPads? RIM has sold zero PlayBooks. Seems like humility not hubris is called for. The PlayBook might be excellent but these ads don't give any reasons why it is better than the iPad, and clearly anyone contemplating a PlayBook is going to make the comparison.
Based on this data point, I think RIM are toast, it is now just a matter of time before they fade into irrelevance.
Amateurs!
Happy Birthday Meg! Yay, fourteen!! Unbelievable.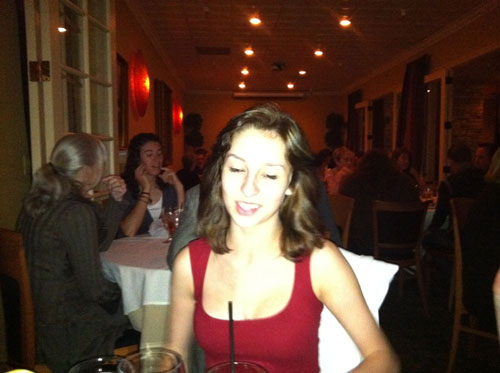 I hope you had a great day, and have a wonderful birthday weekend...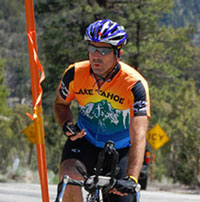 It had been a little while since I'd ridden an "ultra" - a century of more than 100 miles, or with more than 10,000' feet of climbing - so it was good to get back in the saddle today and ride the Breathless Agony, one of my favorite rides. This was my fourth consecutive year of riding it, and I posted a respectable time of 6:23 to the summit. Excellent!
Although the day began foggy it wasn't too cold, and a nice breeze came in to blow the fog away. The ride is broken into four "passes", and the third pass is called Damnation Alley, featuring an unbroken ascent of 4,000' at 7% for 11 miles. Last year it was pretty hot in this section, and I almost boiled over, but this year extra hydration, a sane pace, and the breeze kept me cool and moving. The last 20 miles takes you on to the 8,300' summit of the Onyx Pass, and the problem there is oxygen; you can feel the air thinning as you gasp your way to the top. But I made it and enjoyed hanging out at the summit checkpoint before bombing straight downhill for 35 miles. What a great ride.
Pictures of course (all iPhone this year, note the spiffy self-portraits taken with the front-facing camera :):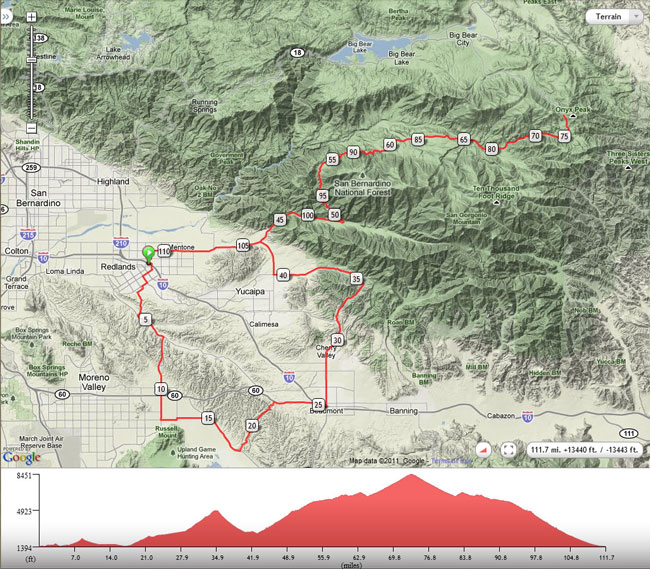 the familiar route: 113 miles, 12,000', and the Onyx Summit at 8,300'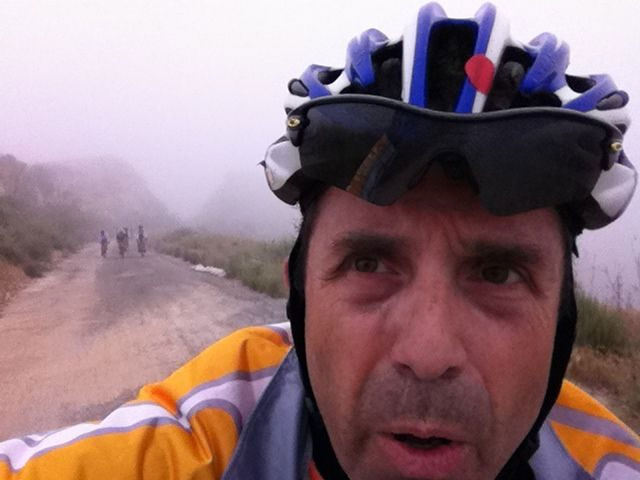 pass 1: Jackrabbit trail, rough road in the fog, but not too steep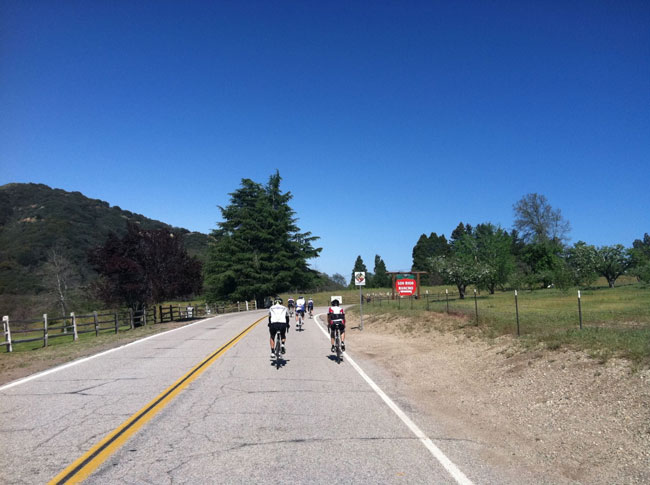 pass 2: Oak Glen summit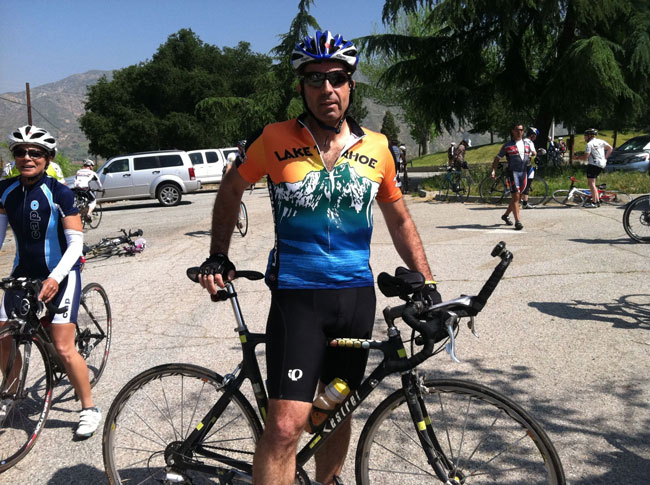 at the checkpoint before starting the main climb; still feeling good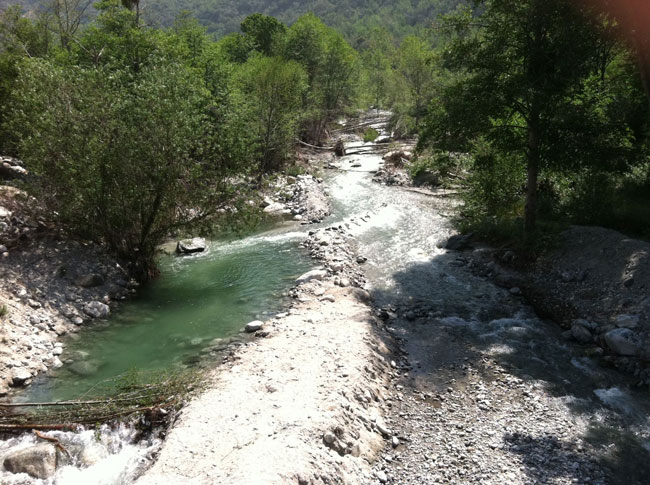 amazing views along the climb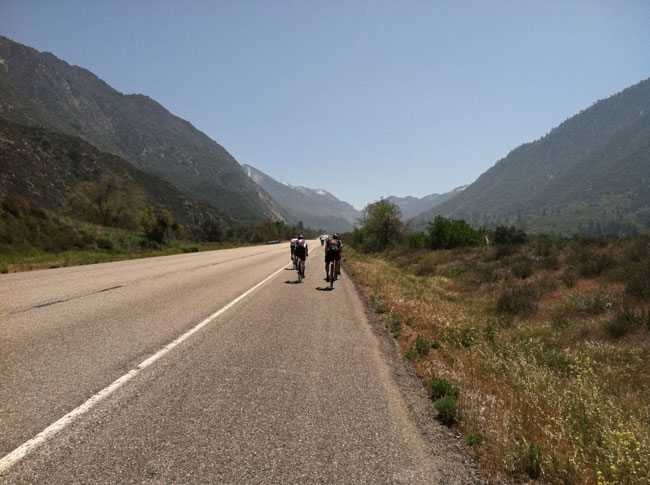 pass 3 aka Damnation Alley - 11 miles of unbroken climbing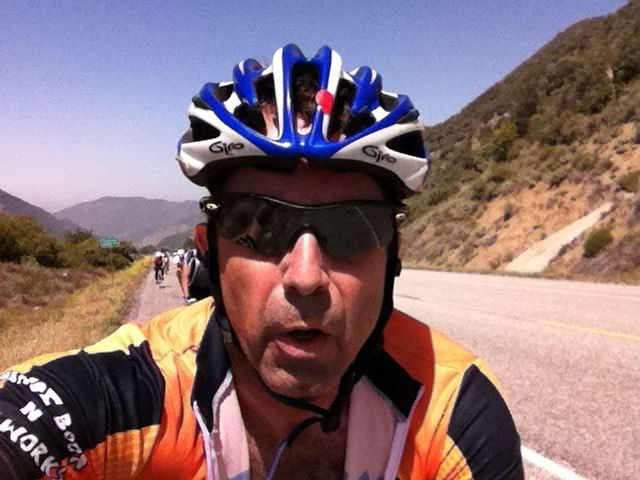 just passed the 5,000' sign, almost there, whew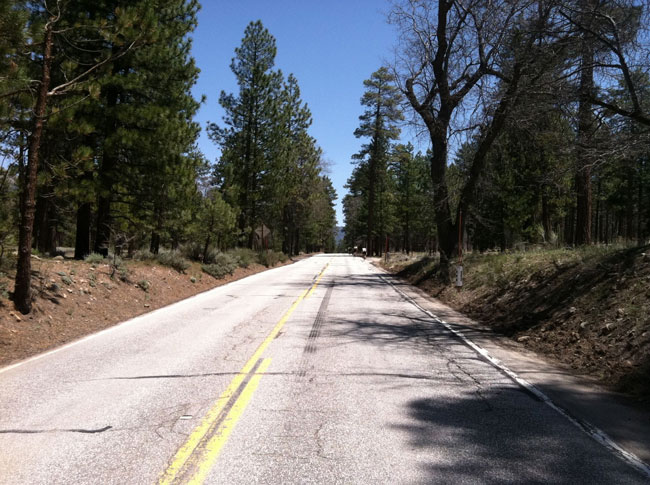 pass 4: onward toward the summit into the pines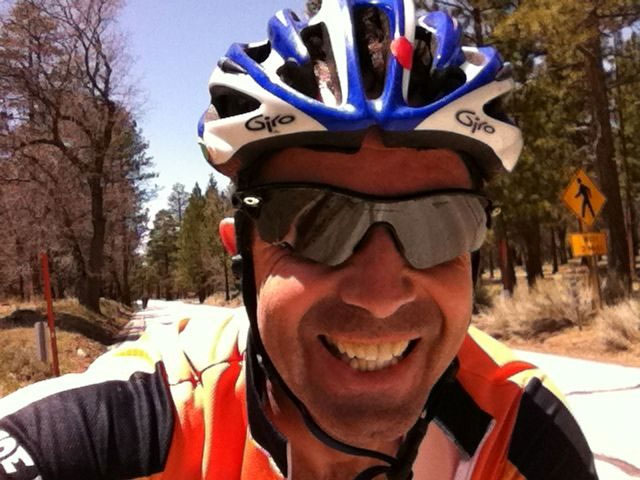 still smiling with about 10 miles to go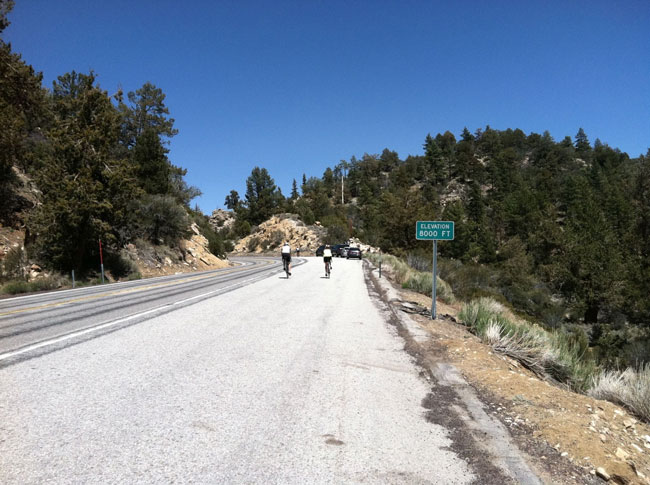 yikes 8,000' oxygen is scarce now and so is willpower ... must. keep. riding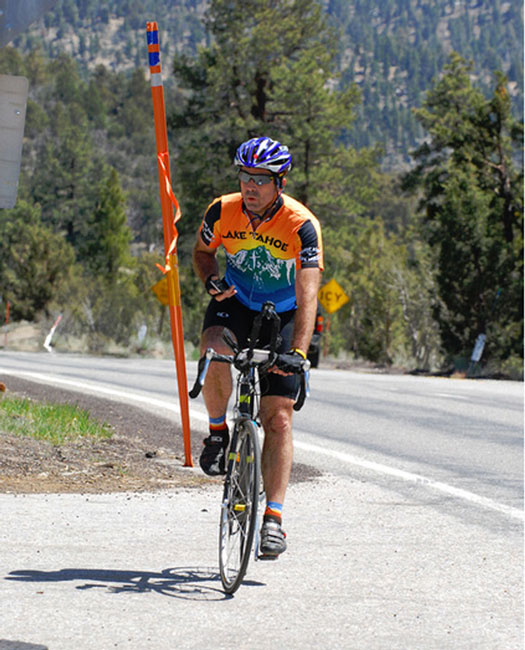 at the summit! yay, made it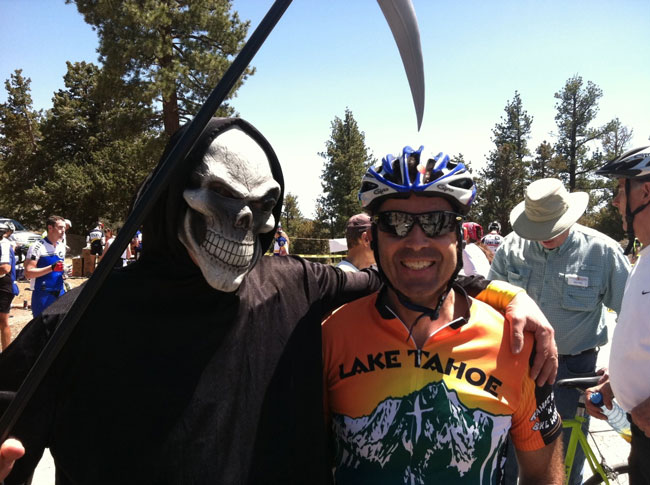 posing with an old friend
Felt good to get this one done; it was a great ride on a great day, and I needed the think time... also it was a good break from all the travel. And now into the rest of the weekend ... and Mother's Day!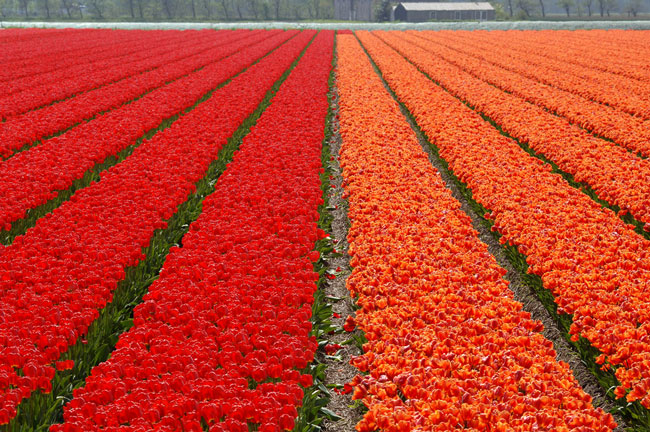 To my wonderful wife Shirley, my amazing Mom, and to all Moms everywhere:
Happy Mother's Day!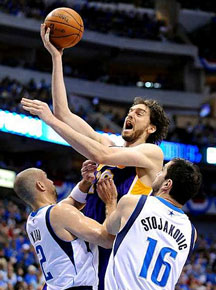 Man, how could this happen? The Lakers were swept by the Mavericks, brushed unceremoniously out of the playoffs. Game 4 was 122-86 and it wasn't even that close. The whole series wasn't close to close. Wow. Sometimes you see a team that matches up well against another team, but this was a way better team in every way. I'd have to pick them to go all the way now, and will be rooting for them to do so.
Too bad for Phil Jackson, a tough way to end his career. But it was a great career nonetheless, and of course they did make it to the playoffs again. Winning every year isn't quite possible... so be it.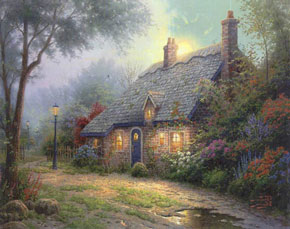 It's been nice to be home again for a few days, hang out, reconnect, recharge. No place like home.
Yesterday was nice; for Mother's Day we did *nothing*... except watch Because I Said So, which might be the ultimate Mother's Day movie :) It was our first Mother's Day without Shirley's Mom, but it wasn't sad, it was nice; we looked at old photos and talked of old stories and remembered her fondly.
So, what's happening? Let's see...
Apparently Herman Cain "won" the recent GOP Presidential Candidate debate in South Carolina, but pundits are sneering at him. Seems like we have a long way to go, it is too early to pick front runners. And Cain seems like a reasonable guy. Will have to watch this play out...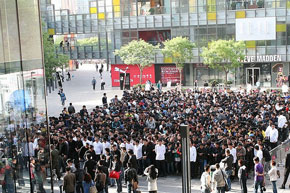 iPad sells out in China in less than four hours. I guess amateur hour isn't quite over yet :)
Apropos: What's the iPad's killer app? Adam Rosen says its The App Store, but I'm not so sure anymore, I now think it might be ease-of-use. My Mom loves her iPad but I'm certain she has never visited the App Store.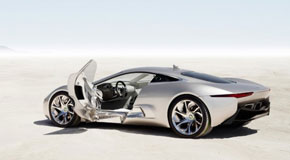 Inhabitat: Jaguar confirms plans to build hybrid supercar. Excellent! (Yes, that is a car story on Inhabitat :)
The Giro d'Italia started Saturday, the first of 2011's grand tours, and HTC Highroad won the opening TTT putting Marco Pinotti into the maglia rosa of the race leader. Yesterday Alessandro Petacchi outsprinted Mark Cavendish to take stage 2, and today Angel Vicioso won another sprint in stage 3. A long way to go with lots and lots of climbing; I think Alberto Contador is the clear favorite.
SpaceX: Why the US can beat China in Space. It's not because of the government, it's because of companies like SpaceX. Excellent!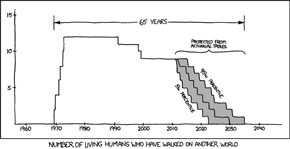 The number of living humans who have walked on another world, over time. Perhaps SpaceX will reverse the trend!
So that's the reason: Why the New Guy Can't Code. This happens so often, people pick on interview questions and procedures, but man it is hard to interview. And those technical interview questions are the best we can do in lieu of IQ tests, which is what we actually need.
So, should we redistribute grades the way we redistribute income? It sounds preposterous, but why not... the same logic can apply. In fact some would say we already do :(
NR: Jeff Bezos goes nuclear. Excellent. We must keep investing in alternative energy, and fusion has so much more potential than wind or solar power to actually replace fossil fuels.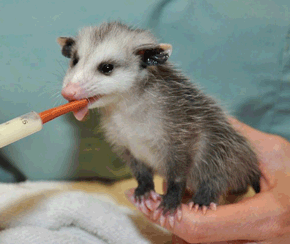 ZooBorn of the weekend: orphaned Opossum finds happy home. Awww...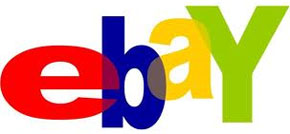 As you regular readers know I recently switched to a new iPhone, and so did everyone else in my family, and so we had a surplus collection of Palm Pres, Blackberrys, and associated chargers and docks and cases left over. No problem. A little eBay-man-ship and poof they are all sold. The hardest part as usual was the packing and shipping.
As awesome as eBay remains, they have definitely become worse. The site is now so crufty it is hard to use, with a kazillion little options on everything; creeping featurism. Simple is good and they are no longer simple. I also don't like the shipping and payment and return policy stuff, leave that to sellers, please. And I especially don't like that you can't leave negative feedback anymore; they are actually tinkering with the engine here, and I'm not sure it's going to work. But all that said I was able to sell all my leftover cellphone crap and have some cash for a few nice bottles of wine as a result :)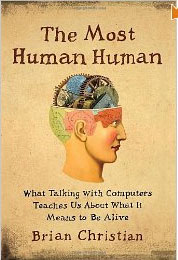 So I'm reading The Most Human Human, a *great* book (honestly it is the closest thing to a sequel to Godel Escher Bach I have yet encountered) and the book makes the most interesting point that interesting comes from surprise. If you already know what's going to happen, that's boring.
And what's the most commonplace question everyone uses to start a conversation? "How are you?" You are showing interest and caring and hitting the ball cleanly over the net. But now what, how do you reply? If you say "good", bssssp, that's it, rally over. How about "good, actually"? In fact, adding ",actually" to any reply makes it more interesting. There's a surprise factor, a hint of something more. You are returning the serve with topspin.
I love the idea that being interesting comes from being surprising. If you know me at all, you know that one of my favorite questions is "what was surprising to you?" If you went to a meeting, if you attended a conference, if you had dinner with someone; that's what I would ask. And I now realize this was a proxy for asking "what was interesting?" What differed from what I was already expecting. Viewed this way, conversation is not only asking for and providing information, it is asking about and explaining what was different from expected.
I love it, actually :)
| | |
| --- | --- |
| the balancing barn (NY110411) | |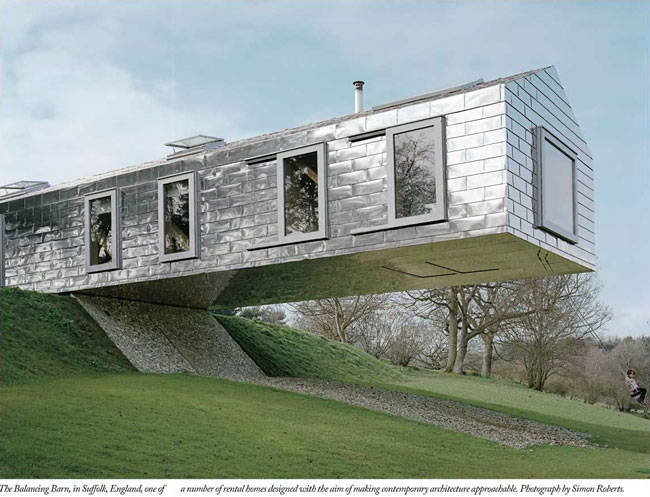 most excellent
(click to enbiggen)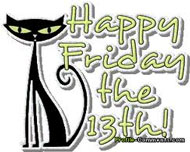 Friday the 13th! Yay. Was it back luck? Nah; I am back home after a couple of days in Vista, had a nice quiet day of working and coding (!), and am looking forward to a nice weekend. Who knows maybe the sun will come out and I can sit by my pool and read, or I can hang out and watch basketball, or take a little ride or two, or maybe even blog...
Uh oh: Mississippi River heading into Atchafalaya. A nice post explaining the problem and the solution. Looks like rural Louisiana is going to be flooded to save New Orleans. Sigh.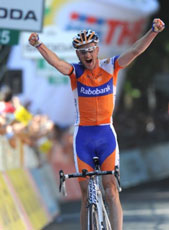 Go Rabo! Peter Weening is presently leading the Giro. Nobody expects this to last, but after his solo win on stage 5 he deserves it. Excellent.
Robert X Cringely: Why Microsoft bought Skype. This totally makes sense to me, they bought it because they couldn't afford not to, they couldn't let Google do it instead. And as Cringely points out the price tag has nothing to do with value, and everything to do with Google's make or buy decision. Still I have to say, I don't get it. In the long run there's no there there.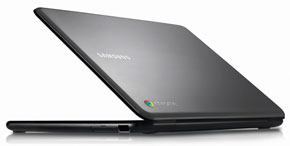 So Google have announced their Chromebooks. Interesting. I view these as somewhere between Netbooks and iPads in their usability, but somewhat less than iPads in their functionality, at a similar price. From that aspect, doesn't seem like they'll be successful, but I've been wrong before...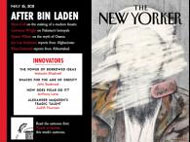 John Biggs: the New Yorker iPad App is the beginning of the end of print. Huh. And for me, the New Yorker is one of the few magazines (Wired being another) which are worth reading on paper. We'll have to see how this plays out; I must confess I have not [yet] checked out the NY iPad App.
Regardless of tablets, we are witnessing the end of print. The web has ended print publishing, slowly but surely, and there will come a day when magazines are as rare as chiseled stone tablets. Whether electronic tablets can prolong the format remains to be seen.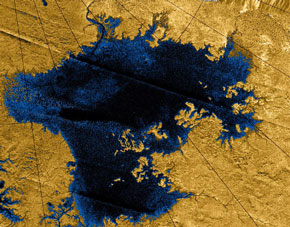 Johns Hopkins' Applied Physics Laboratory have been awarded a contract for Sailing the Titan Seas. "The Titan Mare Explorer, or TiME, would perform the first direct inspection of an ocean environment beyond Earth by landing in, and floating on, a large methane-ethane sea on the cloudy, complex moon." Excellent.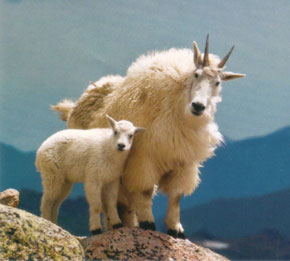 Kid of the day: A baby mountain goat.
Have a great weekend!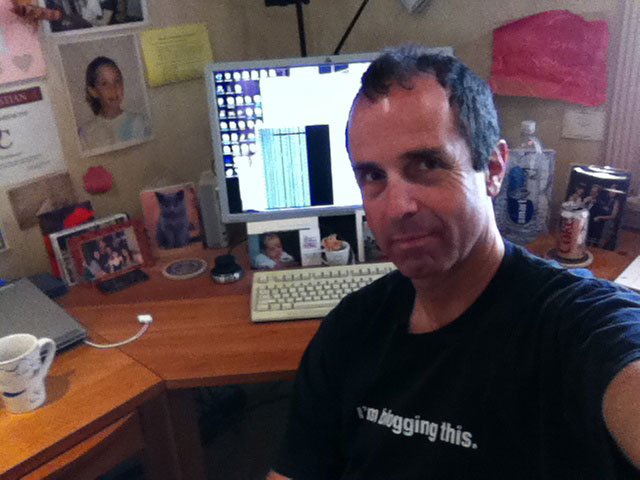 whew
It has been one month - possibly the longest month ever - since I've posted
I have a ton of half-composed posts, links, photos, and ideas to share
and a quiet weekend with nothing to do ... for once
stay tuned, I'm blogging this.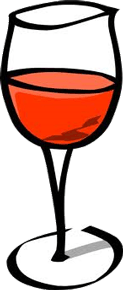 Whew! 34 posts later, I am caught up (but who's counting :) I managed to have a nice weekend; in between blogging I read a little, sat outside by the pool, did a little riding and a little working out, and watched some movies (household favorite A Good Year among them), and drank some wine. It was a good weekend :) and now for just a little more blogging...
Um ... Democrats, where's your budget? We've now missed the deadline by six weeks, and it isn't so much the GOP plan vs Obama's plan as it is where is the plan?
... and meanwhile the "misery index" is the highest on record (unemployment + inflation).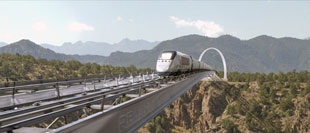 A modest proposal to expand railroad usage. Shades of Atlas Shrugged! Still as oil prices rise, rail becomes more economical...
Bitcoin: the most dangerous project we've seen. Huh, seems clever, but dangerous? It is rather technically interesting...
Native Apps or Web Apps, that is the question. Whether 'tis nobler to run on a single platform, well as can be, and suffer the slings and arrows of limited distribution, or to take arms against a single vendor, and by opposing, run on everything. It is getting harder to decide; the iApp universe is huge and growing, but the Android base is huger and growinger. Not to mention RIM and HP/Palm and oh yeah Windows Phone 7.
The other day I noted I didn't get Microsoft's acquisition of Skype, and it seems neither does Jean-Louis Gassee, who thinks maybe acquiring Nokia would have made more sense.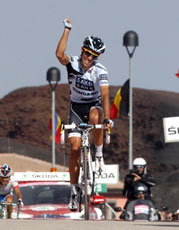 It seemed inevitable and today Alberto Contador won the Mount Etna stage of the Giro and took the overall lead. I do not think he's going to relinquish it, either.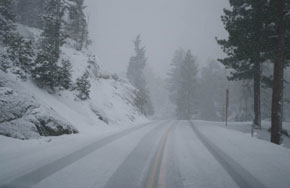 And the Tour of California almost started today, but didn't, as snow in Lake Tahoe forced a cancellation. You have to feel for the race organizers, they moved the TOC from February to May just to get better weather, and now it snows. Any other year it could have been a spectacular stage. Stay tuned, as they try to get in stage 2 tomorrow...
Onward into the week! I am traveling tomorrow, to Atlanta, then Philadelphia, and Baltimore... we'll see whether I have time to squeeze in some blogging. Please stay tuned!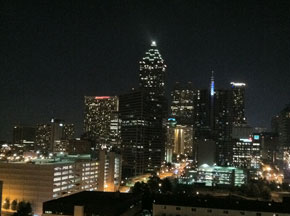 Yes, I am 'on the road again', in Atlanta! Yay. And tomorrow Philly, and Wednesday Baltimore, and Thursday ... home. But first a bit 'o bloggin'...
Just gonna say, loving the iPhone's camera, especially including its HDR mode. Check out the pic at right (click to enbiggen); that's pretty phenomenal for a cellphone.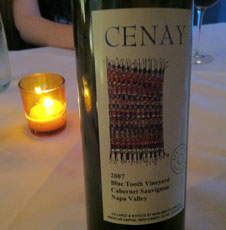 So tonight had a nice pre-seminar dinner with my Aperio team; we chose a Cabernet called Cenay from the Bluetooth vineyard. Paired perfectly with our meal :)
Today the next-to-last shuttle mission rocketed into orbit. Yay. And nobody even gives a second thought about the complexity of these missions, and that they "just work". Wow.
Check out this amateur iPhone picture of the launch - taken from a jet! WOW.
Early stimulus results: 450, 000 state jobs created, 1,000,000 private sector jobs destroyed. Oy. Lasting damage too, since those government jobs are hard to eradicate.
Horace Dediu wonders did Microsoft buy the wrong Skype? Aka, did they buy the company for the wrong reason, and hence pay the wrong price. A great question. Truly the business model was the core of Skype's success.
The Tour of California started today, a day late, and with an abbreviated stage moved from Incline to Nevada City. I feel horrible for the organizers, they've had such crummy luck with the weather. Hopefully the race will improve toward the end of the week. I'm planning to watch the Solvang ITT in person on Friday - stay tuned - and then watch the Mount Baldy stage in person on Saturday after riding up it myself with my friend Tim - stay tuned!
Okay, off to bed work. (yawn)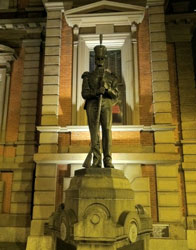 This is coming to you from (checks his calendar) Philadelphia! Spent most of last night working on an "extra" presentation for our seminar in Atlanta this morning, to cover for a guest speaker who cancelled... and then we ended up not using it, the sessions were so interactive we used all the time for questions and discussion. So it goes. And now here I am in Philadelphia all ready to do it again. Onward!
Nice dinner with our team tonight, and a customer, after which I walked the streets of Philly looking for the Liberty Bell. Turns out they've moved it inside :( and it cannot be viewed by normal people anymore. Boo. Still it was a nice walk :)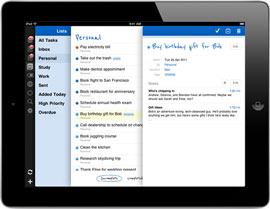 Interesting task manager for the iPhone: Remember the Milk. The hallmarks of popular iPhone apps is their simplicity and usability. Not complexity. Computing is shifting away from power users to everyday people.
From James Surrowiecki: Innovative Consumption. "You might think of consumption as a fairly passive activity, but buying new products and services is actually pretty risky, at least if you value your time and money."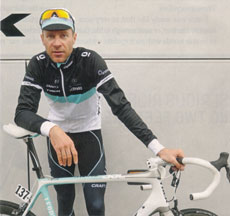 I'm following the Amgen Tour of California, getting ready for watching a couple of stages this weekend, and warming up by reading Bicycling Magazine; came across this great article authored by Jens Voigt, who is not only the oldest rider in the professional peloton, but one of the best liked all around the world. "Somehow, I became known more for the way I race than the races I won." Now that is a champion.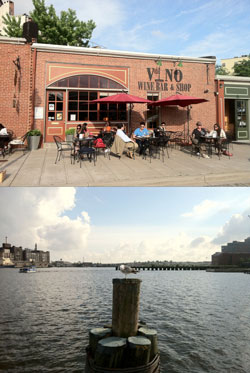 My marathon week continues; this morning I woke up in Philadelphia, participated in a customer seminar, and drove to Baltimore, then tonight had a nice dinner with colleagues and customers at which I learned to 'pick crab' (aka eat one). This was interspersed with a couple of nice walks around the inner harbor.
This different day different city traveling is wearing, but it is also fun; every city has some cool places to discover. I find it is essential to get out of the hotel. So often you're trapped; you land, you take a taxi to the hotel, you eat there, you drink there, and you stay there until you take a taxi back to the airport.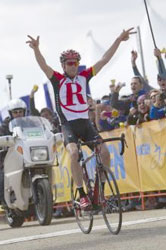 On tough stage 4 aka Sierra Road, Chris Horner flew away from the field to take the lead in the Amgen Tour of California. He has teammate Levi Leipheimer in 2nd, 1:15 back. I think Levi will win the ITT on Friday but I don't think he's going to beat Chris by 1:15, so I think Chris could win the Tour. Wow. Good for him.
You might notice my cycling links go to Cycling News now, not Velonews. I'm not sure what happened to Velonews - they got bought or something - but their coverage has been scaled way back, pretty disappointing. Oh, well.
Lots of speculation about LinkedIn's IPO tomorrow. I think it's going to be successful; first, they have a real business with revenue and profit and a working business model, and second, there is a lot of investor money waiting for an interesting business like this. We'll see!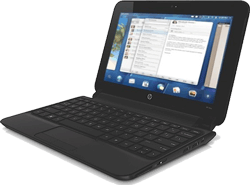 Looks like HP really are bringing webOS to notebooks. I wonder if it will work? Why not, actually. I think the success of the iPad has been due to the simplicity, not necessarily the form factor. There are so many applications for which a keyboard continues to be useful - like blogging :)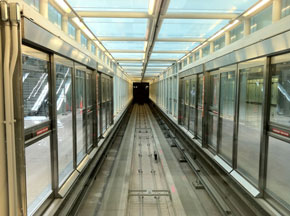 Whew, what a day... it began at 2:30AM EST with a fire alarm at my hotel in Baltimore - yeah, picture all the hotel guests in sweats, standing in the parking lot in the rain, watching the fire trucks arrive - and continued with my participation in another seminar (went great); then off home (yay) except I went to Baltimore airport instead of Dulles, and it was a good thing my flight was delayed by 90 minutes or I would have missed it. Whew. And so now I am on that flight, heading home (yay) and blogging.
I took about a kazillion pictures on this trip; using my iPhone as my camera seems to have me taking more pictures. I'm loving the HDR mode, that helps amazingly, but more than anything it is so convenient to take a picture anytime anywhere of anything. Of course that means more editing, but that's what long flights are for :)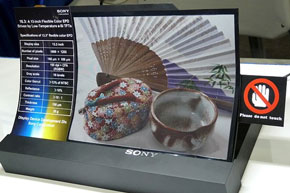 Wow, colored e-paper is becoming a reality. What will they think of next. I can see this in a next generation Kindle, can't you?
LinkedIn went public today, and appears to have popped nicely. Congratulations to my ex-colleague Reid Hoffman on an incredible success. Wonder if this will pave the way for more IPOs, or herald a bubble? Stay tuned.
This is so sad: Cyclist Tyler Hamilton turns over his medal, after confessing to having doped. And then accused Lance Armstrong. I don't know the truth of all these allegations against Lance, but I wish they didn't always come when teammates confess to doping themselves.
Lance Tweeted "congratulations to Eki Ekimov on his third gold medal" (Ekimov took the silver in 2004). And his reply as posted to his Facebook page is at right.
First Apple, and now IBM is worth more than Microsoft. Wonder if Oracle will be next?
Okay, back to photo editing :) I am SO looking forward to being home - I'm going to watch the Sierra Road stage of the ATOC with Shirley - and then tomorrow we're heading up to Solvang to watch the time trials. *That* will be fun. Stay tuned!
| | |
| --- | --- |
| In Solvang for the ATOC ITT | |
Today Shirley and I had a most pleasant day watching the Amgen Tour of California individual time trials. We drove up route 154 past Lake Cachuma to Los Olivos, bought some wine and cheese and bread, parked, found a nice spot along the climb up to Ballard Canyon (approximately halfway through the 15 mile course), and settled down to an afternoon of peaceful race watching. Cycling is absolutely unique in that with no preparation or special status and for $0, you can sit and watch world class athletes perform from just a few feet away. It was amazing!
I've posted a whole gallery of pictures if you're interested, and there are a few selected ones below...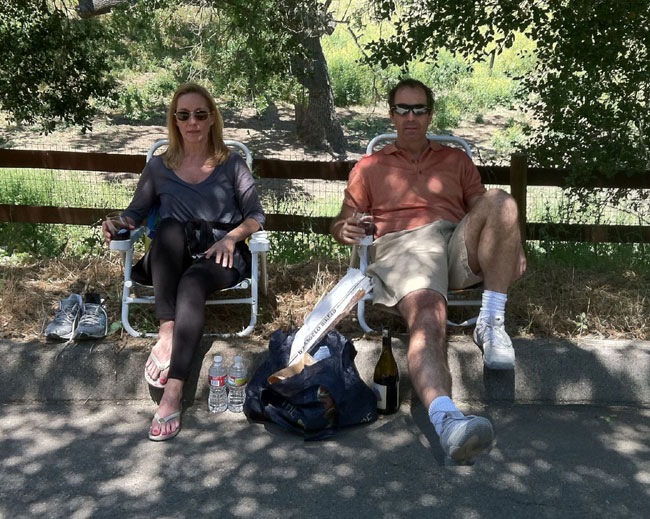 the good life! - wine, cheese, and a perfect view of the racing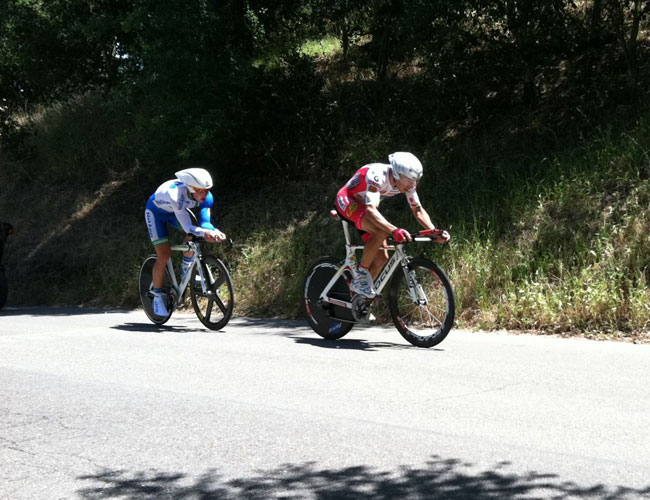 the competitors start 1 minute apart; it's always interesting when one catches another...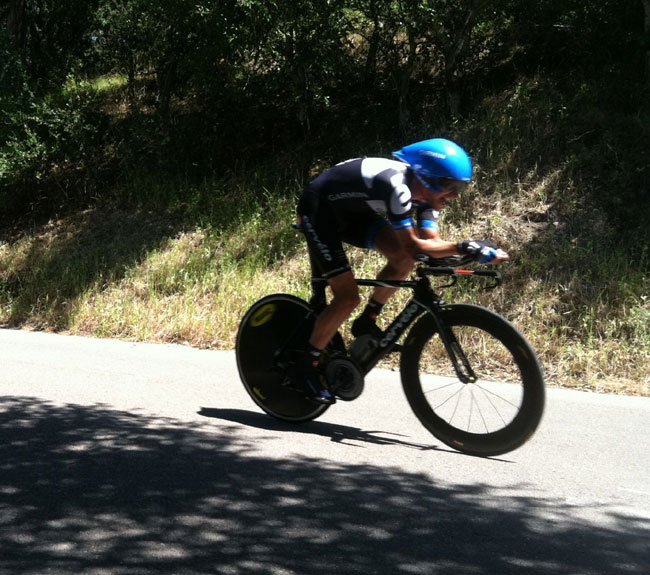 Dave Zabriske powers to the win and a new course record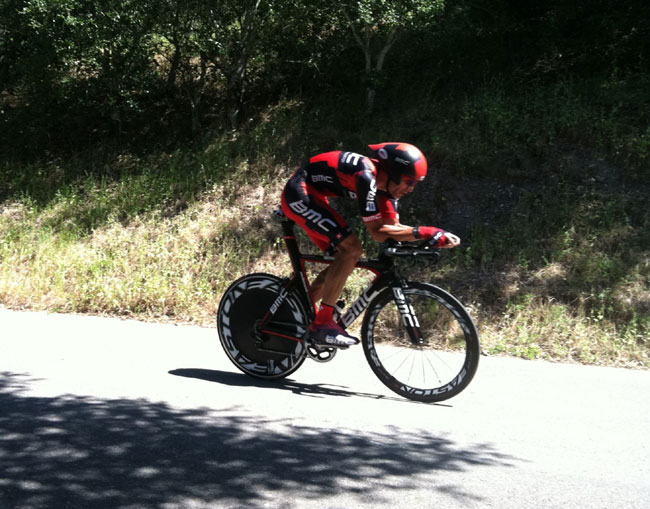 George Hincapie is always a crowd favorite, the grand old man of the peloton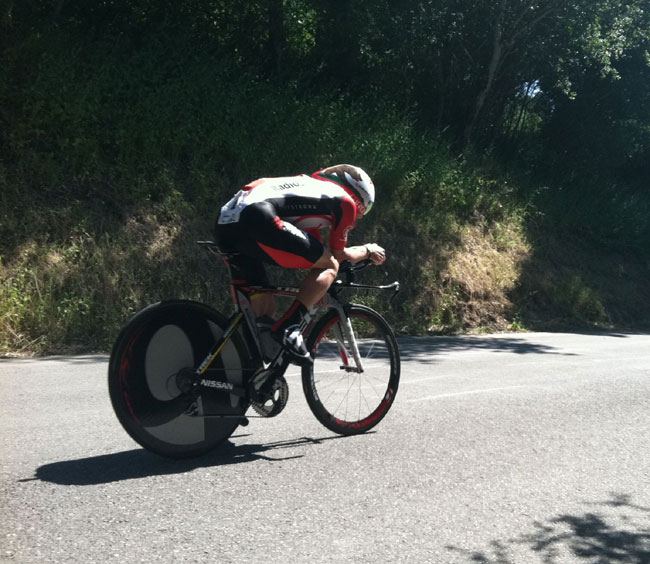 Levi Leipheimer cranked but couldn't quite win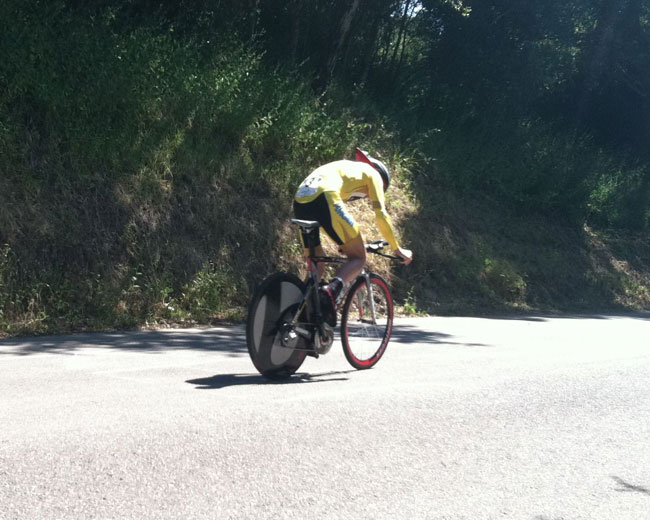 overall leader Chris Horner did great and keeps his golden fleece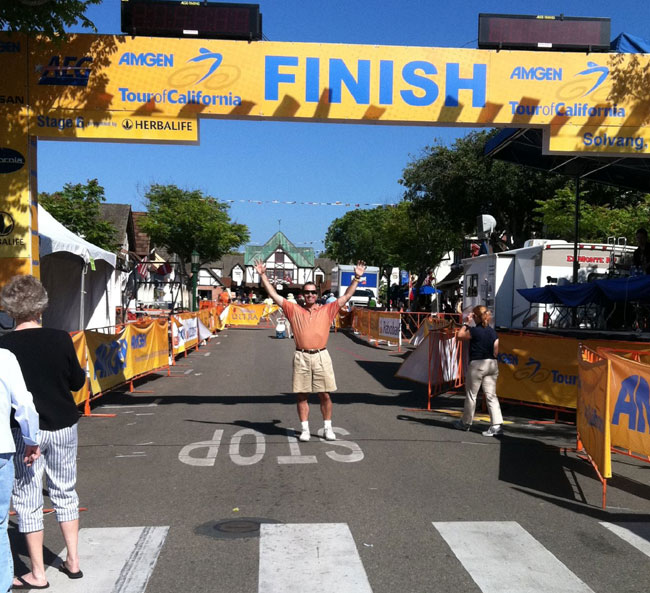 in the village after the racing, a great Finish to a great day
Oh yeah, as to the racing; Dave Zabriske won with a new Solvang ITT record, Levi Leipheimer was second, and Chris Horner was only 40s back so he remains the overall leader. It was a great day.
Tomorrow I'm riding the incredible Mount Baldy course with my friend Tim, after which we'll settle down to watch the racing. Stay tuned for that!
| | |
| --- | --- |
| up Mount Baldy for ATOC stage 7 | |
My friend Tim and I watched the incredible stage 7 mountaintop finish of the Amgen Tour of California today, from the top of Mount Baldy, after climbing it ourselves on our bikes. It was a pretty incredible day.
We started by hanging out in Claremont, the start village; checking out the team buses and bikes and the Start area. We saw Chris Horner interviewed, and Dave Zabriske, and hung out with the Rabobank team. Then we watched the start and the first couple of neutralized laps around the town, before they headed out and up the hill. We mounted our bikes and followed them up Mount Baldy: 17 miles straight up to 6,800'. The peloton had 75 miles of meandering around the hills, so we beat them to the top (barely!) and then hung out and watched the finish.
Yeah, we took a *bunch* of pictures; here they are in case you're interested. And here are a few selected from the bunch: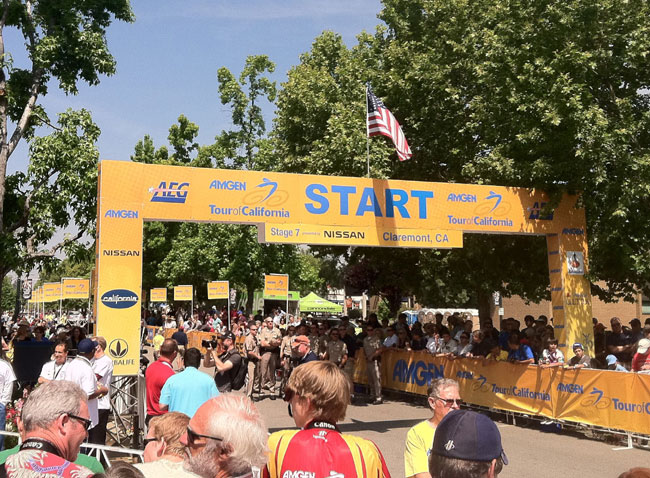 the start area in Claremont; a crowd gathers early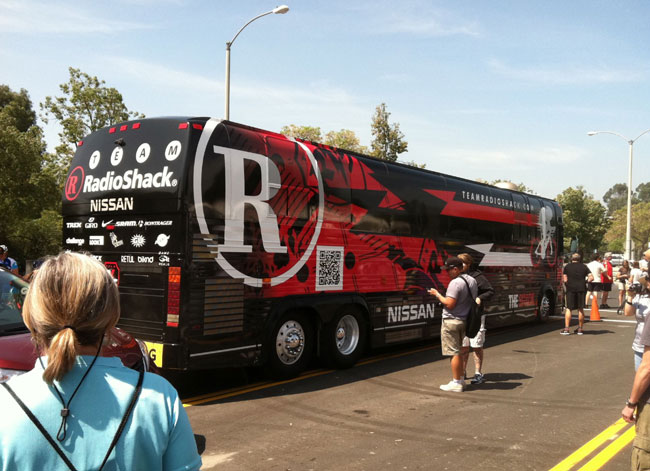 the Shack team bus arrives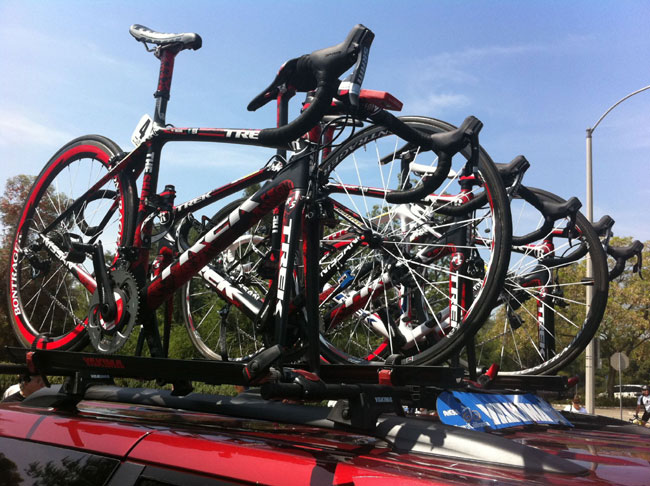 amazing bikes stacked out on display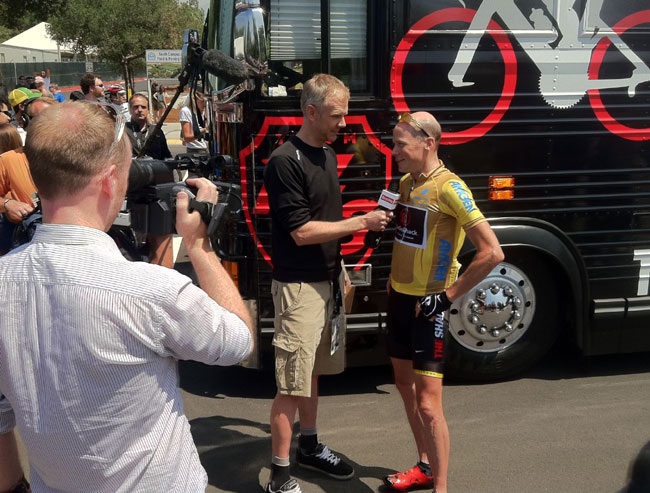 Chris Horner interviewed; he seems confident, not cocky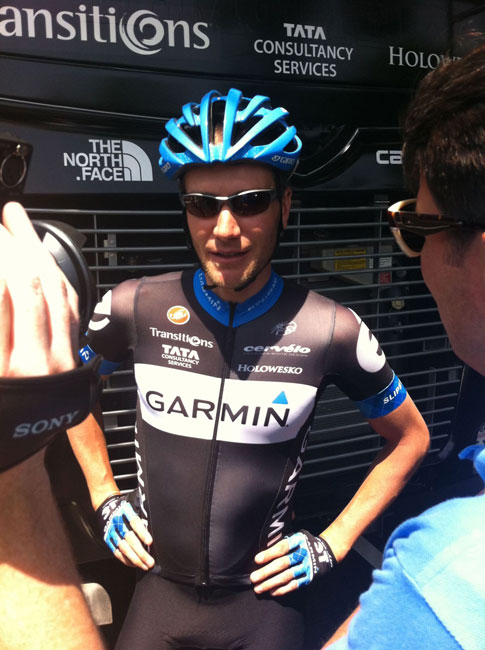 Dave Zabriske interviewed; he was happy with his win yesterday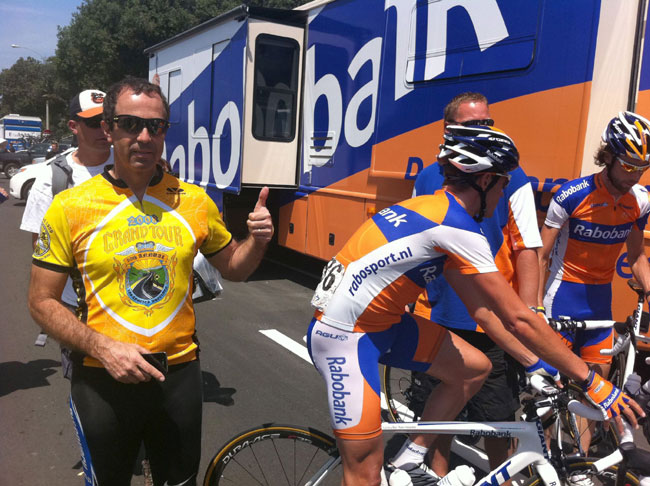 hanging out with Team Rabobank (go Oranje!)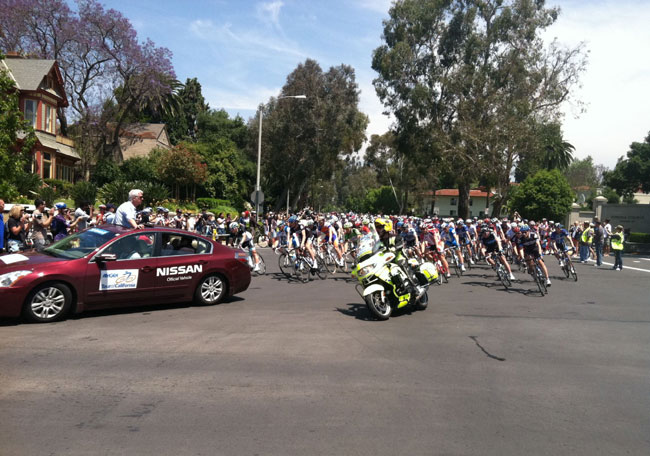 at the start! - the peloton takes a couple of neutralized laps through the town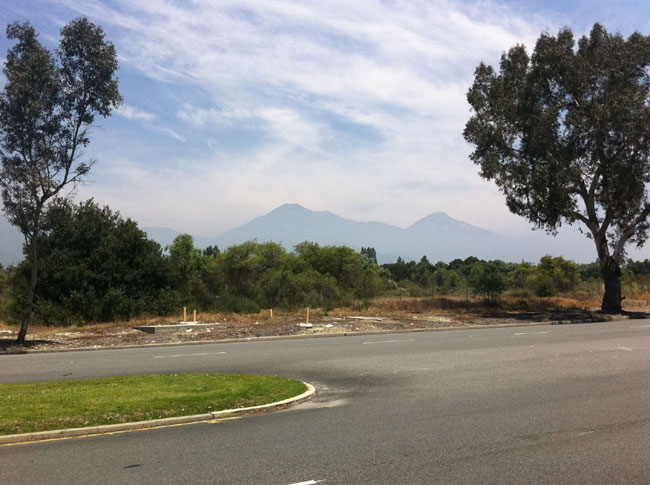 Mount Baldy seems amazingly far away right now - that's where we're going...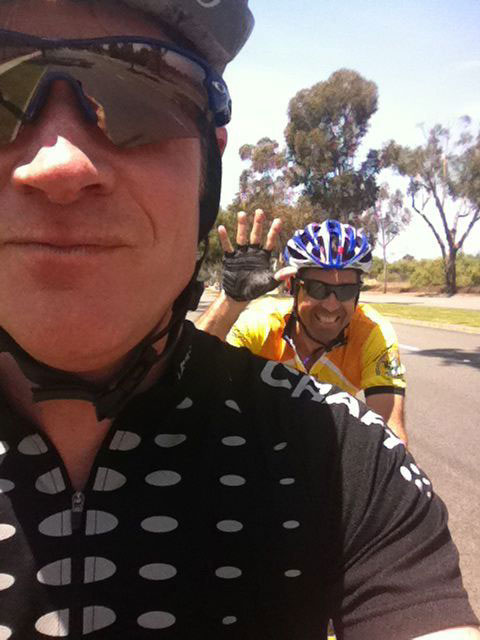 smiling in the flats before the climbs...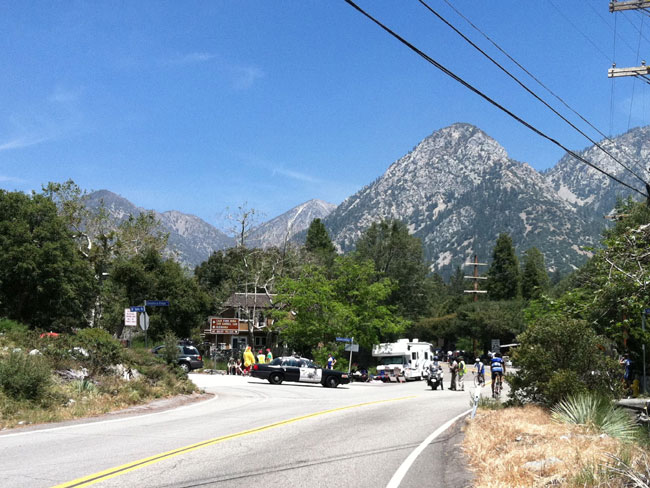 ... Mount Baldy village, whew. 12 miles straight up to get here.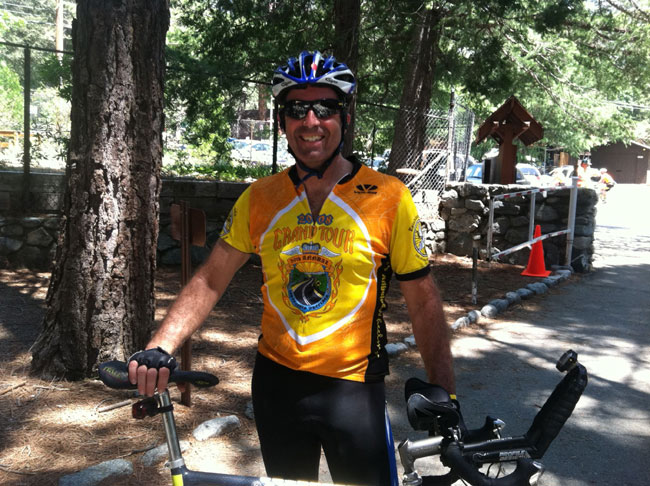 still smiling and preparing for the final assault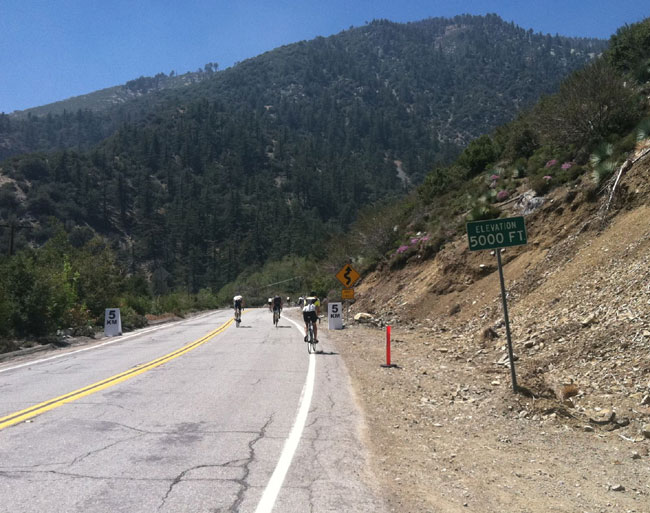 yikes, up we go... this is 10%, no place for the weak of heart or leg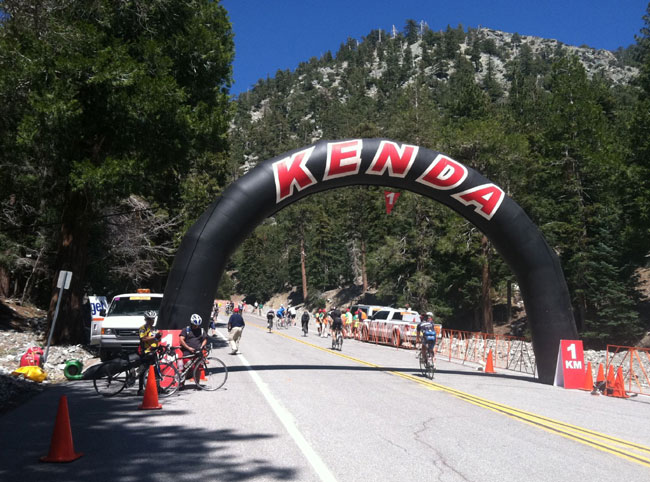 the 1K to go banner - and here it gets *really* steep, like 15%+ - wow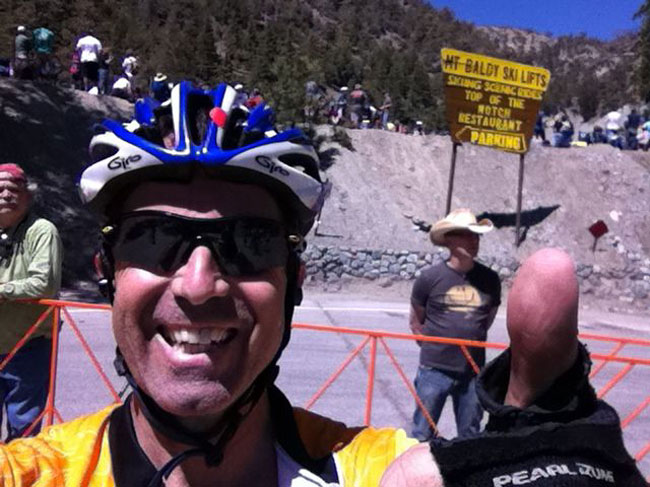 made it!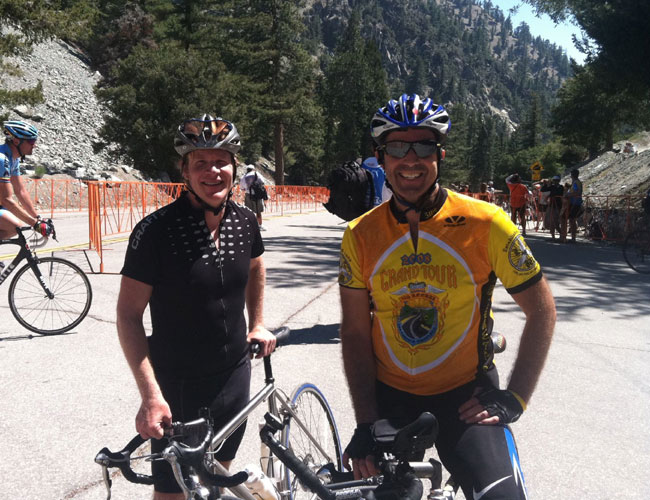 Tim and me
and now time to watch some racing...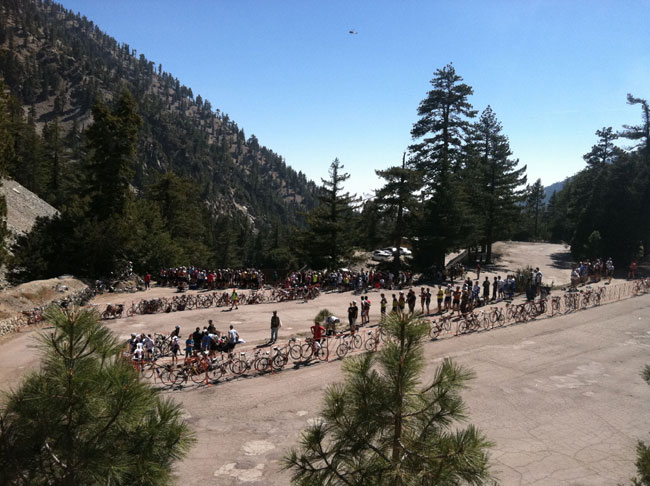 our view of the final section to the finish
the helicopter tells you the boys are close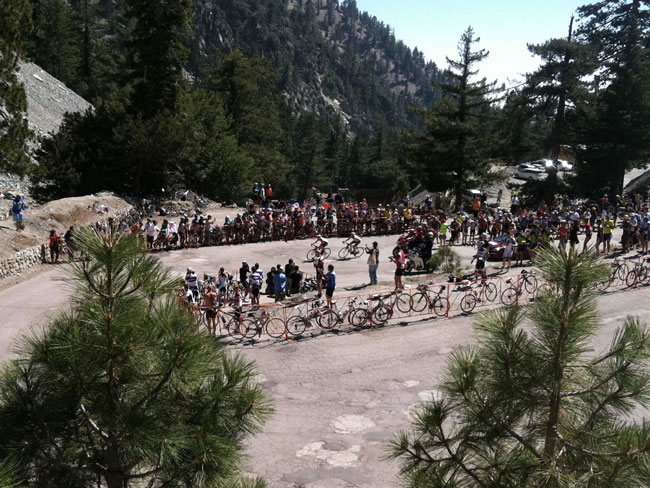 Levi tows Horner to the line as they blast away from the peloton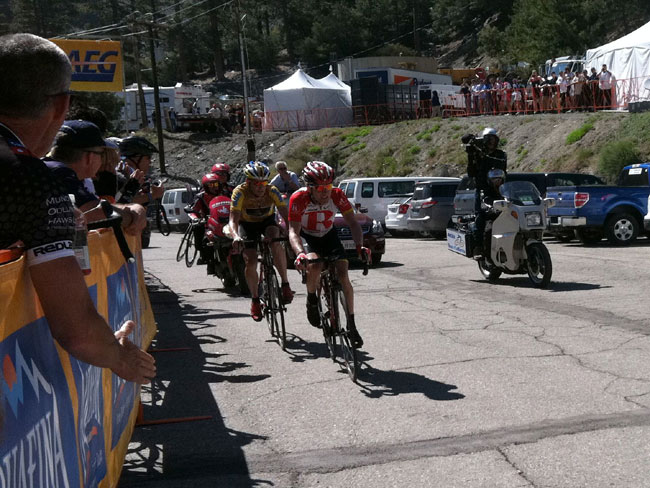 Levi and Chris just about to finish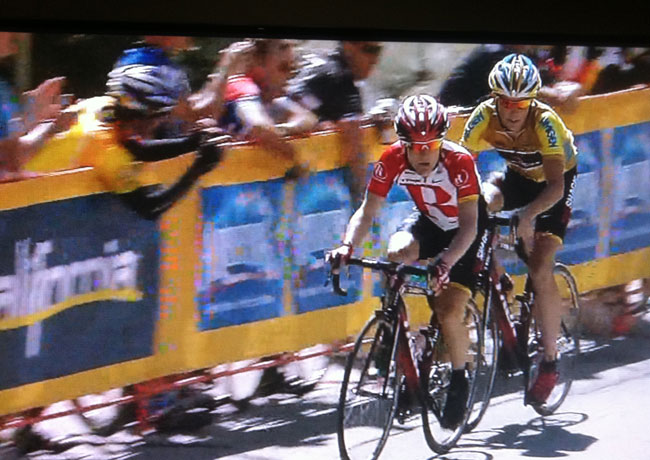 from television: me taking the picture of Levi and Chris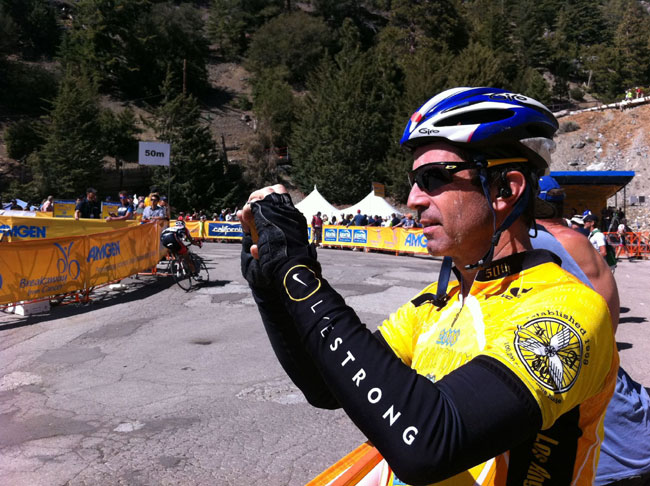 and Tim taking a picture of me taking a picture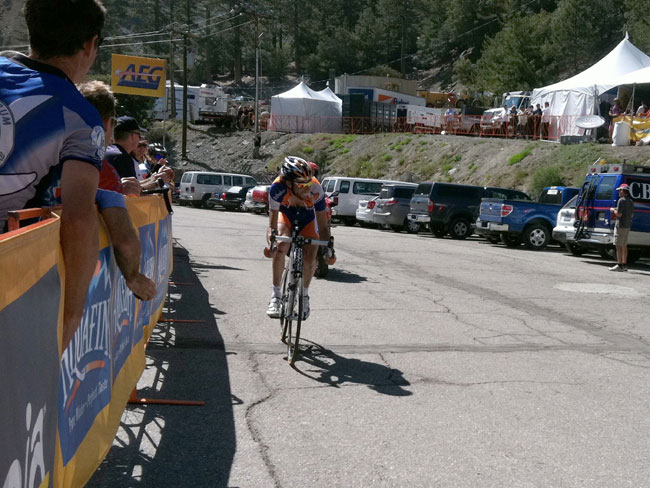 Laurens Ten Dam took third for Rabobank (go Oranje!)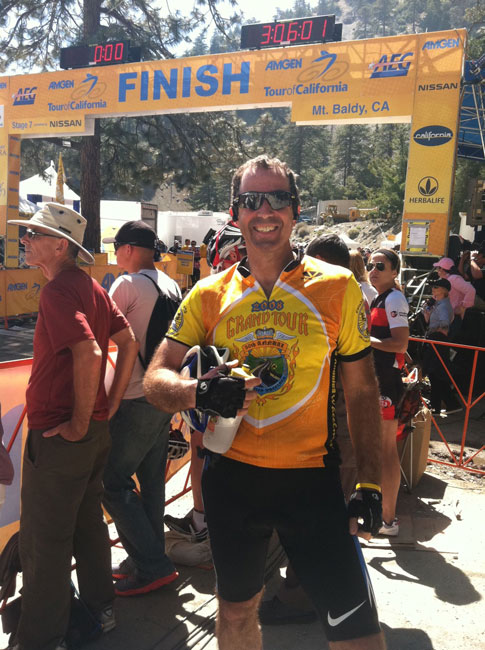 at the Finish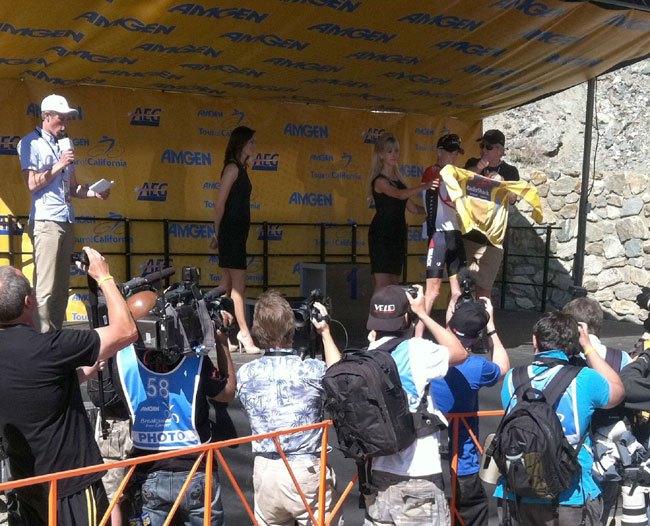 Chris Horner dons the gold jersey of the overall leader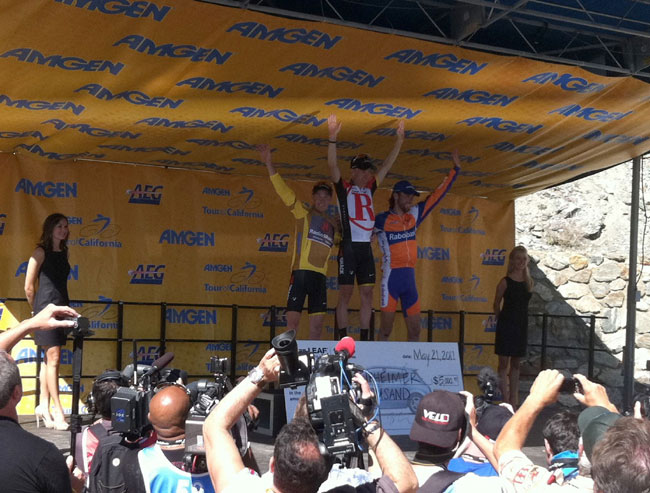 today's podium; Levi wins, Horner second, Ten Dam third - yay!
After some incredible racing on the final climb (4 miles at 10%, with the last mile at 15%) Levi Leipheimer towed teammate Chris Horner across the finish for a well-deserved win (and Horner solidified his overall lead). We watched the podium presentations and then headed down the hill, just in time to pass the groupetto on their way up. (A big bunch of the peloton who can't compete on the climbs gather together and ride up together.) Then we enjoyed a nice 17 mile descent - weaving in and out among slower cars - and headed home, just in time to watch it on television :)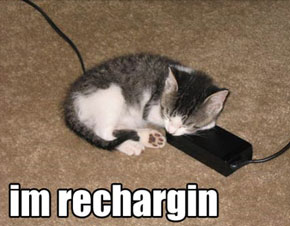 Whew... today was my first day home since ... (checks calendar) last Sunday. Only a week? Wow seems much longer ago than that, I guess it was a long week :) Atlanta - Philadelphia - Baltimore - and then home only to visit Solvang and then Mount Baldy. So be it. And so I was home today, recharging, and will have a nice chance to work from home tomorrow before heading down to Vista for a "normal" week of work down there. Maybe someday I'll actually be home for a while, but in the meantime, it's all happening...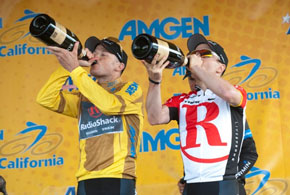 So did you enjoy the Amgen Tour of California? It was great that Chris Horner won, great that Radio Shack finished one-two with Levi Leipheimer, and great that Tom Danielson finished third (an ex-Discovery rider so sort of a Radio Shack alum). But having so many Americans at the top made it seem a bit less important, especially with the Giro taking place at the same time (where Alberto Contador is dominating in an incredibly tough Tour, by the way). It will be interesting to see what the organizers do with this race; the move from February to May has not been entirely great. Stay tuned!
I will say it was pretty cool watching stage 8 on Versus, seeing the riders cruising through my home town of Thousand Oaks. I missed seeing them climb Balcom Canyon though ... well, next year!

On the value of negative space. I find this is amazingly true; you begin new software with a clean design, controls nicely spaced, and after a while new stuff just encrusts the interface. Still what can you do - you add new stuff, and you need new controls. As with most design there is no silver bullet, just tough decisions. This paragraph was intentionally indented just to give your eyes a little rest :)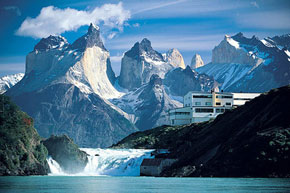 Here we have the world's most surreal landscapes. Aka, places I would love to visit :)
Huh, do you think this can work? Sonar shows you the most relevant people in the room. I guess they can figure out the relationship between you and everyone else using Sonar, but that's going to be, like, one person. A tough chicken-and-egg thing to get rolling.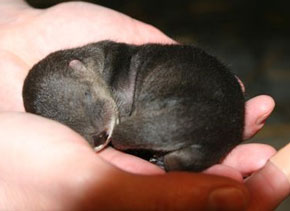 ZooBorn of the weekend: a teeny otter. Yeah I know I've posted lots of otters, but man, is he cute :)
So what do you think, about ... Browsers without address bars? To me this is a little like displaying files without extensions. I want the geek info. But then again, I'm a geek!
Tonight Alexis' 12th grade photo class held an exhibition, and we were there
with cameras :)

Awesome!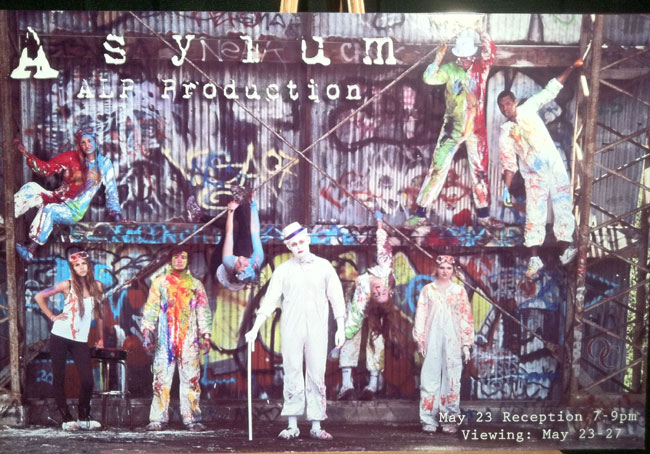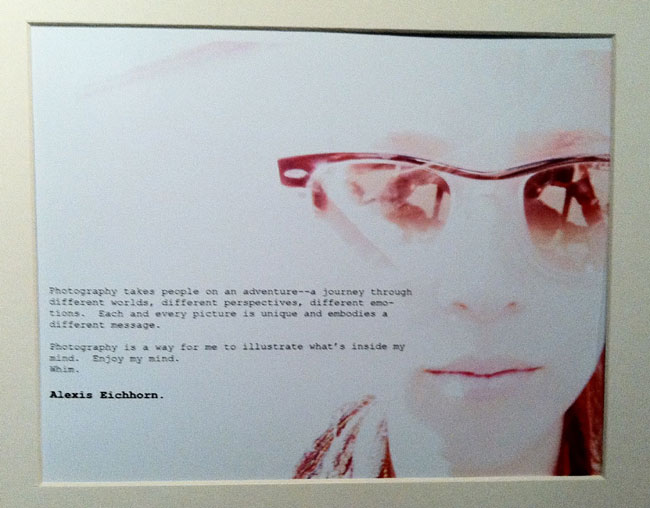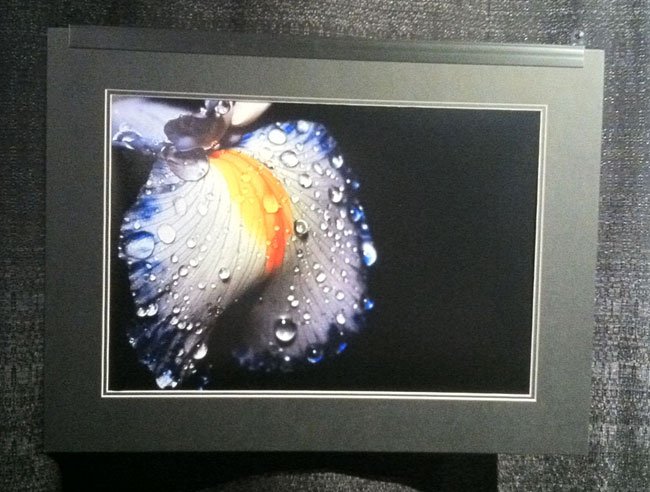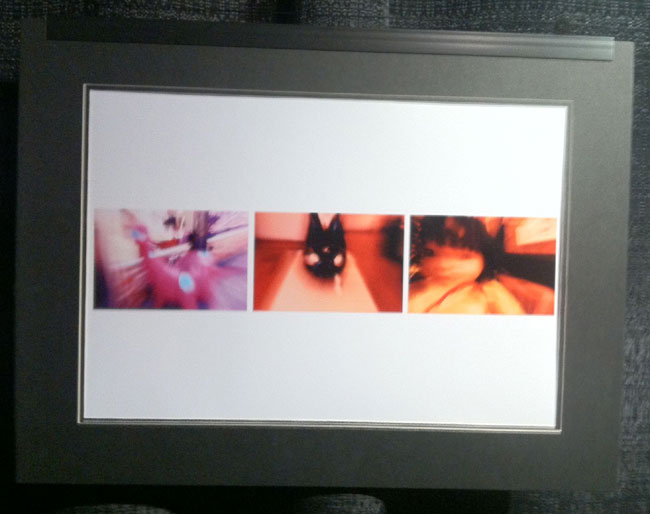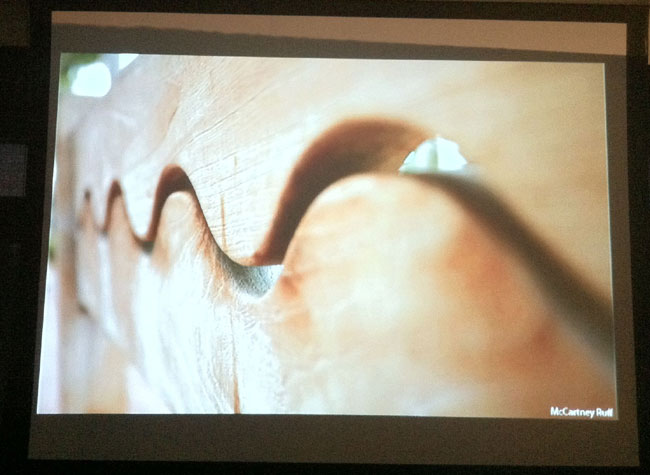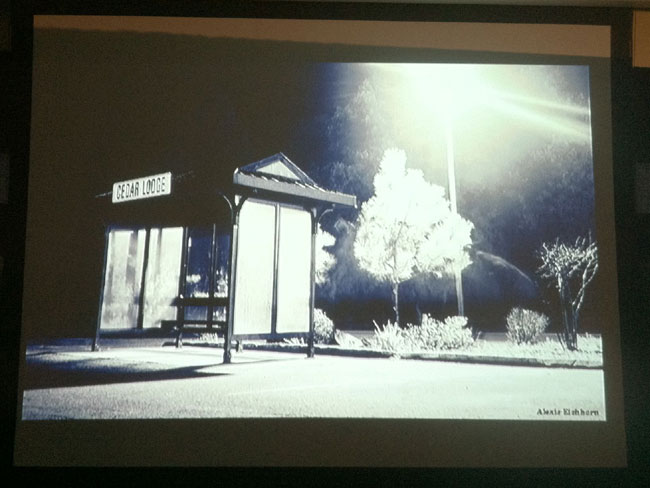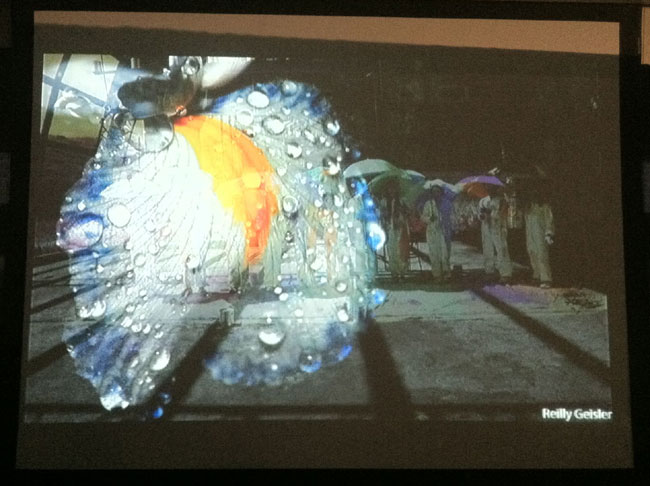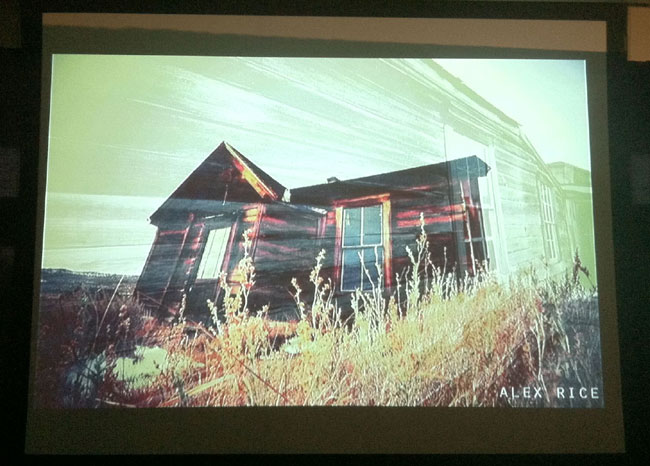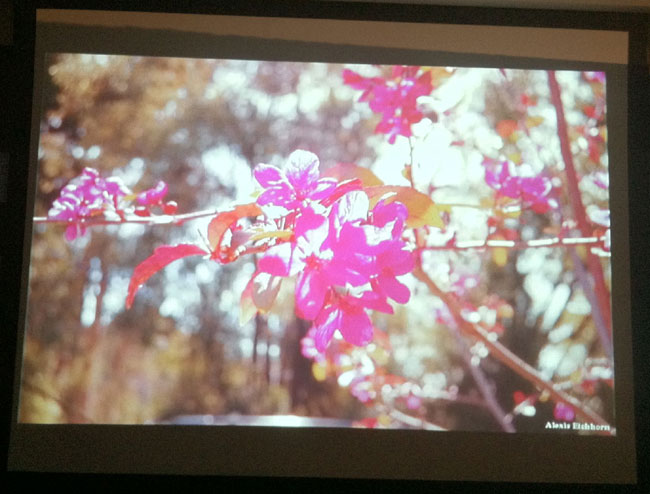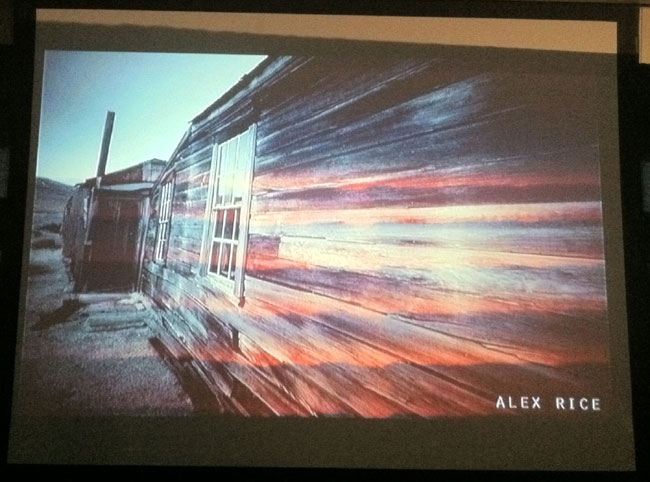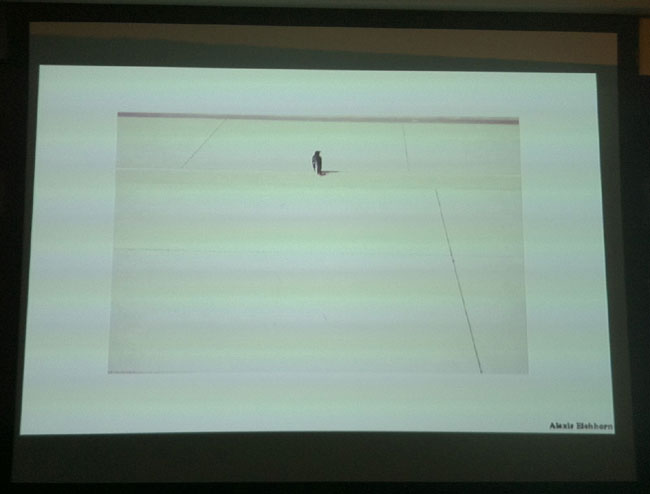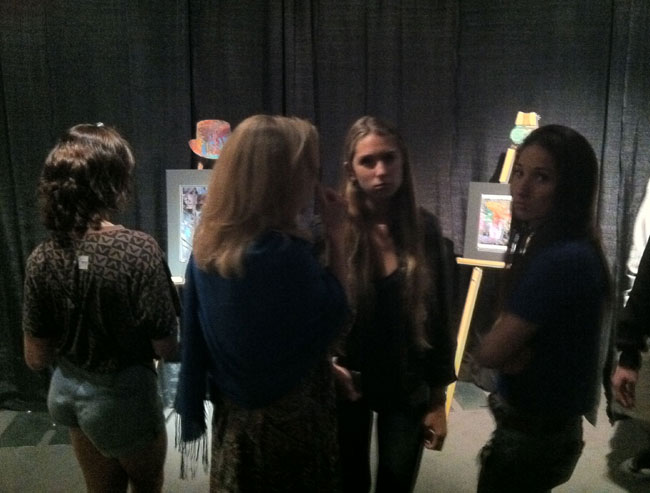 You guys will remember my enthusiasm for cancer survivor and ace musher DeeDee Jonrowe, who I met when she spoke at an Aperio sales event in February. I followed her performance in the recent Iditarod with great interest; she finished 12th, after competing for a spot in the top ten most of the race*.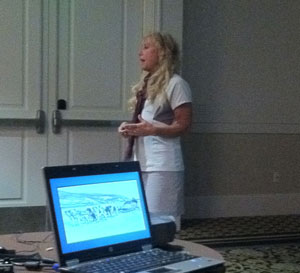 Well guess what? Aperio is sponsoring DeeDee! How cool is that? As a digital pathology company we don't do many corporate sponsorships, but the combination of DeeDee's cancer survivorship, her subsequent advocacy for cancer care and research (with a special emphasis on medical care for remote areas like Western Alaska), her successful efforts to raise money for a cancer center, her amazing sledding career (29 Iditarods, including 12.5 top ten finishes*), and her general positive attitude and sense of being combine to make her a perfect partner for us.
Tonight DeeDee addressed our Leadership team at an offsite event, and she was most interesting and inspiring. A key aspect of her talk was the leadership of a musher with her dog team, and the leadership of the lead dogs. It will be great being part of her team for the 2012 Itidarod - stay tuned!
* Tonight we learned the true story; DeeDee was running 8th when she reached the White Mountain checkpoint, within range of 7th, but all her dog food was stolen! It seems amazing that such a thing could happen in such a major league race, but it did. She had to race that last 75 miles to Nome with a team that was hungry as well as tired, and she ended up dropping 4 places to finish 12th. Incredible.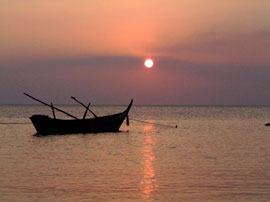 Whew a long day spent in an offsite meeting, but it was great; many interesting messages to absorb and ponder. Like the need to relax and recover. It has me awake and blogging...
From Cringley: Google at Carson's Speed. Given an optimum speed, there is always Carson's Speed, "the speed to get the most extra speed for the least extra cost." Where speed means, um, building datacenters and caching knowledge.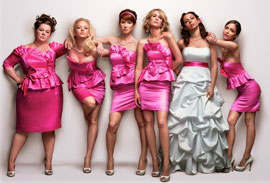 Have you heard of Rent the Runway? It's a great idea for a business; essentially you can rent high-end fashion instead of buying it. That makes so much sense because most people don't wear high-end fashion often, and in fact many only wear it once. This was you can rotate around and everyone gets to wear everything. I forsee great things for this idea.
Zillow are going public, under the symbol "Z". So be it. Time was I liked getting emails from them, telling me how much my house was worth, but now I wish they'd stop already :(
A cooperative cars competition - in Holland! How cool is that? You may remember I wrote long and lovingly about this idea, that many cars combined as a caravan could travel more efficiently.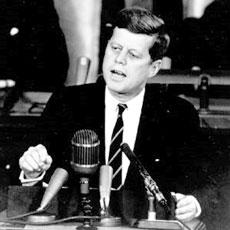 It has been 50 years since JFK's moon declaration. After a frenzied start we did put someone on the moon, within eight years. But then the program tapered off, and now the last shuttle mission is upon us. Maybe we need a program to put someone on Mars? That would be awesome!
And so the always interesting Peter Thiel is paying students NOT to go to college - and to develop business ideas instead. Huh. I get that college isn't for everyone, but in addition to the learning aspect there is also the growing up aspect; I'm not sure most teenagers are ready for business. It will be an interested experiment to watch!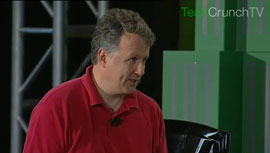 This is awesome: TechCrunch has posted a video of Paul Graham's Office Hours at their Disrupt conference. Amazing how he casually hones in on the key aspects of each business in like five minutes. Without being obnoxious. I love it!
Truth is stranger than Onion: North Korea making its own PCs. The jokes practically write themselves :)
Malcolm Gladwell does a great debunking of the "Apple copied Xerox" creation myth in the latest New Yorker. Many of the original concepts of Apple's Macintosh were developed at Xerox - such as a computer mouse - but the execution and refinement that Apple brought to their implementation was what enabled them to be commercialized.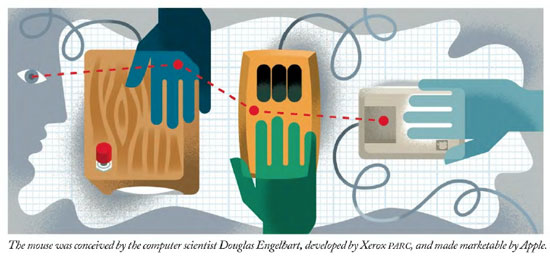 I think about this a lot, and I guess everyone thinks about this a lot; what makes Apple tick? It isn't just the concepts, because they didn't have the first laser printer, or the first ethernet implementation, or the first MP3 music player, or the first laptop, or the first phone :) or the first tablet either! But they were the first to make them awesome, by eliminating complexity and maximizing design and emphasizing usability.
Try to compare an iPhone to a Blackberry or a Palm or an Android. Sure, they all do the same things. But only Apple does them as well as Apple. And that's the key to their success.
I'm attending an Aperio offsite and we are talking about Leadership, and in my opinion the key to leadership is inspiration. And this is why Steve Jobs is such a great leader; he inspires all of Apple to be "insanely great". And they are :)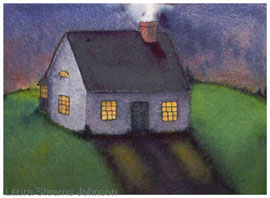 Well I'm back home after a rather thought-provoking offsite; feels like I've been on the road *forever*. Looking forward to a nice evening and then tomorrow I'm riding a tough century, the Heartbreak Hundred. In the meantime I'm thinking ... and blogging.
Wow, happy 20th birthday, Visual Basic. I totally remember VB v1, how revolutionary it was, and how easy it was to create graphical user interfaces (compared to "Petzold" programming in C). Truly a major factor in Microsoft's success.
Of course I must add, about ten years ago they broke it rather badly; VB.NET has never been as easy to use or as cool as VB...
Eight reasons web workers should look forward to Windows 8. Hmmm... are you looking forward to Windows 8? Me neither. Seems likely to be a disaster, like Windows Vista, and it won't be until Windows 9 that they fix it.
Hmmm: iPad causes Windows sales to shrink for the first time ever.

Cringley: What Microsoft should do. Windows 8 is not his answer.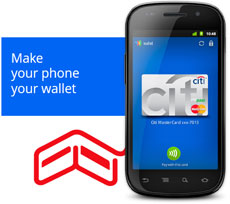 And so Google announces Google Wallet, a way to use your Android Phone as a payment instrument via NFC. I'm trying to decide whether I think this will matter. Somehow it feels like it won't. Maybe it's that Citi logo :) Or more likely, the fact that Google have never succeeded at anything that required customer service.
Excellent detailed description from 2ality.
Did you know? The computer science job market is red hot. Unlike the job market for, say, automotive assemblers. This is what's weird about the economy right now, some parts of it are at a much different temperature than others.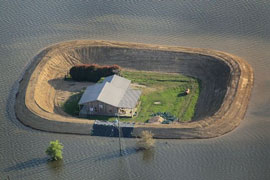 Kind of sad that these are necessary, but kind of amazing that they exist: single home protected levees. Wow.
Your next phone will work better outside - because it will block glare in concert with polarized sunglasses. Great idea, presently, phones suck outside.
Good stuff: six key principles of a successful acquisition:

Keep principal objectives consistent
Understand probability
Option value
Aligning incentives
Buying market leaders
Synergies, synergies, synergies

Cisco seems to understand how to make these work, unlike so many other tech companies. Look at Yahoo for an example of destroying value through acquisition. Even Google doesn't have this nailed.
I couldn't believe when I saw this, but Salon has a celebratory review of Seattle restaurant Canlis, where I've personally dined and enjoyed one of the finest meals ever. Awesome. If you're ever there ... yeah.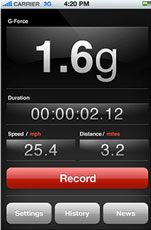 I need this! Porsche iApp measures your vehicle's G-force while accelerating, braking, and cornering. Yes!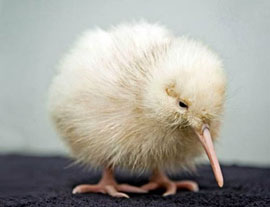 ZooBorn of the week: rare white Kiwi chick. Awww...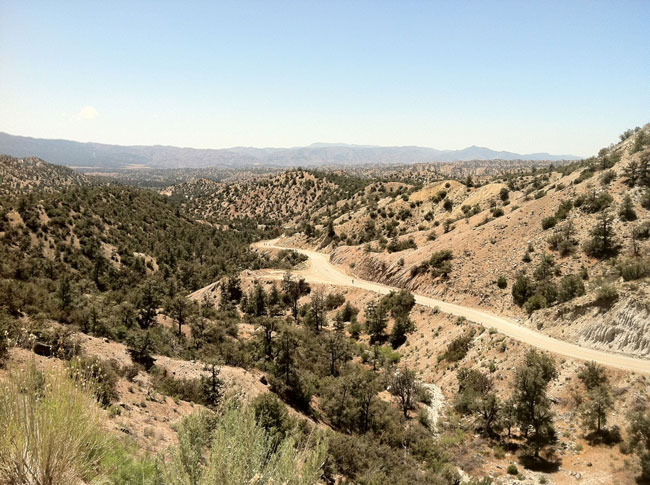 Yesterday I rode the Heartbreak Hundred, a maniacal century accumulating 9,000' of climbing in a tour of the Los Padres National Forest. The highlight is a 5 mile climb at about 7% called ... Heartbreak Hill. The past two years I've actually ridden this as a Double - with 50 miles before, and 50 miles after, in an out-and-back from Palmdale - but this year I had to get back home for a dinner party so contented myself with the middle hundred.
The timing of this ride was *perfect*; after last week I had a lot to think about, and riding for 10 hours gave me a lot of time to think. I have quite distilled everything down yet but stay tuned, I think I'm in for an inflection point.
Anyway the ride itself was great - I felt strong, and did it in 8:14 riding time, which is pretty good considering - and I enjoyed nice weather and beautiful views. Here are some pictures: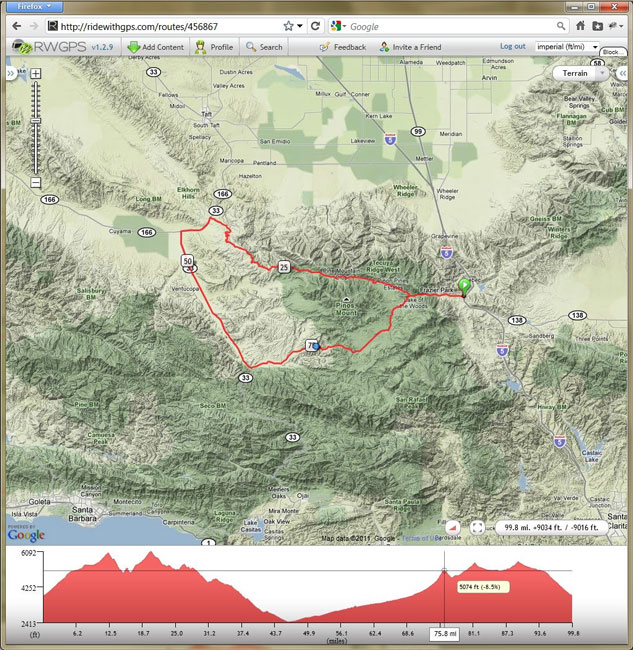 the route: 100 miles and 9,000' of climbing, a nice little tour of the Los Padres National Forest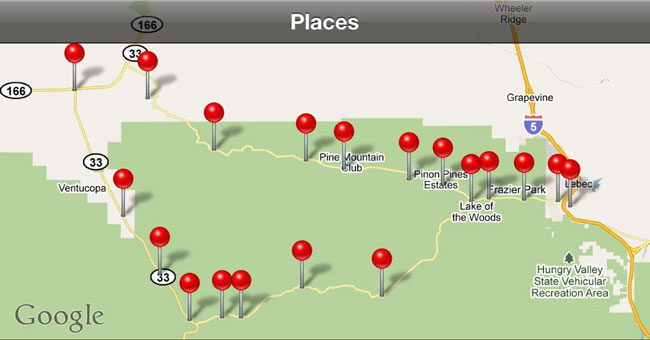 picture map courtesy of my iPhone; I love this feature...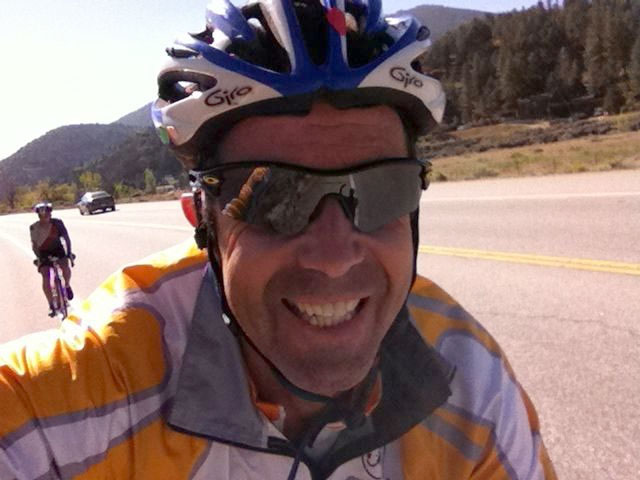 initial climb up past Frasier Park; so far, so good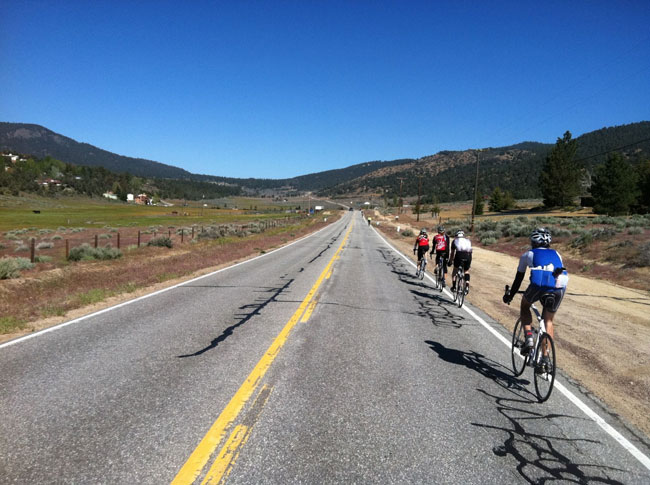 paceline up into the forest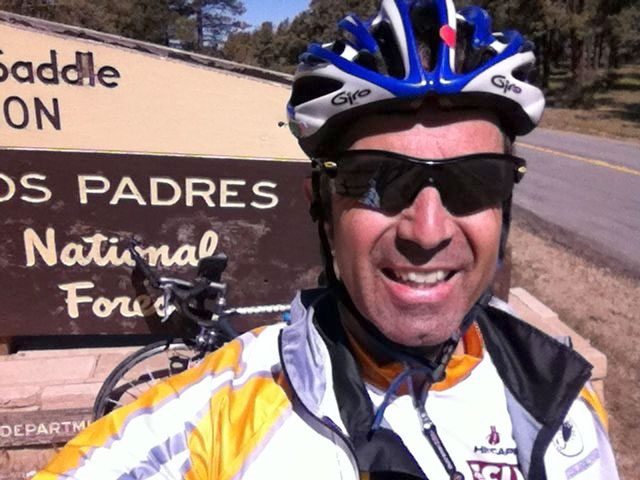 first checkpoint at the top of the first climb; whew
only 25 miles down and a long way left


amazing vista open up along the forest ridge of Mt. Pinos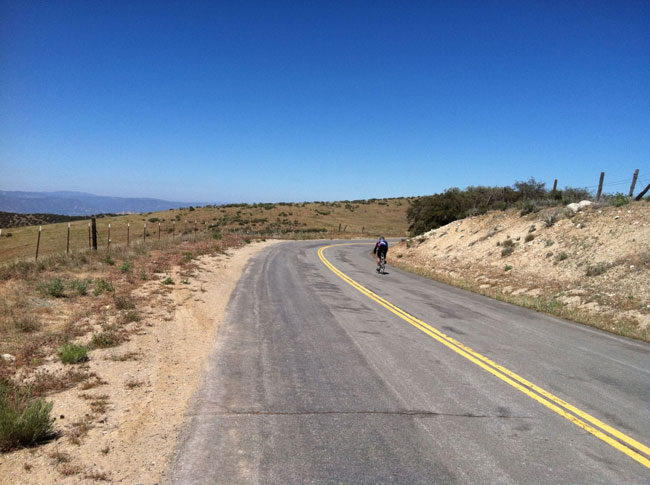 descending the backside down from the forest: wheeee!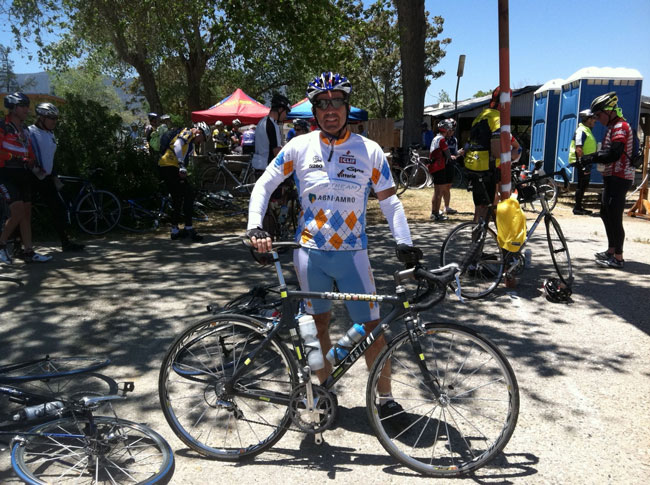 at 'the place' halfway through the ride; ready to attack Heartbreak!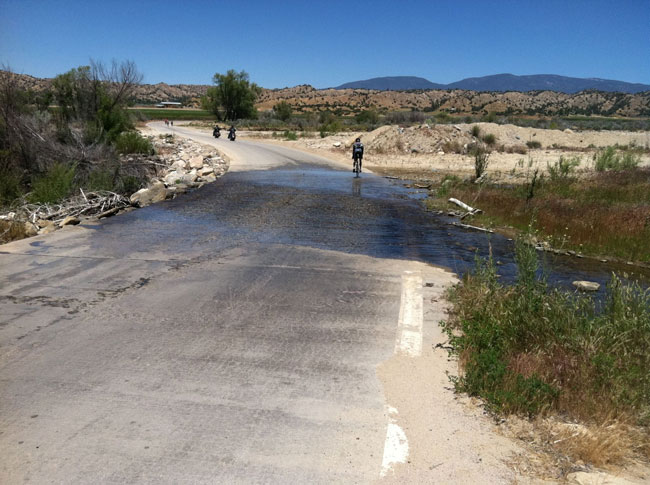 a little water hazard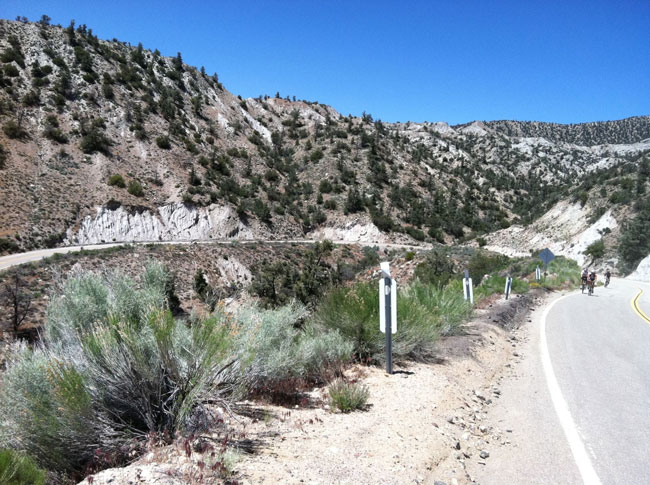 Heartbreak Hill! - 5 miles at 7%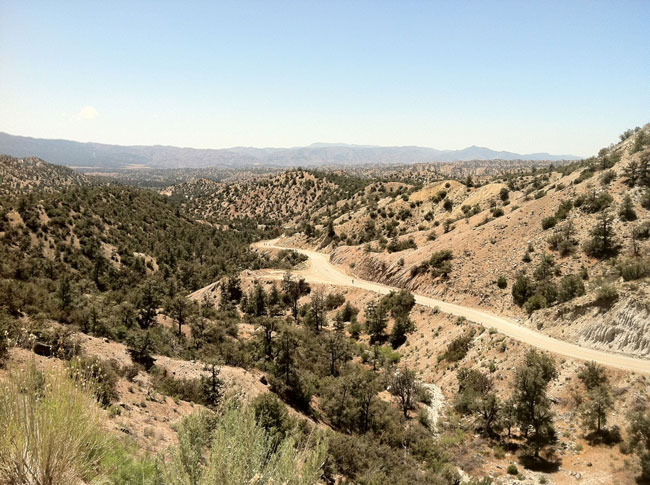 looking back down; did I just climb that? (gasp)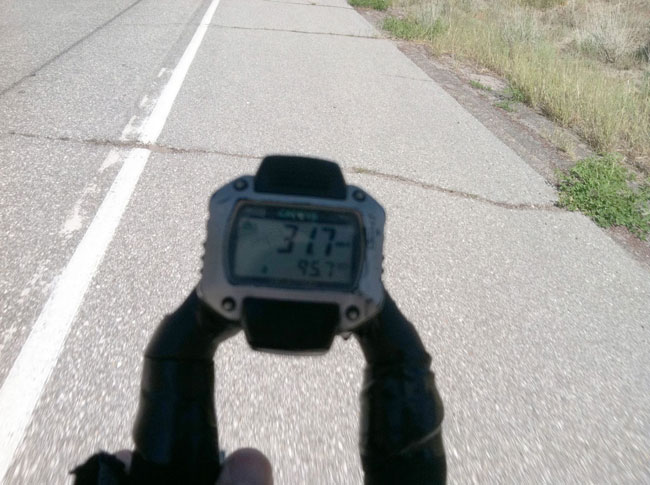 Powering at 30+ mph back down - yay.
finished in 8:14 riding time, not bad
Onward! Next weekend I'm riding the Ojai Valley 200K, and in the meantime I have much to think about :)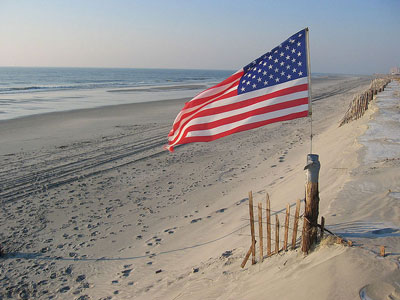 Hey everyone, happy Memorial Day! (Did you remember?)
This is always one of my favorite holidays; first and foremost, it gives us all a chance to remember the veterans who have served our country (and those who continue to serve), so that we may live free. And second, it's the [unofficial] start of summer! Time to heat the pool, start wearing shorts and flip flops, start working on my tan, and start ... doing a little less of everything :)
Today I plan to practice by doing a little ride and then sitting out by the pool reading. Something I hope to do quite a lot this summer.
Cheers and hope you have a great day too!
There's very little I can write to preface the imagery below, so I'll just set the scene and get out of the way. The video below was captured by Stephane Guisard and Jose Francisco Salgado at the European Southern Observatory's Very Large Telescope (VLT) in Chile's Atacama Desert.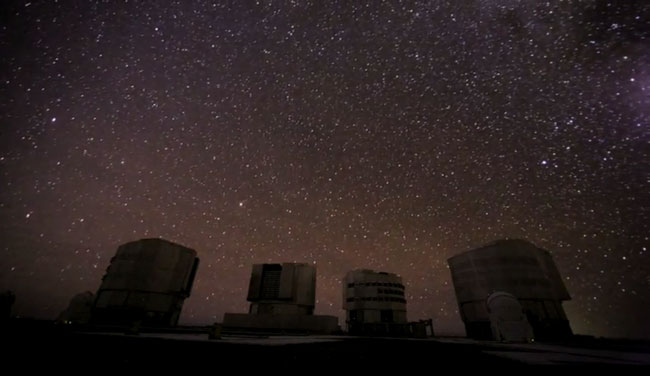 (click for an awesome time-lapse video)
It might make you cry, it's *that* cool.
How about a little Memorial Day filter pass? Okay.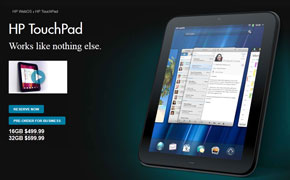 I think HP's Palm / webOS phones / tablets are probably going to be the iPhone / iPad's biggest competition. I know, I know, Android is all the rage. But you know what? It just isn't that compelling. It's like a PC compared to a Mac. They'll get plenty of share because of ubiquity and price, but they'll continue to be inferior products.
Cloud computing gains ground in healthcare. Crucially, customers are increasingly less afraid to store critical data online.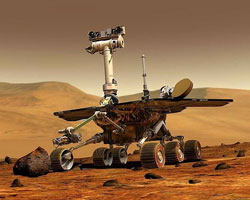 RIP Spirit: NASA announces death of rover on Mars. "Spirit last communicated on March 22, 2010, as Martian winter approached and the rover's solar-energy supply declined. The rover operated for more than six years after landing in January 2004 for what was planned as a three-month mission... The rover returned more than 124,000 images." Awesome! Now that's a successful mission.
ACOs will fail, say Senate Finance Committee members. (ACO = Accountable Care Organization) Me, too. There is no silver bullet.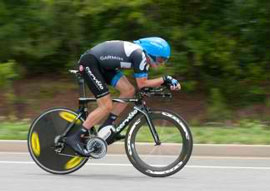 Dave Zabriske wins the 2011 USA cycling individual time trial championship. His fifth in a row. Whew.
Alberto Contador wins the 2011 Giro d'Italia. A dominating performance in one of the toughest grand tours of all time. I don't like him but I have to concede he's the best stage racer in the world, and has been since Lance retired. Who can possibly beat him in the 2011 Tour de France?
So, are Facebook building a browser? Dave Winer thinks so, but I do not. I don't think they are into client side stuff at all. I think they're probably building the world's most kick-ass front-end for their website - in AJAX / HTML5. (BTW, that's the best way to explain their lack of an iPad App.)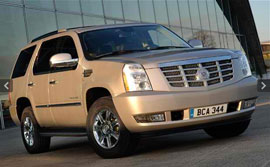 Ten of the ugliest cars ever made. These seem to go well beyond mundane into hideous. "Beauty is in the eye of the beholder, but we can all agree on ugly." I love that the Escalade made the list - I was afraid only I thought it so ugly - but amazingly there are a Rolls Royce, a BMW, and a Lamborghini in there too...
Are you a workaholic? I scored 70, but when Shirley took it for me, she gave me a 79. Huh.
Return to the archive.
Home
Archive
flight
About Me
W=UH
Email
RSS OPML

Greatest Hits
Correlation vs. Causality
The Tyranny of Email
Unnatural Selection
Lying
Aperio's Mission = Automating Pathology
On Blame
Try, or Try Not
Books and Wine
Emergent Properties
God and Beauty
Moving Mount Fuji The Nest Rock 'n Roll
IQ and Populations
Are You a Bright?
Adding Value
Confidence
The Joy of Craftsmanship
The Emperor's New Code
Toy Story
The Return of the King
Religion vs IQ
In the Wet
the big day
solving bongard problems
visiting Titan
unintelligent design
the nuclear option
estimating in meatspace
second gear
On the Persistence of Bad Design...
Texas chili cookoff
almost famous design and stochastic debugging
may I take your order?
universal healthcare
entertainment
triple double
New Yorker covers
Death Rider! (da da dum)
how did I get here (Mt.Whitney)?
the Law of Significance
Holiday Inn
Daniel Jacoby's photographs
the first bird
Gödel Escher Bach: Birthday Cantatatata
Father's Day (in pictures)
your cat for my car
Jobsnotes of note
world population map
no joy in Baker
vote smart
exact nonsense
introducing eyesFinder
resolved
to space
notebooks
where are the desktop apps?