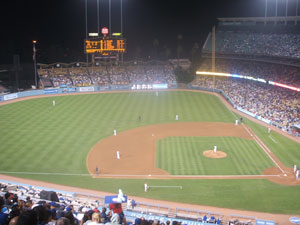 In the middle of the world's longest week, sitting in on a sales training class at Aperio, and doing a few hundred other things in parallel :) but of course I have time to make a filter pass...
Last night we took our sales team to Dodger Stadium - aka the Center of the Universe - to watch the Phillies beat the Dodgers. Final score hot dogs 3 beers 5. A great time was had by all.
And so Apple announced:
A classic Jobsnote, enjoyed watching/listening to the master :) it was notable that he alluded to some failures or non-successes too; the bug fixes in iOS, bringing buttons back on the shuffle, AppleTV being a "hobby". It worked.

ArsTechnica posted their usual nice overview of the announcements.

[Update: Ping is a big disappointment. It might get better, but right now I have no friends, and there's no there there.]
In the real world, worst August for stocks since 2001, not to mention problem bank list climbs to 829. So much for that "Summer of Recovery", huh?