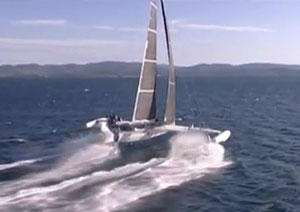 Today I happened to check my referer logs - they tell you how many people have visited your blog, what they're reading, and where they came from - and I was surprised to find some ancient posts *still* attracting visitors.
Heading the list: The Tyranny of Email (my all time greatest hit), The Two Switches (a great puzzle which at first seems impossible, and hence intriguing), L'Hydroptere Flies (eye candy and sailboat porn, per pic at right), and finally and most surprisingly, Texas Chili Tasting (which upon rereading still has me laughing hysterically). I'm glad I can provide such great entertainment for the Internet :)
It is rather fun to have been blogging for eight years - yeah, I can't believe it either! - and to have some of that ancient content to reread; I enjoy displaying a "flight", which shows the posts I made on or near today's date of each year. And then of course it is fun to check referer logs, you just never know where people will come from, and it is most fun to see the searches which bring people in. Today's most interesting: "using your beauty for god", which resulted in a hit to God and Beauty, one of my all time favorite posts from May 2003. I love it!