Archive: July 18, 2010
I'm not a big fan of "Web 2.0" websites and social media; mostly there is a lot of hype, and the signal to noise is *really* low. (I challenge anyone to show me a Twitter feed that's worth following.) I make an exception for Facebook however; I like it a lot, and find myself using it more and more often. I don't have a lot of friends - right now, around 80 - but they're actual friends; people I care about, and for many of them this is the only and best way I know what they're up to. Quite a few people now use their Facebook as a sort of blog; they send messages, report status, post pictures, and so on, and it's fun to follow them this way.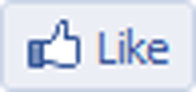 A little while ago Facebook added a feature that allows any website to implement a "Like" feature. This is cool if you have a blog; you stick a little HTML in your pages, and poof! your readers can "Like" stuff you've posted, and their friends on Facebook will see that. So this morning I decided to add "Like" buttons to all my posts. We'll see whether this makes sense - I'll be able to tell from my referer logs when people have "liked" a post and their friends have clicked through. It might be kind of fun to see who-all is out there on Facebook that even reads my blog. (It could be you!)
So, the grand social experiment is under way. If you think this is cool, please "Like" this post :)
| | |
| --- | --- |
| TDF stage 14 / climb! / Riblon wins from break, Menchov and Sanchez 2nd and 3rd | |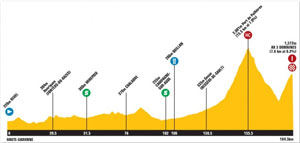 Wow, what a shootout! A *great* mountain stage today, featuring the world's nastiest HC Port Port de Pailhères, 10 miles of climbing at 8%, followed by a steep descent and then the Cat 1 Ax-3 Domaines to a mountaintop finish, 6 more miles of 8%. Wow.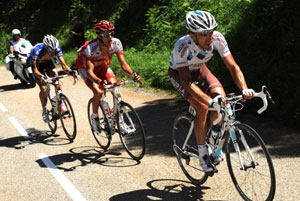 Chapeau to Christophe Riblon who survived all the way from the early break, which had about 5 minutes at the base of the Pailheres. From there steady pressure by Astana splintered the peloton, with various amazing attacks - Carlos Sastre took off, among others - and there were only GC contenders left by the top of the climb. The descent was uneventful, and on the final climb Contador and Schleck marked each other, leaving Denis Menchov and Samuel Sanchez free to take off and engage in their battle for third. Jurgen Van Den Broek lost a little time - he's still in fifth, but barely - and Levi Leipheimer lost a little more time, sinking to seventh, his chances at the third podium spot diminished. All in all it was an exciting bike race, and we can only look forward to three more stages in the Pyrenees.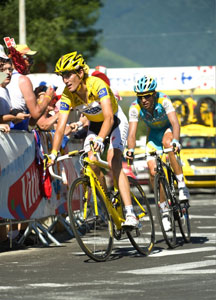 Tomorrow we have more climbing including the HC Port de Bales, but there's a considerable descent from the last climb to the finish, so it could be interesting. Seems like Contador is content to hang with Schleck, feeling that he has an advantage in the final time trial, and Schleck is content to hang with Contador, with the yellow jersey on his back. Either might attack tomorrow however; it has been a great, unpredictable tour so far, and there is much riding left.
So ends a nice weekend; it was so great to have nothing specific planned - the weekend had infinite potential - but now that it's over I wish I'd done more with it. Today I watched the Tour (great stage!) and worked, and spent some quality time reading poolside and drinking Pastis :) but now it's Sunday night and on into another week. A complicated week. So be it!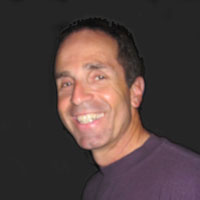 Have you noticed how the size at which you view pictures totally changes them? I was looking through some pictures of friends today and it is weird how different they are at different sizes. Some look great postage stamp sized (like in a Facebook profile), and others become amazing when you enlarge them. Weird.
Slight seepage from the BP well, now capped, has been detected. Let's hope it stays slight. I guess the plan is to drill a new well which will relieve the pressure. fXf!
According to NOAA this past June was the hottest in recorded history. Whew. And based on this weekend, this July is going to be a contender, too.
Meanwhile, Mt. Everest is losing ice. The pictures at right show a glacier in 1921 compared to the same one in 2010.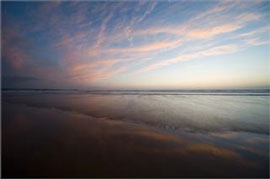 Guy Kawasaki: The Zen of PowerPoint, Facebook, and Twitter. Some aesthetic principles applied to each...
Return to the archive.
Home
Archive
flight
About Me
W=UH
Email
RSS OPML

Greatest Hits
Correlation vs. Causality
The Tyranny of Email
Unnatural Selection
Lying
Aperio's Mission = Automating Pathology
On Blame
Try, or Try Not
Books and Wine
Emergent Properties
God and Beauty
Moving Mount Fuji The Nest Rock 'n Roll
IQ and Populations
Are You a Bright?
Adding Value
Confidence
The Joy of Craftsmanship
The Emperor's New Code
Toy Story
The Return of the King
Religion vs IQ
In the Wet
the big day
solving bongard problems
visiting Titan
unintelligent design
the nuclear option
estimating in meatspace
second gear
On the Persistence of Bad Design...
Texas chili cookoff
almost famous design and stochastic debugging
may I take your order?
universal healthcare
entertainment
triple double
New Yorker covers
Death Rider! (da da dum)
how did I get here (Mt.Whitney)?
the Law of Significance
Holiday Inn
Daniel Jacoby's photographs
the first bird
Gödel Escher Bach: Birthday Cantatatata
Father's Day (in pictures)
your cat for my car
Jobsnotes of note
world population map
no joy in Baker
vote smart
exact nonsense
introducing eyesFinder
resolved
to space
notebooks
where are the desktop apps?