Well, I did it! I completed the Tour of Flanders or should I say Ronde de Vlaanderen. Just me and 3,000 other riders :) It was really hard - really hard - and I am exhausted and sore; man riding those cobblestones is brutal. Not my most powerful ride - I was tired and it rained all day and my rental bike didn't behave itself – but I rode steadily, rationed my strength, and managed a respectable 12:25 for 161 miles. I am buzzed with accomplishment (or maybe just really tired :)
In this ride there are fifteen "muirs" (hills) and although a few of them are steep, none of them are long, so the climbs are no problem. But the ride is 260km (161 miles) and there are twenty-five cobblestone sections... and they are tough. Particularly tough are the cobbled descents - you are flying, your bike is falling apart (yeah, I broke a spoke in my front wheel, fortunately it didn't "taco" and hung in there), and your arms are getting the workout of the world. After a long ride you would think your legs would be sore, but for me, it is my arms...
Here's the route (click to enbiggen):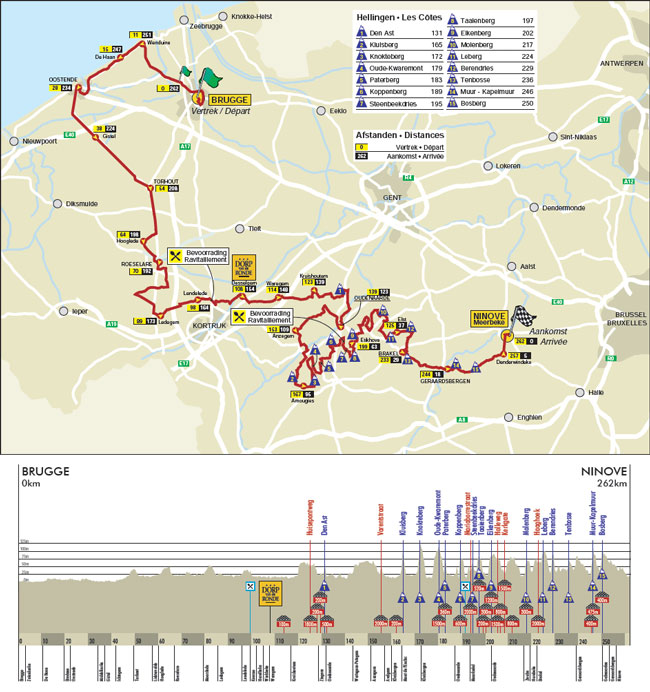 Tour of Flanders route
note all the "muirs" (hills) and especially all the cobblestone sections
(click to enbiggen)
Anyway I have to SLEEP but I did want to post a picture to give you a flavor of the day; this is the bottom of the Koppelberg, one of the tough cobbled climbs, they get steeper and steeper and steeper and the cobbles get slipperier and slipperier and the narrow road is littered with fallen riders near the top, and lined with screaming drunk fans - true Belgian cycling!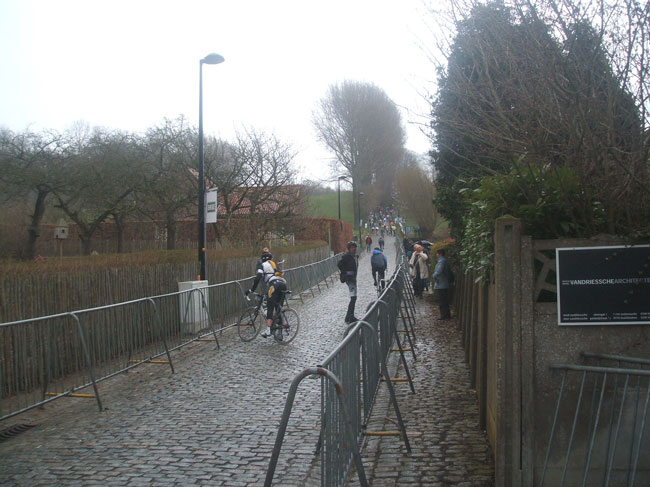 The bottom of the Koppelberg
note cobblestones, rain, narrowness of road, and spectators
not pictured, steepness; I wish I could have taken a picture near the top, but I was otherwise occupied
(click to enbiggen)
Tomorrow I'm going to watch the "real" Tour of Flanders - the pro cycling race - and will post more pictures and a fuller report. In the meantime please stay tuned...
[Update: here's more: Riding the Tour of Flanders...]