Archive: April 2010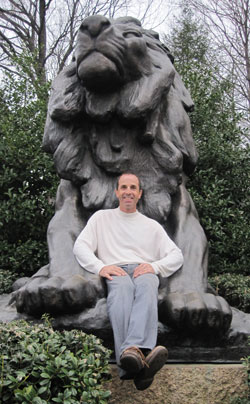 Hi everyone! Hold on to your hats - I've decided to stop blogging...
(Aprils Fools!)
No really, I've decided to start blogging again.
Yeah, I'm still alive, although you wouldn't know it from my blog, huh? Or from looking at my Facebook, or my Tweets... I could tell you I've been maximally busy, spending a week in New York, a week turning over some crucial software, and a week in Washington D.C., but those would be reasons, not excuses. I could tell you I've competed in a Century and a Double Century (and broke 12 hours for the first time), but that wouldn't be a good reason. I could tell you I've had a lot going on personally, and have some nice new friendships, and have visited museums and shows and cathedrals and zoos, and have drunk some amazing wine and eaten some amazing food, and you would say "well how come you haven't been telling me about all this", and you would be right. I've been a March fool.
So... stay tuned, I am going to be blogging in two directions, forward, daily, as per "usual", and backward, catching up on all the stuff which has happened to me and the world. As always my blog is ego-driven and your feedback is welcome!
On the immediate horizon, this afternoon I am going to Europe for ten days! Belgium, including riding in the Tour of Flanders (!), The Netherlands, including visiting my Uncle and his family for Easter, Bonn, Germany for a visit to the International Association of Pathology, and finally Zurich, Switzerland, for a meeting with Aperio's distributors. It sounds promising from a "stuff to blog about" standpoint, but it doesn't sound promising from a "time to blog about it" standpoint, right? We'll see what happens, please stay tuned!
In local news...
You may have heard me refer to myself as "the world's luckiest guy", tongue-in-cheek, but this you will not believe. I'm checking in for my flight to Europe, and they ask for my passport# and expiration date. And I notice my passport expires on 4/11/2010, *one day* after I get back. How headless is that?

I really am amazingly fortunate; you may recall about a month ago I was hit by a car while cycling ("bam"), and survived with nary a scratch. I must tell you that was a formative experience. I can't really recommend it - you might not be as lucky as I am - but it has changed me. The realization that my life could end poof! just like that causes me to take maximum advantage of each moment. It has been a great month.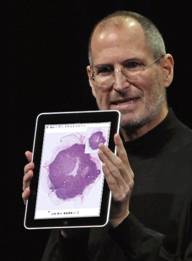 iPad review units have shipped, the embargo has been lifted, and the industry pundits are having a field day reviewing their spiffy new toys. Among them Walt Mossberg (WSJ), David Pogue (NY Times), and Andy Ihnatko (Chicago Sun). They all seem rather blown away. Walt Mossberg: "After spending hours and hours with it, I believe this beautiful new touch-screen device from Apple has the potential to change portable computing profoundly, and to challenge the primacy of the laptop." Yippee what a time to be alive :)

Yes of course I preordered an iPad, what do you think this is? Yes of course it has shipped, and is arriving this Saturday April 3. And yes of course I will be in Belgium riding in the Tour of Flanders on that day, 3,000 miles from my new iPad. Phooey. I have redirected it to colleagues so they can play with it in my absence (!) By the time I get back I'm sure the whole iPad thing will have blown over. Not.
Among my recent doings, I have acquired an elliptical trainer from my daughter Nicole. Trucked it home, set it up, and this morning happily spent 30 minutes working up a sweat while my two little Shih-Tzus looked on in amazement. A great way to start the day. I am happy.

in ∑ (100% pure naval gazing) You may have noticed that I have two kinds of posts, those about one subject, like March Fool and Bam, and those with a compendium of smaller subjects, like this one, with internal permalinks for each item. I'm going to start designating compendia with a ∑ summation character in the title. Probably not even worthy of mention, but there you go.

And I'm off... next post should be from Ghent in Flanders...

| | |
| --- | --- |
| in Ghent, Flanders, for the Tour! | |
Well I made it! A great flight via Amsterdam to Brussels - thank you, KLM - and a little drive in a micro-Peugeot diesel, and here I am, in Ghent, Flanders, ready to ride the Tour of Flanders (aka Ronde de Vlaanderen) tomorrow. I just ate the world's biggest pasta dinner and have been drinking as much as I can to prepare. Sleep will be good too.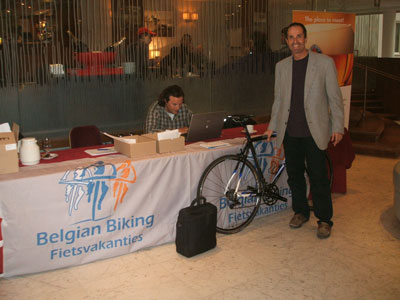 Most gratifyingly I have been treated like royalty for having come all the way out here from California to compete. There are over 3,000 entrants! Whew. And it is raining, and windy – perfect crappy Belgian weather for this race. I cannot wait – and I won't have to long, 'cause the start is at 0600 tomorrow. It's 260km (about 150 miles) with 15 short steep hills and 8 sections of nasty cobbles. I think it will take about 10 hours, we'll see how many of those 3,000 Europeans I can hang with :)
At right is a picture of me checking in for the ride, with my rented bike. It looks pretty cool, sturdier than a standard racing bike, better able to take the cobbles I guess. I brought my cleats and pedals and they popped right on. Well that's the news, please keep fXf for me and stay tuned for a full report!
| | |
| --- | --- |
| riding the Tour of Flanders | |
Well, I did it! I completed the Tour of Flanders or should I say Ronde de Vlaanderen. Just me and 3,000 other riders :) It was really hard - really hard - and I am exhausted and sore; man riding those cobblestones is brutal. Not my most powerful ride - I was tired and it rained all day and my rental bike didn't behave itself – but I rode steadily, rationed my strength, and managed a respectable 12:25 for 161 miles. I am buzzed with accomplishment (or maybe just really tired :)
In this ride there are fifteen "muirs" (hills) and although a few of them are steep, none of them are long, so the climbs are no problem. But the ride is 260km (161 miles) and there are twenty-five cobblestone sections... and they are tough. Particularly tough are the cobbled descents - you are flying, your bike is falling apart (yeah, I broke a spoke in my front wheel, fortunately it didn't "taco" and hung in there), and your arms are getting the workout of the world. After a long ride you would think your legs would be sore, but for me, it is my arms...
Here's the route (click to enbiggen):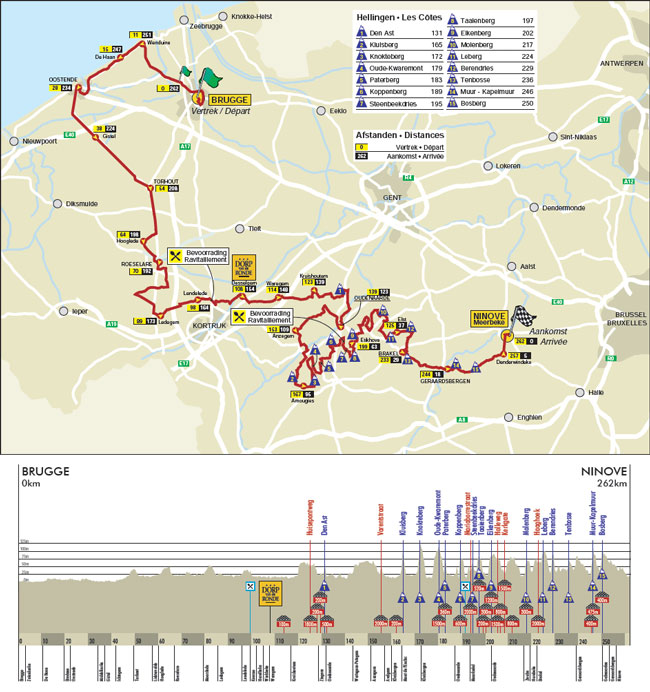 Tour of Flanders route
note all the "muirs" (hills) and especially all the cobblestone sections
(click to enbiggen)
Anyway I have to SLEEP but I did want to post a picture to give you a flavor of the day; this is the bottom of the Koppelberg, one of the tough cobbled climbs, they get steeper and steeper and steeper and the cobbles get slipperier and slipperier and the narrow road is littered with fallen riders near the top, and lined with screaming drunk fans - true Belgian cycling!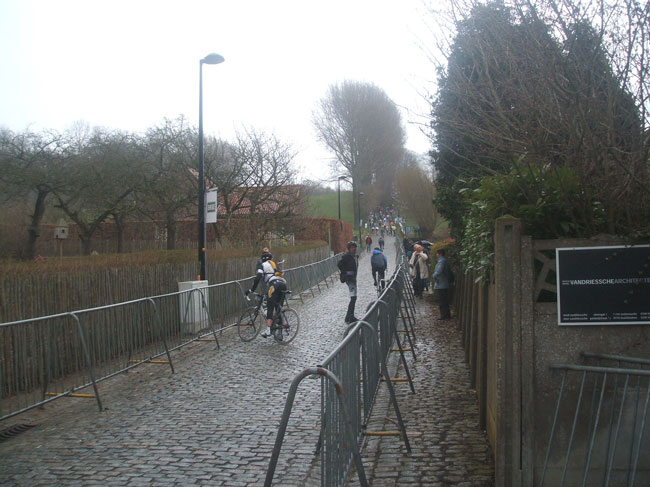 The bottom of the Koppelberg
note cobblestones, rain, narrowness of road, and spectators
not pictured, steepness; I wish I could have taken a picture near the top, but I was otherwise occupied
(click to enbiggen)
Tomorrow I'm going to watch the "real" Tour of Flanders - the pro cycling race - and will post more pictures and a fuller report. In the meantime please stay tuned...
[Update: here's more: Riding the Tour of Flanders...]
| | |
| --- | --- |
| more: riding the Tour of Flanders | |
Yesterday I rode the Tour of Flanders (yay, me) and gave a brief report; but here's more...
(Oh, and I posted a bunch of pictures, please check 'em out if you're interested.)
You start the 260km (162 mile) ride in the medieval city of Brugge, beautiful in the early light, from the pro podium (!) which is in the central square, just in front of a gigantic cathedral. Appropriately solemn.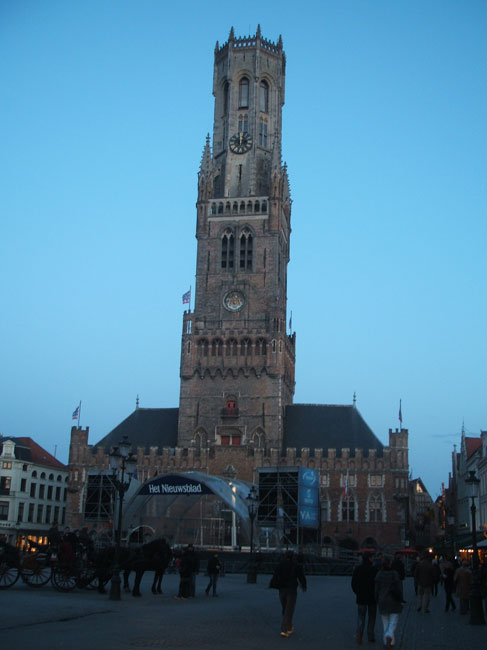 the starting podium in Brugge Markt (central square)
There were 3,000+ riders, and they all looked fit; about a hundred languages were spoken, with Dutch predominant (this *is* Flanders :), French second, and English third.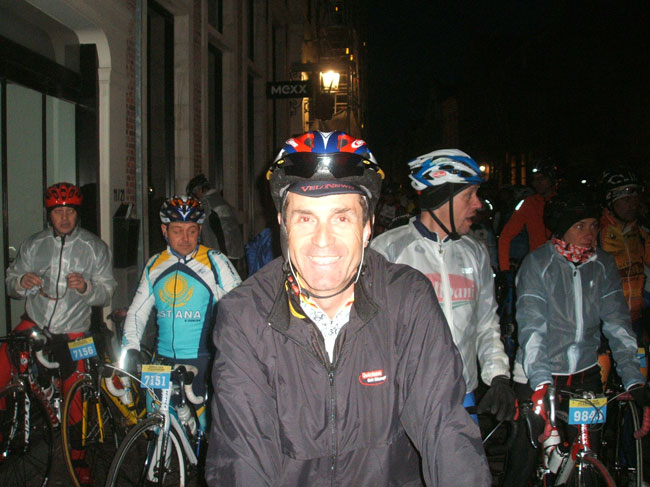 ready to roll in the early morning
I must tell you it was cold, brrr...
The first leg takes you West toward the ocean in blustery conditions, a continuous peloton of riders streams along. Too bad the wind was from the side, and the road was too narrow for echelons.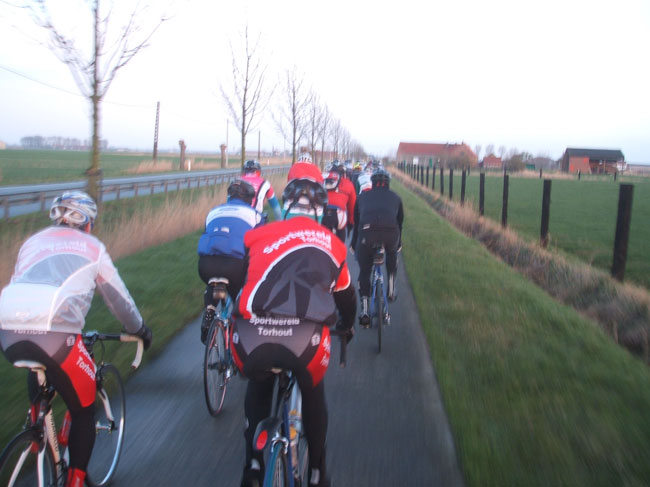 heading West toward Oostende
Next there's a long stretch South East through West Flanders, into the teeth of a headwind; rolling farmland interrupted by quaint little villages. Lots of company on the road, and beautiful, but urgh that wind!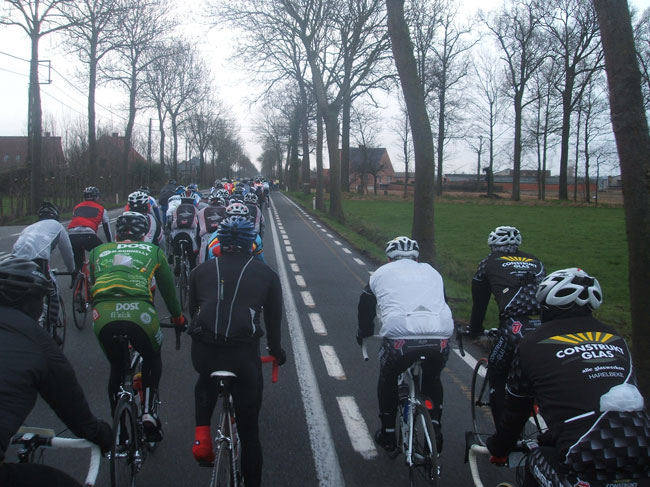 heading East toward the Ardennes where the muirs and pave awaits
With 3,000 riders the checkpoints were absolutely jammed. Besides needing food and drink, you had to get your ticket punched - literally. Food was a bit different - Belgian waffles! - and drink was lemonade, no Hammer in sight. I ate and drank as much of everything as I could...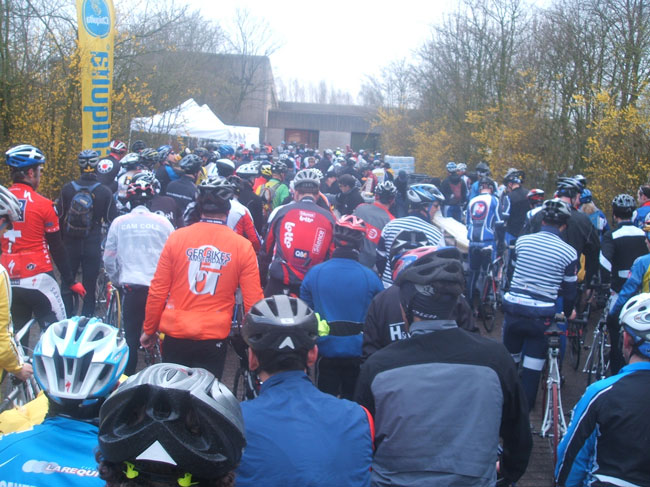 the checkpoints were a zoo
And then the rain began, just in time to enter the Ardennes... and the cobblestone stretches begin; bumpy and slippery when wet. The climbs are hard because they're steep and slippery, and the descents are hard because they're so bumpy. Miles and miles of it, too.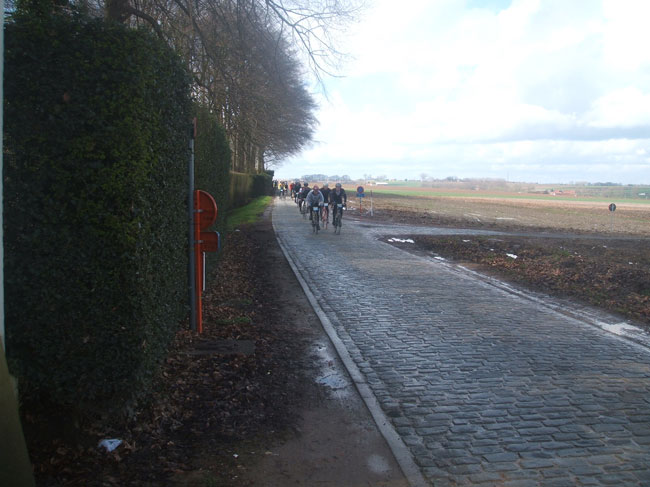 climbing the cobbles - arms sore already and much more ahead
The Ardennes features long stretches of isolated narrow roads, winding through the hills. Some of the paths are steep and slick, but the views are amazing.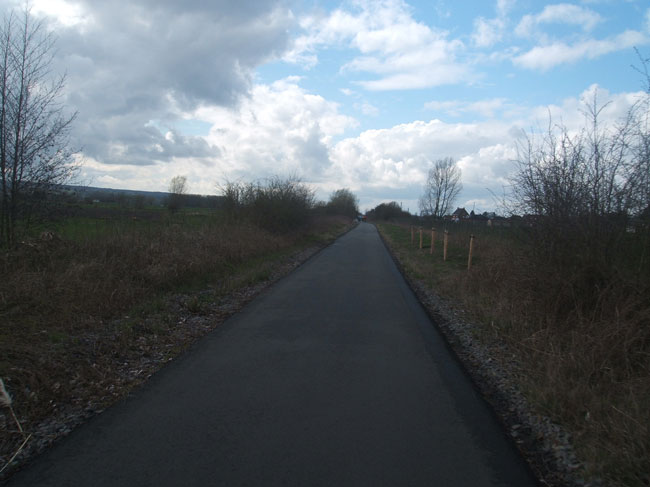 warning, slippery when wet
The climbs which combine cobbles with narrow steep sections are particularly fun, Belgian cycling at its finest :) Here's the bottom of the famous Koppenberg - I would have taken pictures near the top, but was desperately trying to keep my bike moving. Sitting is the key, in fact sitting back; mountain biking experience is helpful...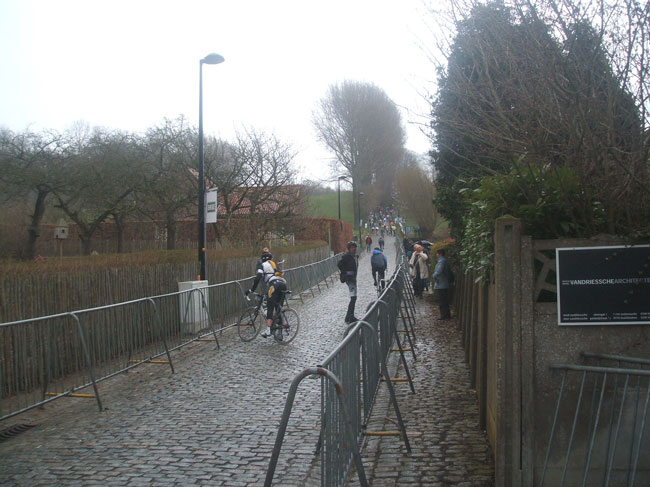 the Koppenberg - wet cobbles and 20% grade, Belgian cycling at its finest
After what seems like an endless series of short steep hills and cobbled stretches, punctuated by picturesque little towns, you finally reach Noneve, and there it is, the finish!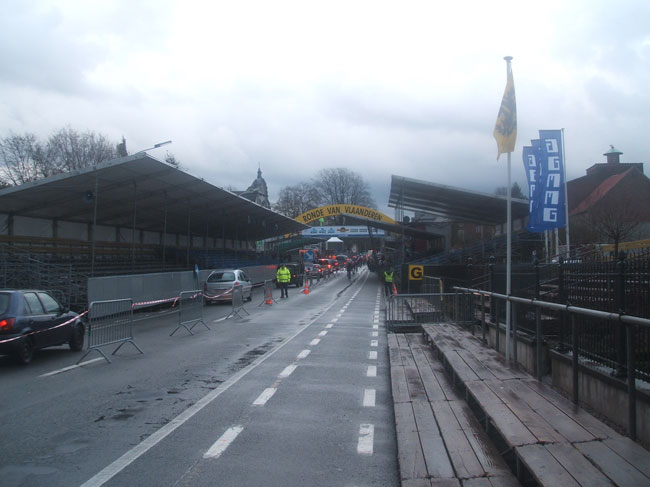 raining again but the finish is a sight for sore eyes, yay, I FINISHED!
152 miles, 12:32 riding time
After you finish the whole thing suddenly makes sense. You need all that distance, the cold, the rain, the wind, the cobbles, and the steep climbs... all the obstacles just making overcoming them to finish all the better.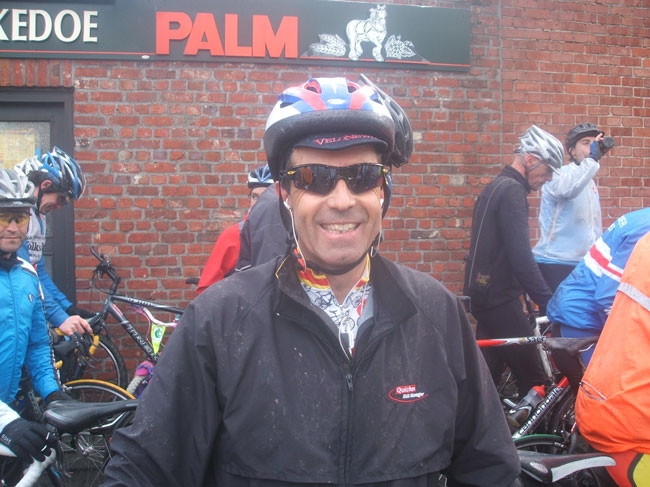 one exhausted, wet, cold, sore rider...
and feeling rather pleased with myself
Next up, the Pros race the same course, in the legendary Tour of Flanders! This year featuring Tom Boonen, Fabian Cancellara, George Hincapie, Phillipe Gilbert, ... and Lance Armstrong. Stay tuned for a report on that...
| | |
| --- | --- |
| watching the (Pro) Tour of Flanders | |
After having ridden the Tour of Flanders course yesterday, today I had a chance to watch the Pro Peloton tackle the same thing. Wow, what a day.
I began with a little strategy, huddled over my strong Belgian coffee; where should I watch? The 260km course features 15 muirs (hills), and twenty-five sections of pave (cobblestones), any one of which would be fun to see. I decided on a hill - easier to watch as the riders are going slower - and then I decided on a late hill - more decisive. And yet the very latest hills are a zoo, "everyone" is there, maybe I couldn't get a good view. So I finally decided on the Tenbosse climb at the edge of the city of Brakel; it's the third-to-last climb, long enough and steep enough to be decisive, and because it's sort of in town, there would probably be enough viewing locations that I'd be able to see everything. Turned out to be a great decision :)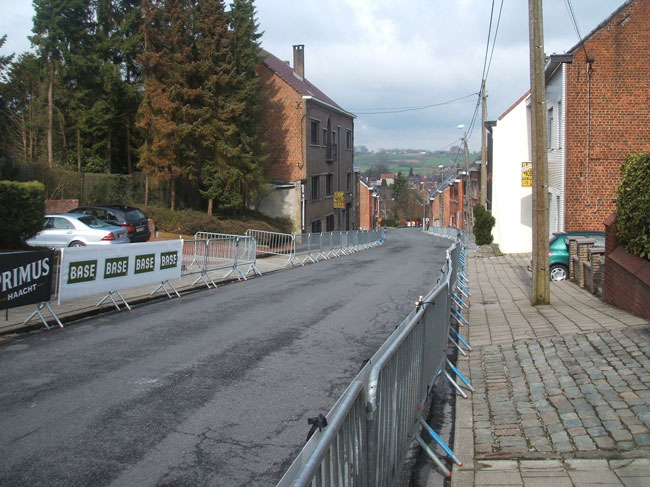 at the top of Tenbosse climb - it will be a bit more crowded later on :)
I had plenty of time to kill - the Tour wasn't going to pass through here for four hours - so I walked into Brekel and found a cool little bar crowded with cyclists watching the early part of the Tour on a large TV. The "Ronde de Vlaanderen" is one of the biggest sporting events in Belgium, think "World Series" or "Super Bowl"...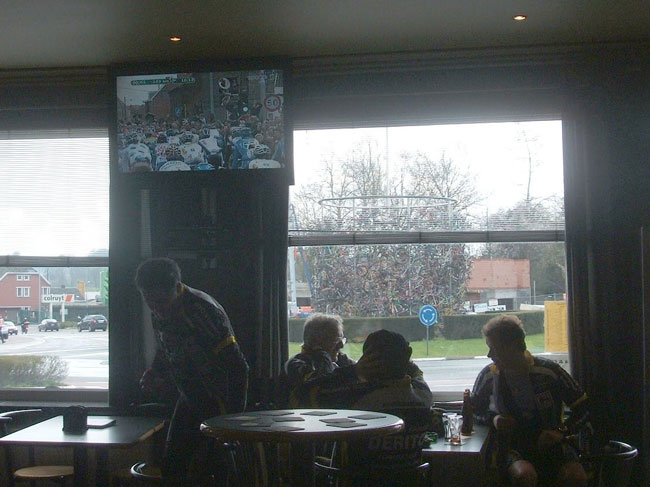 watching the early part of the race from a cafe on the village square
I mosied on back to the climb, hungry, and was delighted to find a vendor grilling frankfurters. Yippee. With some Jupiter (Belgian bier) it was perfect.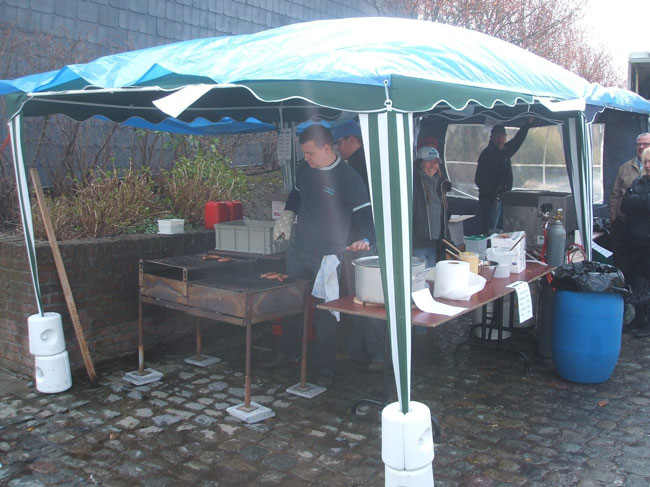 these guys' hot dogs and bier were killer
There was a little pub right near the top of the climb; I found myself a spot at the bar and watched the middle of the race. As the peloton moved into the cobbles and climbs it splintered, and a lead group emerged which swallowed the early break. On the famous Molenberg Fabian Cancellara attacked, and only Tom Boonen could follow, and those two took off in the lead with about 40km left. Chasing were the usual suspects (Phillipe Gilbert, David Miller, George Hincapie, Steyn Devolder) and a little pack led by Lance Armstrong. What a race!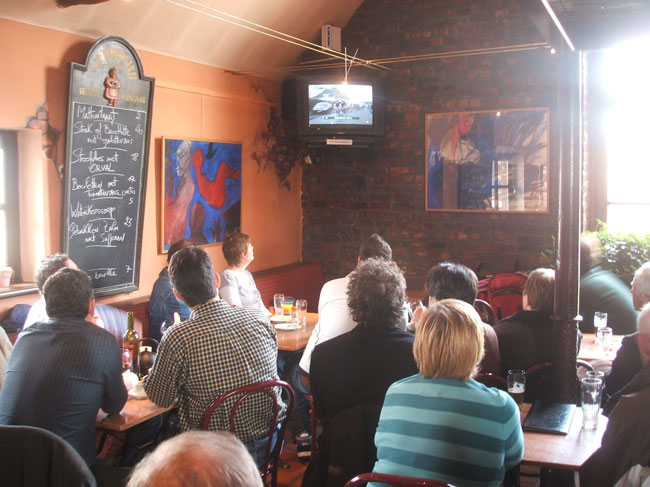 watching the middle part of the race with a bunch of Belgian fans
they were rooting for Tom Boonen, as he marked an attack by Fabian Cancellara
And then suddenly it was time! Everyone filed out of the bar and joined the [huge] crowd which had assembled lining theTenbosse climb. I managed to find myself a prime spot, right on rail on the inside of a slight bend. Helicopters appeared, a cavalcade of police filed by, silens wailed, and then silence ... and then there they were! Tom Boonen flying up the hill, with Fabian Cancellara right on his wheel. Wow.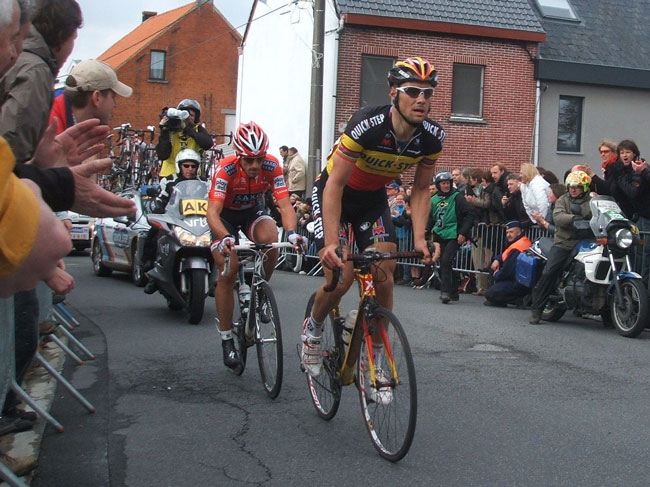 the race leaders! Tom Boonen followed closely by Fabian Cancellara
man they just blew up this hill, amazing
Next on the road came Phillippe Gilbert and David Millar, then George Hincapie and Steyn Devolder. And then The Boss himself, Mr. Lance Armstong, who got a huge cheer from the crowd.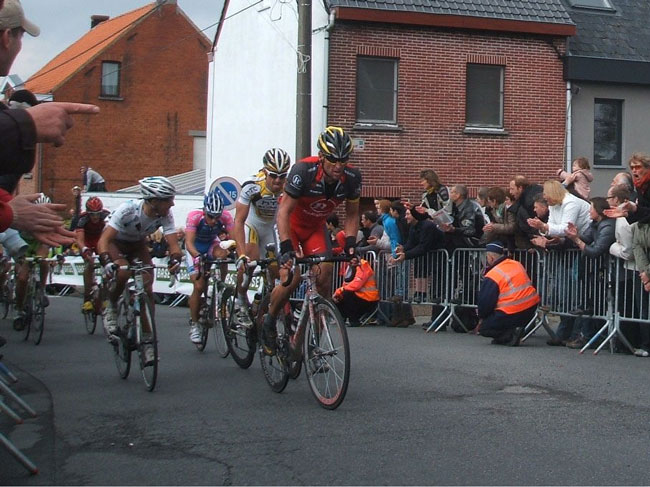 the boss! - Lance Armstrong leads the next chase group
the Belgian fans cheered louder for Lance than anyone except Boonen
After the peloton passed through, everyone piled back into the bar to watch the finish. (And I do mean "everyone"; no fire codes in Belgium, apparently :) On the next climb, the famous Kapelmuur, Cancellara attacked! and pulled a gap, and time trialed to victory. The Belgian fans were sad to see Terrible Tom lose, but gave Fabian a big round of applause; they knew the strongest man had one on this day. What a race!
But my day wasn't over... I rambled back to Ghent through the Belgian countryside in my little Peugeot diesel - watching the charming little towns go by while listening to African techno (!) - and ended up in Brugge, where I found a cute little cafe nestled among the canals. A great dinner was the perfect ending to a great day :)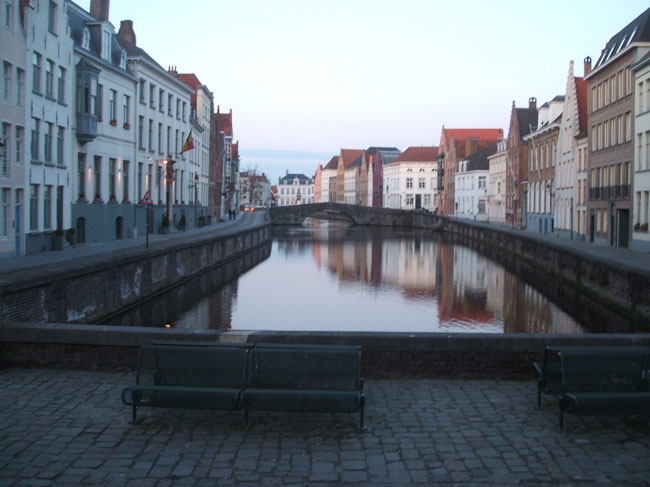 Brugge has a ton of canals (brugge means bridge)
this one is named after Jan van Eyck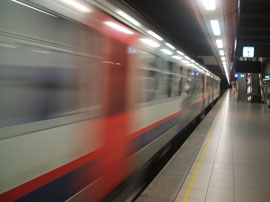 I'm baack... whew. Quite a week, in Europe, what with riding and watching the Tour of Flanders, and then meetings in Utrecht, Netherlands, Bonn, Germany, and Zurich, Switzerland. In between I managed to screw up trains in every way possible; in one case, I took the right train to the wrong station, in another, I got on the wrong half of the right train (yes, they separate the cars, and off you go in the wrong direction), and in yet another I took the right train to the right station but got off at the wrong place. It was all great :0 Have I ever told you I love trains?
And so now I am back, and it's all happening...
Bill Whittle: Vigilance and the Siren Song of the State.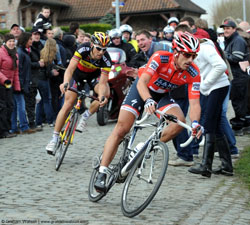 Here's the Velonews replay: Cancellara conquers Flanders. And not content with that, Cancellara cruises to Roubaix triumph, again defeating Tom Boonen and the usual cast of classic characters. Wow, that's awesome, winning Flanders and Roubaix on consecutive weekends. He can take the next weekend off :)

Interesting question: Cancellara to challenge Leipheimer for California Crown? Too much mountain climbing in the TOC for Cancellara, I think, but it is hard to put anything past him...

Meanwhile, Chris Horner gets his txapela, wins Basque tour. Good for him, that's cool. Probably his biggest victory as a pro.
Ted Dziuba undergoes a blog upgrade. I sometimes think about switching to a standard blogging software, but then I read stuff like this and the feeling passes :)

Earthquakes! 7.2 in Baja California. Yikes. Felt all the way in Holland; I was visiting relatives and my Mom called to report the news and check if we were okay. Ha. And not to mention 7.8 in Sumatra, Indonesia. Double yikes.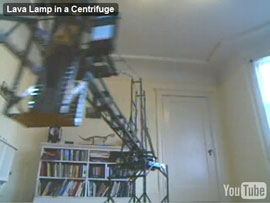 Here's some important research: would a Lava Lamp work on Jupiter? Featuring a homemade test rig: "The centrifuge is a genuinely terrifying device. The lights dim when it is switched on. A strong wind is produced as the centrifuge induces a cyclone in the room. The smell of boiling insulation emanates from the overloaded 25 amp cables. If not perfectly adjusted and lubricated, it will shred the teeth off solid brass gears in under a second. Runs were conducted from the relative safety of the next room while peeking through a crack in the door." Yes, you must view it in action.

BTW the conclusion is... yes!
Fox: It's a fact, sex makes you do stupid things. Depends on the definition of "stupid" :)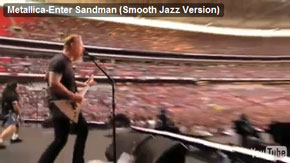 Yes: smooth jazz version of Metallica's Enter Sandman, with James Hetfield on vocals. Surprisingly not terrible, and interesting for being so different. I have an Ottmar Liebert version of Led Zeppelin's Kashmir which is similar.

Today's iPad pundits include:

Can't wait to get mine... waiting for me at my office. Stay tuned!

Sarcasm of the day/week/year: Microsoft changes name of next-gen mobile OS from 'Windows Phone 7 Series" to "Windows Phone 7", and John Gruber comments: "Good to see Microsoft having just as amazing a weekend as Apple." :)

Also would be remiss not to link The Macalope's Fools of the Year. "If you're someone who's written something intensely stupid about Apple in the past year and your name is not on this list, please, please don't think we didn't notice your effort." ROFL...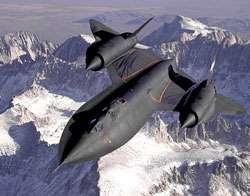 The thrill of flying the SR-71 Blackbird. Awesome!

Scott (Dilbert) Adams contemplates The Happiness Button. "Suppose humans were born with magical buttons on their foreheads. When someone else pushes your button, it makes you very happy." An interesting analysis which results in a deep conclusion, with which I agree entirely: "I can't think of any imaginary situation in which long term happiness could come from other people. The best you can hope for is that other people won't thwart your efforts to make yourself happy."

From NewScientist: Enter the matrix: the deep law that shapes our reality. Some classic non-science as we get a dose of BS around "random matrix theory"....

It's about time: Slashdot reports C programming language back at number 1. Primarily due to the decline of Java. Ha!

The teeniest ZooBorn yet: a French Polynesian tree snail.
| | |
| --- | --- |
| clash of the Titans: Apple vs Adobe | |
Unless you've been traveling at lightspeed to another galaxy, you must have heard about the great Apple vs Adobe tweetle beetle battle*. The iDevices (iPhone, iPod Touch, and now the iPad) do not support Flash, and will not support Flash. Ever. So Adobe created a Flash-to-native-iDevice converter. And now Apple have announced iPhone OS 4.0 (in yet another magnificent Stevenote, yes, you must watch it), and the terms of the new developer agreement prevent cross-compiling apps originally written in languages other than Objective C, C, or C++. Wow.
Sure, we can all see why Apple wants to prevent Flash web apps - that would route around their App Store monopoly - but I can't quite see why Apple wants to prevent native iDevice apps originally written in Flash. I wonder if this will have the intended effect...
Anyone who is creating apps for iDevices now has two choices, create a native iDevice app, or create a web app using AJAX. The third way of creating a Flash app which also runs as a native iDevice app seems shut. Writing an iDevice app means learning Objective C and creating a decent native app from scratch is a pretty big development. And at the end of the day it would be iDevice-only; you couldn't also run it on Android or WebOS or whatever. Creating a web app with AJAX means it might not be great – probably less great than a Flash client – but it would run on iDevices, Android, WebOS, or whatever, and might make having a Flash client unnecessary for PCs and Macs too.
This is the problem with Apple's strategy. There will be people who take their existing Flash apps and rewrite them as native apps. That's what Apple wants. But there will also be people who just switch to AJAX. I can't see why that helps Apple. Overall the user experience is going to be worse. Wouldn't the Flash-to-native-converter approach have been better?
A final point. Apple reviews all apps before letting them be published in the App Store. Presumably if an app is super ugly or crappy or buggy or just doesn't look like it belongs on an iDevice, they won't approve it. Since they have that level of control, why do they care about the underlying technology? If the app was written in Flash (heck, if it was written in COBOL) and cross-compiled, and it looks and behaves like it belongs, who cares?
* from Fox in Socks
| | |
| --- | --- |
| Mark Burson, RAAM competitor | |
You might remember I've posted about my friend Mark Burson before... he's a cyclist who had to have his hip replaced, after which he became a significantly more serious cyclist. He got me into ultra cycling, and in 2008 we completed the California Triple Crown together, just before the first anniversary of his artificial hip.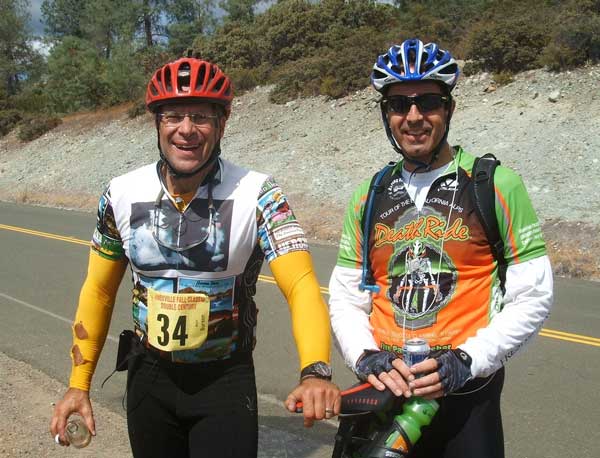 Mark Burson and I during our sixth double century, in 2008
So he hasn't stopped there; he's gone on to ride the Race Across the West, and is now entered as part of a four-person team in the Race Across America (RAAM), possibly the most arduous cycling event of them all. Congratulations and best of luck to him and his team!
| | |
| --- | --- |
| Stargazing: the Umbrella Galaxy | |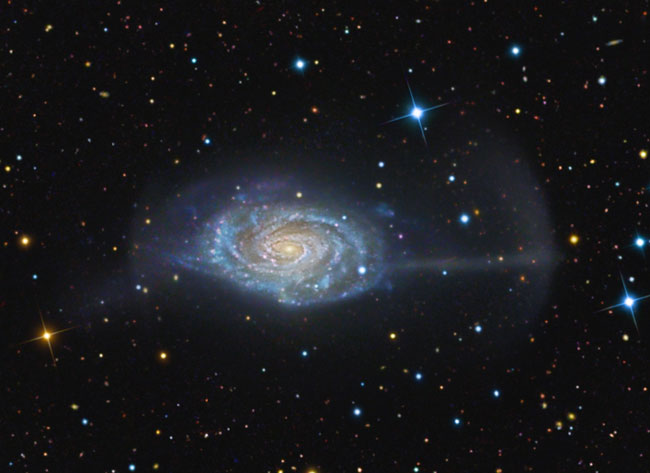 Today's Astronomy Picture of The Day is the awesome Umbrella Galaxy
we see these pictures and they just don't seem "real"; but
imagine you are flying and you look out your window and there it is
wow
it would take a little while to reach it, 35M years at the speed of light
:)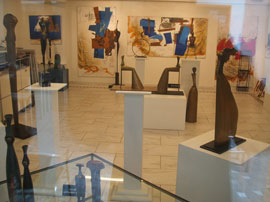 A rather tumultuous week, as I recovered from my week away in Europe (which seemed like months) and dealt with a number of work-related and personal issues. Seemed like each day presented its little challenges... some of which are still ongoing. Ah well, if it was easy, everyone could do it :) This is only a test; if this was an actual life I would be told where to tune in my area for more information. And yet, I am looking forward to next week; who knows what will happen?
And meanwhile, it's all happening "out there", too...
Obama outlines strategy for deep space. "President Obama pledged his full commitment to the space program, outlining a new strategy that ends current programs while funding new initiatives." So be it. Among the various programs which are funded, a return to the moon is not one of them. That seems right to me...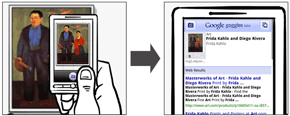 Google buys Plink to improve Google Goggles. Makes sense. I think augmented reality is going to be *huge*, and Google is well positioned already to be the leader.

It had to happen: the 1TB SSD arrives. It costs $4,000, but still, it exists. Cool.

Paul Graham with another classic think piece: Organic Startup Ideas. "The best way to come up with startup ideas is to ask yourself the question: what do you wish someone would make for you?" This is true, especially if you are similar to a large class of other people with the same wish :)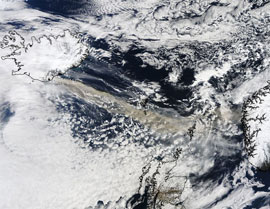 Wired: Icelandic Volcano's Ash Plume as Seen From Space. "A NASA satellite captured an image of the ash plume from the Eyjafjallajokull volcano's Wednesday eruption. We can see the ash plume from the event sweeping east just north of the United Kingdom en route to Norway. The plume has disrupted air travel in western Europe, The New York Times reports, because of (well-founded) fears that the silicates in the ash could turn into molten glass inside planes' jet engines." So be it. Man, it sure has disrupted travel!

Meanwhile, 6.3 quake strikes Papua New Guinea. Huh. It is certainly worth asking: Are there more earthquakes than there used to be? (Answer: no, but it sure seems that way just now...)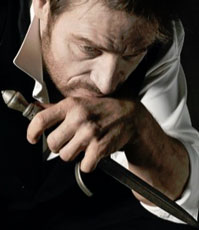 Another virtuoso Opera column by New Yorker music critic Alex Ross: House of Style. "Gelb deserves high praise for returning the Met to the thick of the city's cultural life. I hope, however, that amid the sleek concepts and media tie-ins he will still attend to opera's primal virtues."

Possibly useful tip of the day: So I'm leaving for Europe for 10 days, so naturally I back up my computer. So naturally Acronis crashes. Over and over again. Yikes! Turns out it didn't like the fact that my iPod was plugged in. I vaguely remembered something like this happening to me before and randomly tried unplugging the iPod, and poof! the backup worked.

John Gruber ponders Motorola's Droid problem. "I don't know if Motorola can afford it, but they ought to be doing whatever they can to scoop up Palm." That does seems like a good solution for both companies...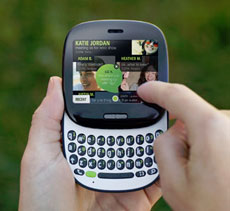 Mary Jo Foley: Five surprising things about Microsoft's Kin. The Kin might be awesome - although it doesn't seem to be - but what surprises me is that Microsoft now has three incompatible mobile phone offerings in the market. That seems like two too many.

Scott (Dilbert) Adams at his best: Heaters. Yes, you must read it, but yes, you must put down any sharp objects and hot liquids before doing so. Hilarious!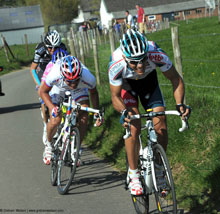 Congratulations to Philippe Gilbert, who won the Amstel Gold race this morning, sprinting away from a pack of leaders on the famous Cauberg.

Onward, into the week! Stay tuned :)



So, what do you think, can you choose to be a luckier person? [ Glen Reynolds reminds us, Obi Wan Kenobi says 'in my experience, there is no such thing as luck' ] As the self-professed world's luckiest guy, I beg to disagree.
I think there *is* such a thing as luck, and there are ways to be luckier. The key is that things happen in patterns. If you can cause a "positive" pattern of events, then individual positive events will feel random - lucky - but they'll actually be a statistical outcome from the pattern. Similarly if you cause a "negative" pattern of events, then unlucky things may happen.
You can influence this through awareness of the pattern. Be one with your surroundings, go with the flow, have good kharma. And maybe you will be "luckier".
(Precelebration is the root of all failure; blogging about being lucky is unlucky, and blogging about ways to be luckier is most unlucky. Fortunately admitting that blogging about being lucky is unlucky, is in fact lucky. Unless you say so :)
Back to normal! Well, what passes for normal around here, anyways... I am caught up, all my old half-composed blog posts have been finished and synced out, and hopefully I can now keep up. Several of my unsettled business issues have calmed themselves also, yay. Just need to get some personal stuff back in the box. But that's under my control...
meanwhile...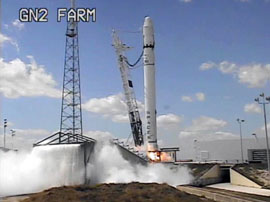 From Elon Musk: At Long Last, an Inspiring Future for Space Exploration. "The President has articulated an ambitious and exciting new plan that will alter our destiny as a species. I believe this address could be as important as President Kennedy's 1962 speech at Rice University. For the first time since Apollo, our country will have a plan for space exploration that inspires and excites all who look to the stars. Even more important, it will work." Cool.

I voted Democrat, because... a handy list, from Gerard Vanderleun.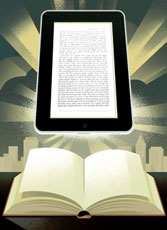 Ken Auletta in New Yorker: the iPad, the Kindle, and the future of books. A good read which defies synopsis. The most interesting aspect is the degree to which newspapers, magazines, and book publishers look to the iPad to be their savior. If the content wasn't compelling on paper, why would putting it online make it more so?

BTW my verdict: the Kindle is better for reading. Better screen and lighter and smaller. The fact that the iPad is backlit is great for reading in bed however...
Boston.com's Big Picture has a spread on the Eyjafjallajokull volcano. Wow. Check it out...
Ars Technica reviews iWork for the iPad. "In the end, using iWork for the iPad is a lot like going to the moon. It might be a nice place to visit ... but in the end, it's not a place I'd like to live, or even stay for any extended amount of time. iWork is decent, but there is only so much you can do for an office suite without a full keyboard and a mouse." So much for the new computing paradigm.



A bit more regarding being lucky; with full recognition that nothing is unluckier than acting like you know how to be lucky or anything at all about luck. Even saying so is unlucky. But you guys are interested (I got a lot of email), so... I'm going to take a chance. Probably after this post I will have no luck whatsoever; (man, the things I do for you...)
Being lucky seems to involve hard work, preparation, and persistence. Confidence is good but cockiness is bad, and at no time should you rely on luck. Skill seems orthonal to luck, it can cut both ways; being lucky seems to have more to do with knowing your skill level and how you project it than the skill level itself. A sense of amazement when things go well is helpful, as is a sense of amusement when things do not.
The other day I wrote: Be one with your surroundings, go with the flow, have good kharma. Now I want to add: self-awareness is at the core of luck. Knowing yourself, being realistic about yourself, and working to improve yourself are probably the best things you can do to be lucky.
PS please tell me what you think; this is one post for which I wish I had comments on my blog :)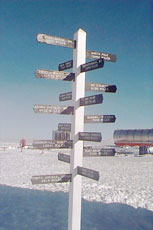 A wild and wacky day, whew. Roller coaster. Many things in progress. Working ten threads in parallel. Give me the courage to change the things I can, the serenity to accept the things I cannot, and the wisdom to know the difference!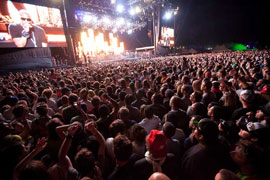 Coachella: 3 days of Music, Mayhem, and Amazing Spectacle. Ah man, I wish I could have gone. Just would have been so fun. These are the kinds of things, in the wake of getting hit by a car, that I'm trying to do, instead of not do. Maybe next year...

So, I see this week HIM are playing at the House of Blues in San Diego, on Thursday night. HIM! Do you even know how great they are? (If not, you must immediately seek them out and listen; they are awesome...) Hey, I want to go...
Dave Winer: What comes after location? His answer, a vector, as in applications which know which way you're moving as well as where you are. A lot of GPS apps already do this; my Sprint phone's nav app does, for example...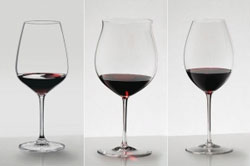 Salon points out Good glasses make wine taste better. At first you might think this isn't true, it is marketing hype, but I've done head-to-head comparisons and I've convinced myself it is true. Give me a nice Reidel Burgundy glass for my Sea Smoke, please.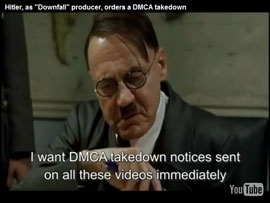 Hitler in the news; as you know, YouTube pundits have long had a field day with that final scene from Downfall, where Hitler learns that he's going to lose. It's subtitled already, and all you have to do is change the subtitles for brilliant parody. And so know the company that owns the rights to that movie are issuing takedown notices! How silly / tone-deaf / stupid of them, and not to mention, this sort of excerpt totally falls within fair use. Here's a meta-parody, Hitler tries a DMCA takedown :)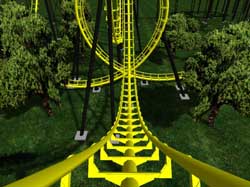 Wow, another roller coaster day. There's only one thing to do: Filter pass!
Leonard Nimoy hangs up his Spock. "'I want to get off the stage. Also, I don't think it would be fair to Zachary Quinto,' Nimoy told the Toronto Sun, referring to the actor who portrays young Spock in the new Trek film. 'He's a terrific actor, he looks the part, and it's time to give him some space. And I'm very flattered the character will continue.'" How classy is that? Live long and prosper...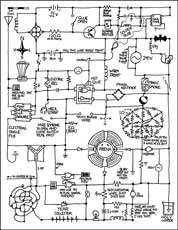 The incredible xkcd with a circuit diagram... I love it!

In re ultracycling: That Which Does Not Kill Me Makes Me Stranger. Very interesting, the degree to which success in endurance events is mental rather than physical. I completely agree with this; when I failed to complete the Furnace Creek 508 last October, it was because my head said no, not my body. [ via Kottke ]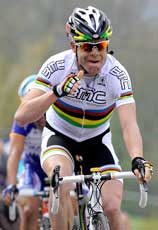 Wow, congratulations to Cadel Evans for winning the 2010 Fleche Wallonne. I'd kind of forgotten about Cadel, even though he's the current World Champion. He is a factor.

Dave Winer: Vector Awareness, day two. "I'm kind of disappointed that there wasn't much uptake on other blogs re what comes after location - but not really surprised." He's not surprised because he thinks people underreact to blog posts. I'm not surprised because his insight wasn't that earth-shattering :)

Amazing, Visa buys CyberSource for $2B. Shows how much of Visa's total business and mindshare is now occupied by online transactions.

If you've been tracking the whole iPhone 4.0 developer agreement 3.3.1 clause thing, this will not be a shock, but sadly: Adobe throws in the towel on Flash for iPhone. Essentially Apple has banned any applications from iDevices which were not written from scratch for iDevices, including especially anything written in Flash.

I'm just going to mention this because it is SO COOL and not because it is a solution; these guys were able to get Google's Android running on an Apple iPhone! This is going down as one of the most amazing hacks of all time. They took a jailbroken iPhone (hacked to allow third party software) and then installed the Android OS. Amazing. Now track this… Android does not support Flash yet, but Google and Adobe have announced they are working together to make it so. Once they do, you could run Flash on an iPhone by jailbreaking it, installing Android, and then accessing websites from under Android. Something every user would know how to do :)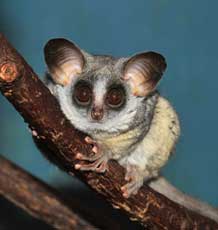 ZooBorn of the day: a baby Bushbaby.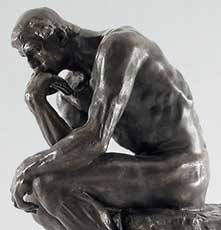 Yesterday night the weirdest thing happened to me; I ran out of brain. It was getting late, I was driving on the freeway, and I ran out of gas. Just ... ran out. I had previously noticed I was running low, my gas gauge was working, the little warning light came on and so on, but somehow my brain ignored all that and the laws of physics took over. If you drive long enough without putting gas in your car, it will come to a spluttering stop. I was on I-5 at the time, going about 80, with traffic everywhere, so pulling onto the shoulder was an adventure. Once there I called AAA and 45 rather nerve-wracking minutes later a nice tow truck driver saved me. It was bad but it could have been worse.
Just shows, I am overloading my brain. Too many things competing for cycles and really basic stuff gets pushed out. I need to kill some threads, and focus. Time to go out to dinner, have a nice glass bottle of wine, and get some perspective. Fortunately I am riding a century tomorrow - the Wildflower Ride, up in Paso Robles - and that will be good think time; three hours driving there, six hours riding, and three hours driving back. With great music playing all through. I have to get some of my brain back.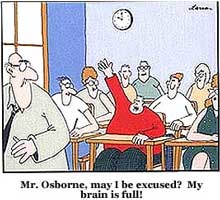 As noted, my brain is full, but I will try to make a filter pass anyway, on a Friday afternoon no less. You have been warned.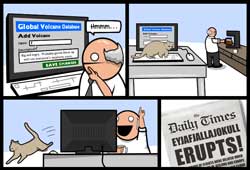 Put down all sharp objects and hot liquids, and then let The Oatmeal explain how to name a volcano.

Yesterday Facebook announced that they've expanded their API, to include "the Open Graph". Which is open in the sense that anyone can use it, but closed in the sense that it belongs to Facebook. Scoble is right to comment on Facebook's ambition, this is big. So, should I add 'Like' buttons to my blog? (And thereby allow you to auto-link posts into your Facebook?) Huh. I'm thinking 'no', but I'm still thinking...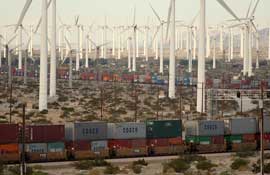 It is Earth Day, 2010. And the Big Picture celebrates with a big spread, interposing "good" and "bad" pictures of humans and their effect on Earth. I especially like the pictures of windmills, which are delightfully ambiguous in their green-ness; sure, clean power in some sense, but definitely a nonzero impact on the environment.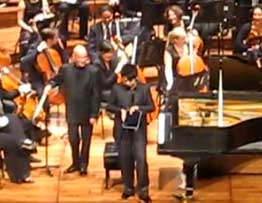 It had to happen: Pianist plays concert encore on iPad. Wow. I guess the lack of physical keyboard doesn't affect everyone :)

Meanwhile, here is Eric Raymond's take: "The iPad is the ultimate Steve Jobs device – so hypnotic that not only do people buy one without knowing what it's good for, they keep feeling like they ought to use it even when they have better alternatives for everything it does." He doesn't think it will be successful, but he's been wrong before...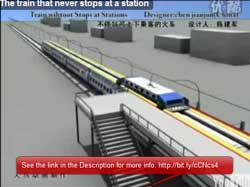 A train that never stops at stations. Pretty cool, operates on the same principle as the newer style of ski lift, where the chairs come off the main cable for loading and unloading, allowing the cable to move much faster. Probably impractical but an ingenious idea.

Okay, that's it, now my brain is really full. See you Sunday.

I rode the Wildflower Century yesterday. This is a wonderful ride staged by the San Luis Obispo Bicycle Club in the rolling meadows SouthEast of Paso Robles. The entire ride takes place on quiet roads winding through the silent fields, with beautiful views of wildflowers (!) and vineyards and big mansions and wineries. There are 50 and 75 mile versions of this ride too; if you ever want to participate in a really beautiful ride, check it out.
Seeing those acres of vineyards and beautiful wineries really made me want to live like that. I could definitely see retiring to a great house in the middle of a nice vineyard, in a beautiful area like that. Well let me rephrase, I could see living like that; I'm not sure I can see retiring, ever...
Oh yeah as usual, pictures...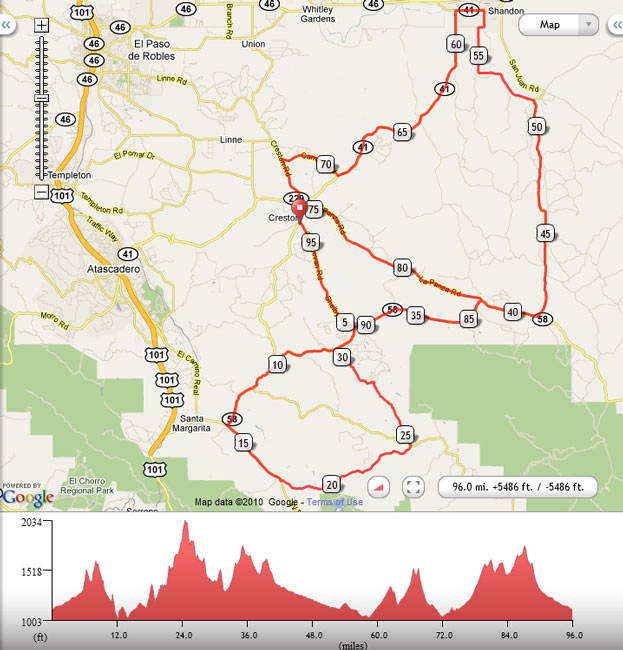 the route: 100 miles, 6,500', through the rolling meadows SouthEast of Paso Robles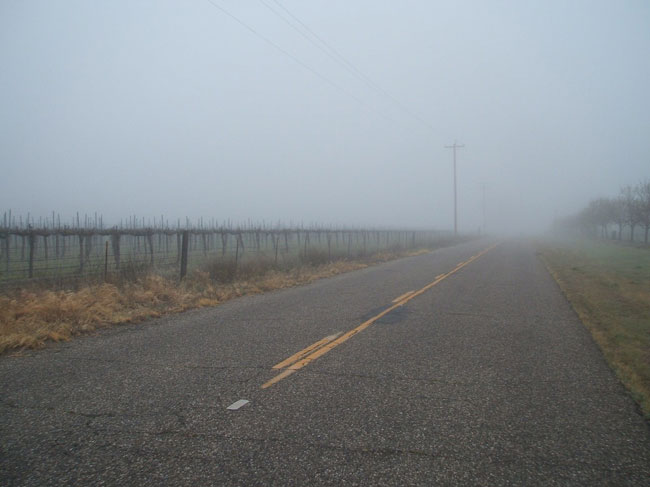 starting off in the early morning mist... wet and cold and where are the wildflowers?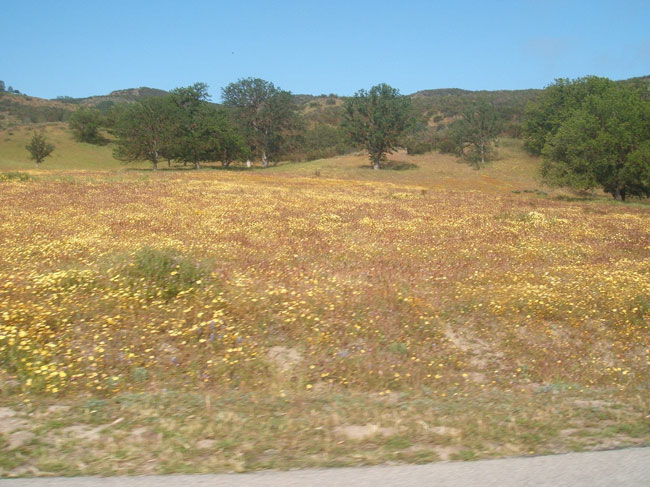 but the sun came out and there they were, brilliant and beautiful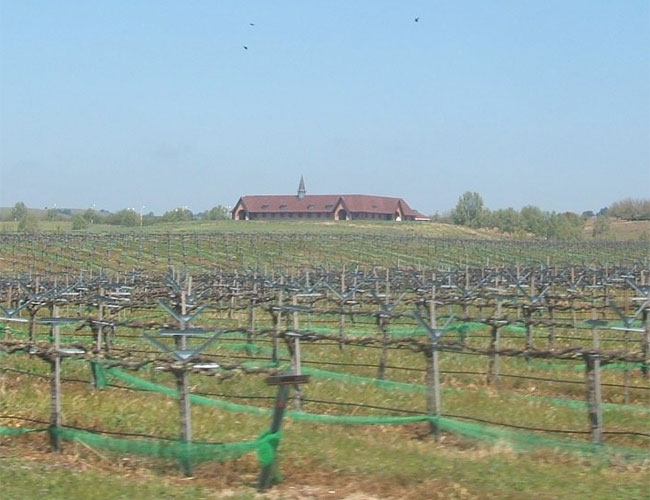 the amazing vineyard properties were a highlight of the ride for me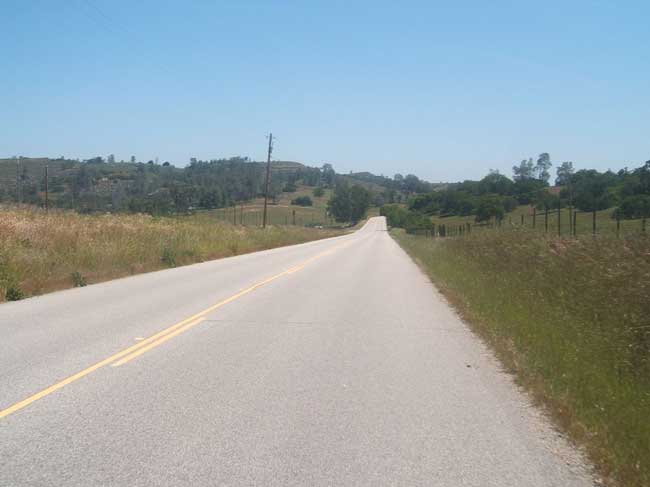 mile after mile of quiet road threading between silent fields - good think time
(and music listening time :)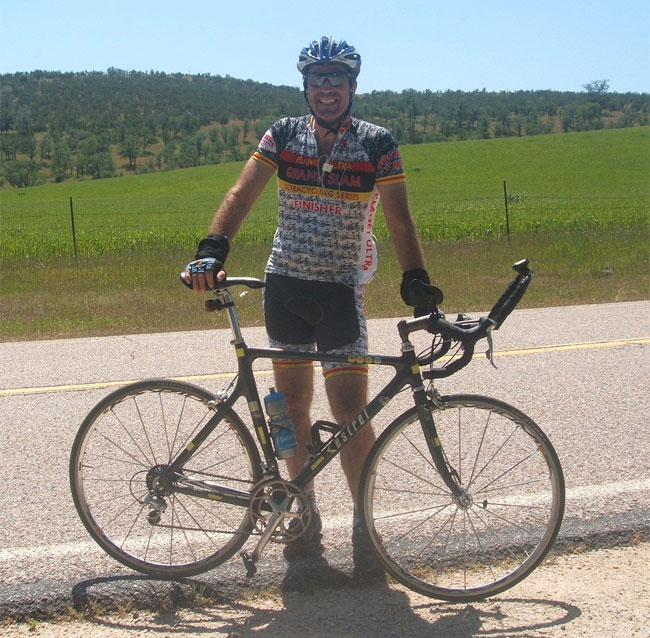 yay, another century
(and yes my brain was cleared out some...)
See you out there!
A weird day today; I was upset and stressed. Spent much of it sitting on the deck in my blogitorium, but I was not blogging; I was working on, well, work. It was a beautiful day, perfect weather, watching my dogs run around the yard, but somehow I couldn't enjoy it. I had a great day yesterday too; nice ride, great dinner with friends, but my mind woke up cloudy today. Too bad. Some days are like that, but perhaps tomorrow will be better!
...and so now I am in my office, done working, and blogging...
Timed for Earth Day 2010, Fortune debunks 25 green myths. Among them, "bottled water is safer than tap water", "buying local food is better for the environment", "organic foods are produced without pesticides", etc. Green is good, but not everything people call green is good.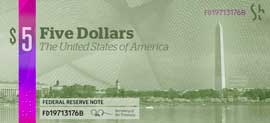 If you travel outside the U.S. you will be struck immediately by how much more attractive other countries currencies are than U.S. greenbacks. Here's a hypothetical redesign by Michael Tyznik. Pretty nice, but then, it's a low bar...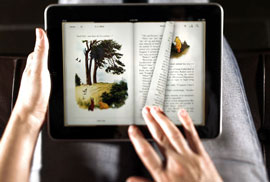 Good to know: Reading on iPad before sleep can affect sleep habits. "Devices like the Kindle... use a technology called e-paper. The iPad... contains a touchscreen liquid-crystal display that... emits light.... direct exposure to such abnormal light sources inhibits the body's secretion of melatonin, say several sleep experts." I have been experimenting with using my iPad to read instead of my Kindle, and I don't like it as well. The iPad screen is backlit but not as crisp, and it's much heavier than the Kindle. On the plus side, I can check my email when I wake up without getting out of bed :) Maybe that's not a plus, however...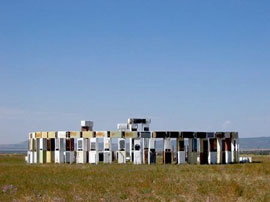 Brought to my attention by Shirley: Fridgehenge; Stonehenge reproduced in a city dump using discarded refrigerators. How cool is that?

Michael Arrington: The Age of Facebook. I must say with Facebook there is a there there, a real thing. I check Facebook daily as do you (!) as do we all; it is a great way to stay abreast and in touch with your friends. And I have no doubt that each person's friend network ("your graph") can be leveraged for all sorts of commercial purposes; targeted ads, recommendations, etc. Your friends like your music, your sports, your blogs, etc. :)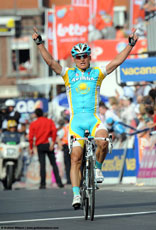 Unbelievable! Vino wins L-B-L! Yes indeed, Alexander Vinokourov has come back from ignominious suspension during the 2005 TdF, served his two years, and now wins Liege-Bastogne-Liege, one of cycling's greatest classics. What a victory! And what a comeback... and lest we forget, he is on Astana, that would be Alberto Contador's team. This year's TdF is shaping up to be one of the most interesting ever!

John Wilcockson notes Vinokourov's Unpopular Victory. Might be unpopular with Belgian fans, but man, you have to respect Vino. I think what we're learning about doping in cycling is that yeah, it helps, but it doesn't help that much, and great riders like Vino and Millar and so are great even without doping.
Dave Winer's Three Laws of Standards:

A standard may not injure users or, through inaction, allow users to come to harm.
Standard-compliant software must obey any orders given to it by users, except where such orders would conflict with the First Law.
A standard must protect its own existence as long as such protection does not conflict with the First or Second Law.
Are these excellent or what?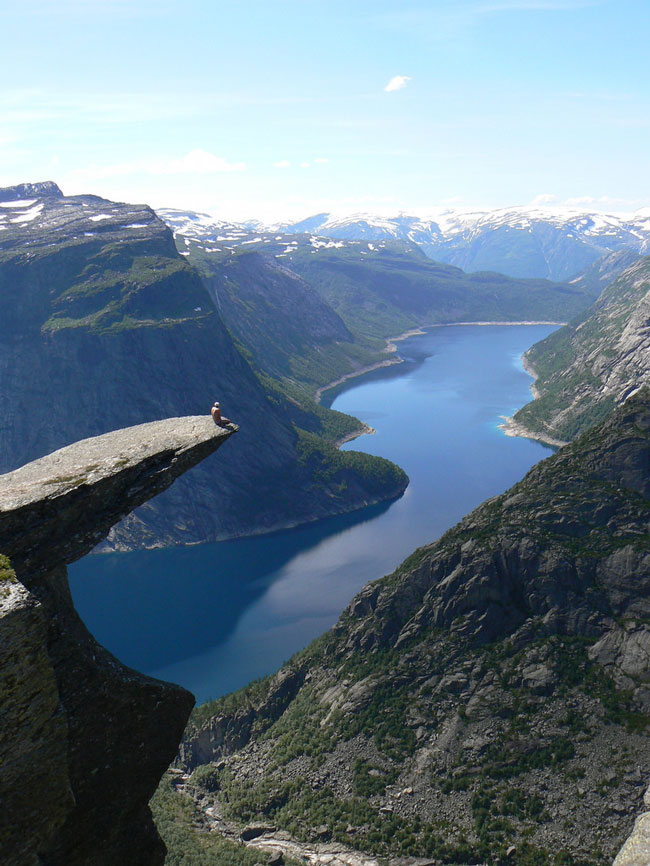 Wow. That's just about all I can say.
Coming to you live! from Houston... after a max busy day in which I drove down to Vista, had a few interesting meetings, and then drove up to LAX to fly out here... I must tell you all this travel is all very exciting, but it sure isn't very efficient.
I was able to get some work done on the plane, fortunately; I have experimentally determined that carrying a second laptop battery is well worth it. It takes me from two solid hours to four solid hours.
From CNN: Economists: the stimulus didn't help. And of course when you factor in the inflationary pressure of the $787B ARRA, it will hurt considerably. Nice.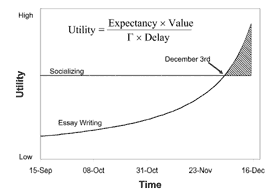 I have a rather large backlog of not-quite-important but worthy-of-doing tasks, as usual, and just today stumbled across Clive Thompson's excellent post from three years ago, the formula of procrastination. Dead on.

Congratulations to Adam Engst, on the 20th anniversary of TidBITS, their 1,024th issue! That's amazing. To celebrate they published a special section of reminiscence, including a TidBIT from me :)

To me, the most amazing thing about TidBITS is its consistency and longevity. If I were telling a friend about TidBITS now, I'd probably tell the story about how, to celebrate its 20th anniversary and 1,024th issue, Adam contacted some longtime readers and asked them to talk a little about TidBITS, including relating the most amazing story about TidBITS they could think of...


Scott "Dilbert" Adams publishes two Internet-only Dilbert comics on the lost iPhone 4G fiasco. I love it!

BTW, so many of the people reporting on this situation have missed the point. The badness was *not* Gizmodo publishing details of the "secret" phone. All sorts of MSM and blogs do this all the time. The badness was purchasing stolen property. And since Gizmodo *knew* the property was stolen, they have no excuse.
From the Onion: Man At Very Top Of Food Chain Chooses Bugles. "Despite having no natural enemies and belonging to a species that completely dominates its ecosystem, local IT manager Reggie Atkinson opted to consume the processed corn snack Bugles Monday." Wow, bullseye. Almost had Bugles myself today, but settled for Chex Mix :) [ via Kottke ]

Philip Greenspun: Comparing books on happiness. "Folks are baffled by the fact that GDP per person has risen in the U.S. but reported happiness has not." Happiness comes from liking yourself, not from your physical circumstances. This is why relative prosperity is more important than absolute prosperity. And why programs which level prosperity do not make people happier...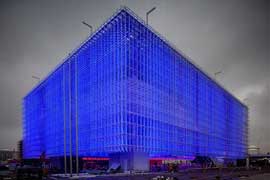 Inhabitat: Top 6 stunning green pavilions at 2010 Shanghai World Expo. Beautiful examples of architecture as well as engineering.

And finally, Steve Hawking cautions against alien contact. "We only have to look at ourselves to see how intelligent life might develop into something we wouldn't want to meet. I imagine they might exist in massive ships, having used up all the resources from their home planet... If aliens ever visit us, I think the outcome would be much as when Christopher Columbus first landed in America, which didn't turn out very well for the native Americans." I am not making this up...

| | |
| --- | --- |
| please turn off your books (NY, 4/19/10) | |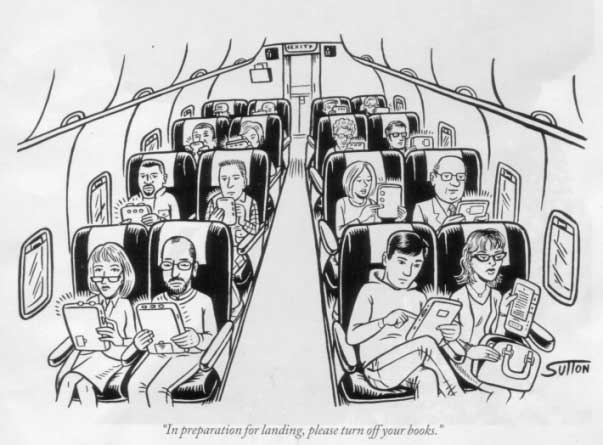 perfect
(just landed in Houston on Southwest, and expected them to say this)

Whew, back. Or rather on my way back; this is being blogged on United, as I make my way home from New Orleans, after a whirlwind trip in which I visited three customers, attended a conference, made a presentation, and did a lot of thinking...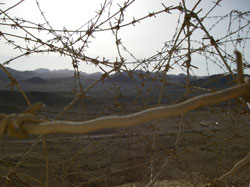 I don't get all the opposition to the Arizona immigration law, do you? I guess if you're opposed to the idea that there should be such a thing as citizens of a country, and people who are not citizens, and laws which govern who gets to be a citizen, then you would be opposed to this law. There are such people, and while I disagree with them, that would be consistent thinking on their part. But there seem to be many people who do think there should be citizens and non-citizens, and who do think there should be immigration laws, but they are still opposed to this law - in many cases, vehemently opposed. I don't get it.

BTW same comment on policing our borders and enforcing immigration laws. If you believe in such a thing as non-citizens then surely it follows you need borders, border police, and enforcement of immigration laws?

From the amazing Chris Muir, who draws day-by-day: test pattern. "This is a test of the free speech system. This is only a test." Wow. Click through to see the associated comic which is pretty great, too.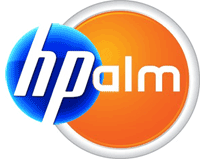 And so HP have bought Palm. I tend to take the optimist's view, this is good for HP and Palm. I love my Palm Pre, and it pains me when I read of the company's travails and lack of resources. Meanwhile HP is a good home; they will invest sufficient resources in WebOS and will give wider distribution to it, such as [maybe] on tablet computers.

Daring Fireball: "Strikes me as a great move for both companies."
ArsTechnica: "HP has the resources that Palm didn't have in order to keep the innovative webOS going."
TechCrunch: "Hewlett-Packard has killed off its much ballyhooed Windows 7 tablet computer."
Engadget's Liveblog of the announcement.
Brad Feld asks: Are storytellers the best programmers? Huh. I think perhaps storytellers are the best UI designers, maybe the best front-end software designers (and being a VC, Brad probably thinks of most software as being web software, and specifically web front-end software). Not sure it follows generally.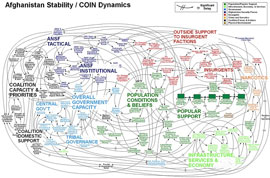 Misleading headline(s) of the day: Generals left baffled by PowerPoint slide. This refers to the diagram at left, which is complicated and could well be baffling. But in no way does this have anything to do with PowerPoint. Does that look like a PowerPoint slide to you? Weird.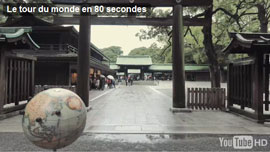 Around the world in 80 seconds. Cool video, which due to some creative editing features what appears to be a single take blasting around the world.

Ze Frank's chillout song. Way cool. Ze Frank is ze cool, no?

Tim Bray: Blogging at Google. How do you give interesting reports from inside the firewall without compromising anything? Tim is trying to find out :)

More from Tim: Flash history. "I'm a little irritated that all those preaching about Flash are ignoring the history." Me, too. Some pundits seem to think Flash is just a way to play video on the web. It was the first real workable cross-platform client-side development technology. Yeah I get that JavaScript can do almost everything Flash could do. But when you're writing JavaScript your constantly worried about different browsers; IE, Firefox, Safari, Chrome, etc. Lots of work and lots of testing.

This was apropos Steve Jobs' open letter about Flash. There is only one reason Jobs is opposed to Flash, and it has nothing to do with technology. A viable cross-platform client-side development technology would undermine Apple's hegemony over their iDevice App Store. It's pure business.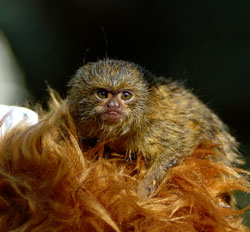 fuzzball ZooBorn of the day: Mogo's Marmoset.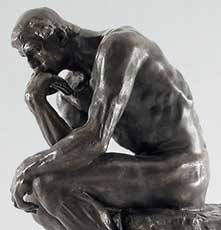 Tuesday night I lost my brain. Well actually I lost my car, but in order to do so I had to lose my brain first, in an incident frighteningly reminiscent of last week when I ran out of brain.
I had landed in New Orleans, hungry, and immediately after renting a car had OpenTable-d a restaurant in the French Quarter1. Drove into downtown, using my trusty Pre's awesome GPS nav app2, and knowing parking would be tough as soon as I got close I parked my car. From their I walked to the restaurant, guided by the Pre, and had a great dinner3. Afterward I walked back to my car and ... wait! I didn't walk back to my car, because I *totally* could not remember where I put it! I couldn't remember the street, couldn't remember the direction of the street, and in fact couldn't even remember what the car looked like! Yikes.
Using Google Maps I was able to search all the streets in the area in spiral fashion, clicking the keys' unlock button so I could identify my car as I walked along, and after an hour of blundering about I found it. You are thinking "this is a typical New Orleans French Quarter experience" and you might be right. It didn't leave me very proud of myself. I guess I have to continue clearing out my head so I can accomplish basic tasks. Whew.
1 if you travel around like me OpenTable is awesome. You can find great restaurants anywhere and make a reservation with a click of the touchscreen. The Pre app for OpenTable is great, too.

2 yes, the Pre's GPS nav app is superior to any in-car GPS and just as cool as Garmin / Tom Tom / etc., with the bonus of being integrated with the phone.

3 The Pelican Club, and yes I had a wonderful meal there, starting with Andouille gumbo followed by Blue Crab ravioli and a trio of duckling, capped by duck egg creme brulee and accompanied by Arcadian Pinot Noir.
| | |
| --- | --- |
| thinking outside the elevator box | |
<innovation optional=entirely>
While staying at the Sheraton in downtown New Orleans, attending and presenting at a conference, I noted an interesting innovation with their elevators. Elevators are an old established technology and you would think nothing new could be done to make them more efficient, but you would be wrong.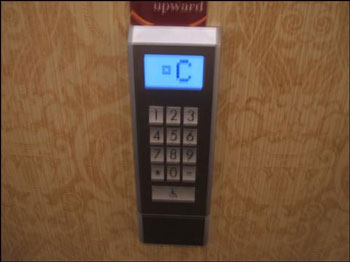 The hotel had five elevators transporting guests among twenty nine floors, including eight floors of conference space, restaurants, shops, etc. At each bank of elevators, instead of an UP and DOWN button there was a keypad. To call the elevator you enter your destination floor. The system immediately responds by telling you which elevator will arrive for you (they are lettered, e.g. after entering "5" the system responded with "C" as shown at right). When the elevator arrives you get in, and it takes you to your floor, you don't push any buttons inside the elevator.
This cool system has several advantages:
Telling the system your destination floor instead of just your destination direction gives it more information, so it can plan elevator travel more efficiently.
Because the system tells you which elevator to use, you can go stand next to it, lessening the load time. Also the crowd at elevator banks is dispersed into orderly queues by each door.
If a whole bunch of people need to go to the same floor(s), the system can assign them to multiple elevators on a first-come-first-serve basis. You never have an elevator which is too full.
It is convenient not to have to push any buttons inside the elevator, particularly when they are crowded.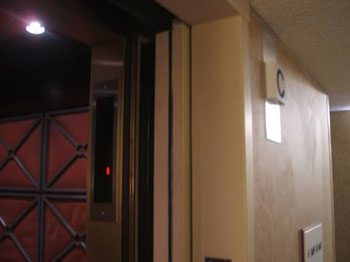 As shown at left, the inside of the elevator doorway has a panel which shows the destination floor(s) for that elevator (in this case, "5"). This allows you to double-check that you're getting on the right one. Note the letter identifying the elevator "pasted" over the old up/down lights.
Usability observation: using the letters A, B, C, D, and E to identify the elevators avoided confusion with numbered floors, but the auditory confirmation was confusing because B, C, D, and E sound so similar. Using something else like colors would have been better :)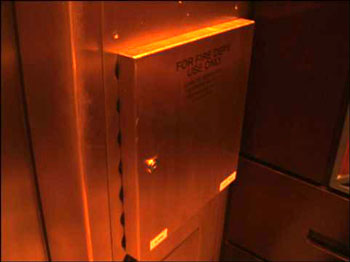 The picture at right shows the cover over the old destination buttons inside the elevator. Once you get in the elevator there are no buttons to push. If you change your mind about your destination you have to get out and punch your new choice into the keypad, at which point the system might not assign you the same elevator.
Usability observation: the keypads have big clicky buttons, easy to push and with positive physical feedback. Much better than a touchscreen.
Pretty cool, eh? Just when you think you've seen it all, you realize "it all" is so much more than you thought!
</innovation>
Return to the archive.