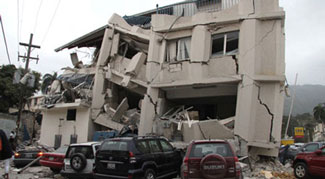 I'd like to spend a minute on a serious subject: helping Haiti. Here's a question: should the United States use taxpayer money to assist with the disaster recovery of another country?
Before going on let me be clear*: The disaster in Haiti caused by a huge earthquake was truly a disaster, and I have nothing but praise and admiration for individuals and private organizations helping with the recovery.
I'm personally rather skeptical that helping Haiti is an appropriate use of federal funds. Consider that the U.S. is badly in need of those funds; the Economic Recovery Act is causing us to spend unprecedented amounts of money we do not have, piling on to a federal budget already running at a deficit. We can barely afford to recover from our own disasters such as Katrina, Ike, and the Iowa City floods.
A related issue came up for me recently in an email exchange with an organizer of bike rides. The organizer had scheduled a charity ride to raise money for helping Haiti - undoubtedly a good thing to do. But in an email blast he implied that anyone who didn't participate was a bad person. I politely replied that not everyone thought helping Haitians was more important, than, say, helping people in San Diego (where the ride was taking place). He replied back "Is this a joke? Are you even human?" It wasn't a joke and while my humanity may be in question, I still don't know if helping Haiti should be a priority.
At the highest level, all of us can help those less fortunate at any time, but we draw the line somewhere. I doubt the organizer of this charity ride sold his house to buy houses for Haitians, for example. If those who need help are in our immediate family, we are more likely to help, and as we move outward to friends, neighbors, those who live in our city, our state, and our country we are progressively less inclined to help. Our willingness to help is proportional to the proximity of those who need help, as measured in some karmic way. It seems like strangers in another country would be at the bottom of the list.
As a final point, this is strongly related to the concept of borders, and citizenship, and aliens. I have a friend who cannot understand why there should be borders, why we won't just let anyone move to the United States. Perhaps he would help Haitians as readily as those in his immediate family, I don't know. Or perhaps considering whether he would might bring him perspective as to why we have borders.