Ah, home sweet home, how nice to be lounging on a lazy Saturday... nothing to do but a million things I want. I'll probably do a little ride later and I do have much to catch up on after a week away (with another week away on the horizon), but for now, I have nothing to do but blog. And so I will :)
I don't know how to take this: Obama said to seek $54B in nuclear-power loans. On the one hand I'm a big fan of nuclear power, on the other, a big opponent of government sponsored anything. I guess on balance I'm opposed...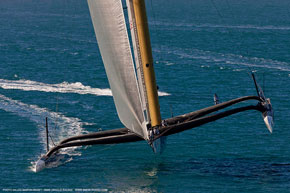 WOW! An aptly titled blog post by the BMW/Oracle team, as they go onto the water in Valencia Spain with their magnificent Trimaran, preparing to challenge for the America's Cup.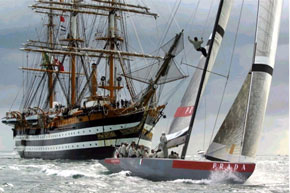 But for all the majesty and power of that modern craft, today's sailing picture goes to this one, showing AC yacht Prada with a two-decker ship-rigged tallboy in the background. What a wonderful contrast, the old, and the new, and the newest!
I so knew this: laws banning cellphones while driving have no effect. Of course, they have increased sales of Bluetooth headsets...
Huh, Facebook announces HipHop, a PHP to C++ cross-compiler. Interesting!
Onward, boldly into the lazy weekend :)