And so today my friend Yogi and I made our annual pilgrimage down to Qualcomm Stadium in San Diego to watch the Chargers in a playoff game. Last year the Bolts shocked the Colts, in one of the best games ever (overtime, baby!); this year they fell short against a Jets team that just wanted it more. Not to mention, the Charger's all-pro placekicker Nate Kaeding missed three field goals, any one of which would have kept them in the game. So be it. The view was wonderful (front row again!) and the hot dogs were great, and it was a day well spent.


the obligatory panoramic view of Qualcomm Stadium
(click to enbiggen)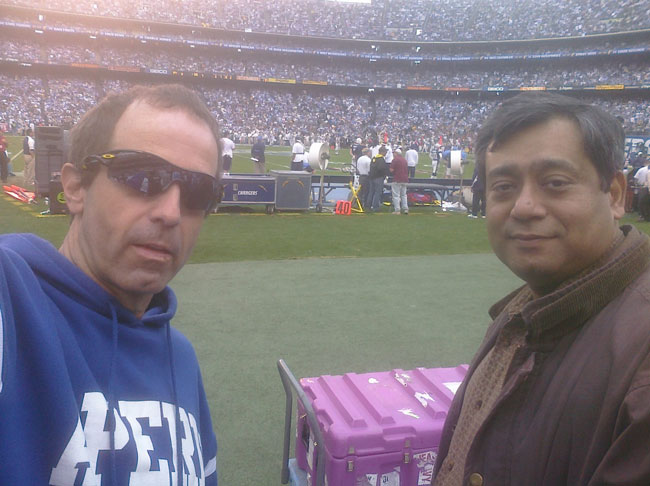 me and my football watching friend Yogi
he claimed to be rooting for the Chargers, but is a closet Jets fan, I know
(note the lack of anything between us and the field :)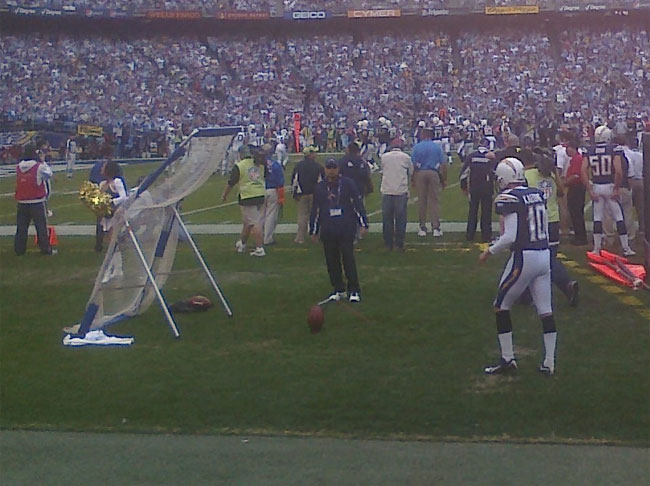 Nate Kaeding prepares for one of his three missed field goals
perhaps he shouldn't have warmed up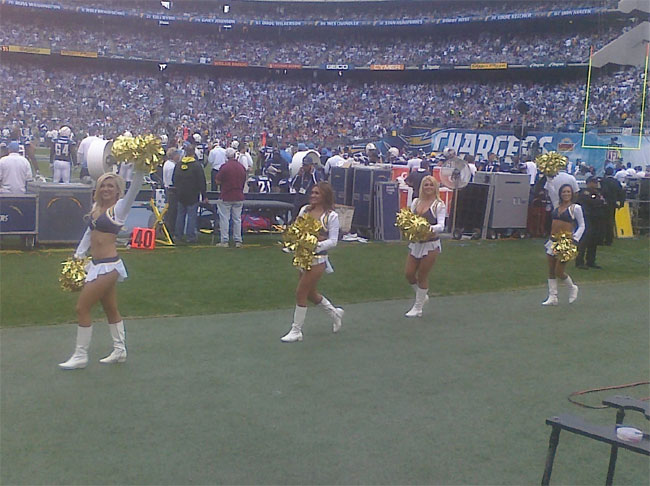 once again this year we forgive the Charger Girls for blocking our view
dance dance dance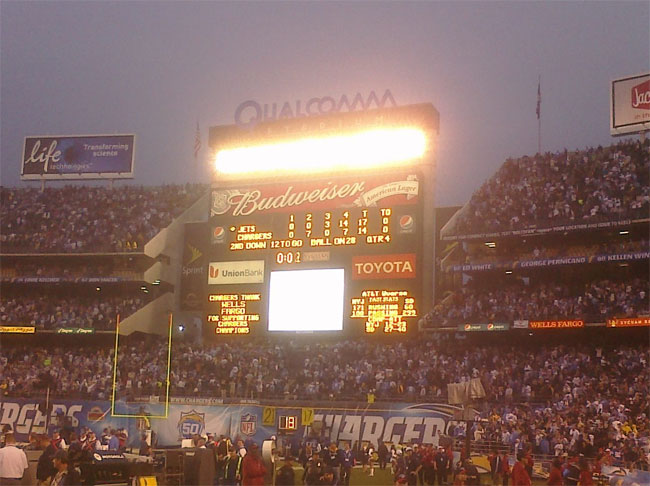 as the clock ticks down to 0:00, the Jets prevail
argh! wait 'till next year
Some random observations:
The front row is all very exciting, but next year we're sitting higher. And I do mean sitting, because in the front row you stand the entire game. Not great on a day following riding a century :)
One of the cameras is mounted on a cherry picker which drives up and down the sideline, all game long. Except in this game, they had two cameras on two cherry pickers right next to each other. Huh? Aha - ESPN is recording everything in 3D. They don't have a way to show it yet, but they're getting ready. Excellent.
Those Charger Girls are not only attractive, they work hard. They're dancing pretty much continuously for three hours, what a workout. Yes I did happen to notice.
Once again I was struck by the physicality of crowd noise. You think you're hearing it loud on TV, but that's a mere echo of the WALL OF SOUND generated by a screaming crowd of 70,000 people. Wow.
Until next year... over and out.