Today was way better than my day-before-today (it could hardly have been worse :); drove down to Vista, had a productive meeting, and then booked back in the afternoon in time to see Morning Light with Meg. Did not watch any basketball; no spoilers please, I'm a Tivo guy.
I am super excited about today because driving home yesterday I got this idea for a new web service… I'm looking forward to cranking on it today. Stay tuned for more; I am from the "do it then talk about it" school of programming :)
Ridiculously bad business story of the week month year: Google: Beware the eBay curse. There are so many problems here, it is hard to know where to start. First, Google and eBay in no way have similar business models. Second, the premise that eBay suffered because of bad acquisitions is flawed; PayPal was a massive success, and while Skype hasn't generated a lot of revenue, it hasn't been a failure either. And the "advice" is horrible; buy Twitter? Well maybe, but there's no revenue there either. Get better at acquisitions? Like, YouTube? What is this advice, exactly? This is when you realize that journalism students were not necessarily the smartest people in their class.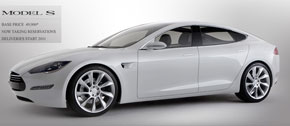 Wow, a new Tesla. I think it's beautiful. And their target price is $50,000! Of course, with deliveries starting in 2011, a lot may happen. They are planning to ship 20,000 of these a year... Apparently these pictures were leaked and then there was an official announcement. The Tesla blog has more, too. To keep this in perspective, with all the hype about electric cars and all, Tesla is currently the only company shipping all-electric cars. So they do have some credibility...
An impending crisis? How peak water would reshape civilization... "If you think peak oil is a big deal, then just wait until the peak water crisis is in full swing. Experts say that in many areas aquifers and rivers are starting to run dry as human consumption and other factors are straining one of our most essential resources: fresh water." This has been a theme for Ottmar Liebert for some time, and I'm hearing it more and more...
Scoble continues his comeback as a blogger: Facebook is lucky it missed buying Twitter and now should eat Yelp. There's a lot in there and it is hard to summarize; click through and read the whole thing...
PS Yelp was founded by Jeremy Stoppelman, another overachieving ex-PayPal-colleague. Being ex-pre-IPO-PayPal is worse than graduating from Caltech :)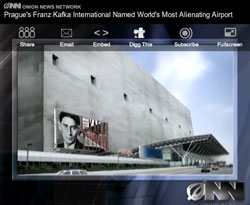 From the incompatible Onion: The most alienating airport in the world. Not only is the satire spot-on, but the production values in these videos is amazing.
And finally tomorrow I have to eat and eat and eat today, and drink and drink and drink, as I'm riding the Solvang Double Century tomorrow, my first double in six months. Wish me luck...