Long day, up at 0400, drive down to Vista, work work work, business meeting over dinner, and drive home. Not much left in the tank for blogging I'm afraid, we'll see what happens...

Did you see this: Aperio introduces SecondSlide digital slide sharing network. Nah, I'm sure you didn't, but now you have :) SecondSlide.com is an amazing new service we're offering, sort of an eBay+YouTube for pathologists to share information. You'll hear a lot more about it from me, but this is where I've been spending my time. The network plumbing for this is kind of complicated, we want "everyone" to be able to use it with no firewall changes, but yet there are these huge files to copy around...

LGF notes African Nations going Nuclear. "Several African countries are working hard on building nuclear reactors. What could possibly go wrong?"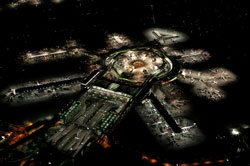 Terran Starport: an awesome picture of San Francisco International airport at night. I love it.

The Tribune company, owners of the Chicago Tribune and LA Times, among others, is going bankrupt. So be it. This is exhibit A in my thesis that some of the bad spin on the news we read is influenced by the hardship felt by big media companies. If you work in that environment you can't help but be affected...

That's it, I'm off to bed... see you tomorrow...