Well I really am back - spent the day catching up, on email, on RSS feeds, on status reports, on pretty much everything. And I'm not caught up entirely yet. My life takes a lot of work just keeping up with all the inputs :)
One thing, I happened upon my BOO! post of 10/31, in which I summarized a wild and unpredictable October. I cannot believe that was only two weeks ago! I guess it was the week in Brazil because even the week before that seems like months ago. Weird how time passes so slowly when you're in the moment, and so fast in retrospect.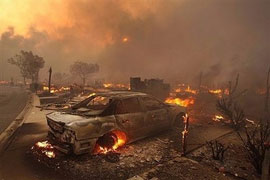 The fires around here are terrible: Los Angeles ringed by wildfires. The scenes of homes burning just tear at your heart, don't they? Thinking about all that is being lost... just horrible.
An old post from John Robb that bears rereading: Very interesting times. "Ben Bernake: 'We have lost control. We cannot stabilize the dollar. We cannot control commodity prices.'" This was posted on 9/18, just before I became aware that something was happening, but quite a bit before the magnitude was apparent. Huh.
Michael Yon, from Baghdad: "The war is over and we won". Great news, although a bit, er, under-reported.
Drudge reports Senate will take up $25B auto bill Monday. Boy, I sure hope they don't do it, the automakers are in trouble because they don't make cars people want, the unions are out of control, and their retirement plans are draining all the cash out of them. It has nothing to do with this economy. If they go bankrupt, so be it; that's how the market is supposed to work. Bailing them out would be wrong.
Can this be right? Obama considering Hillary for Secretary of State. No way. Right?
Well, well... Obama meets with Hillary. Maybe they were just catching up on old times. Yeah, right.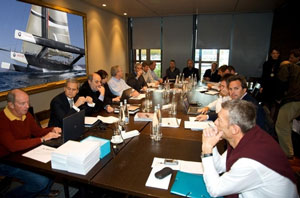 I love this [Photoshopped] picture from Sailing Anarchy: The Uninvited. Referring of course to the meeting of America's Cup challengers held in Geneva, which did not include BMW Oracle, the renegades of the group who have created the Trizilla trimaran and are threatening to race it in the next contest, alleging that "anything goes" in the boats' design.
And speaking of which, here's a great shot of Trizilla sailing in San Diego, flying along in just 12 knots. Wow is that thing powerful.
CNet reports T. Boone Pickens may stall wind farm plans. If they aren't economically feasible because of a down economy, then they aren't worth doing in any economy. Wind power is like solar power, it can only be deployed with government subsidies, because it is fundamentally more expensive than other sources of electricity.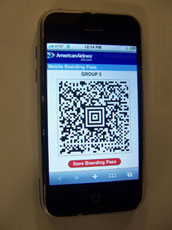 American airlines are experimenting with 2D barcodes on cellphones as boarding passes. How cool is that?
I guess this was predictable: Engineering suddenly sexy for college grads. As opposed to, say, financial services?
Here we have failing hard drive sounds. [ via Daring Fireball, who comments "some of the most terrifying noises known to man" ] More proof, if any were needed, that you can find anything at all on the Internet. Anything.