If you're struggling with the high price of gas, you must read this: Oil Executives try to educate Senate Democrats. "The committee's Democrats attempted no response. They know that they are largely responsible for the current high price of gasoline, and they want the price to rise even further. Consequently, they have no intention of permitting the development of domestic oil and gas reserves that would both increase this country's energy independence and give consumers a break from constantly increasing energy costs." Supply and demand, really simple...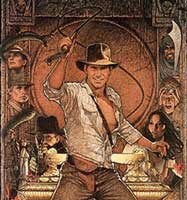 Jason Kottke reviews Indiana Jones and the Kingdom of the Crystal Skull. "If you need a reminder of Harrison Ford's ability to play Indiana Jones after nearly 20 years on the shelf, it comes in the movie's opening scene. Indy is roughly extracted from a car and tumbles to the ground. We see him stumble towards his trademark hat with that walk, a graceful stuttering step, wary of booby traps even on solid ground. Even though the camera shows us only his boots, it's unmistakably Indiana Jones." I haven't seen an actual movie in a theater for a long time. Might have to make an exception for this one...
I thought it might be interesting to give an update on my use of Google as a spam filter. After seven weeks I can declare this a complete success. Google has now filtered 42,080 spams, consuming 271MB, with few false negatives and even fewer false positives. My personal email is usable again!
Jeff Atwood: PHP sucks, but it doesn't matter. He's right, and he's right to compare it to VB, too. For the same reasons that VB succeeded - it made it easy to build cool applications - PHP is succeeding. We use it at Aperio, and it works great for us.
Google - YouTube: was it worth $1.5B? Look at the P&L, the answer is no. Look at the stock, the answer is yes :)
Mike Arrington analyzes Microsoft cashback. Wherein Microsoft pays you to use them instead of Google. "Yes, it will work and it will almost certainly increase Microsoft's market share in search, particularly in commerce search. The question is, how well will it work?" Have you switched? Me neither.