Archive: May 2008
| | |
| --- | --- |
| Furnace Creek, here I come | |
| | |
| --- | --- |
| From: | 508 Race Office [raceoffice@the508.com] |
| Sent: | Thursday, May 01, 2008 6:18 PM |
| To: | Ole Eichhorn [ole@pacbell.net] |
| Subject: | Furnace Creek 508 |
| Attachments: | 2008entry508.pdf |
Hello and congratulations!
You have been selected to compete in the 25th Anniversary Furnace Creek 508 on October 4-6, 2008, "The Toughest 48 Hours in Sport". You are part of a select group who will participate in this world-famous spiritual odyssey through Death Valley and the Mojave Desert. We look forward to sharing the experience with you!
To confirm your spot in the race field, please submit the appropriate Furnace Creek 508 entry fee and the attached three-page Pdf form WITHIN ONE WEEK.
2008 will be an extra special edition of "The Toughest 48 Hours in Sport" as we celebrate the race's 25 year history. Thank YOU for being a part of history!
Best of luck with your preparation and please let us know if there is anything else that we can do to help.
Sincerely,
Chris Kostman
Chief Adventure Officer, Race Director, and Totemizer
AdventureCORPS, Inc.
http://www.the508.com
---
Yay, I made it! Or maybe, crap, now I'm in for it... Whew. There are two tragedies in life, not getting what you want, and getting what you want. Which is this? Stay tuned :)
As you saw, I have been accepted to compete in the Furnace Creek 508 bicycle race, "The Toughest 48 Hours in Sport". This is a pretty incredible event; competitors have 48 hours to complete 508 miles through Death Valley and the Mojave Desert, including 35,000' of climbing. For some people it is a race to see how fast they can do it, for me it will be a contest to see if I can do it. It will be one of the hardest and coolest things I've ever done.

To give myself extra motivation, I'm asking all of you to sponsor me, and will donate the proceeds to the Lance Armstrong Foundation. You may know, in addition to being one of the greatest cyclists of all time, having won seven consecutive Tours de France, Lance Armstrong is also a cancer survivor, and his foundation is prominent in funding cancer research, raising awareness of cancer, and most importantly helping cancer victims and survivors. It is a wonderful organization and [I think] a very appropriate recipient of whatever donations I am able to raise in this way.
If you are interested in sponsoring me and making a donation to the Lance Armstrong Foundation, please let me know. Your interest will be a pledge, and if I am successful in finishing the race, I'll let you know so you can make a donation. The race is this October 4-6, and I'll post / email progressively more information as that date gets closer. I also plan to post periodic updates so everyone knows how much money we've raised together!
I am pretty excited about competing in this race, but also pretty daunted by the difficulty. In the middle of the night on Saturday, with 250 miles ridden and 250 left to ride, the idea that I'm helping to raise a bunch of money for cancer will be a great motivator. Thank you in advance for your sponsorship (!), and stay tuned for more details...
Happy May Day to you! Man, four months gone in 2008 already, one third of the year. Not that it hasn't been eventful - wow, has it ever - but still it does not seem like it has been that long. Among other things, that means I've been blogging again for four months! Yay. I hope you're enjoying it as much as I am :)
Biking news - today I did the Stunt / Piuma loop, with my friend Tim; man, I felt strong. Last Tuesday I did the Mount Palomar / Lake Henshaw loop, and that felt good, too. I think I'm ready for Breathless Agony Saturday; now I just have to eat and drink a lot tomorrow, to make sure my tank is full.

As you saw, today I was accepted to ride in the Furnace Creek 508 (yay!) and am turning it into Ole's Ride for Cancer (yay!). I'm pretty excited about that!
So that's my news, now, let's see what's happening everywhere else, shall we?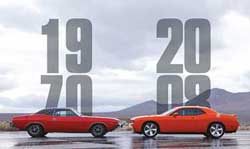 TTAC on the Dodge Challenger: the retro-flop has landed. What I think is really interesting is the accompanying picture, see at left, comparing the 1970 Challenger to the 2008 model. Each seemingly epitomizes the design ethic of its time. Now, which is more attractive? To me there is no question, the 1970 car is way nicer looking. The thick bodies, skinny windows, and big rear ends of today's cars are ugly. It can only be a matter of time before the pendulum swings back...
I'm shocked: Twitter said to be abandoning Ruby on Rails. This should spark a great debate in the Web 2.0 echo chamber, but really, we all know Ruby performance sucks, so why would it scale?
Other shocking news: Blu-ray: the future has been delayed. "Hot on the heels of last week's report from ABI Research noting that many consumers may not see the picture quality difference between Blu-ray and standard DVDs comes the latest Blu-ray sales figures from NPD Group. And they're not pretty." The real problem is online video, the attack from below. Apple just announced they will be selling new movies on iTunes the same day they're released on DVD. That's just another nail. Blu-ray will never be big, before long it will be irrelevant, its "victory" over HD-DVD long forgotten. Remember laser discs?
Here we have the R2D2 DVD projector. Once you see it, you realize this was inevitable, how utterly cool. Too bad it costs $3,000, however...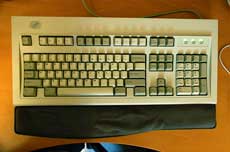 Derek Miller on the joys of the old IBM 101 keyboard. Man, I loved those keyboards, makes me want to go find one. Nothing quite like that real metal base, with the unique buckling-spring key action. And you can be heard typing for miles :) Right now I use a nine-year old Micron keyboard; I love it, but I know the day will come when a key will break, and then what? Today's wimpy limpy keyboards are massively worse. Well there is always eBay...
Finally, via my friend Peter, these pictures of a record-breaking Coke / Mentos explosion-fest, as 1,500 students discover the joys of Chemistry. Whoa.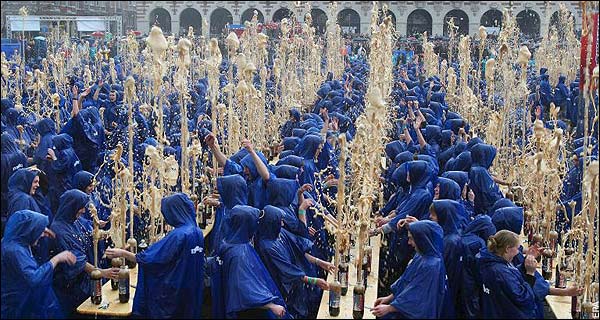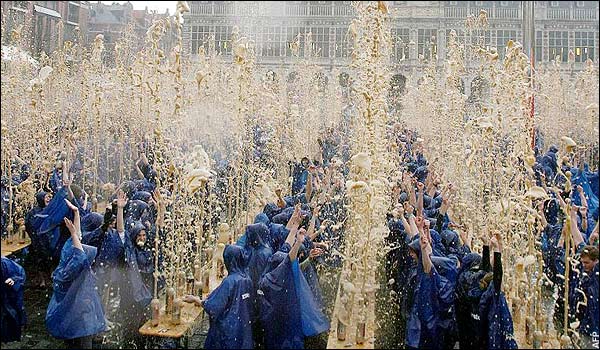 Yay, I made it! Yesterday I completed the Breathless Agony century, 114 miles and 12,300' of climbing, including the final climb to the Onyx Pass above Big Bear, at 8,443' above sea level. It was really great, in fact, I have to say this was the best organized and supported cycle race in which I've ever participated, right down to the fantastic chili meal served at the finish. The weather cooperated nicely too, not too warm in the flats, and not too cold in the mountains. I did wear a light jacket for that 38 mile descent at the end. Yeah, that's right; after you reach the Onyx pass, you go downhill at speed for nearly two hours to the finish. It makes you appreciate all the climbing!
(You guys may be getting tired of my post-race reports, but too bad; this is my blog, and I'm a cyclist, so some cycling is inevitable :)
The Breathless Agony mascot is the grim reaper; he was at the summit to help me celebrate: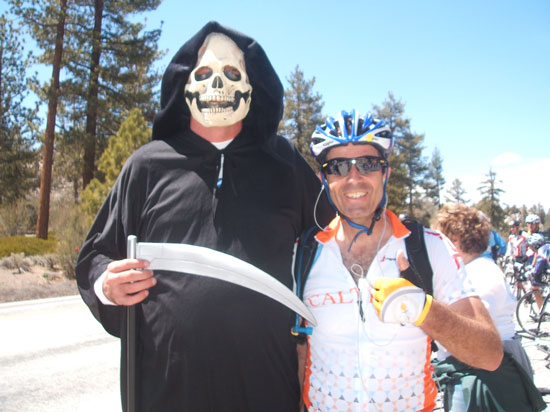 This race is timed to the summit; I made it in 6:15, and I'm pretty proud of it. Even more bragworthy, on the last two climbs I was not passed by anyone. (We won't mention the people who finish in five hours, who were already up the road; they're disgusting :) All in all a great ride, I can't wait to do this one again next year.
Next up is the Eastern Sierra Double, in the area around Mammoth Lakes. Stay tuned for more...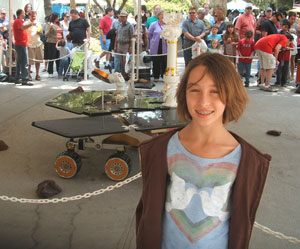 I had a great day today; Megan and I went to Open House at JPL, and although it was crowded, it was really cool. We saw a Mars Rover in action, some excellent videos of satellites taking off and being launched, live footage of Earth and Mars and Saturn and comets (taken by satellites ), and saw how they manufacture and test satellite parts. JPL is a good thing.
I just want to thank everyone who's emailed about Ole's Ride for Cancer. I need to post a little form to gather your information, and I will; please stay tuned. In the meantime your support has been very gratifying. I have a Google Alert set for "pathology", and I just saw this blog: Pray for Christin, about a 15-year old girl diagnosed with osteosarcoma. Her prognosis is grim. This is what it is all about, helping people like Christin.
Meanwhile out in the blogosphere, it's all happening...
So Microsoft has given up trying to buy Yahoo (at least for the moment; maybe the stock will get hammered, the price will go down, and they'll try again). Speculation online seems to focus on how badly Yahoo's stock will get hit, but really I think Microsoft was harmed more than Yahoo; they needed Yahoo more than Yahoo needed them. (Remember the recent earning announcements; Yahoo beat expectations, while Microsoft was flat.)
I think this is the best take: Does Ballmer need to go? I don't know about that - my hunch is yes - but Microsoft needs something or they'll die. Sure they generate a ton of profit, and that's great, but there is little innovation left over there. With the Vista fiasco and Office becoming less and less relevant, the trend is clear.

Gigaom replays a McKinsey article on Pixar, including an interview with Director Brad Bird. One of the key bits: "Q: What undermines Innovation? Brad Bird: Passive-aggressive people - people who don't show their colors in the group but then get behind the scenes and peck away - are poisonous. I can usually spot those people fairly soon and I weed them out." Perhaps Microsoft needs some Brad Birds. [ via Jason Kottke ]
I totally agree with Fake Steve Jobs: The problem with Facebook. "A new study discovers that the vast majority of Facebook apps are an utter waste of time... Facebook is a Ponzi scheme. A handful of VCs have created the illusion of an actual market by funding apps companies and then doing deals with each other -- passing cash back and forth among to make it look as if money is being made." There is nothing there for which anyone would pay. Nada.
Want to see the web 2.0 echo chamber at its stupidest? Check this out: Six new startup stars. I want you to read about these six companies, and tell me whether any of them make the slightest sense to you as a business. Stars? C'mon. TradeVibes epitomizes the narrowness of these companies; "the best way to discover and research hot new startups online". Riight.
So Andreas Klöden won the Tour of Romandie (remember him). And rumor has it the Giro may invite Klöden's team Astana after all... Let's hope so; then we could see Contador and Leipheimer in action in a grand tour...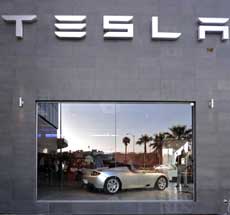 The Tesla Roadster is supposedly "in production", but it isn't clear how many have actually been delivered. They did just open a store in L.A. - but with a 15-month backlog it will be for marketing, not for sales. "The Tesla store looks more like a cool ad agency or hip restaurant than a car dealership. Its industrial look features poured concrete floors, exposed beams and ductwork, mirrored front glass and planter boxes filled with horsetail stems. The service department is out in the open to allow customers to see what is going on with their cars." Will I visit? Of course!
How cool would this be: Bison could once again thunder across the great plains.
Yes, please!
Finally, from Megan today: "two wrongs don't make a right, but three rights make a left".
[posted on 5/5 at 1:39 AM]
Yeah, I'm still awake, and just checked my RSS reader, and I can't believe how "everyone" seems to assume that YHOO is going to take a beating tomorrow, while MSFT will not. I really don't get this.

From the start it seemed to me that Microsoft was dealing from weakness; they needed Yahoo more than Yahoo needed them (and they definitely wanted Yahoo more than Yahoo wanted them; in fact, all of Yahoo's actions signaled they were not interested). Microsoft increased their price, and was probably willing to increase their price more, but they realized that 1) Yahoo was really not interested in being bought (people are one of Yahoo's key assets), and 2) Yahoo was willing to make themselves less valuable in order to prevent being bought (via deals like the Google adwords test).
At the end Yahoo got what they wanted (being left alone to execute) and Microsoft did not (they don't have a new cool strategy for online success). Meanwhile Yahoo's quarterly financials were good, and Microsoft's were not. So tell me again why Yahoo's stock is going to suffer tomorrow, and Microsoft's will not?
If I was a market player - which I am most assuredly not - I would buy Yahoo and short Microsoft. This seems a clear case where the so-called experts are wrong, and a contrarian could make some money. Stay tuned, we'll see what happens tomorrow later today...
[posted on 5/5 at 9:30 AM]
So what happened? YHOO opened down (20%) and has trended up since; MSFT opened up (2%) and has traded down since: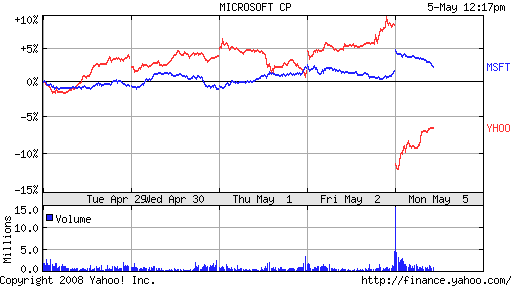 There was a lot of volume right at the start. If I had bought in the market when it opened, taken YHOO long and MSFT short, I would be looking pretty good right now. Easier to do on paper than with real money :) Stay tuned...
[posted on 5/7 at 8:30 AM]
The endgame? YHOO has now levelled, but definitely came up from open on Monday, while MSFT is roughly the same as Monday open; it went down for a day, and then came up for a day.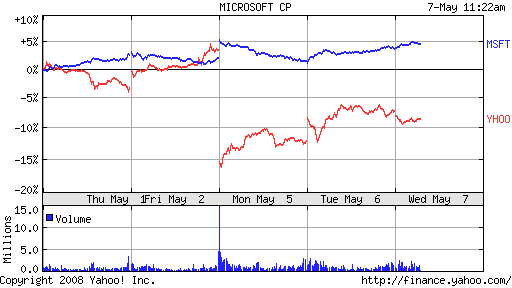 The most interesting thing that's happened is the rumors that the conversation continues... Apparently there are enough Yahoo shareholders who are disappointed that the deal didn't take place at $33 (given that YHOO is at $25, and hasn't been anywhere near $33 for over a yead). Also of interest are stories trying to find other companies for Microsoft to buy - like AOL (!?)
I'm at a conference, the Healthcare CIO Summit, sort of speed-dating for companies. Pretty interesting and pretty exhausting :) But of course I have time for a quick pass on the blogosphere...
And HAPPY BIRTHDAY to my wonderful awesome amazing daughter Megan, who turned 11 today; wow. I can't believe it has been eleven years, and yet I can't believe there was a time before Megan, either. We had a nice dinner to celebrate, along with an amazing Santa Rita Pinot from Amapola; really I can't remember ever having a bad Pinot from that appellation...
I think the question of the day, or of tomorrow, will be has Obama now clinched the nomination? It appears he has won North Carolina and lost Indiana, but won by enough and lost by little enough that it blunts Hillary's momentum. Now the question will be will Hillary quit (no!) and who will he choose as VP (not Hillary!)
Perhaps the main effect of the two-donkey race for Democrat candidate has been to level the playing field for the Republicans. A few months ago it seemed a foregone conclusion that whomever the Democrats nominated would end up winning the general election; now, while Obama is still ahead, McCain appears to have a real chance.
This is especially appropriate to post on Megan's birthday; the NYTimes reports on Prepping Robots to Perform Surgery. Some of you may know, seven years ago when Megan was four she had open heart surgery performed using a Computer Motion robot (it went perfectly); that company is now part of Intuitive Surgical, who are profiled in the article. What awesome incredible important technology. Count me as a fan. [ via Slashdot! ]
Mark Pilgrim: the day the music died. "This is a letter I sent to my father to explain what it means that Microsoft is pulling support for MSN Music." An ardent opponent of DRM, Mark nails it, as usual...
And another from Mark (who is blogging more frequently, it seems!): when the fall is all that's left, regarding the fact that while Opera and Safari were desperately competing to see who could pass the Acid3 test first, Mozilla sat on the sidelines and carped. I have to agree.
Jeff Atwood explains model-view-controller. Well that is helpful, but still leaves me wondering why one needs "a pattern" at all; seems like you use concepts like MVC when they apply, but don't force them when they don't. Not all applications need to be (or should be) "skinnable".
John Gruber: regarding the iPhone keyboard. I don't care how many people say they've gotten used to it, and how it really isn't that bad, it does take getting used to and it is really that bad. Over the years I've become amazing proficient at one-thumbed typing on my Treo, and I'm not willing to give that up. Clearly Apple will have to find a way to provide some physical feedback, and I bet they will.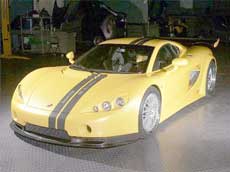 TTAC asks: do we still like supercars? With a review of the amazing Ascari A10. The quick answer is YES. A more considered answer is ... yes, of course! I mean, 0-60 in 2.8s, wow. (And we also still like Top Gear :)
Ottmar Liebert is touring again and will be in California during July. Mark your calendars! (I'm shooting for July 1 at Soho in Santa Barbara; a cool venue which is perfect for Ottmar...)
Hello all - this post is coming to you from sunny Amsterdam, where I find myself on a combination of family visiting and business. It is now about 10:00PM here - I arrived this afternoon in fine style after an uneventful and comfortable flight (KLM are really good). The weather is fantastic; I used my rusty Dutch to rent a bike (!) and toured the canals downtown, then took off into the countryside North of the city called Waterland. Finished up with a nice Entrecôte accompanied by excellent Rijoa. And now I am ready to [try to] sleep. But first, a quick pass of the blogosphere...
Holland is the most cycle friendly country on Earth; everyone rides, there are bike paths everywhere, and cars are unfailingly polite to cyclists. I don't know how it all got started (some say it was gas rationing during WWII), but now that it has, it is a good thing. You've got to love these Dutch girls with their long legs; they don't think anything of riding a bike to a club wearing a dress and heels! One of the many pleasures of Amsterdam...
I've been thinking about the ghost bike idea - I've realized the main effect of a ghost bike memorial is on cars, rather than bikes. People who drive by a bike memorial every day will take notice and possibly be more careful. In this way a memorial to a bike accident victim could prevent more accidents, which would be a great result. So I am now for ghost bikes; they may be spooky, but if they increase awareness of bikes on the part of cars, they're a good thing.
This Saturday the Giro d'Italia begins, and with the last-minute inclusion of Team Astana (Contador, Leipheimer, Kloden, and company) this is the BIG race of the year. Especially watch out for Dennis Menchov, last year's Vuelta winner, who is/was gunning for the Tour but realizes with this field this is the race to win.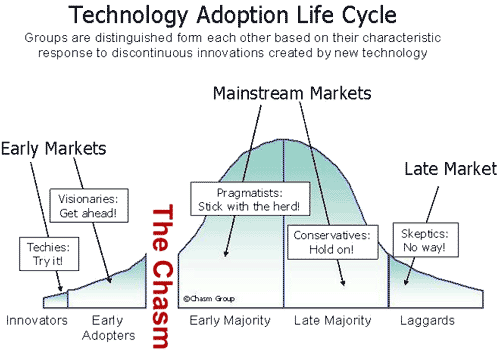 Leigh Himel wonders Have we Crossed the Chasm? It's kind of a non-question, because "we" don't cross it; according to Geoffrey Moore it is a transition each technology goes through in market adoption. Leigh asks "when it comes to technology", like there's one thing called "technology", but clearly that's wrong. Different new technologies find their market adoption separately over time as they go through these stages, and it will ever be so... Still I like the post for this nice diagram :)
Scott Adams ponders The Economics Party. "I decided to start my own political party. I call it the Economics Party. There's no paperwork involved, and you don't even have to stop being a Democrat or Republican or whatever to join. The Economics Party won't have its own candidates. All we'll do is agree to vote for the candidate with the best long term economic policy, according to the consensus of leading economists." I love it. Of course this is a sort of electoral college; we're delegating our votes to "economists", on the theory that they know better than we do. And perhaps they do :)
Instapundit links Obama's Support Similar to Kerry's in 2004. I don't know why it wouldn't be; although Obama is a much more appealing candidate, his liberal voting record suggests similar positions on many issues to Kerry's. Unfortunately in 2004 this meant he could win the nomination, but not the election, and it may mean the same in 2008.
So, have you signed the Save XP petition? I think it is in everyone's best interest to do so; if you're an XP user who hasn't yet "downgraded" to Vista, you don't want to have to, and if you're a Vista user who has, you want to put pressure on Microsoft to make sure their next version of Windows isn't a step backward. Apparently about 200,000 people have signed the petition, but while Microsoft has made some noises to indicate they might extend the life of XP, so far there has been no change in the official position...
For an interesting perspective on why this is important, check out Ars Technica's three part series: From Win32 to Cocoa, a Window user's conversion to Mac OS X. There is some great background on why and how Windows squandered its technical lead, as well as good information for would-be Mac OS X developers. Part II features a section called Vista, Schmista, which accurately summarizes the failed promise of Vista.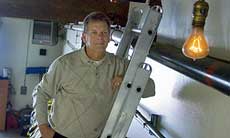 Finally, this lightbulb has burned continuously for 107 years. Now that's amazing.
Day II in Amsterdam - I journeyed to Drenthe, in the Northeast of the Netherlands, for a brunch / family renunion / birthday celebration for my Mom (75), and two of her cousins (75 and 80). We talked and ate all day; it was great. Best part was describing my family twenty times in a row :)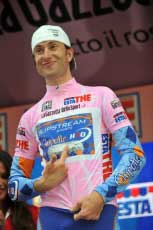 The Giro has begun, and Christian Vandevelde of Slipstream is in the maglia rosa! Congratulations to Slipstream; last year they were a step below the Pro Tour, this year they've clearly made it to the top echelon of the sport... it will be interesting to see how they do over the next three weeks, they do not really have a GC contender but do have many riders who can win stages. And clearly they have a good team!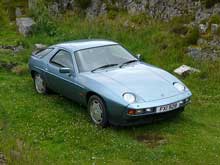 Carlustblog remembers the Porsche 928. "The 928 was a fantastic car that helped define the sports GT category, marrying supercar performance with comfort and everyday practicality. The 928 had such an embarrassment of ability that it captured the imagination." It certainly captured mine; since being a teenager I always wanted one, and then, when I was 32 and finally able to afford one, I almost bought one. I came this close -> <- but ended up buying a then-brand-new Lexus SC400 instead. (I never regretted the Lexus - it was a great car - but I do sometimes wonder how much fun it would have been to have a 928.) [ via Instapundit ]
Today I did another great ride from Amsterdam, this time West through the extended estuary to the coast at Sandvoort, then South a bit and back via Schiphol airport. At some point my philosopher iPod dialed up Santana's You Are My Kind, which was amazing because I was ruminating on the Dutch, on being Dutch, and on how, despite never having lived here, nor having any plans to live here in future, I feel more comfortable here than anywhere; truly I am one of their kind.
If you are a regular reader you know I place significant stock in genetics; not that genes are destiny, but they are certainly part of it. In today's weird liberal ethos this point of view is considered "bad" - since all men are created equal, we must pretend that all men are created the same, which is foolishness - but I prefer honesty to political correctness. Whenever I am in Holland the culture embraces me with its familiarity. And that culture (like all cultures) is born of its people; the libertarian social approach (not to be confused with liberal), the steadfastness and self-reliance, the competitiveness, the entrepeneurialism combined with enlightened altruism, the easy acceptance of sex and sexuality, the embrace of family and quiet religion undertones. It all feels comfortable, there isn't the tension between the people and their way of life you feel in America.
I suppose a key element of this cultural feeling is the underlying homogeneity, which can't be found in larger countries like the U.S. Certainly the sizeable Muslim immigrant population in the Netherlands doesn't feel comfortable; they haven't integrated very well with the Dutch and their imported culture clashes at many levels; a problem which is being exacerbated by their much higher birth rate. It is reminiscent but perhaps worse than the situation created by the large influx of Mexican immigrants in the Southern U.S.
Anyway it is really nice to be here, even if only temporarily. I can soak up the feeling and carry it around with me. You can take a Dutchman out of the Netherlands, but you can't take the Dutch out of him :) Ik ben echt wel Nederlands.
Sorry for the gap; I've been traveling in Europe and have had an amazingly hectic week: Monday, Amsterdam, Tuesday, Eindhoven and Groningen, Wednesday, Berlin, Thursday, Madrid, and Friday, Toledo. I know, a reason is no excuse, but, well, that's my reason. I must tell you I am having a great time and have had some productive meetings, and now that I'm in Toledo I'm attending the European Congress on Telepathology which has been very useful. I am running down a bit; the travel, weird food, and need to speak in tongues are taking a toll... but in the meantime, it's all happening...
Josh Kopelman: How to ask for the order. "The way you ask is just as important as asking. If you focus on reducing friction in a transaction -- and ask for the order in the right way -- you might find that you improve both your odds of success and the time needed to get a deal done." A great post. This resonates strongly for me because of our learnings at PayPal; we found that removing one question from the signup page increased signups dramatically.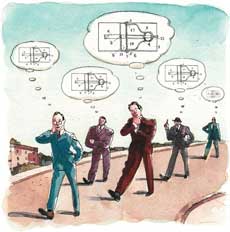 Malcom Gladwell: In the Air. Who says big ideas are rare? I've reached the point with Gladwell where I read everything he writes, but while this is interesting it isn't his most insightful work. Check it out and see what you think.
Fake Steve Jobs: Why Dell will not bounce back. "The other reason Dell won't rebound is that the company is yoked to Microsoft. Vista has hurt them tremendously. Don't doubt it." I don't.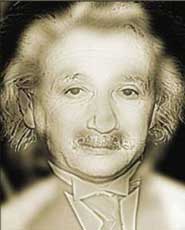 This is a little too weird, Adam Curry asks Albert Einstein or Marilyn Monroe? Check out the picture at right; if you think you know the answer, get up and view it from across the room...
Here's an important study: Music affects wine taste. "New research suggests that the type of music one listens to while drinking wine can dramatically affect the taste." I would not doubt it. Furthermore I've noticed music has more of an effect on me than many other people, so it would probably affect the taste of wine more, too. Personal research on this issue seems indicated!
More important work: the Science of Orgasm. "Brain scans seem to show that orgasms aren't just about heightened arousal but also the silencing of the brain's 'center of vigilance' to lose all inhibitions." Again, personal research seems indicated :) In fact as I think about it, I wonder if music affects orgasms. Or wine. Or both in combination? The need for extensive research in this area is apparent :)
Today's example of a semi-useful feature masquerading as a company: Spellr.us; a service that monitors websites for spelling errors. You honestly cannot make this stuff up, it defies parody.
Finally, here's today's picture of the week. Wow.
Beautiful, amazing, and awe-inspiring, all at once.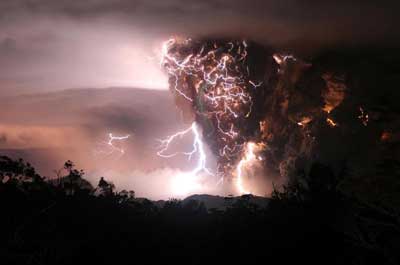 (click to enlarge)
| | |
| --- | --- |
| don't ask - (New Yorker, 5/12/08) | |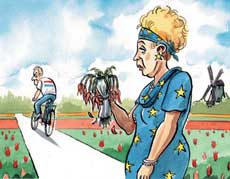 Apropos my post one of their kind, the Economist's Charlemagne writes about Going Dutch, how the Netherlands fell out of love with Europe.
Over the past 60 years the Netherlands has been one of Europe's biggest success stories. The Dutch are among the richest (and tallest) people on earth. Their social tolerance is widely admired. Yet immigration and the rise of Islam have triggered a backlash. Rotterdam may soon become the EU's first big Muslim-majority city. The meteoric political career of Pim Fortuyn, a populist who was assassinated in 2002, followed two years later by the murder of Theo van Gogh, a film-maker, by a (Dutch-born) Islamist radical has left scars on a society that once took pride in its embrace of multiculturalism. The Netherlands is a place that is now palpably fretful about its future.
This is so true. The idyllic symbiosis between the people and their culture is under threat, and all feel it.
My stay in Toledo, Spain has been pretty hectic – a two-day Pathology show at which I gave a couple of presentations (well received, of course :) and a DICOM working group meeting this morning (was it really only this morning?) which went great. Last night we had a killer tour of old Toledo (did you know this is where marzipan was invented? How cool is that!) and tonight an amazing banquet in an ancient monastery, complete with flamenco dancers. Afterward some of my Spanish colleagues took me out to a sixteenth-century church which has been converted into a night club. So we walk in at 1:00AM and the place is packed, with Bob Marley blasting (acoustics were wonderful) and everyone dancing. Awesome. Sometimes I look at my life and say, how did I get here… I don't remember when we got back, exactly, another night of not quite enough sleep.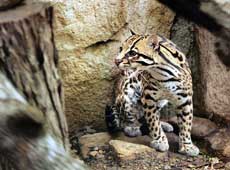 The Chicago Tribune has a nice photo gallery of endangered and threatened mammals. Includes the ocelot (pictured, click to enlarge).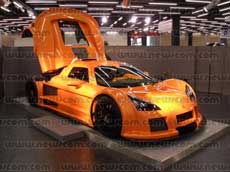 This is way cool: TTAC reports Gumpert Electric Vehicle enters 24-hour Nurburgring Race. "The tiny Gumpert Sportwagenmanufaktur is entering the grueling endurance race with a hybrid-electric version of its Apollo supercar. Out comes the Apollo's 4.2-liter Audi V8; in goes a 3.3 bi-turbo V6 with a Lithium Technology Corporation battery mated to a 100kW electric engine. The EV will charge its batteries by plugging into the electrical grid prior to the race." Excellent.
Speaking of electric cars, C|Net has an interview with Elon Musk, chairman of Tesla.
Dog bites man: Developers prefer XP over Vista. I really wonder how this is going to end; the trainwreck at Microsoft is extensive and ongoing. This article goes on to note developers are targeting Office 2003...
I'm baaack! It was great to be gone, and now it's great to be back. A ten day whirlwind trip to foreign countries is like a dream; while you're in it, the "real world" seems remote (hard to believe it keeps moving without you), and then when you're back, it is like you've closed the book, it's gone except for the memories. Of which it must be said, I have many good ones..
So meanwhile the world did keep moving, let's take a look...
Today's big news was Google Health. This appears to be a personal health record application, similar to Microsoft's recently announced HealthVault. Lots of reviews: TechCrunch, ScienceRoll, Blogoscoped. I'm sure I'll have more to say soon. Of course for Aperio the key would be, can pathology information be managed, particularly digital slides. The pathology data for a typical case are the most important because in most instances pathologists make the definitive diagnosis. Anyway the management of personal health information is an interesting trend, kind of like when Quicken first made it possible for people to manage their own money.
Dave Winer: sites that trust their users. "If you love someone, set them free." This seems especially apropos in the context of applications like Google Health. Nobody would put all their health information in a service like that unless they could be sure it remained theirs, and they could get it back out and move it somewhere else.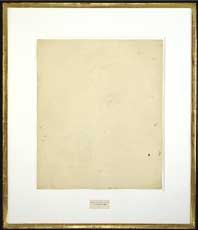 The story of the erased de Kooning drawing. "Robert Rauschenberg asked the middle-aged de Kooning to give him a drawing that he could erase." Fans of de Kooning or Rauschenberg will disagree, but I'm prepared to say that an erased de Kooning is probably his finest work, while erasing a de Kooning is probably Rauschenberg's...
It is interesting how much press and attention the American Presidential election gets in Europe. This year's extended contest between Obama and Clinton for the Democratic nomination has been especially good theatre. Both of them are getting wrapped around the axle a bit; for example, as Powerline notes Obama gets whiplash on Iran: Obama on 5/18, "they don't pose a serious threat to us", Obama on 5/19, "I've made it clear for years that the threat from Iran is grave". He is being exposed as a buffoon, unfortunately; at first I really liked him, despite his politics, but I can't say that anymore...
This is too bad: Ars Technica acquired by Condé Nast. As a frequent reader I must say there have been zero cases where such an acquisition has improved the content or user experience of a site. I guess we'll see...
So now I am truly back; went down to my office in Vista today, feeling rather groggy; spent the day there, and did a nice 40-mile ride along the beach from Oceanside to Leucadia. I think I'm back in the Pacific Time Zone, and everything feels pretty much the same... of course the memories of my trip are still there.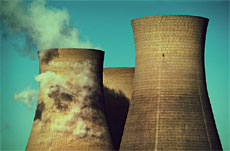 Wired: Inconvenient Truths: What it Means to Be Green. The number one misconception is nuclear power, of course, the greenest form of entropy we have. It is so great to see the media begin to accept this truth, which will make it easier for everyone. Other green myths include that cities are bad (they're better than suburbs), and that air conditioning is bad (it's better than heating). Read the whole thing...

Sadly, Robert Mondavi has passed away at 94. He will be missed, although his wines live on. I think sampling one soon would be an appropriate way to remember him!
AppleInsider reports Apple's Mac sales up 50 percent in April. There are three things operating here, first, Macs are good computers, second, Vista has screwed up the PC market (Dell and HP must be really worried), and third, the "halo effect" from the iPhone. This trend is set to continue. I keep saying this, but really, what is Microsoft going to do about Vista? The trainwreck continues.
Mark Andreessen: Department of High Irony, Napster Edition. "You can't make this stuff up... Napster [is] planning on offering its complete catalog of more than 6 million tracks in the unprotected [DRM-free] MP3 format." Prediction: it will not dent the iTunes store. At least not at $0.99/song. Now at $0.00/song, that would be a different matter...
| | |
| --- | --- |
| the superdelegate - (New Yorker, 5/19/08) | |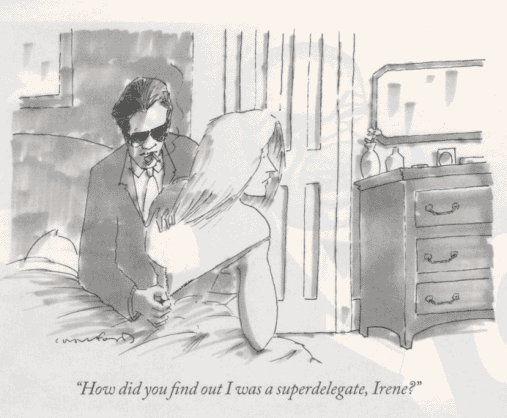 If you're struggling with the high price of gas, you must read this: Oil Executives try to educate Senate Democrats. "The committee's Democrats attempted no response. They know that they are largely responsible for the current high price of gasoline, and they want the price to rise even further. Consequently, they have no intention of permitting the development of domestic oil and gas reserves that would both increase this country's energy independence and give consumers a break from constantly increasing energy costs." Supply and demand, really simple...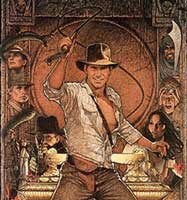 Jason Kottke reviews Indiana Jones and the Kingdom of the Crystal Skull. "If you need a reminder of Harrison Ford's ability to play Indiana Jones after nearly 20 years on the shelf, it comes in the movie's opening scene. Indy is roughly extracted from a car and tumbles to the ground. We see him stumble towards his trademark hat with that walk, a graceful stuttering step, wary of booby traps even on solid ground. Even though the camera shows us only his boots, it's unmistakably Indiana Jones." I haven't seen an actual movie in a theater for a long time. Might have to make an exception for this one...
I thought it might be interesting to give an update on my use of Google as a spam filter. After seven weeks I can declare this a complete success. Google has now filtered 42,080 spams, consuming 271MB, with few false negatives and even fewer false positives. My personal email is usable again!
Jeff Atwood: PHP sucks, but it doesn't matter. He's right, and he's right to compare it to VB, too. For the same reasons that VB succeeded - it made it easy to build cool applications - PHP is succeeding. We use it at Aperio, and it works great for us.
Google - YouTube: was it worth $1.5B? Look at the P&L, the answer is no. Look at the stock, the answer is yes :)
Mike Arrington analyzes Microsoft cashback. Wherein Microsoft pays you to use them instead of Google. "Yes, it will work and it will almost certainly increase Microsoft's market share in search, particularly in commerce search. The question is, how well will it work?" Have you switched? Me neither.
| | |
| --- | --- |
| Titanic, by Megan Eichhorn | |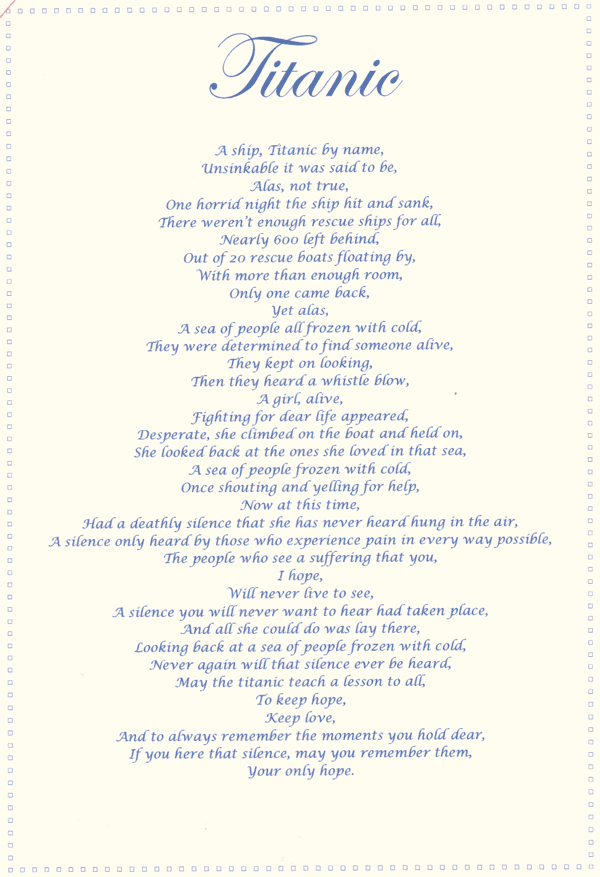 by Megan Eichhorn, 11
or as she prefers, "by ME"
I was in a funk all day today, no idea why. Such a funk is self-sustaining; you snap at the people around you, they snap back, and that reinforces the funk. Even a nice 25-mile ride with my friend Mark didn't fully dissipate the funk. It took a wonderful dinner with friends - and some awesome Summerland Pinot - and now it is fully gone. I sure hope I don't wake up with it again. Life's too short for funks.
Gerard Vanderluen notes The UN: Getting their priorities straight. "The United Nations will send nearly a quarter of a million condoms into cyclone-hit Myanmar to help needy survivors with no access to contraceptives, a UN official says." Once again, truth is stranger than the Onion. Unbelievable.

The definition of a fair-weather pro basketball fan: you wait until your team has made it into the division finals, and won the first game on a miracle comeback, and then you notice. Go Lakers! (No, I am not paying any attention to the Dodgers right now, I am strictly a serial sports fan.)
So, have you been following the Giro? It has been an exciting week and a half so far, featuring many crashes and wild sprints, and horrible weather. Daniele Bennati won today's stage 12, in a photo finish (at right). The Dolomites are yet to come, so the true sorting has not begun. Right now it looks like Alberto Contador might be the favorite, he's sitting in third, at 6:50, but with those big climbs ahead he will probably rise to the top. Andreas Kloden is in fifth, at 7:54, also a threat, Paolo Savoldelli is seventh, at 8:09, and Denis Menchov is 11th, at 8:57. One of those four will win, I think...
This is just the most amazing thing: Microsoft publishes Five Misunderstood Features in Windows Vista. I think "misunderstood" is a misunderstanding, these features are despised, disliked, hated, loathed, scorned, and spurned. Download this PDF for some amusing phraseology, for example the document begins: "No one would expect a new OS adoption to be easy, and certainly adopting Windows Vista across a desktop infrastructure can some with a few challenges". Sorry, but most people do expect an upgrade to be easy, where easy = just works. Microsoft has fully jumped the shark.
BTW, several people at Aperio have applied XP SP3 to their laptops, and have had problems. One colleague has had a nice series of blue screens, and is in the "reload your disk" spin cycle. Thank you Microsoft. Perhaps XP SP3 is a plot to destabilize XP so people won't feel so bad when they downgrade to Vista :)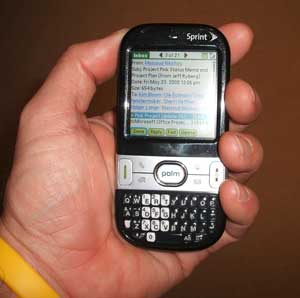 So I just got a Centro, and wanted to report: this is a really nice little phone. I bought it because I liked my Treo 650, but wanted a phone which was smaller. The Centro is a lot smaller – and a lot lighter – but it has a lot of other great qualities which I didn't appreciate.
First, it is faster. Really a lot faster. Especially when accessing web pages; this is a true 3G phone. Even just when clicking buttons, everything is instant.
Second, it syncs email in the background, just like a Blackberry. Your inbox is always up to date. You send email and poof, it's sent. Really nice.
There is a spiffy Google Maps application built in. And it is fast. It works just like a web browser, you pan and zoom, you toggle satellite images, you toggle traffic. The directions are useful and concise. You can search for businesses "near" where you are, or where you're going. Very useful.
There is a nice music player built in. You can upload MP3 files and play them, just like an iPod. I'm not going to use this much because, well, I have an iPod :) But still, it is a nice feature.
The keyboard is amazing. It is smaller than the Treo 650, but is actually easier to use because the little rounded buttons are sort of rubbery. I can't describe it very well but it makes centering my fat fingers on the teeny buttons pretty easy. I am a veteran one-thumb emailer and texter, and this is going to be great.
The camera is much better. Not saying much, since the 650's camera was pretty bad, but still, this one is better.
The Bluetooth connection to my car works better, less garbled. That will be good news for those of you who have to put up with calls from my car :)
Etc. etc.
Anyway the Centro is a really cool little device. Now that I have one, I'm sort of surprised there hasn't been more positive PR written about it. It is smaller than an iPhone (smaller than an iPod touch, even), lighter, faster, and has a real keyboard. And it is an open system, you can get all kinds of software for it without hacking. I keep reading that Palm is washed up, but this is a really nice product.
You will be happy to know, I was de-funk-ified today. Whew. Maybe it was getting my little Centro, maybe it was the weather (rainy and cold), maybe it was gamma rays from Alpha Centauri. Who knows. Anyway it was fun to have fun. And on we go into a long weekend, my first home for three weeks. Yay!
This is pretty interesting; Powerline excerpts from the second Nixon-Kennedy debate. The tone is respectful and the subject matter substantial, and both candidates sound articulate and mature. Can we all go back to 1960?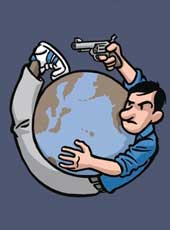 James Surowiecki considers the free-trade paradox. "The reality is that if we toughen our trade relations with China the benefits will be enjoyed by a few, since only a small percentage of Americans now work for companies that compete directly with Chinese manufacturers, while average Americans will feel the pain—in the form of higher prices—far more quickly and more directly than rich Americans will." This is another case where most people have it exactly backward, and the politicians are pandering to them.
Speaking of pandering politicians, what can we say about "Big Oil"? It turns out that ExxonMobile, the largest oil company in the U.S., is only the 14th largest in the world in reserves. There is no way we can become self-sustaining or do anything about the price of oil without exploiting more reserves, yet our politicians are keeping us from doing so, even as they compain about the price. Ridiculous, and we all suffer...
Oh and by the way Iraq is in 6th. And guess who's first? Iran...

Hey, my new found team won again, in a blowout! Maybe Boston will beat Detroit, and we'll have a good ol' Lakers / Celtics final. Now that would be cool.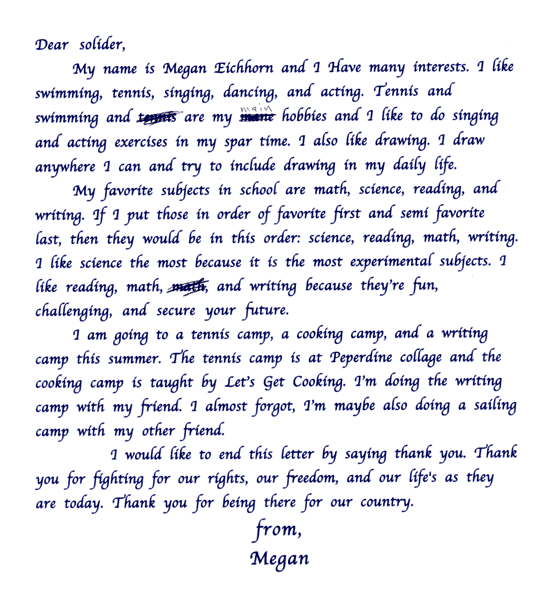 This note from my daughter Megan (11) was written two years ago, and lives on the wall of my office. I look at it every day, and not just because my daughter Nicole (26) is a soldier (she is serving in the Navy, stationed in Sicily). We all, everyday, owe our lives and our lifestyle to our soldiers. I would echo Megan: thank you for fighting for our rights, our freedom, and our lives as they are today. Thank you for being there for our country.
Happy Memorial Day weekend!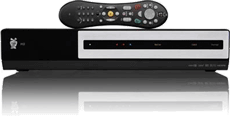 I had a great weekend, thanks for asking... one of the highlights was installing my new TivoHD, which meant I could joyfully disconnect my Time Warner Motorola DVR. Whew. A lowlight would be the crash I had yesterday in the middle of a great long ride. I am now the king of Motrin...
On Memorial Day Powerline asks Are we Safer? Most of the people who ask this imply that the answer is "no", but really when you look at reality, the answer is "yes"; there have been no terrorist attacks against or inside the U.S. in five years. Wow.
So I am still really enjoying my new Centro. While in Ventura, having a cappuccino in a Starbucks, I was able to locate the building easily and view it using Google Maps. I felt like waving to the satellite. Who needs a GPS?
Isn't it weird that such an amazing capability could be free?
Alberto Contador is in pink; today he took over the lead in the Giro d'Italia. I predict he will not relinquish it, either.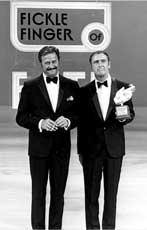 Sadly, Dick Martin has died. Laugh-In was one of the most influential TV shows of all time, and Dick was an essential ingredient; a straight man who didn't get it, but enjoyed it anyway. Goodnight, Dick.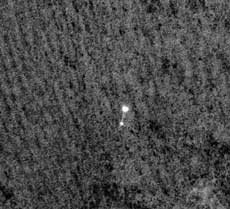 The Mars Lander has landed! Successfully, all systems are go. That is awesome. At right is an amazing picture of the lander landing, taken by the Mars orbiter. How cool is that? [ via LGF ]
Samsung has announced a 256GB solid state disk. Here we go... assuming the price comes down, why wouldn't every laptop have one?
This weekend I voted in the Republican Primary, in the comfort of my office. (Yes, I'm a Republican now, ever since the recall election when I voted for Arnold.) Salient votes:
Elton Gallegly - U.S. Representative, 24th district. A good guy, has been for years.
Jeff Bennett - Judge of the Superior Court. Not a flaming liberal.
Prop 98: no, Prop 99: yes. There is a good way to restrict eminent domain, and a bad way, exemplified by these two propositions. Unbelievably, 98 is really an anti-rent-control initiative in disguise.
Thousand Oaks measure B: no. Most emphatically no, this is an initiative from one business owner to restrict competition from others.
Finally, can I just say once again how much I hate this:

What you see here is the Official Ballot. Note that it is bilingual, everything is in English (the official language of the United States and the state of California) and in Spanish (which has no official standing whatsoever). This is bizarre; everything should be in English, period, and all U.S. citizens should vote in English. And if they don't know English, they should learn it.
The King of Motrin checks in... so I bruised a rib yesterday - ouch!, and it only hurts when I breathe. I hardly slept a wink last night. But I'm now bathing in Motrin, and feeling much better, so I have high hopes for tonight :)
Randall Parker asks If you could rejuvenate three parts of your body... I know what I'd answer right now :) Seriously, what is your list? Mine would be brain, immune system, heart...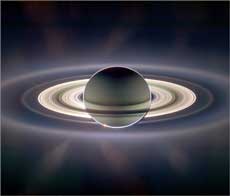 Some space porn: awesome shots of Saturn taken by Cassini. You know they just don't even look real, they are so cool.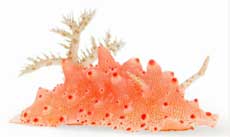 Cliff Kuang is guestblogging for Jason Kottke, and links these amazing pictures of sea slugs. Wow. Beautiful and awe-inspiring; kind of like plants, where you wonder how evolution could have created them...
Bertalan Meskó announced that he will be teaching the first Medicine 2.0 course, at the University of Debrecen. How cool is that? And he'll be posting all his slideshows online (of course); stay tuned for links and commentary...
Danny Hillis on Richard Feynman and The Connection Machine. "When we finally picked the name of the company, Thinking Machines Corporation, Richard was delighted. 'That's good. Now I don't have to explain to people that I work with a bunch of loonies. I can just tell them the name of the company.'" Really cool. [ via John Guber ]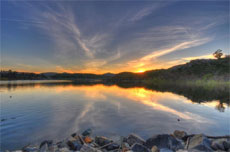 Just got home from a nice day in Vista... a really nice day. Started with a great productive discussion about how we can reorganize our development team slightly to get people working on the same project to be part of the same team; something I'm passionate about (product-centric organization beats functional organization every time). Next up was a walkthrough / demo of Aperio's new Genie product, an amazing-almost-like-magic image pattern recognition tool. The team has really done a great job on this, it was exciting to see it all come together. After lunch I had some great blocking-and-tackling meetings with people. And then - a wonderful bike ride on the Del Dios Highway east of the office (which passes by beautiful Lake Hodges, pictured at right), and a nice steak dinner with my friend and colleague Nick. And on the way home - a great Rolling Stones -fest; I love the 'Stones, but don't usually listen to just them, so this was cool...
Meanwhile, here's what's happening in the real world...
Gerard Vanderleun ponders the Pacifascists Among Us... Truly, you cannot refuse to fight. It is all very well to say "make peace, not war", but that's unilateral; what do you do when "they" want to make war, not peace? Something for the Obamaphiles to consider...
Megan's Dear Soldier letter, which I left up over Memorial Weekend, attracted some nice emails; thank you! I realize the readers of my blog are a self-selected group which probably thinks more like me than the average person (understatement alert!) but even so, the feelings and thoughts you express are heartwarming and reassuring. We aren't all idiots - or Pacifascists...
Still loving my Centro. Each day brings a new discovery of something which is slightly better than my Treo 650... today, I realized the phone charges directly off USB, without being plugged into a wall. This means I no longer have to carry a phone brick in my laptop case, just a USB cable. Yay.
My Centro-love lives in the shadow of everyone's iPhone-love. Don't get me wrong, I like iPhones, but I would not trade straight up for my Centro. The lack of a real keyboard is a deal killer. Still the iPhone is amazingly loved; take for example this post on Engadget, wherein the possible icon for a 3D iPhone (as-yet-to-be-announced) is discussed. You know people love your product when they are eagerly searching tea leaves for the next version's features!
Brad Feld asks What Do You Suck At? An important question to answer... I remember being interviewed about ten years ago, a CEO asked me what I thought was the most important thing for a CEO to be good at. Scanning my mental list of good CEOs, I couldn't think of any one thing, so I blurted out "not being good at everything". We both laughed, and in the ensuing discussion agreed that nobody is good at everything, so knowing what you're not good at – and hence organizing so you don't do what you're not good at – is the most important thing…
Headline of the day: Space Station Toilets Poop Out, from Slashdot. :)
I am starting to worry about my bruised rib a little. It didn't seem that bad at the time, and doesn't seem that bad now, either, but it isn't getting better very fast. Actually it isn't getting better, period. Shirley says this is because I'm masking the pain with Motrin, and hence constantly re-injuring it. Does that make medical sense? No idea.
Today a colleague and I visited one of Aperio's partners; a great company with great products, but one that runs at a decidedly different clock speed than Aperio. It was so apparent that while we want to get going immediately on any possible joint project, they need to study it, analyze it, think about it, and generally let time pass before they get around to it. I could never work for a company like that. Wow.
So really, what would happen? Ralph Peters asks the question... "To date, not one 'mainstream media' journalist has pressed the leading advocates of unconditional surrender to describe in detail what might happen after we 'bring the troops home now'." Like I noted the other day, it is easy to be anti-war, but not so easy to say what you would do instead.
Jeff Atwood considers a subject I've often thought about myself: Designing for Evil. It is one thing to build something useful for benevolent users, quite another to build something that can withstand malevolent users, too. It ends up being a classic arms race, you try something, they try something, and each side responds to the other. With the benevolent users who are the service's actual customers caught in the middle.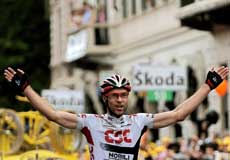 Awesome! Jens Voight powers away from the Giro d'Italia peloton for a stage win, as Alberto Contador solidifies his grasp on the maglia rosa. I love Jens.
Doc Searles with what he thinks is a little good news: gas prices drop below $127/barrel. Whether you think lower oil prices are good news depends entirely on your point of view. Higher oil prices will reduce consumption, reduce American dependence on foreign supply, and stimulate demand for alternative sources of entropy, which are all good things. Yay, $200/barrel!
Dude, where's my recession? Yeah, seems to be missing; as James Pethokoukis notes, "What do you call a recession where the economy keeps going up and up, even if a bit sluggishly? Well, my friends, you call that an expansion. And that is what we seem to have right now, despite all the economic doomsaying about a recession or even a Great Depression 2.0." The MSM is distorting economic news is just as badly as news from Iraq. Somehow convincing the American public that the Bush administration is failing is more important than the truth.
I notice this most dramatically when I speak with people who don't read blogs, like my Mom, or my mountain biking friends. Their impression of what's happening in the world is qualitatively different to mine.
The other day I noted Microsoft's rather weird "five misunderstood features in Vista". What I didn't realize is that this was version 2.0 of this document; John Gruber links Steven Poole's fisking of the original. Bizarre. Microsoft have really lost their way, huh?
Return to the archive.
Home
Archive
flight
About Me
W=UH
Email
RSS OPML

Greatest Hits
Correlation vs. Causality
The Tyranny of Email
Unnatural Selection
Lying
Aperio's Mission = Automating Pathology
On Blame
Try, or Try Not
Books and Wine
Emergent Properties
God and Beauty
Moving Mount Fuji The Nest Rock 'n Roll
IQ and Populations
Are You a Bright?
Adding Value
Confidence
The Joy of Craftsmanship
The Emperor's New Code
Toy Story
The Return of the King
Religion vs IQ
In the Wet
the big day
solving bongard problems
visiting Titan
unintelligent design
the nuclear option
estimating in meatspace
second gear
On the Persistence of Bad Design...
Texas chili cookoff
almost famous design and stochastic debugging
may I take your order?
universal healthcare
entertainment
triple double
New Yorker covers
Death Rider! (da da dum)
how did I get here (Mt.Whitney)?
the Law of Significance
Holiday Inn
Daniel Jacoby's photographs
the first bird
Gödel Escher Bach: Birthday Cantatatata
Father's Day (in pictures)
your cat for my car
Jobsnotes of note
world population map
no joy in Baker
vote smart
exact nonsense
introducing eyesFinder
resolved
to space
notebooks
where are the desktop apps?