In which, once again, your intrepid blogger discovers his love of coffee on a cold Saturday morning...
Cold in this case is relative; it is about 50 here in Southern California, with frost on the golf course, but I realize we have no idea what cold really is...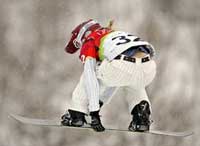 Did you watch the Olympics last night? Man, was Lindsey Jacobellis cool, or what? I'm dead serious. First, I love this new sport of snowboard cross. It is really great, and I hope to watch a lot more of it. I think this could be my new favorite winter sport, well, behind speedskating of course. And I think what Lindsey did last night was awesome. She's on the biggest stage of her life, she's winning her race, so why not go for it? And she did. And she didn't make it. But you know what, she went for it, and that's why I think she's cool. Hundreds - thousands - of athletes win gold medals, but how many lose gold medals going for it?
I could watch some ice dancing, too :) Taneth Belbin is beautiful.

BTW, I like NBC's coverage of these Olympics. They aren't spending huge amounts of time on athlete profiles and siteseeing tours of the city, and they aren't [overly] pandering to American athletes. They are showing the competition, which is what they should be doing. And of course they are showing it in HDTV, which is amazing :)
The big news out here is the Tour. Not that tour, I mean the Amgen Tour of California, which starts tomorrow, as California gets read for a big week of racing. "A colorful, rolling postcard for the State of California begins Sunday in San Francisco, ending a week later, on February 26, in Redondo Beach. Along the route - which will also highlight Marin County, Big Sur, San Luis Obispo, Santa Barbara and Thousand Oaks - a who's-who list of top American cyclists will begin their races seasons fighting to win the inaugural Amgen Tour of California, an event that has quickly emerged as the top UCI stage race in North America." The race ends about 5 miles from my house on the Amgen campus; I'm really looking forward to watching!
MSN reports New group to develop passenger spaceship. "The company that helped put three millionaires into orbit has teamed up with Russia's Federal Space Agency and the financial backers of the $10 million Ansari X Prize to develop a new breed of suborbital passenger spaceship." [ via Slashdot ] The space race is on. Note they are doing suborbital flights; as I noted the other day, there is a big difference between orbital and suborbital in terms of the energy required. Speaking of which, no new news yet on SpaceX's next launch attempt...
If you're an HDTV aficionado (you know who you are), you'll enjoy this article about video scaling. "Simply put, scaling in video means the reformatting of the picture through various algorithms, to occupy more or fewer scan lines than it did before without cropping of subject material." [ via digg ] A very important thing. I compared by new DVD player which does scaling to 1080i to my old DVD player which didn't, and the difference was dramatic.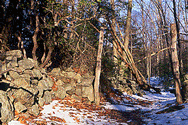 This is pretty cool - time for space. Displaying stereo images by alternating between the "left" and "right" images. A bit nerve-wracking to watch, but pretty effective. I wonder if this would work for Pathology images?