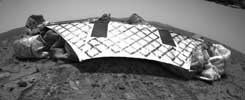 Hey, Spirit is free! It has rolled off the lander platform and now has its six wheels sitting in Martian dirt. "JPL engineers played Baha Men's "Who Let the Dogs Out" in the control room as they watched new images confirming that the Mars Exploration Rover Spirit successfully rolled off its lander platform early Thursday morning." The picture at right is a look back at the lander platform; note the tracks in the dirt.
Joshua Marshall discusses a poll which shows Kerry leading Dean in Iowa. "Dean's support is falling -- not precipitously, but measurably -- and at least some Dean supporters appear to be going to his near rivals in each state."
By the way, Josh's Talking Points Memo is a great blog - check it out if you haven't already...
So, it is freezing cold in the Northeast U.S.. A bad time for Al Gore to make a speech blaming George Bush for global warming? As Citizen Smash notes, "this stuff defies parody".
CNet reports CinemaNow debuts download-to-own movies. This is going to be big.
| | |
| --- | --- |
| | Check out this Art Museum, in Graz, Austia! Wow! I love it when Architecture becomes Sculpture. [ via Cory Doctorow ] |
Have you read about bloggers who track reporters? Dave Winer thinks that a bad idea... "It would be much better to track the candidates by issues, rather than watching reporters. What you'll find out when you track reporters is that they aren't doing their job. This has very limited value."
Yahoo has an article about Windows of the Future. "The exotic windows resemble those you'd see in a normal house — until they change colors or start showing you the latest 'Friends' episode. The windows are fitted with a microfiber LCD screen, which can make them opaque or display light from a television projector. The computer monitor is fully integrated into the window, allowing it to receive and display information without projection." That would be cool. Does anyone doubt this will happen? What a great time to be alive...
Robert Scoble notes today is Personal Firewall Day. You do have a personal firewall, don't you?
Lego has issued a press release stating that their Mindstorms robots will not be discontinued. Whew!

Here we haveHan Solo frozen in carbonite - made from lego! Pretty amazing. [ via BigWig ]