Another day of heads' down coding. Whew.
Cory Doctorow comments on Tivo's DRM. "No TiVo customer got out of bed this morning and said, 'Damn, I wish there was a way I could do less with my videos'." The problem is that end users aren't really Tivo's customers, content providers are.

According to Steven Webster, Toshiba is breeding huge humans. "Rumours that Toshiba have in fact just announced a tiny hard drive are being dismissed as ludicrous." [ via Xeni Jardin ]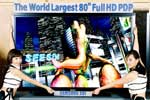 Oh my gosh! An 80" plasma TV (from Samsung). Please Santa, is it too late?
Vonage seems to have perfected the attack from below. Not content to take on fixed-wire CLECs, they're now going for cellular operators as well.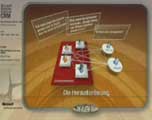 Robert Scoble wants to Stereolize. Pretty awesome demo, I must admit. But what is it? Oh, well, check it out!
Stone Skipping Gets Scientific, at the Scientific American, of course. I am not making this up.