Catching up again - on the road ...
First and thank you for wondering - the baby birds are doing fine.
Did you see this! Microsoft announced that going forward they will be awarding stock, instead of granting stock options. This will do two things, first, it will reduce employee unhappiness about options which are "under water" (according to MS CEO Steve Ballmer this is the biggest complaint among MS employees), and second, it will solve the problem of how to account for employee options in Microsoft's financials. The tech industry is watching to see what happens; apparently DaimlerChrysler is considering doing the same thing. Whew!
The always interesting David Burbridge looks at Population Fallacies. "The most prevalent misunderstanding of 'life expectancy' is to take it as a reliable prediction of how long people will live in future." Very true. In fact, "We tend to assume that life expectancy will go on rising, thanks to medical progress, improved nutrition, less smoking, and so on. This is a plausible assumption, but it could turn out wrong. Apart from the possibility of unknown new viral diseases, antibiotic-resistant bacteria, etc., there is the possibility that the genetic quality of the population is deteriorating." Especially given the Unnatural Selection which is taking place...

Worried about corporate espionage, Samsung has banned camera phones from their factories. Samsung is the worldwide leader in manufacturing camera phones. [ via Gizmodo ]
July 4!
(click for QTVR)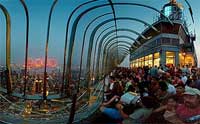 This is cool - a QTVR panorama taken by Jook Leung from the top of the Empire State Building on the night of July 4 - fireworks, big crowd, and all... It was made more complicated by the fact that Jook was forbidden from using a tripod, apparently a security consideration. In addition to being a cool shot, I especially like the way he incorporated a soundtrack. [ via Boing Boing ]
A radio station which plays what its listeners want to hear? How revolutionary! Check out last.fm, which is apparently exactly that. [ via Wired, which has a story ]
MTV.com turns 10! Adam Curry marks the anniversary. Adam at one time owned the domain before selling it back to Viacom. (Adam was an MTV VJ in a prior life.)
.NET turns 3! eWeek chronicles the 'vision' thing. "Three years later, most of the hopes behind the .Net initiative have not been realized." It seems that basically .NET turned out to be a new development API for Windows; not a trivial thing, but not the most important thing ever, either.

Timex has a line of watches which implement Speedpass - an RFID-based payment mechanism. They are supported by Mobil and Exxon gas stations, McDonald's restaurants, and several grocery chains. Could this be the payment mechanism of the future?
Adobe drops Mac support in new version of Premiere. Not surprising given that they're competing against Apple's Final Cut Pro. Premiere was the first video editing program I ever used - way back in 1994, on Windows 3.1! - and I remember it fondly. It is still the "premier" video editing program out there...
Andrew Anker things this is further evidence that Apple is an Appliance Vendor. Their control over both hardware and software enables tighter integration and hence a better user experience.
This is interesting; David Winer reports that Google no longer gives a Userland page as the top search result for RSS, and that they label Userland's RSS pages as "Deprecated". This is dirty pool of a sort not typically associated with Google. Is this an abberation or a sign that "power corrupts"?