Watching Iraq, China begins to lean on North Korea. The CSM analyzes the beneficial effect of coalition military action in Iraq on the situation in the Far East...
If you're a regular visitor, you know I don't like RSS aggregators. I've been reading such much good stuff about SharpReader I'm tempted to give it a try. (e.g. See this WP article.) If nothing else, it would show me how Critical Section appears when "viewed" in this way. Stay tuned...
Introducing Googlephone! Look up phone numbers, do reverse lookups, the works. Google is amazing! [And thanks, Wolf, for putting this togther...]
This Honda ad is so cool. Isn't it nice when ads ... are ... entertaining?
(click pic to watch)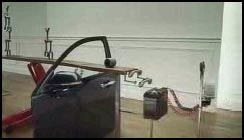 Do you hate telemarketer calls as much as I do? You can now pre-register for the national Do Not Call program. Awesome.
Announcing - ta da! - Tivo desktop. Part of their Home Media strategy, as previously announced. You need a Series 2 to use it, though... I might have to upgrade :)
Larry Ellison in WSJ: "The next big thing ain't computers." Instead, he says, it's biotechnology. Cool.
Stephen Den Beste thinks Bill Walton and Shaq would make great reporters in Iraq. If that sounds bizarre, read about it...
Finally - The "all your base" meme is baack...