Rats - XO [my ISP] just went down for six hours. Nice of them to warn me. Sorry!
_____ WAR _____
Isn't it amazing how quickly the pendulum swings? First on Thursday we had the decapitation strike, Friday we had "Shock and Awe", then Saturday the capture of the port cities Umm Qasr and Basra. Sunday featured the mad dash toward Baghdad. Then Monday introduced [gasp!] resistance, and the battle at Nasiriyah. Today was the uprising in Basra and the heavy attacks against the Republican Guard outside Baghdad. The most experienced military commentators are also the calmest and the least inclined to draw conclusions from any one day's action. It is going to take time, weeks and maybe months...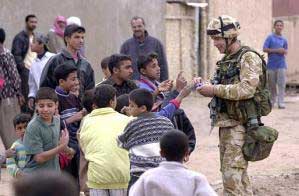 With the coalition forces basically knocking on the door in Baghdad, a lot of people have wondered "what now"? Will there be hand-to-hand combat in the streets of the city? I think the best answer would be if coalition forces continue to pound the Republican Guards while the people of Baghdad took take their city back. This is apparently happening in Basra already, which [if true] would set a terrific example.
How many of you remember Gulf War I? Show of hands? Okay. How long did it take? Did you say eight weeks? Give yourself a star. Do you remember that a daily feature of that war was Saddam, on TV, denouncing the U.S. and harranging our allies to make us stop? Remember "The Mother of All Battles"? Well, I do (especially since I refreshed my memory with Google). This war is six days old, and so far we have not heard one word from him. He's hurt or dead.
Don't you love Donald Rumsfeld? Here he smokes Wolf Blitzer... [Courtesy of Mike Campbell]
BLITZER: There are plenty of people out there, counterterrorism experts, who have already expressed fear that the images of this bombing, the Shock and Awe campaign, will merely ferment [sic] terrorism, create new recruits for al Qaeda and other terrorist groups to go after American targets.

RUMSFELD: Wolf, I know there's lots of so-called experts opining on this and that. The fact is that the terrorists did not need any provocation. They attacked the United States of America on September 11, viciously killed 3,000 innocent men, women and children of every religion, of every nationality across the globe. That was not a response to an attack on Baghdad. It was an unprovoked attack....

The idea that -- that this is provocative is wrong. Weakness is provocative.
Yahoo reports France Seeks Big Role in Post-War Iraq. What's the French word for chutzpah?
Add The Agonist to your list of war blogs. This guy is going solo, round the clock, blogging up a storm. Great, balanced reporting of things as they happen. Why doesn't one of the media do this?
Even Saddam has a blog...
_____ NON WAR _____
So far 75% of you think I'm wrong about Apple going to Intel... Take my survey, please. When you read articles like this one about Adobe's performance tests, you realize they have to do something...
Red heads feel less pain, and red headed women can tolerate more pain. So be it.
Michael Moore's Oscar acceptance speech: "... documentary filmmakers ... like non-fiction, we like non-fiction but we live in fictitious times". Well, according to this article '[Michael Moore's movie] fails the first requirement of a documentary: some foundation in the truth.' Yeah, fictitious times, indeed...